A baby elephant named Dololo was almost close to death when he was found by Kenyan locals submerged in a muddy pool, with only the tip of his trunk visible above the surface. Rescuers heaved him out in the nick of time.
Thanks to their love and dedication, Dololo is a different elephant three years on.
Benjamin Kyalo, the head keeper at the Sheldrick Wildlife Trust's Ithumba Reintegration Unit, told The Epoch Times that Dololo is thriving at his new home in Nairobi; he has won the hearts of all who care for him.
"He is so brave," Kyalo said. "We are happy we have done what we can."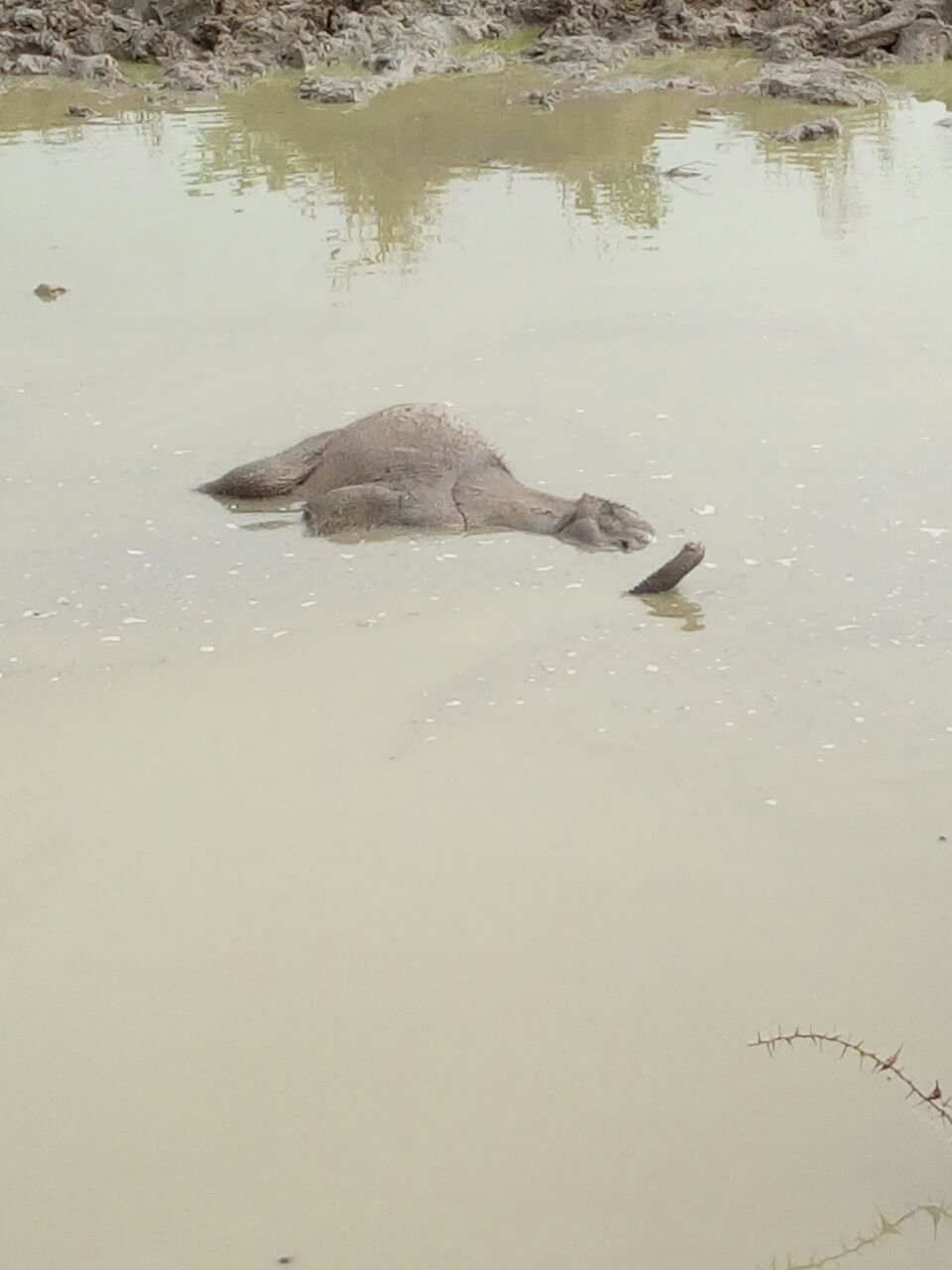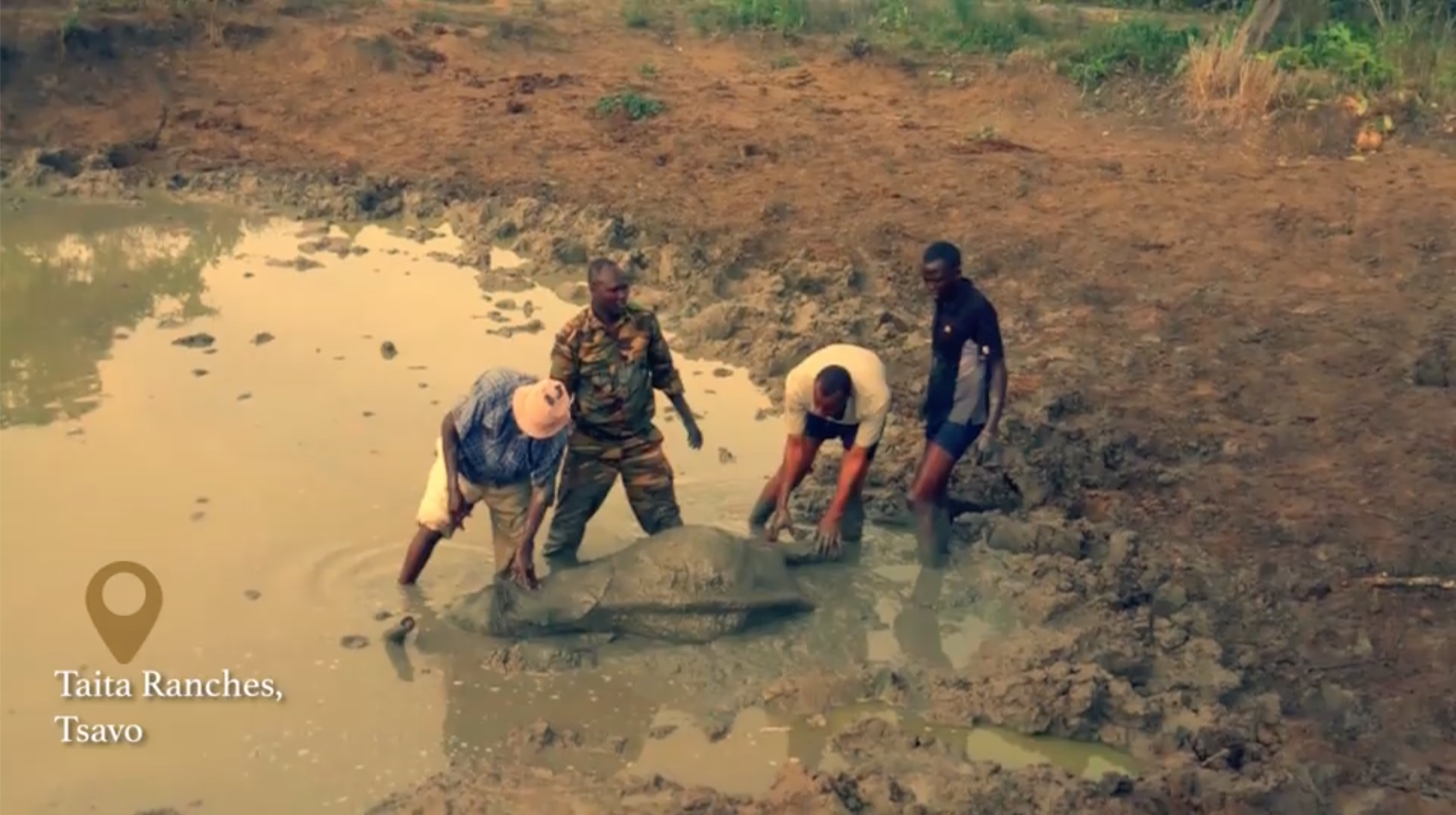 Dololo was found in the Mzee Kirema dam outside of Tsavo East National Park on Sept. 9, 2018, and taken into the care of the SWT, Kenya's leading operator of orphaned elephant rescue and wildlife rehabilitation.
Kyalo said that the community members informed them that they had brought their livestock to water the previous evening and saw a herd of elephants nearby, but they didn't see any baby elephant stuck in the mud.
"When they returned the following morning, however, they found Dololo floating in the middle, stuck fast, with only his trunk sticking out for air," he said. "He was so exhausted. Who knows how many hours he had struggled for?"
Dololo's rescuers suspected the calf's herd had been scared off, "sensing the danger" and knowing there were people nearby, and didn't come back for their baby.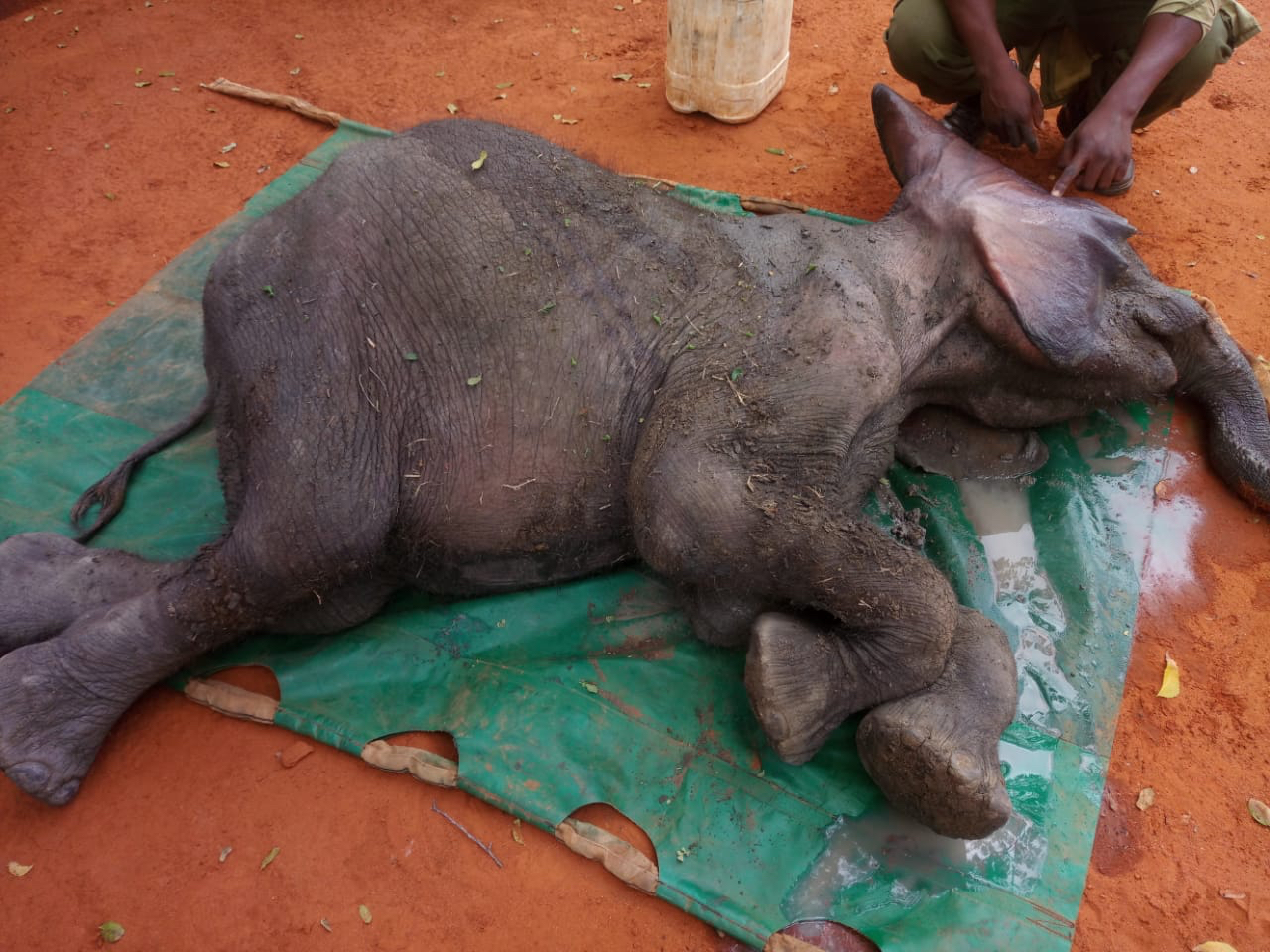 Locals notified the Kenya Wildlife Service and rangers attended the site, removing their uniforms and wading in to retrieve the calf.
The mud was slippery and Dololo was too tired to stand, but eventually, they succeeded in loading Dololo onto their land cruiser and drove to meet the Trust's Tsavo Mobile Veterinary Unit, headed by Dr. Poghon.
"The vet team stabilized the calf by placing him on an IV drip, dowsing his body with water to keep his body temperature cool, and to clean away the compacted mud," said Kyalo. A SWT helicopter escorted Dololo to the Trust's Nairobi Nursery where keepers, fully briefed, stood waiting.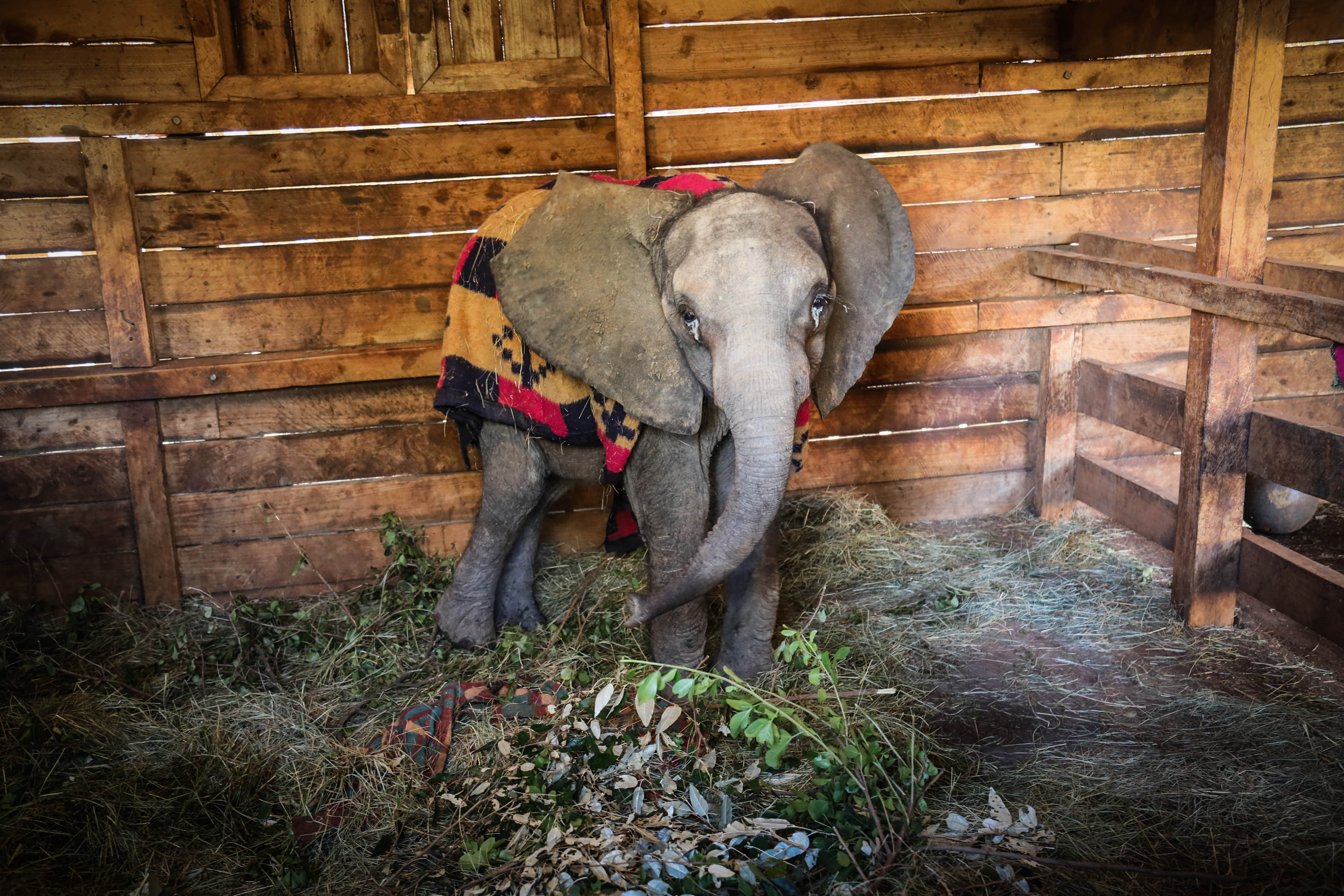 Arriving at his warm, comfortable stable, the roughly 18-month-old calf was helped to his feet.
"Remarkably, he stood for the first time since his ordeal, and remained calm despite the strange and new surroundings," said Kyalo. "It was as if he understood how much he was being helped and was certainly receptive to it all."
Dololo guzzled milk during his 3-hourly feeds throughout the night, and tucked into freshly-cut greens hanging in his stable without collapsing again. Next came his medical needs.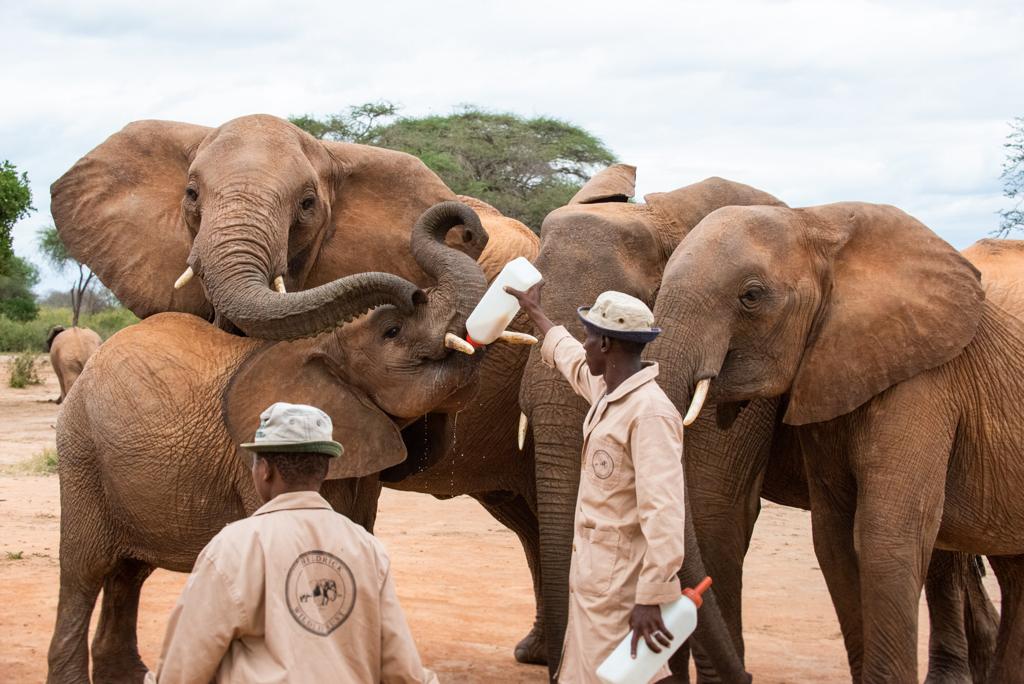 Having been submerged in foul water for hours, his eyes needed urgent care. He was treated for a worm infestation and given antibiotics to limit his risk of contracting pneumonia.
"It was a long road to recovery," said Kyalo.
Yet as the months passed, so Dololo's condition improved. The Trust shared footage of his miraculous rescue and rehabilitation on Facebook.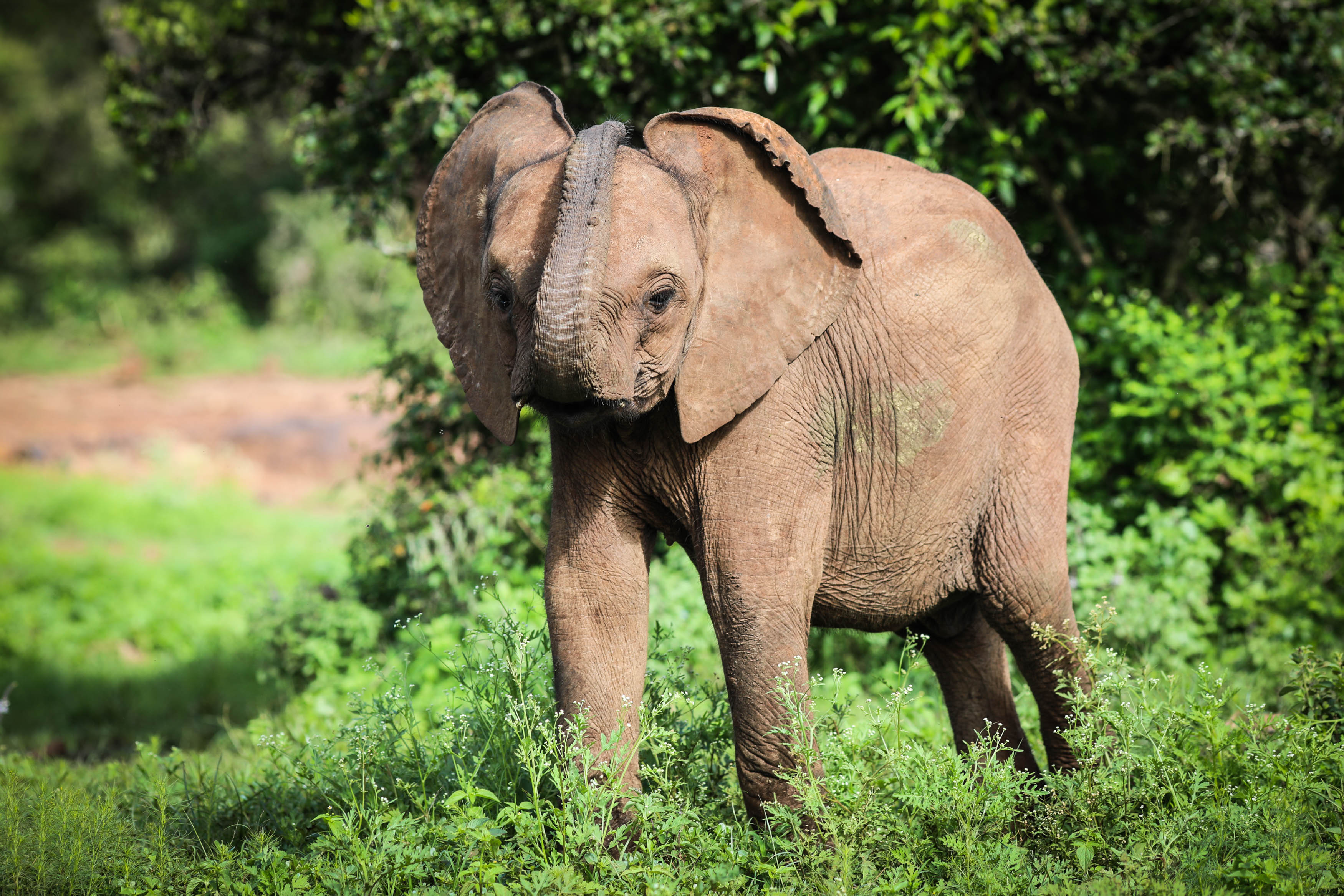 Kyalo grew close to Dololo when he was transferred to the Trust's Ithumba site with two other elephants, Sattao and Musiara, in May 2020. The keeper was bowled over by his bravery and independence, but moreover his adorable success with other rescued females.
"So many of the older girls—like Mutara, Sities, Turkwel, Suguta and Kainuk—love him so much and want to look after him," he said. "It is funny why it is him in particular and not any of the other youngsters."
Yet Dololo, unfazed, spends most of his time playing with his male roommates—Musiara, Ambo, and Jotto—and challenging the "big boys" for fun. Kyalo said that with the exception of milk feeds, Dololo is "more focused on being an elephant and engaging with the other orphans, or visiting bulls" than spending time with the keepers.
"As with our own species, some elephants are quite tactile and affectionate, while others just like to get on with it!" he said. "To see him walking now, happily swinging his trunk in the company of the older girls; such a sight makes us very happy, to know that he is safe and has a future ahead of him.
"We are happy with all the elephants we manage to rescue and give a second chance."
Watch Dololo's Recovery Story in the Video Below:
Share your stories with us at emg.inspired@epochtimes.com, and continue to get your daily dose of inspiration by signing up for the Epoch Inspired newsletter at TheEpochTimes.com/newsletter