Recently, the Scouts of Troop 340 transformed a vacant lot of gravel and cement on the corner of Madison and Fourth streets in Auburn, Illinois, into several raised garden beds that produce fruits and vegetables, greens and herbs plus flowers.
Known as the Auburn Community Garden, the vertical garden provides food for the over 4,000 residents of the community, and beyond.
Produce harvested on Mondays is donated to the local food pantry or to a "breadline" organization that serves hot, nutritious meals to the needy.
"We had extra broccoli greens and kohlrabi greens…the breadline will actually use that in stews and stir-fries and things like that for their meals," Jill Waltman, an adult mentor and the mother of Troop 340 Scout Jayden Brown, told Radiant Life. Waltman and Brown live next door to the garden and regularly work in the garden that's expanded into Waltman's yard.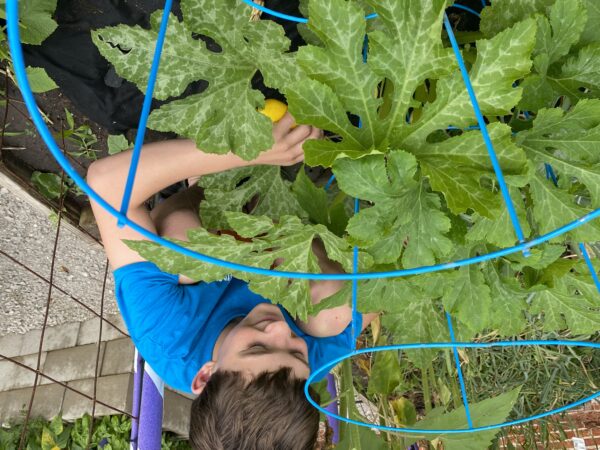 The community has access to harvests on Thursdays through the "Produce in the Park" event, where a "trade" table is set up next to the garden.
Jessica Lance, owner of Bewitching Botanicals (organic bath and body products) in Auburn, Illinois, got the Auburn Community Garden involved in Produce in the Park.
"We are looking for a local collaboration of gardeners and growers in the area to kind of come together and bring fresh stuff to our community," Lance told Radiant Life. "I make botanically based body and self-care products, and I thought, 'Well, it kind of all starts with what you put in and on your body. When they popped up the garden, I thought, 'Why not do something for the community?' "
Established in the spring of 2020 in the vacant lot now owned by Slauterhouse Brewing Company, the Auburn Community Garden is an example of how gardeners can make use of their excess produce in order to help needy families.
"We had so much produce last year. We couldn't get rid of it. Now this year we actually have a second place (the breadline) to take it," Waltman said.
A 'Good Samaritan'
Individuals and organizations are encouraged to donate fresh produce to nonprofits "for distribution to the needy" through The Bill Emerson Good Samaritan Food Donation Act of 1996, according to the U.S. Department of Agriculture.
"The Act exempts 'persons and gleaners' who make good faith donations of food to nonprofit organizations that feed the hungry from liability for injuries arising from the consumption of the donated food," the USDA said.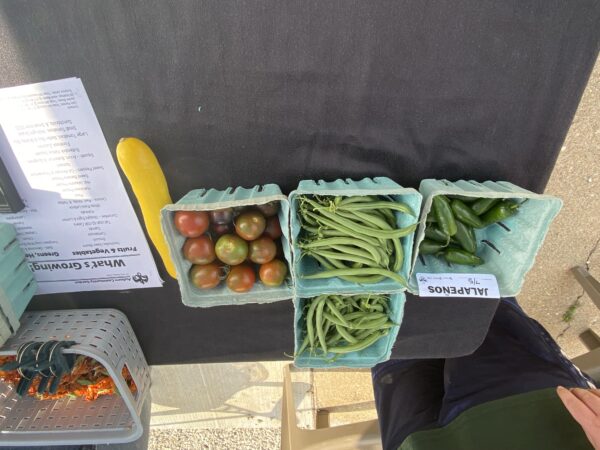 Because fresh vegetables may be expensive for families living on limited incomes, food pantries often appreciate donations of fresh garden produce, Carol Erickson, SNAP-Ed educator (Supplemental Nutrition Assistance Program) for University of Illinois Extension, told Radiant Life.
"Contact your local food pantry to see if they have the capacity to accept fresh produce," Erickson said. "Many food pantries are not open every day, so it is best to ask what day(s) and time they prefer to receive donations.  It is better to donate produce earlier in the week."
Adult housing sites, plus senior and community centers are other places donations of produce may be taken, Erickson said.
Gardeners donating excess garden produce should use safe harvest methods, Erickson said.
"Use clean tools and containers to pick and gather produce.  Don't forget to wash your hands before harvesting.  Use potable water for cleaning produce before delivering your bounty," Erickson said. "Keep clean produce in a cool location until ready to deliver.  If it's a hot day, do not leave the produce in a hot car for more than an hour. Some produce like salad greens will wilt in hot temperatures after being picked."
Waltman has been trained in food management and food safety. Produce donated from the Auburn Community Garden is labelled with the garden's logo and with information on what the produce is, when it was harvested and the garden's address.
Produce in the Park
When the Auburn Community Garden has extra produce, it's made available to the community through Produce in the Park from 5 to 7 p.m. on Thursdays. The public can trade donations of money for produce from the garden.
"We don't put any prices on anything, and whatever you can give, we don't care if it's a quarter or if it's 50 bucks, you put it in the bucket," Waltman said. "All of that goes back to the food pantry. The boys donated over $1,000 cash to the food pantry last year through doing donations."
Troop 340 Scout Zach Ranson, 17, now a high school senior, worked the garden on a Thursday afternoon in July in preparation for Produce in the Park. Also helping was Ranson's friend, Troop 340 Scout Jayden Brown, 13. Brown told Radiant Life that he works in the garden in part because he daily gets "food out of it," with tomatoes being his favorite.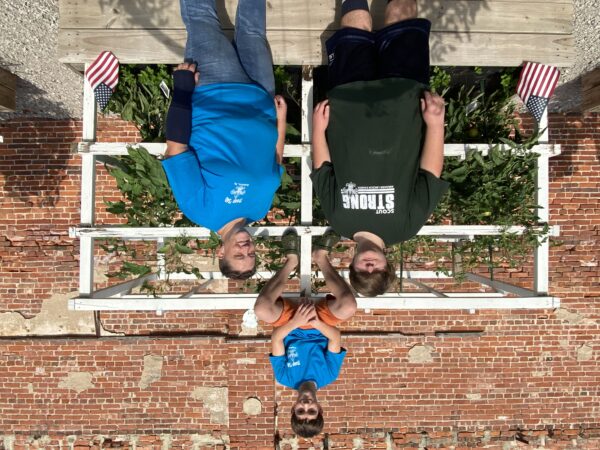 "He'll eat the basil like it's candy," Jill Waltman, Jayden Brown's mother, said.
Chives, fennel, lemongrass, Seychelles green beans, carrots and marigolds are among the myriad of things growing in the community garden.
Waltman encourages people, once they get their "gardens going," to set up on the town square and share their extra produce.
"Go for it. Make a profit. Give them away. Trade them with a friend. I don't care what you do with them, but don't let them go to waste. That's the big thing," Waltman said. "You can always trade with your neighbor. You can always set up a little festival once a month or every two weeks or a share site. You can set up a thing on Facebook that says, 'I have this. I have that.' We saw that a lot last year, where somebody has extra tomatoes — 'Who wants them?' "