The stunning natural beauty of Guam, a tiny island in the western Pacific Ocean, is reason enough to pack your bags.
White-sand beaches with crystal-clear waters, lush mountains streaked with tumbling waterfalls, and some of the most spectacular sunsets in the world lure scores of sun-soaking travelers every year. Along Tumon Bay, a waterfront hotspot, luxury resorts, and duty-free shopping malls complete the picture-perfect, remote-island-paradise vacation.
But there's more to this island than meets the eye.
The westernmost territory of the United States, Guam lies about a seven-hour flight west of Hawaii, at the bottom of Micronesia's Mariana Islands archipelago. The island has been under U.S. rule since 1898, after two centuries of Spanish colonization, and is perhaps best known to Americans for its value as a strategic military outpost in the Pacific; it's home to a large U.S. military presence, including Andersen Air Force Base.
What is less known, however, is the incredibly rich history and culture beneath Guam's surface. They stretch back 4,000 years, and continue to live on—waiting to be discovered on the island today.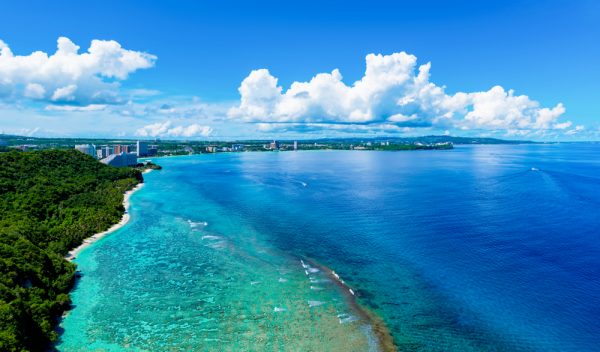 Millennia-Old Culture
Long before Guam became host to military forces and tourists, the Chamorro people made it their home.
These ancient seafarers, likely from Southeast Asia, were settling the Mariana Islands as early as 2,000 B.C., navigating the waters by the stars in their nimble "flying proa" canoes. These first inhabitants of the island laid the foundations for Guam's millennia-old indigenous culture.
Perhaps the most striking physical remnants of this ancient culture are the megalithic latte (pronounced LAH-tee), stone pillars topped with cup-shaped capstones, still standing throughout Guam and the rest of the Marianas. These unique structures, found nowhere else in the world, were built as the bases of ancient Chamorro houses. Walking among them transports you to a past civilization.

Over the course of its complex history, Guam's culture was layered with influences from Spain, the United States, and Japan—the last the result of a brutal two-year occupation during World War II, which have greatly shaped the island today. Ancient structures stand among modern war memorials.
Guam was bombed by Japanese forces on Dec. 8, 1941, just four hours after the attack on Pearl Harbor. The island was captured and occupied until July 21, 1944, when it was liberated by U.S. forces. Liberation Day, a tradition since that first celebration, is Guam's biggest holiday, when the whole island mobilizes for a months-long carnival of high-spirited festivities and solemn memorials.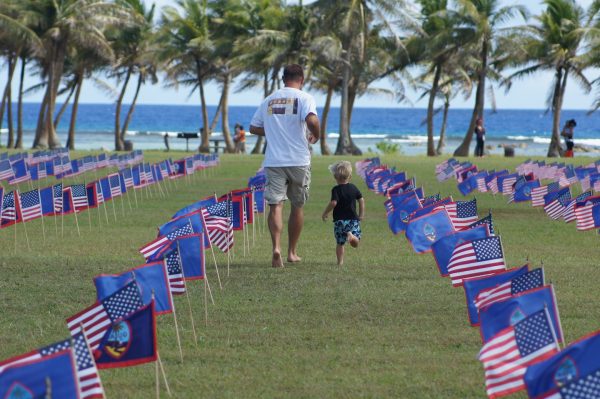 'A Cultural Renaissance'
Thousands of years later, Chamorro culture is alive and thriving—and more so than ever.
Guam has been enjoying "a cultural renaissance," noted newly elected Lt. Gov. Joshua Tenorio, himself a Chamorro born and raised in Guam. Interest in reviving and preserving the island's heritage has surged in recent years. A host of government efforts—including a Guam Museum opened in 2016, the recent launch of the first Chamorro language immersion classes in schools, and continued initiatives to revitalize and restore cultural and recreational facilities—are helping to propel it.
At a grassroots level, "there's really a passion, especially with our young people, to learn their culture," added Pilar Laguaña, president and CEO of the Guam Visitors Bureau. "They're embracing it and practicing it more so than ever before."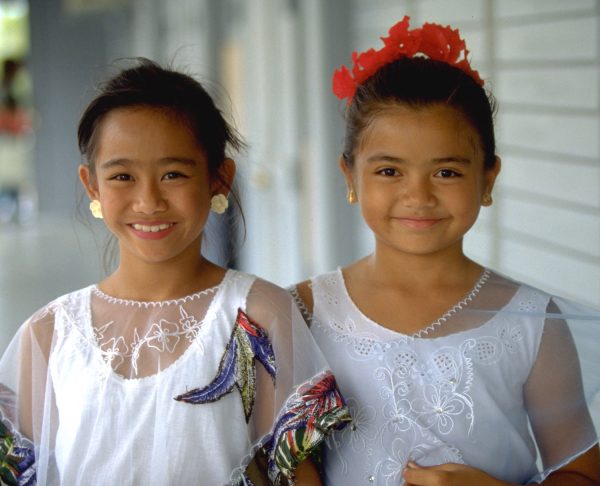 And so, visitors can marvel at traditional customs and crafts, from basket-weaving to blacksmithing, demonstrated by masters at cultural fairs and exhibitions, and enjoy traditional Chamorro song and dance, rich with storytelling, at cultural performances, dinner shows, and even their hotels.
"We used to see Polynesian dancing in our hotels, misrepresenting our own culture to visitors," Laguaña said. Now, with the spread and growth of Chamorro dance houses and groups throughout the island, that's changing—more and more places are using the art to truly "[showcase] our Chamorro culture and history."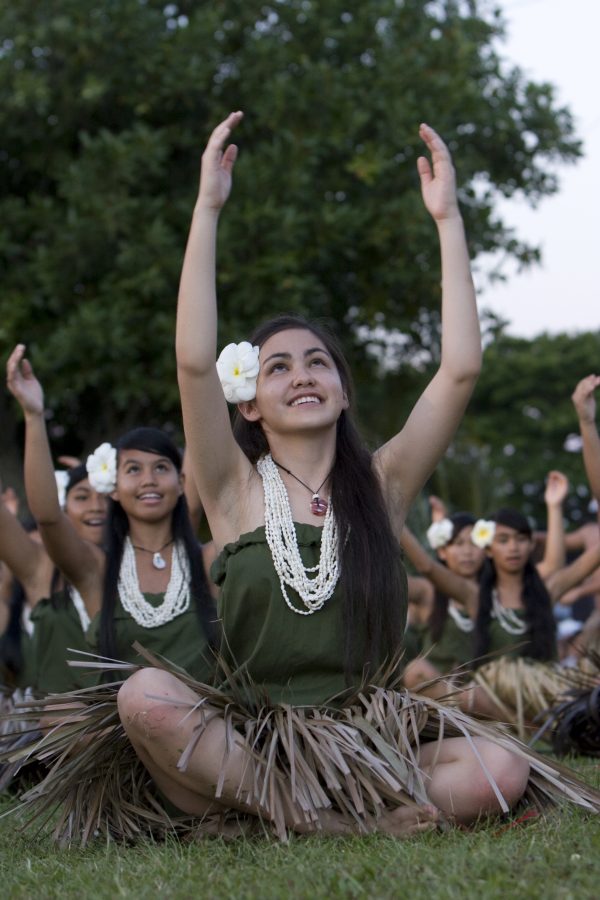 Island Hospitality
Guam today is home to a colorful, multiracial, and multiethnic island community, including Chamorros, Filipinos, Caucasians, and a diverse mix of other Asians and Pacific Islanders.
They live together in peace and harmony—and they love a good party.
Holidays and festivals are integral to local life. Each of Guam's 19 villages celebrates its own patron saint's feast day, a tradition adopted from the Spanish, and quirky food-based fiestas, like the Agat Mango Festival and the Coconut Festival in Inarajan.
Scan any fiesta table, and you'll find a tasty map of the island's diversity: Filipino pancit, Japanese sashimi, Korean kimchi, Chinese sweet and sour pork. They join traditional Chamorro specialties such as the famed chicken kelaguen, which is a sweet, sour, spicy dish made with chopped chicken and fresh coconut.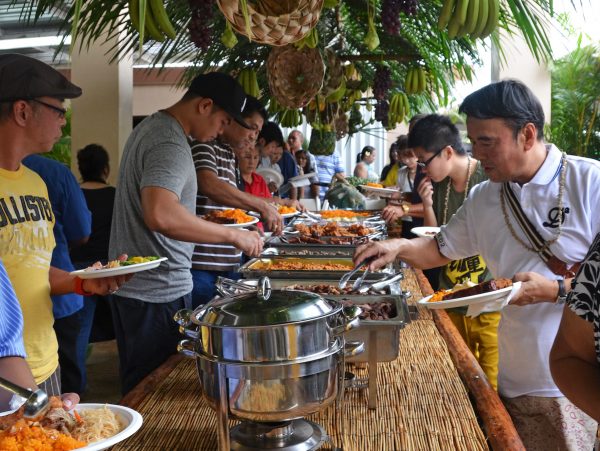 "For these festivals and fiestas, no invitation is necessary," Laguaña said. "You will never feel like you're interrupting … and you never leave a party without a takeaway."
The people of Guam—warm and welcoming—lie at the heart of the island.
There's a Chamorro phrase, "inafa' maolek," literally translated as "make good," that describes a concept of restoring harmony through cooperation and community support. Several Chamorro scholars have identified this spirit as the foundation of Chamorro culture.
And indeed, through years of war and change, the tight-knit communities of Guam have repeatedly overcome adversity to stand strong and together. In the spirit of island hospitality, they welcome visitors to join them.
What to Do in Guam
Attend the Island's Biggest Party
To take in the true essence of Guamanian spirit and pride, there's no better time to visit than Liberation Day. This year's milestone-marking 75th celebration, themed "A Legacy of Peace and Friendship," "is going to be bigger than most," promised Lt. Gov. Joshua Tenorio, who is personally chairing the event.
While the actual holiday falls on July 21, the island-wide festivities span months, kicking off this year on May 29 and running until early August. They feature a mix of solemn war remembrance and lively celebrations of island culture and diversity—"families get together, there's a lot of joy," Tenorio said.
Highlights include a Micronesia Island Fair, showcasing millennia-old traditions and crafts from across Micronesia; a Battle of the Military Bands, including the U.S. Marine Corps, Navy, and Air Force marching bands alongside the Guam National Guard; and a series of war memorials across the island, saluting service members past and present. The centerpiece, according to Tenorio, is the Liberation Day parade. The grand procession will feature any surviving liberators able to attend, and is not to be missed. More information and a full schedule of events can be found at LiberationGuam.com.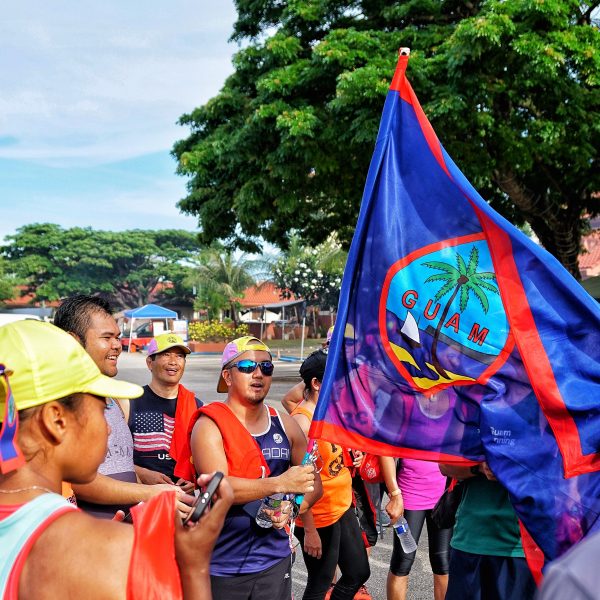 Brush Up on History
An abundance of historical landmarks, heritage sites, and educational museums, from ancient Chamorro villages to Spanish forts to WWII memorials, can be found all across the island.
The Guam Museum, located in the capital city of Hagatna, is a treasure trove of more than 250,000 artifacts, documents, and photographs, capturing the storied history and diverse cultures of Guam and the Mariana Islands. Admission is free, though donations are suggested.
Guam is also home to the War in the Pacific National Historical Park, which includes various former battlefields, gun emplacements, and historic structures from the Pacific theater of World War II. The T. Stell Newman Visitor Center features interactive museum exhibits, from recordings of wartime radio transmissions to interactive maps, and a short film about the Battle of Guam.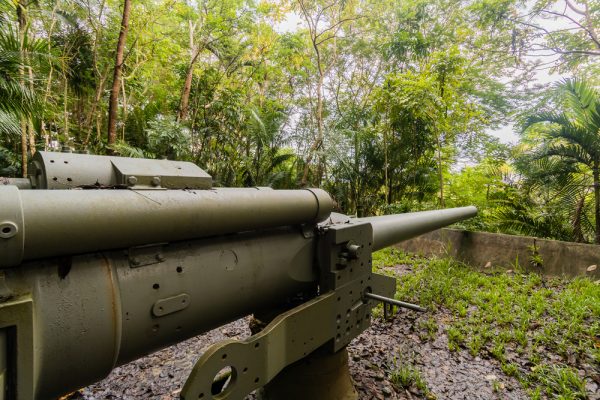 Get a Taste of Chamorro Culture
For a true cultural immersion experience, follow the smell of barbecued meats to the Chamorro Village Market in Hagatna, a hub for residents and visitors alike. Held every Wednesday night, the outdoor market is a one-stop shop for mingling with the locals, stocking up on souvenirs and gifts, and, crucially, sampling the best of the local cuisine.
As Pilar Laguaña puts it, it's where "you can hear the music, you can taste the food, you can dance with the people … you can see our culture really come alive."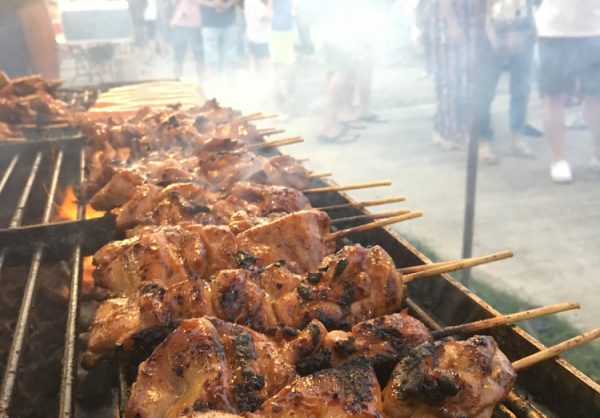 Explore the Great Outdoors
Guam has no shortage of pristine beaches and all manners of water activities: snorkeling and diving, kayaking and banana boating, jet skiing and parasailing, you name it. Take a quick dip in the natural swimming holes at the Inarajan Pools, snorkel along the coral reef at Tumon Bay, or scuba dive to see the wrecks of ships from both world wars in Apra Harbor.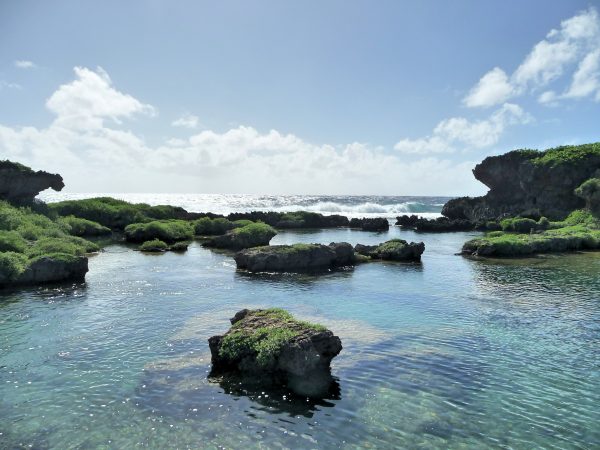 Options for hiking, known as "boonie stomping" by the locals, also abound. Conquer the tallest mountain on Earth, Mount Lamlam, in about an hour—the mountain sits on the deep-sea Mariana Trench, the deepest in the world, and is mostly submerged. Another popular choice is the trail to Pagat Caves, a short but steep hike through dense forests and down the mountainside, ending with a hidden swimming hole and gorgeous coastline views.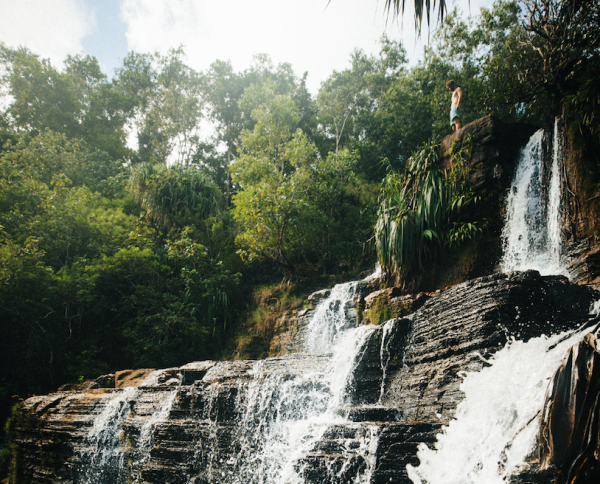 And for breathtaking vistas and the best sunset on the island, head to Two Lovers' Point, high on the cliffs above Tumon Bay.
Getting There … and Beyond
Guam is serviced by 11 international airlines, with multiple daily flights from Japan, Korea, Hawaii, and more. For U.S. travelers, United's flights via Tokyo and Honolulu are your best bets.
The island's strategic position in the Pacific, long-prized for its military value, is also a boon for adventurous travelers: it's the perfect gateway to the rest of Micronesia and beyond. Make Guam your home base; from there, you're free to island-hop your way through Micronesia (with more than 600 islands, there's plenty to explore), or hop on a flight to the Philippines, Taiwan, and the rest of Asia.