Radicchio tardivo, with its slender, creamy white stalks and curly, flaming purple leaves, is the most spectacular specimen of the many Italian varieties, hailing from the Veneto region of northern Italy. Slightly bitter, it has a crisp, clean, wintery flavor, with a texture that is crunchy and juicy when raw and satisfyingly meaty when cooked. Use it to make a risotto with a creamy cheese like taleggio, or roast it in the oven with orange zest.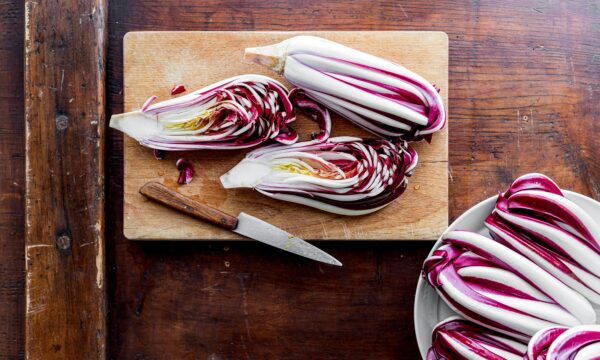 My favorite way to use radicchio, though, is to grill it on a scorching hot grilling pan until nicely charred. The smokiness enhances its meaty texture, making this not just a seasonal side dish but a protagonist of the winter table.
Dress it with plenty of extra-virgin olive oil and a drizzle of balsamic vinegar, whose mild sweetness and tang are perfect complements to radicchio's bitterness.
Serves 4
2 heads radicchio tardivo
4 tablespoons extra-virgin olive oil
2 tablespoons balsamic vinegar
Salt
Freshly ground black pepper
Rinse the radicchio tardivo heads under running water, then quarter them lengthwise.
Heat a non-stick griddle pan over medium heat.
When the griddle pan is hot—it should sizzle and hiss when you throw a few drops of water in it—add the radicchio quarters. Grill the radicchio on each side until wilted and nicely charred all over.
Arrange the radicchio on a large serving plate, drizzle with extra-virgin olive oil and balsamic vinegar, then season with salt and pepper. Serve immediately.