Not Rated | 2 hrs 5 min | Drama Romance | Aug. 20, 1936
"Romeo and Juliet" is the quintessential love story. The pair of star-crossed lovers from fair Verona were glorified by William Shakespeare's pen, but the immortal pen didn't invent the story. The tragic love story drew inspiration from an ancient Greek tale. The immortal bard's work has been adapted into countless operas, ballets, and films. Although most people are familiar with the 1968 movie of "Romeo and Juliet" or the modern retelling with Leonardo DiCaprio from 1996, there is an earlier film of the story that deserves to be rediscovered.
In 1936, Metro-Goldwyn-Mayer Inc. made a lavish film of "Romeo and Juliet." It was the first English-language talkie adaptation of the story, and it starred Hollywood royalty. Romeo was played by distinguished British actor Leslie Howard, who would be immortalized by his role as Ashley in "Gone With the Wind" three years later.
Juliet was played by Norma Shearer, who was called the "Queen of MGM" because of her marriage to the film's producer, boy wonder Irving Thalberg. Mercutio was played by stage and screen star John Barrymore of the famous Barrymore family.
Supporting actors included screen veterans C. Aubrey Smith, Edna May Oliver, Reginald Denny, and Andy Devine. The film was directed by Academy Award winner George Cukor.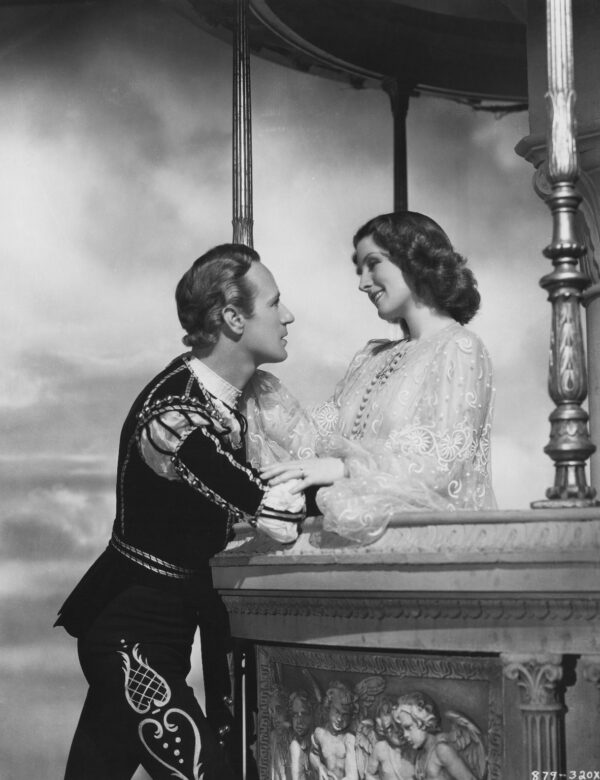 A Traditional Production
Just about everyone knows the story of the young lovers from feuding families, and the script is largely based on the original text. In fact, much Shakespearean dialogue was included, unabridged and without being watered down. Even many lengthy soliloquies were included for the two leads, offering insight into their thoughts and feelings.
All the actors had the theatrical training and refined accents to deliver the eloquent prose convincingly, even in rhyme at times. When John Barrymore is the most American actor in your principal cast, you know you have an elite group.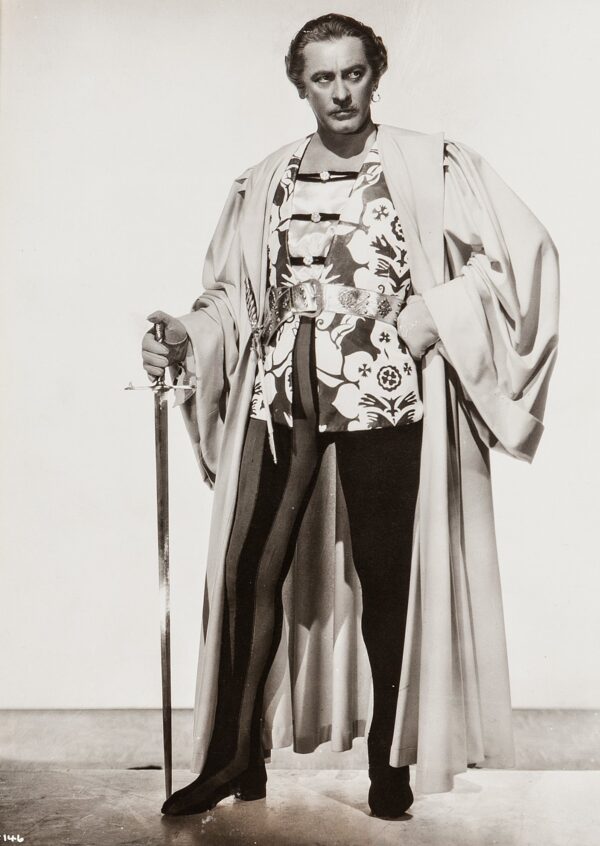 Herbert Stothart, MGM's main composer in the 1930s, wrote the score for this film. He based it on the famous themes in Tchaikovsky's "Romeo and Juliet Fantasy Overture," but he didn't just use the overplayed love theme. He also utilized the beautiful leitmotifs that represent the different characters and their interactions. 
The biggest complaint about the casting, which was lodged upon the film's original release, was that many of the principal actors were too old for their characters, particularly the titular lovers. At the time of filming, Norma Shearer was 34, playing the nearly 13-year-old Juliet. Leslie Howard was 43, playing the 18-year-old Romeo. John Barrymore was 54, playing Romeo's friend Mercutio.
Despite having long heard about these obvious age disparities, I was surprised by how little it bothered me upon actually watching the film. All the actors embodied their characters so thoroughly that I found myself being totally carried away by the story.
Also, makeup, costumes, and hairstyling were used very effectively to make the title couple look youthful and fresh. I was especially impressed by the acting choices that Shearer employed to make herself seem like a young girl, such as her hand positions, tone of voice, and facial expressions.
Barrymore's Mercutio doesn't look like a boy anymore, but his performance is invested enough to make us believe that he is a middle-aged idler who enjoys wine, women, and song with the foolish impetuosity of a young man. Thankfully, the age of these characters is not emphasized too strongly, so it seems less important. 
Life Imitates Art
This is the last film that Irving Thalberg completed before his untimely death. For years, he had wanted to make a film of "Romeo and Juliet" as a vehicle for his wife, but Louis B. Mayer thought Shakespeare was too highbrow for movie audiences.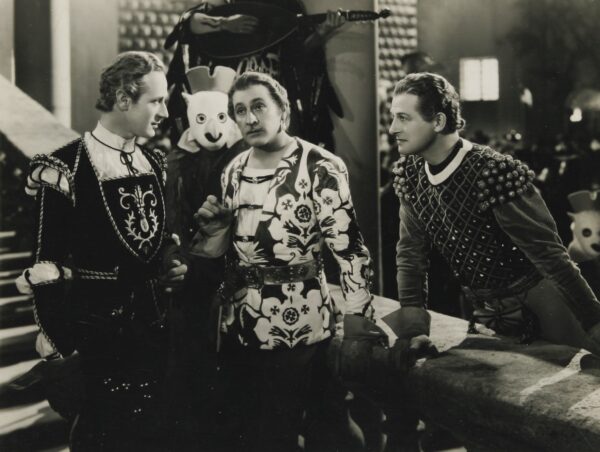 However, the announcement of the Warner Bros. film "A Midsummer Night's Dream" in 1935 made him change his mind. Thalberg was an intellectual who appreciated high forms of culture and art, so he endeavored to elevate the medium of cinema to the Shakespearean level rather than dumb down the source materials. In fact, according to "Shakespeare in the Movies" by Douglas Brode, Thalberg said that his goal was to "make the production what Shakespeare would have wanted had he possessed the facilities of cinema." 
Behind and Beyond the Scenes
The lives of this movie's three central actors were touched with tragedy. John Barrymore died in 1942 at age 60 from cirrhosis of the liver, coupled with pneumonia and other ailments likely brought on by decades of alcoholism. He was brought to the hospital after collapsing during a radio program rehearsal, ironically right after reciting the "Romeo and Juliet" line "Soft! What light through yonder window breaks?" According to Michael A. Morrison's "John Barrymore, Shakespearean Actor," that was the last line that "The Great Profile" would speak in his acting career.
In 1943, Leslie Howard died at age 50 when an airplane on which he was flying to promote the British cause during World War II was shot down by German planes over the Atlantic Ocean. 
Although Norma Shearer would live to an old age, her life was touched by tragedy. On Sept. 14, 1936, her beloved husband died at 37. Although everyone had long known that he suffered from a heart condition, which would undoubtedly shorten his life, it was still a shock to the mother of two to lose her young husband after only nine years of marriage. It was bitterly ironic that he died on the night of the film's Los Angeles premiere.
Perhaps Norma Shearer drew on her own fears for her husband's health and life as she wept over Romeo's lifeless body in the film, knowing that one day, perhaps very soon, she would weep over her own husband in real life. 
A Beautiful Love Story
"Romeo and Juliet" is a beautiful love story that still is very poignant today. Although reading Shakespeare's text is always an educational experience, his poetic words were meant to be spoken and heard so that their unique sounds could be enjoyed aloud. Although no film can compare to the magic of live theater, I highly recommend the Thalberg production as a film version of this story. 
Particularly beautiful is the scene of their wedding night. After Romeo climbs a rope ladder to Juliet's balcony, the camera pans across ethereal footage of gentle nature at rest. Tchaikovsky's lovely themes are the perfect accompaniment to the imagery of rippling ponds, rustling leaves, and slumbering flowers.
When we see the young couple again, they are gently reclining in her chamber, talking of their love. It's a beautifully pure interpretation of a sacred relationship, which is so often sullied by indiscreet portrayals.
This movie is very artistic, lavish, and beautiful. In a time when most content we see is so ugly, it's extremely refreshing to enjoy beautiful art for its own resplendent sake.  This Valentine's Day, celebrate true love with this story of the doomed young couple from Verona. Just like Romeo and Juliet, Norma Shearer and Irving Thalberg were proof that true love is worth overcoming your differences, even if it's short-lived.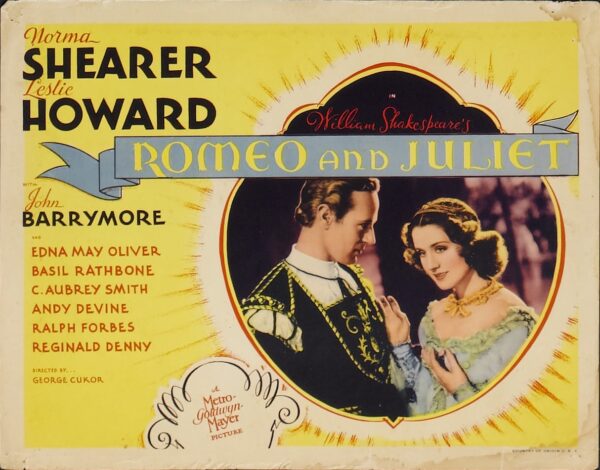 'Romeo and Juliet'
Director: George Cukor
Starring: Leslie Howard, Norma Shearer, John Barrymore
MPAA Rating: Not Rated
Running Time: 2 hour, 5 minutes
Release Date: Aug. 20, 1936
Rated: 5 stars out of 5