PALM BEACH, Fla.—You can thank Henry Flagler for putting the Sunshine State on the map as a tourist destination. Flagler, who co-founded Standard Oil with John Rockefeller during America's Gilded Age, recognized the potential of Florida as a wintering destination—he thought the sunshine and the ocean air were good for his ailing wife—but there was one problem.
Florida was a frontier backwater in those days, and no decent hotels were to be found. Flagler took the matter into his own hands, building his estate, Whitehall, based on Beaux-Arts style architecture, and the legendary Breakers resort, inspired by the Italian Renaissance. Not only that, but to get there, he linked up Florida in one single railroad system, paving the way for agriculture and tourism. (It eventually went all the way to Key West.)

Throughout Palm Beach County today, and especially on the island of Palm Beach, travelers can take part in the glitzy lifestyle, tempered by a good dose of low-key Florida living. Here's what to do and where to go.
Golfing

Golf champion Jack Nicklaus has called Palm Beach County home for over 50 years now. He's not the only golf pro who has settled there. According to a Palm Beach Post report, over 60 current or former touring pros have homes in the area, drawn by the golf facilities, weather, and proximity to the ocean.
Among the signature golf resorts are The Breakers, Boca Raton Resort Club, The Seagate Hotel & Spa, and the PGA National Resort & Spa. The latter is home to the Honda Classic, and to the notoriously challenging Bear Trap, holes 15 to 17.
Visiting golfers don't need to stay at a fancy resort, though. They can also get a Palm Beach County Golf Passport, which is available year-round (from $160 during May through December and from $240 January through April), for six rounds of golf at five unique public golf courses: Okeeheelee Golf Course, Osprey Point Golf Course, Park Ridge Golf Course, Southwinds Golf Course, and the John Prince Golf Learning Center. Osprey Point, an Audubon International Certified golf course, borders the Everglades.
Polo

The "sport of kings" draws fans from January through April at the Wellington's International Polo Club. Admission starts at $10, going up to $120 for box seating. Sunday brunches start at $125 per person; reservations are highly recommended.
The halftime "divot stomp" is unique. After running ponies and swinging mallets send chunks of grass flying, spectators get on the field (needless to say, ladies, heels are no good—try wedges instead), and kick the grass back into place.
The U.S. Open Polo Championship will be held at the International Polo Club on April 8. Equestrian enthusiasts can also catch the Winter Equestrian Festival, which runs through March (free admission); Saturday Night Lights offer live music, fun, and competitive show jumping. IPC.coth.com
The Flagler Museum

When visiting Palm Beach, don't miss Whitehall, Henry Flagler's private residence, open to the public as the Flagler Museum. It offers a window into America's Gilded Age, a time where technology and ingenuity gave rise to incredible wealth. In March 1902, the New York Herald described it as "More wonderful than any palace in Europe, grander and more magnificent than any other private dwelling in the world."
To design the 75-room, 100,000-square-foot mansion, Flagler commissioned architects John Carrère and Thomas Hastings, practitioners of Beaux-Arts style, and the design firm of Pottier & Stymus, who decorated rooms in the historic styles of Louis XIV, Louis XV, and the Renaissance. The national historic landmark was a magnificent winter setting for hosting the wealthy of the Gilded Age from 1902 until Flagler's death in 1913. The museum also hosts numerous programs, including a chamber music series.
Admission $18 for adults, $10 for ages 13 to 17, $3 for ages 6 to 12, and free for children under 6. FlaglerMuseum.us
Tea at The Chesterfield

For a repose between bouts of shopping on glitzy Worth Avenue, drop by The Chesterfield hotel for traditional British tea. Choose your preferred setting: in the wood-paneled library, the sleek Leopard lounge, or an open-air courtyard. And even though it's technically tea, you can also opt to start with a glass of Champagne. A tiered stand with dainty savory sandwiches and petite pastries is soon followed by scones with clotted cream and strawberry jam. ($32; $40 with Champagne)
Kids aren't left out. A Little Prince and Princess Tea is served with hot chocolate and soft drinks, cupcakes, ice cream, and butter and jam sandwiches. ($20)
To cap off your British experience, stop by the Boardroom if you can to catch a glimpse of two original paintings by Winston Churchill. ChesterfieldPB.com
Brunch at The Breakers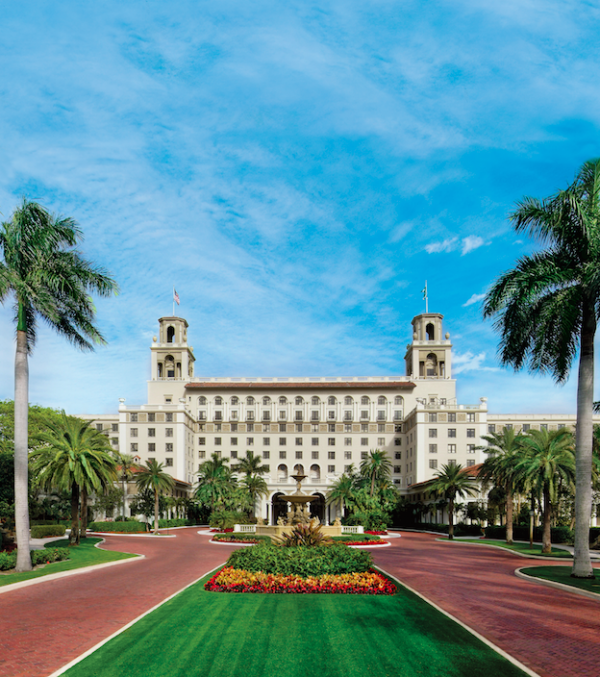 The Breakers pours $30 million in capital expenditures every year into keeping up the Renaissance Italian villa-inspired property. Just getting there is an impressive sight. A 1,040-foot main drive leads to the Florentine fountain, patterned after a fountain at the Boboli Gardens, and the lobby, inspired by the Great Hall of the Palazzo Carrega-Cataldi in Genoa.

For some, Sunday brunch at The Circle, one of the dining venues, is a weekly ritual; for others, it is a special occasion splurge. At $115 per person ($50 per child—ages 3 to 11), not including taxes and tips, the food, from the fresh seafood bar to the 30 plus desserts, and flowing mimosas are only part of the experience.
Rather, you come here to behold the 30-foot frescoed ceilings, with views onto swaying palms, watch the serenading harpist go from table to table, and witness life's important occasions play out before your eyes. Proposals, anniversaries, birthdays—they all happen here. TheBreakers.com
Dinner at Swank Table

You have to hit the back roads to get to Swank Farm in Loxahatchee, and a wrong turn could land you in a nudist colony. But it's worth it.
The farm started off producing lettuce and has since branched off to over 350 varieties of specialty produce. It now supplies top restaurants and hotels in South Florida. Here you can have a true al fresco farm-to-table experience. Each dinner has a different theme, with musicians and chefs, distillers, and brewers from South Florida and beyond making each occasion a unique feast. Upcoming dinners, at $160 per person, include Vegetable Love (March 4), Coastal Seafood (March 18), and The Three Little Red Wattle Pigs (April 22). SwankSpecialtyProduce.com