Recently an old family friend of Perre Coleman Magness passed away. Her mother called at 6 a.m. "What should I make? What should I take them?" she asked.
In small towns in the South, a death triggers a chain of action and communication—be it phone tree or text tree—all executed with military precision. Women from church, perhaps from the funeral committee, plan out the funeral reception and make sure that every detail, from food to flowers, is taken care of.
"It's down to a science," Magness said.
For the bereaved, who are dealing with grief and sorrow, comes an outpouring of help—and food.
Magness, the author of the new cookbook "The Southern Sympathy Cookbook: Funeral Food with a Twist," recalled a story from Southern humorist and writer Julia Reed. When Reed's grandparents passed away, as soon as her mother got off the phone, she grabbed her keys, turned to Reed, and told her: "Go clean out the refrigerator."
Comfort Food
What is funeral food, anyway? "Funeral food is comfort food," Magness said. It's food that sustains when nerves are frayed, that consoles in sorrowful times, and that nourishes the body as well as the soul.
When Magness was researching for her book, no one batted an eye when she said the topic was funeral food. Instead, it sparked recollections of dishes.
There was no contest when it came to the funeral favorite. "The universal number one answer, I would say, across age, race, creed, color, was fried chicken. It's great on a buffet, you can take leftovers home."
"Cold fried chicken is its own delicious experience," she said.
There's also "funeral chicken," with a Greek seasoning of oregano and spices, roasted in a paper bag; it is also known as "baby chicken," depending on the occasion. There are molded gelatin salads filled with fruit, tomato aspics, and funeral beans.
And then, there's "that pineapple thing," a dish everyone seems to know about.  
Magness had known about it but didn't make it until she got around to writing her cookbook; to her surprise, she found herself liking it.
The ingredients—canned pineapples, Cheddar cheese, and crackers—can seem like an incongruous mix to a non-Southerner. It sure is sweet—about a cup of sugar goes into it—and when I made it for friends and family, I was also surprised by how much people liked it.
Pulling Out All the Stops
Funerals are occasions for people to make their best dishes. It's not uncommon for well-wishers to show up with towering three- or four-layered caramel cakes (in her cookbook, Magness offers simpler Bundt cake or sheet cake versions, easier to make and much simpler to transport).
"People really pull out all the stops," Magness said. "The point is to show that they care."
"Southerners have an affinity for great displays of emotion—great sorrow or great joy," said Magness. "It gets wrapped up in the funeral … It might start as somber but you might hear a belly laugh … you might see someone you haven't seen in a long time. 'It's great to see you! … but not under these conditions.'"
Southerners have never been shy to talk about their own funerals, Magness said. "Here's the hymn I want, the music I want, the verse I want."
As for Magness herself, what food would she like to have at her funeral? "My food, I don't care because I won't be here," she chuckled. "If you want to do something for me, bring me fried chicken tomorrow."
Below check out Magness's recipes for That Pineapple Thing and Buttermilk Bacon Stuffed Eggs:
That Pineapple Thing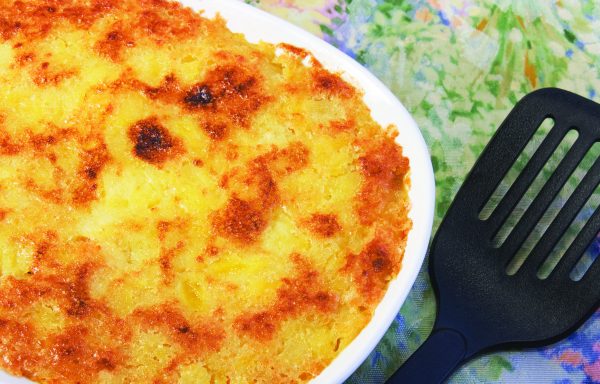 The first step in undertaking a cookbook such as this is asking every single person you encounter what they think of when they think "funeral food." To my surprise, several of my deeply rooted Southern friends answered "that pineapple thing." Somehow, I knew immediately what they were talking about, for this is truly a Southern standard. You'll find this recipe in almost every Southern community cookbook, sometimes in the dessert section, sometimes in the side dish section, often alongside ham recipes. Cheesy Pineapple Casserole, Scalloped Pineapple, sometimes just Pineapple Casserole, it is there in the dog-eared, worn pages of favorite cookbooks. I'll be honest here, before this project I had never made this, or even thought of making it, but with a preponderance of evidence that this qualifies as a truly Southern casserole, I had to give it a try. And like everyone else, I was surprised to find that I really do like it.
Serves 6 to 8
1 (20-ounce) can crushed pineapple
1 (20-ounce) can pineapple chunks
1 cup granulated sugar
6 tablespoons self-rising flour
1/2 teaspoon kosher salt
8 ounces sharp Cheddar, grated
40 buttery crackers, such as Ritz (that's about 1 sleeve)
8 tablespoons (1 stick) unsalted butter, melted
Drain the crushed pineapple and the chunks over a bowl to catch the juice. Whisk the sugar, flour, and salt together in a medium mixing bowl, then add the grated cheese. Toss the cheese around to separate any clumps, making sure all the cheese is coated with the sugar mixture. Add both pineapples and stir to combine, making sure there are no dry ingredients visible in the bowl and that everything is well mixed. Spread the pineapple in an even layer in a well-greased 2-quart baking dish.
Put the crackers into a zip-top plastic bag and crush with your hands until you have fine crumbs, with a few larger pieces lingering. Rinse and dry out the bowl, then mix the crumbs with the melted butter and 1/4 cup of the reserved pineapple juice. Spread the crumb topping evenly over the top of the casserole.
At this point, the casserole can be covered and refrigerated for up to a day. When ready to serve, preheat the oven to 350 degrees F. Bake for 25 to 30 minutes until hot through and bubbly and golden on the top. Serve warm.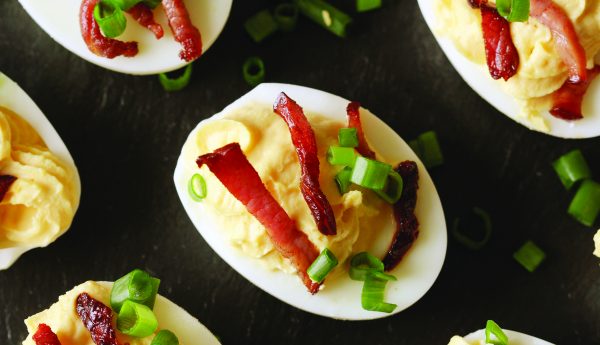 Buttermilk Bacon Stuffed Eggs
No Southern food spread of any kind—funeral, baby shower, wedding party, holiday celebration, or tailgate—would be complete without a tray of stuffed eggs. My family never calls them deviled eggs because that seems to imply spiciness, and my mother cannot abide spicy. Plus, bringing the devil to a funeral doesn't seem like a very good idea. I make stuffed eggs in all kinds of flavor combinations, but I particularly love this simple version with its quintessential Southern ingredients.
Makes 24 eggs
12 large eggs
1/4 to 1/2 cup whole buttermilk
5 strips bacon, cooked crisp
2 green onions, light and white green parts
Kosher salt
Generous grinds of black pepper
Place the eggs in a large, deep skillet and cover with water by about an inch. Bring to a boil, and when the water reaches a boil, cook the eggs for 8 minutes. Fill a bowl with ice and water, and as soon as the 8 minutes are up, transfer the eggs to the ice water with a slotted spoon. Leave to cool in the water. Crack the eggshells all over by gently rolling on the counter, then remove the shells. Rinse off the eggs to remove any shell debris and pat dry.
Cut the eggs in half, wiping the knife on a paper towel between eggs so you don't get yolk on the next white. Scoop the yolks into a bowl and place the white halves on a platter or deviled egg plate. Break up the yolks with a fork, and then add the buttermilk a little at a time until you have a smooth and creamy filling. The consistency of your buttermilk will determine how much you need to use. Finely chop 3 strips of bacon and add to the yolks. Mince the green onions finely and add as well. Stir to distribute the ingredients, then salt and pepper to taste. Be generous with the pepper.
Cut the remaining two strips of bacon into small pieces and garnish the eggs by pressing a bacon shard into the filling.
Reprinted from "The Southern Sympathy Cookbook: Funeral Food with a Twist" by Perre Coleman Magness. Published by The Countryman Press.