Hear ye! Entendez vous!
French law and custom dictate: Beaujolais Nouveau is released at 12:01 a.m. on the third Thursday of November and meant to be drunk during its vintage year. What better way to welcome "the first wine of the harvest" than in person, with Les Vins Georges Duboeuf, the most famous Beaujolais négociant? This year's Nouveau Day soared to nouveau heights with the American debut of Duboeuf's Beaujolais Nouveau Rosé, an instant classic.
Behind Beaujolais
North of the Rhône Valley, south of Burgundy, and west of the Saône River, lies the Beaujolais region. The predominant grape varietal is Gamay and the terroir is more granite than limestone-based, like the foundation of Burgundy. The moderate climate produces light and medium-bodied red wines with medium or high acidity and low tannin levels. Wines are typically unoaked, with pronounced red fruity aromas of raspberry and strawberry and a hint of spice.
As in other regions of France, there is an appellation hierarchy within Beaujolais. The foundation of the hierarchy is the Beaujolais AOC and Beaujolais Nouveau AOC, the only difference being that wines labeled "Nouveau" are a very light style, released on that third Thursday of November, and meant to be enjoyed immediately.
"Beaujolais-Villages AOC" describes superior-quality wines that come from the granite hills at the north of the region, including the crème de la crème, Cru Beaujolais. While most Beaujolais is best consumed young, the best Crus can improve with bottle age—but that doesn't concern us on Nouveau Day.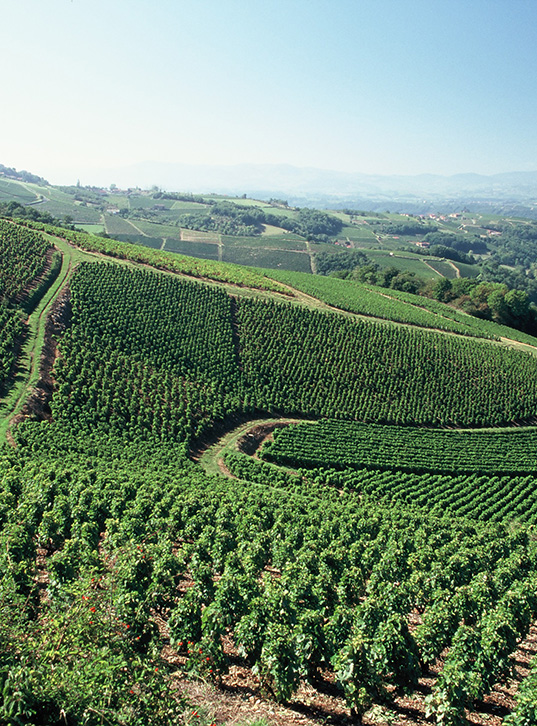 A Very Good Year
Georges Duboeuf and his son Franck make some of Beaujolais' most popular wines, known to be as bouncy and fruit-packed as wine can get.
In 2018, Beaujolais enjoyed near perfect weather conditions: a sunny summer with just the right amount of rain to allow the vines to pass through each cycle smoothly. After an exceptional harvest, the winemakers, oenologists, and cellarmasters successfully captured the vintage's charm. Once the Nouveau wines started to ship out to markets around the world, Georges remarked, "We can confirm that 2018 will be among the greatest vintages we've ever had."
This year's Nouveau is, as expected, exuberantly fruity and bold, with tastes of red berries and soft, velvety tannins. The more complex Villages Nouveau carries a level of sophistication far exceeding expectation.
My biggest aha moment came with the Nouveau Rosé, a final touch of sunshine before the cold set in, literally—I walked out of the tasting straight into New York City's first snowstorm of the season.
As Franck said, "Gamay grapes are well-suited to produce a vibrant and fresh rose wine, so making a high-quality Nouveau Rosé to complement the Beaujolais Nouveau and Beaujolais-Villages Nouveau has been a natural, and delightful, progression for our brand."
Even with snow blowing sideways up my sleeves, I got to thinking: Could Gamay rosé become mainstream? I think so. In that chilly moment, "Gamay rosé all day" was a pleasant thought.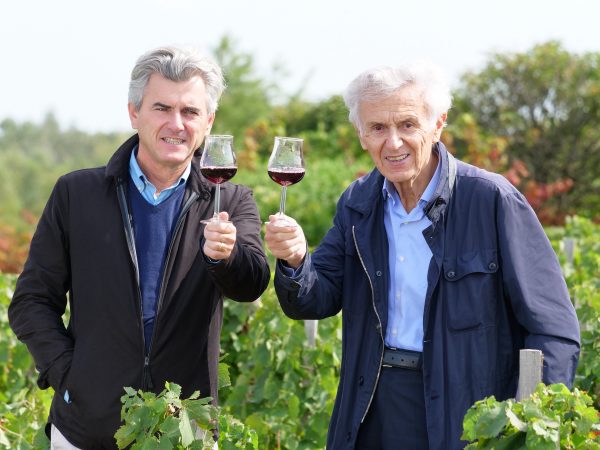 Centuries of Celebration
Grape growers and vintners have gathered to celebrate the harvest since the 1800s.
A century ago, casks of the just-made Beaujolais would be loaded and shipped down the Saône River by paddleboat to Lyon, so that the city folk had a wine with which to celebrate.
Thankfully, modern times allow for worldwide Beaujolais consumption, but still today, the "first wine of the harvest" symbolizes a turn of the seasons and the start of the holiday season. It feels like tradition, because it is. Being light and fruit-forward, easy-drinking Beaujolais Nouveau wines pair nicely with your holiday meals, be it a Thanksgiving turkey or Christmas ham. Buy them, and drink them, now.
The Wines
The United States-bound 2018 Duboeuf Nouveau wines labels feature an original abstract oil painting, "Foolish Pleasure," by emerging artist and Tennessee native Chloe Meyer.
Georges Duboeuf Beaujolais Nouveau 2018: $12.99
Garnet in color with a hint of purple. Aromas and taste of red and black fruit. A light-bodied expression of fruit. Serve with tapas, cheese, charcuterie, and poultry.
Georges Duboeuf Beaujolais-Villages Nouveau 2018: $13.99
Purple color. Intense aromas of blackberry, cassis, and a hint of raspberry jam. More finish than expected. Well-rounded, fruity, and unctuous. Serve with tapas, cheese, poultry, and salmon.
Georges Duboeuf Beaujolais Nouveau Rosé 2018: $13.99
Rose-petal color. Aromas of strawberry and peach, with a touch of citrus. Light berry is fresh and elegant on the palate. Serve as an aperitif or pair with apps, salads, or fresh fruit.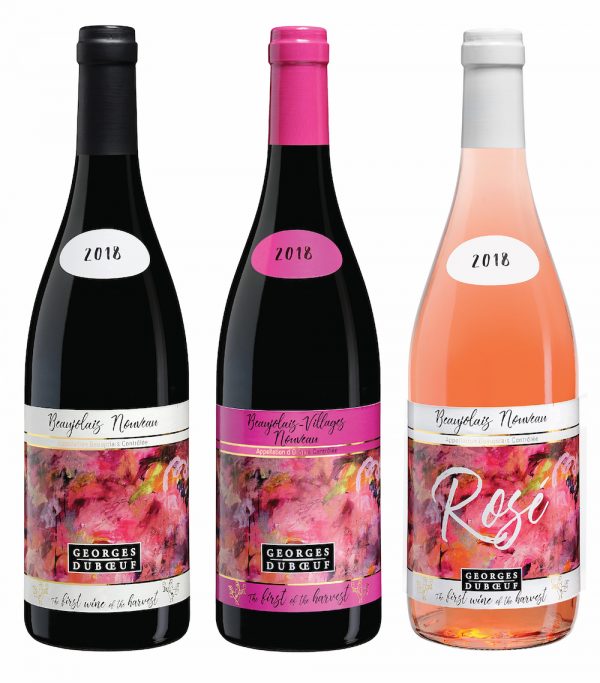 Amanda Burrill sees through an adventurous lens, typically focused on culinary and travel. Her education includes a bachelor's in archaeology, a master's in journalism, a culinary degree from Le Cordon Bleu, and wine and spirits credentials earned while living in Paris. She is a U.S. Navy veteran, Ironman triathlete, high-alpine mountaineer, and injury connoisseur who ruminates on UnchartedLifestyleMag.com