Fried green tomatoes are a treat well known in the South, where they have been loved for years. 
Unripe green tomatoes are sliced; dipped usually in eggs, but sometimes in buttermilk or a mixture of milk and eggs; and then dredged in cornmeal or flour, or a mix of the two. Then they are, as the name suggests, pan-fried in oil until crisp. 
Many people first learned about this Southern treat from the absolutely terrific novel "Fried Green Tomatoes at the Whistle Stop Cafe," written by Fannie Flagg, or the movie based on the book. (While the food is somewhat peripheral to the book and movie, they are completely worth reading or watching—particularly if you whip up a batch of fried green tomatoes to go with it.)
But fried green tomatoes likely didn't start off as a Southern food. I was quite surprised to find out that they probably have Jewish origins! 
According to Robert F. Moss, a food historian and writer in South Carolina, they entered the American culinary scene in the Northeast and Midwest, and recipes were found in Jewish cookbooks as early as the end of the 19th century. Apparently they really were only popularized in the South later, in part thanks to the 1991 movie.
The exact origin story is a bit murky, but there is no doubt that the South has smartly claimed this dish as part of their culinary essence.
However fried green tomatoes were introduced to you, just be happy that they were: They go with so many surprising things and make a fun side and versatile dish to enjoy all summer long.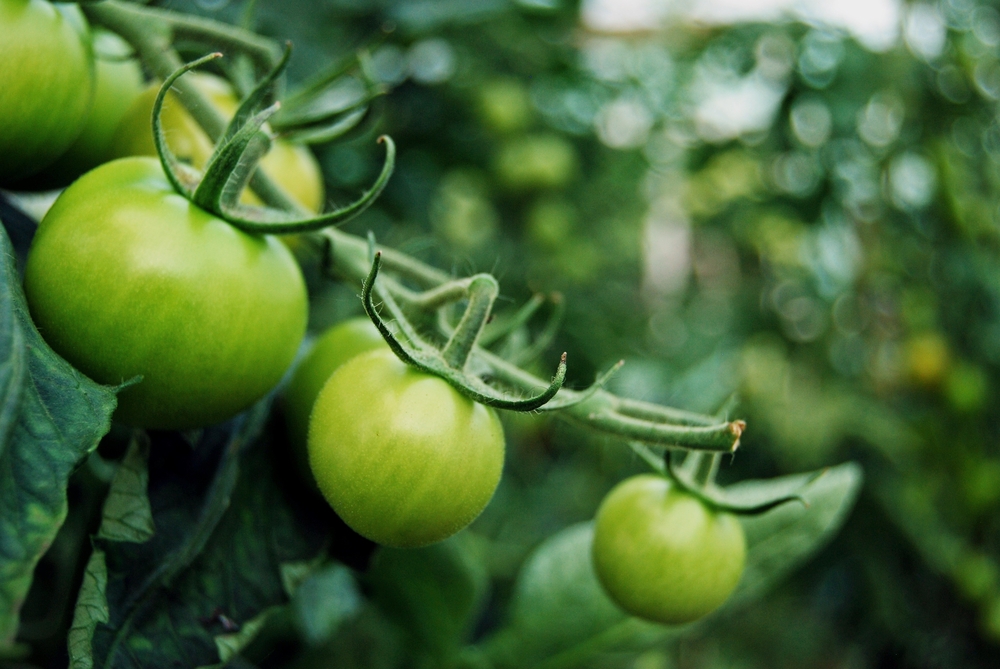 Green Tomato Tips
To make fried green tomatoes, you have to use unripe tomatoes; ripe ones will fall apart. Besides the firm texture, you also want the tangy tartness of green tomatoes, which contrasts so nicely with the richness of the crispy breaded crust.  
This is actually a good thing, since if you are growing tomatoes, your plants are probably starting to produce like crazy right about now. You most likely won't be able to keep up with all of the ripe tomatoes coming your way, so pick some of those green ones and slice and fry them up. 
Green tomatoes almost feel like a different vegetable than ripe tomatoes, with a very different flavor and texture, and therefore different cooking applications. (And yes, correct, tomatoes are botanically a fruit).
Start by picking tomatoes that are firm but not rock hard, and of decent size. They don't have to be completely green, and might have some streaks of yellow or orange creeping in; the firmness is most important.  
When you are ready to fry, make sure your oil is hot enough that the breaded tomatoes sizzle when they hit the pan. If the oil isn't hot enough, the tomatoes won't crisp up properly and may get soggy.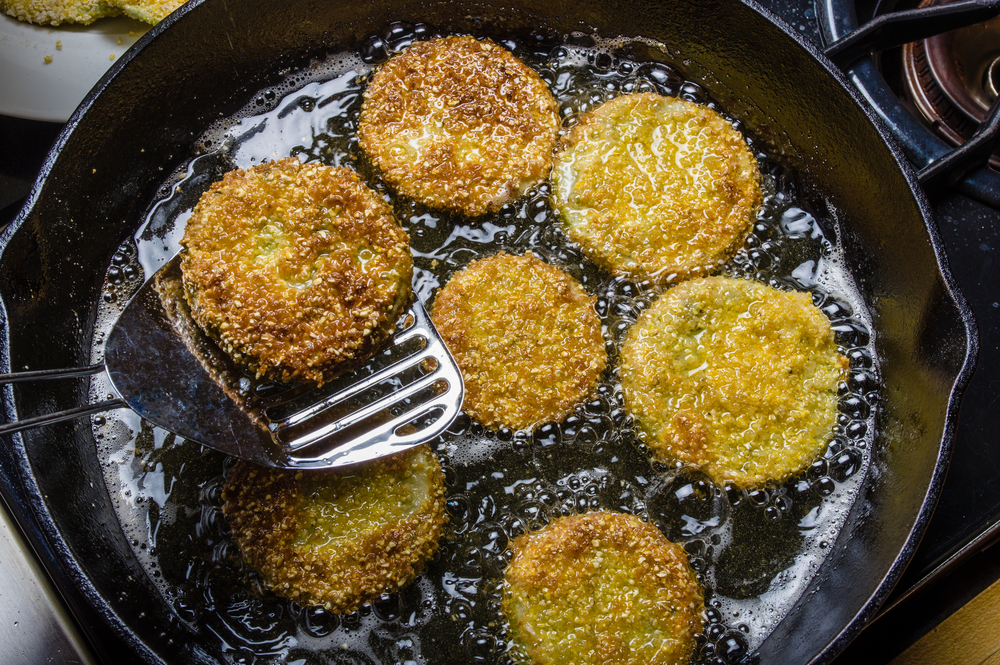 How to Serve
You can absolutely eat fried green tomatoes as is, without any accompaniments; in the South, that's usually how they are eaten.  Sometimes they are served with a buttermilk dipping sauce. 
Creamy sauces and dips are terrific partners for fried green tomatoes, so think about things like a creamy lemon dressing or herbed dipping sauce. Last summer, I served a platter of fried green tomatoes with green goddess dressing on the side, to be drizzled on top. I felt very, very smart. 
We also love them topped with this sweet-tart, bright, and slightly spicy pineapple mint salsa. Be sure to use fresh pineapple and fresh mint—or basil, if you prefer—for best results. You can simply roughly chop the ingredients instead of dicing them, and the salsa will still taste fresh and delicious. If you like more heat in your salsa, you can leave some or all of the seeds in the jalapeno when you mince it.
I love the fruit salsa pairing, so I am also thinking about a stone fruit salsa, a corn-based option, or maybe getting a bit meta and going tomato-on-tomato with a roasted tomato salsa. 
Fried green tomatoes are usually a side dish to something rich, like pulled pork or fried chicken. I am also thinking that I might layer one right into a pulled pork sandwich or on top of a burger, or maybe do a warm kind of Caprese salad with fried green tomatoes alternated with slices of fresh mozzarella. 
What the Kids Can Do
This is a fun recipe to involve the kids with. If they are old enough to handle a knife, they can slice the tomatoes (there are some great kid-friendly nylon knives out there that are designed to not cut little fingers).
They can beat the eggs in a shallow bowl, and mix the cornmeal and salt in another one. Then they can dip the tomatoes into each mixture, one after the other. 
For the salsa, they can juice the lime, pull the mint leaves from the stems, and possibly cut up the pineapple and peppers. Finally, they can help stir everything together.
Fried Green Tomatoes With Pineapple Mint Salsa
Serves 4
For the salsa:
2 cups diced fresh pineapple (about 1/2 of a pineapple)
1/4 cup diced yellow bell pepper (about 1/4 of a large pepper)
1/4 cup diced green bell pepper (about 1/4 of a large pepper)
1 to 2 tablespoons chopped fresh mint leaves
1 teaspoon minced fresh jalapeño pepper, or to taste
1 tablespoon fresh lime juice
Kosher or coarse salt, to taste
For the tomatoes:
4 firm green tomatoes
1 cup finely ground cornmeal
1 teaspoon kosher salt
1/2 teaspoon cayenne pepper
2 large eggs
Vegetable or canola oil for frying
Make the salsa: Place the pineapple, yellow and green bell peppers, mint, jalapeño, lime juice, and salt in a medium-size bowl and toss gently until well combined.
Make the tomatoes: Slice the tomatoes crosswise into 1/2-inch-thick slices.
In a shallow bowl, combine the cornmeal, salt, and cayenne pepper.  In another shallow bowl, beat the eggs. Line a surface or large plate with paper towels.  
Fill a large skillet with oil to a depth of about 1/4 inch. Heat over medium-high heat until barely shimmering. Add the tomatoes in a single layer, without crowding them (you will probably need to do this in batches). Fry them for about 2 minutes until they are golden on the bottom, then flip them and fry for another 2 minutes, until the other side is golden. Transfer the tomatoes to the paper towel-lined plate or surface. Repeat until all of the tomatoes are cooked.  
Serve the tomatoes hot or warm, with the salsa on the side.
Katie Workman is a food writer and recipe developer in New York City. She writes the popular blog TheMom100.com, contributes to many publications, and has written two cookbooks: "The Mom 100 Cookbook" and "Dinner Solved!"