CHATTANOOGA, Tenn.—It's summer camp season in Chattanooga. That means gaggles of children with matching neon T-shirts, eager hands, and pudgy cheeks squishing up against polished aquarium windows. They all ooh, aah, giggle, and shriek, while counselors laugh—or groan—behind them. A straggler caught in the rain waddles through the door half an hour late in a bright pink tutu and matching rubber rain boots.
The joyous sights and sounds are a testament to this: Chattanooga is a playground for visitors of all ages. Kids and adults alike can stroll through pedestrian-friendly streets, hike through the mountains, or spend a rainy day spotting seahorses at the riverfront aquarium—without breaking the bank. In this hotspot of natural beauty, the Tennessee River, blue and glistening, snakes through hillsides blanketed in green, while mountains hide colossal boulders and cascading waterfalls above and below ground.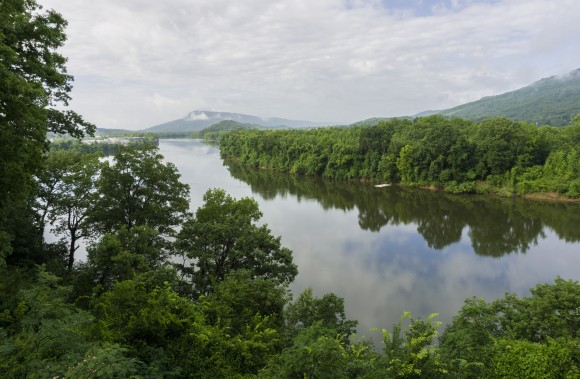 The city itself is on the rise, with its revitalized riverfront and redevelopment projects, including the renovated Chattanooga Choo Choo, a historic train station-turned-vacation complex, complete with train-car hotel rooms and brand new restaurants.
The dining scene is along for the ride—you'll find reimagined Southern and international flavors right alongside traditional fare. There's fried chicken, sure, but also ramen and duck confit tacos. There are grits and creamed corn, still, but under medallions of tender venison or rosy wagyu beef.
The growth of Chattanooga's food scene parallels a return to celebrating the natural bounty of the Tennessee Valley. It's the cherry on top for a city with already so much to offer.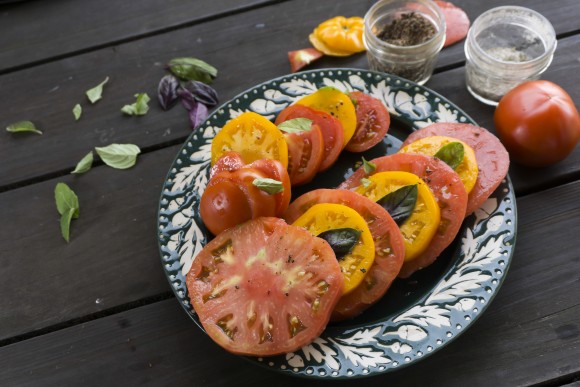 Where to Play
Tennessee Aquarium
At the Tennessee Aquarium, the freshwater exhibit is a tribute to the river at its door, offering a glimpse of its incredible diversity. Visitors start in the lush forests of the Appalachian Mountains and follow the path of the freshwater down to the Gulf of Mexico, meeting frisky river otters, bobbing turtles, sunbathing alligators, and enormous river fish along the way. An ocean exhibit houses vibrant butterflies that alight on fingers and phones alike, mischievous lemurs that catapult from branch to branch, and giant sharks and schools of fish that patrol colorful coral reefs. The aquarium is also home to the world's only tweeting electric eel, Miguel, who triggers aquarium-related tweets with his jolts of electricity. TNAqua.org
Ruby Falls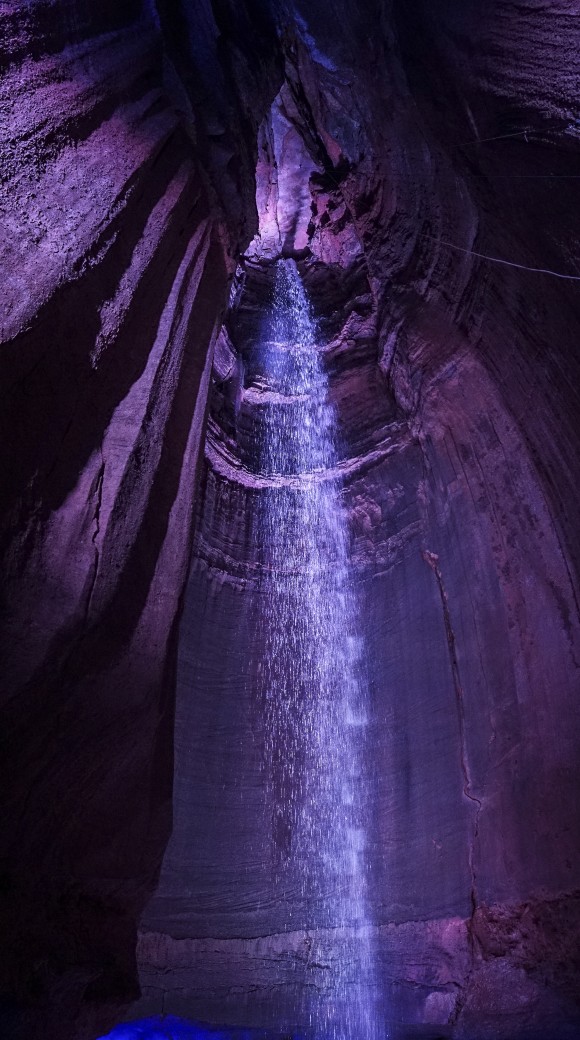 Towering at 2,389 feet high, Lookout Mountain was the site of the Civil War's Battle of Lookout Mountain, nicknamed the "Battle Above the Clouds" for the fog that sometimes settles halfway down the mountain.
Today, it is home to a treasure trove of natural attractions. A cavern over 1,100 feet below its surface hides an enchanting sight: 145 feet of cascading water, illuminated by red, blue, and purple lights. Ruby Falls, a family favorite, is the largest and deepest underground waterfall open to the public in America. Visitors descend via elevator into the heart of the mountain, then wander through winding tunnels and slippery caves to reach the main attraction. The path is lined with stalactites, stalagmites, and other funky formations; look for the aptly named "Dragon's Foot" and "Steak and Potatoes." The tour guides are friendly and enthusiastic—and well-armed with rock puns. RubyFalls.com
Rock City
This private rock garden atop Lookout Mountain first opened to the public in 1932 and has since become a family tradition for many locals. A 4,100-foot walking trail takes you through whimsical gardens filled with towering rocks, over 400 native plant species, and lush greenery. You can side-shuffle between near-touching boulders in the Fat Man's Squeeze, brave the wobbly trek across the Swing-a-Long Bridge, play hide-and-seek with the spotted inhabitants of Deer Park, and gaze at a 140-foot waterfall and breathtaking panoramic view of seven states from Lover's Leap. SeeRockCity.com
Where to Eat
St John's Restaurant
At Chattanooga's crown jewel of fine dining, chef Rebecca Barron gathers ingredients and inspiration from local farms. An heirloom tomato salad captures the essence of summer, with ruby reds and sunny yellows sprinkled with crunchy okra and zucchini and fragrant ribbons of basil. The accompanying sweet corn and Coppinger cheese soufflé is fluffy and delicate, but packs a surprising savory punch, ending with a zing of jalapeño ($13). For the main course, the Wagyu Beef Zabuton Steak & Smoked Brisket is the signature dish ($36), but if you want to branch out, the venison is an excellent choice ($37). Tender medallions of Axis venison—a breed known for its sweet, mild, and less gamey flavor—rest on a bed of luxuriously buttery stone-ground grits, balanced by sautéed kale and brightened with sweet and tart cherry relish. StJohnsRestaurant.com
Easy Bistro & Bar
At this upscale seafood-focused bistro, James Beard Award nominee Erik Niel reimagines traditional Southern comfort food infused with French and New Orleans flavors. Niel's seafood prowess shines in the simple trout almondine, seared until the skin breaks with an audible crack, but without compromising the sweet and juicy flesh underneath ($14). The filet swims in a glistening bath of amber-hued brown butter, whose heady scent hits as soon as the dish arrives, and is finished with sliced almonds and a kiss of bright lemon. Even the vegetables are transformed, borrowing umami from soy sauce and sesame or rendered luxurious in rich beef tallow. EasyBistro.com
Main Street Meats
Ask any Chattanooga chef for food recommendations, and Main Street Meats will undoubtedly make the list. This neighborhood butcher shop and restaurant specializes in local, sustainable meats sourced from the Tennessee Valley. The lunch menu includes Pork Rinds puffed to airy perfection and paired with a smoky Harissa Aioli ($4.50); the famous Local Beef Burger that tastes and feels closer to a good steak ($10.25); and a classic Warm Smoked Turkey Sandwich, stuffed until overflowing with turkey, bacon, white cheddar, and avocado ($8.50). MainStreetMeatsChatt.com
Flying Squirrel Bar
This hip neighborhood bar features a terrarium-esque interior with a dreamy starscape of hanging LED lights, and an extensive drinks menu with over 30 craft beers on tap, as well as a variety of house and seasonal cocktails. Get the Pimiento Cheese, a creamy spread with local cheddar and sticky-sweet bacon jam addictive enough to eat with a spoon ($8). Or try the Cuban Tacos ($12). Stuffed with pork belly and shoulder, tangy pickles, and creamy red dragon cheese (cheddar with mustard seeds and ale), they pack the explosive flavor of a Cubano in tiny taco form. FlyingSquirrelBar.com
Where to Stay
SpringHill Suites by Marriott Chattanooga Downtown/Cameron Harbor
Located on the riverfront, close to downtown attractions, this family-friendly hotel features weekly live music and a riverfront patio (from $142 per night). Marriott.com
The Dwell Hotel
Retro wallpapers, gilded plant walls, and psychedelic paintings adorn the downtown boutique Dwell Hotel, one of only 13 Design Hotels in the country. This chic place to stay includes 16 uniquely themed rooms, a restaurant, and a cocktail bar (from $225 per night). TheDwellHotel.com
The Crash Pad
For a more unconventional stay, crash at the Crash Pad, a climber-owned boutique hostel and ultimate base camp for the outdoor community. It is the first and only hostel in the world to be LEED Platinum Certified (bunks $35 per night, private rooms from $85 per night). CrashPadChattanooga.com
For more information, visit ChattanoogaFun.com.
This trip was arranged by the Chattanooga Convention & Visitors Bureau.