R | | Drama | 8 February 2019 (USA)
A Hasidic cantor's wife dies, and he has no understanding of the post-death process since, apparently, these things are never really discussed in his form of Judaism, and it's driving him absolutely batty.
Shmuel (Hungarian actor Geza Rohrig), writhing in his grief and haunted by macabre nightmares, feels a deep need to know exactly what's going on with wife Rivka's body, which is wrapped in a shroud, buried in a pine box (with three holes drilled in it) six feet under, somewhere in Rockland County, New York.
He's obsessed, fixated. "What's going on inside that coffin?!!!" his mind shrieks at him. He feels that her soul remains attached to her remains and as long as her remains, er, remain—then she will remain, in pain. This is a comedy, by the way.
Shmuel's a fabulously Ichabod Crane sort of a fellow, hunched and scarecrow-ish, and he stomps over to confer with his elder, payots flapping in the breeze (the long, curlicued sidelocks that accord with the Divine's proclamation that "One should not shave the corners of one's head").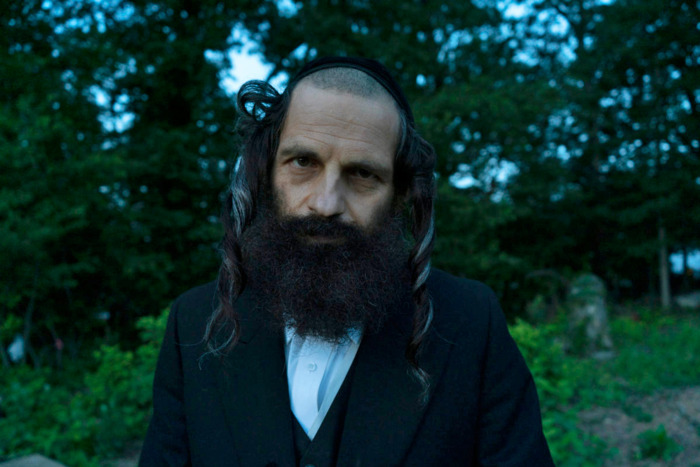 The ancient community rebbe (Ben Hammer) tells him that he should probably stop indulging in such morbid thoughts. Shmuel's got two young boys to raise, after all. "How does she return to the Earth?" "Maybe you don't think of these things, Shmuel."
Oh, but Shmuel will think of these things, and so his next stop is a non-Jewish funeral home. It's a major sin for him to go there. His list of sins, while on this macabre journey of detective work/science project, grows daily by leaps and bounds. There, he inquires of the goyische (gentile) funeral director (Joseph Siprut) after decomposition details.
When the "I'm just a coffin salesman" young man realizes no sale will be forthcoming, he quickly turns hostile, informing Shmuel that after the embalming process, "We don't really check up on their progress," and furthermore, "Look, handsome, sometimes, in those hermetically sealed containers, the bodies explode. Trapped gas with nowhere to go."
This still doesn't do it for Shmuel. He must know more. He hies himself to the nearby community college to look for a science professor. But due to religious reasons, he cannot converse with the lady at the front desk, and so, after a series of back-and-forth Post-it note exchanges wherein he queries, "May I speak to a man?" She writes back, "We appear to be out of those," and she deposits him in the back of a science classroom taught by Ferris Bueller, I mean Mathew Broderick, I mean Albert.
Blind Leading the Blind
Shmuel presents his case; Albert tries to politely flee, but a more persistent man than our Shmuel, you will never find. Albert suggests that Shmuel study up on the decomposition of pigs, since they're biologically similar to humans and therefore similarly chowed-down upon by the same maggots, bugs, and bacteria. "Who doesn't like bacon?"
This Albert, a recently divorced, weed-smoking, Jethro Tull-listening schlub of a professor of staggering mediocrity, is not … how shall I say … terribly manly? And so he has boundary-setting issues. He can't shake Shmuel (whom he cluelessly [or passive aggressively] never ceases to stop calling "Shmell"). And so Albert, off the top of his head, suggests one could get a dead pig and observe it, and extrapolate as to the progress of Shmuel's wife Rivka's decomposition, factoring in her approximately four-week head start.
Albert didn't realize who he was dealing with, and soon we have the delightfully scandalous image of a bushy-bearded, 17th-century-Polish-garbed, concerned citizen (black frock coat, wide-brimmed fur hat, flapping payots, and white knee socks) schlepping a deceased pig of no small size somewhere into the forests out back behind the town of Suffern, New York.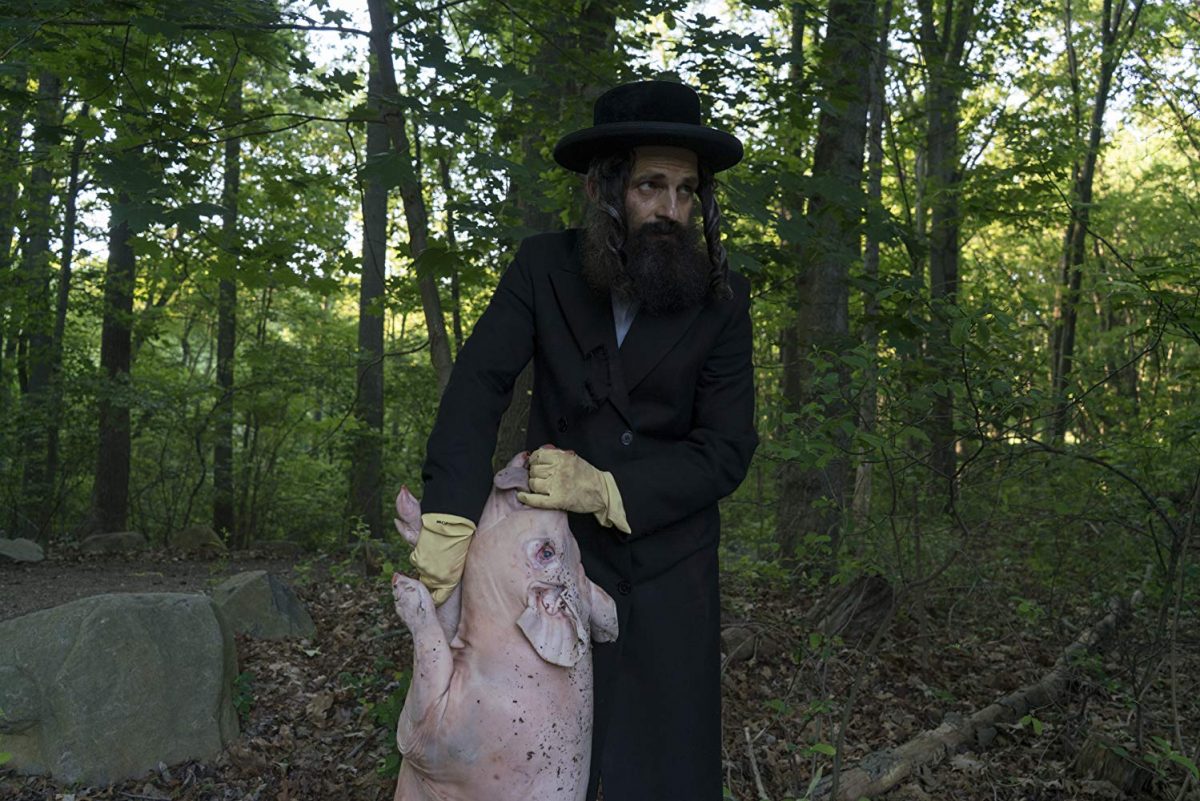 Will Shmuel find peace? Will the consciousness of the details of the process of decomposition soothe his tortured soul? Will his concerned sons, sneaking into Shmuel's room in the middle of the night and exposing his left big toe and talking to it (while father loudly snores) be able to exorcise the dybbuk (evil spirit) they feel certain he has eaten, which resides in said toe?
Well. You'll have to go and find out. I'm not telling. Suffice it to say, while not uproarious, it's a muted tale of two melancholy circus clowns tackling a taboo, sacrosanct area of life, offering scattered nuggets of high humor. Such as when, attending a traditional Hasidic wedding, Shmuel can't take it anymore, swipes the Manischewitz wine bottle off the table, and, dead-drunk, weaves off through the woods to visit Rivka's grave. The visuals of that are exceedingly giggle-worthy.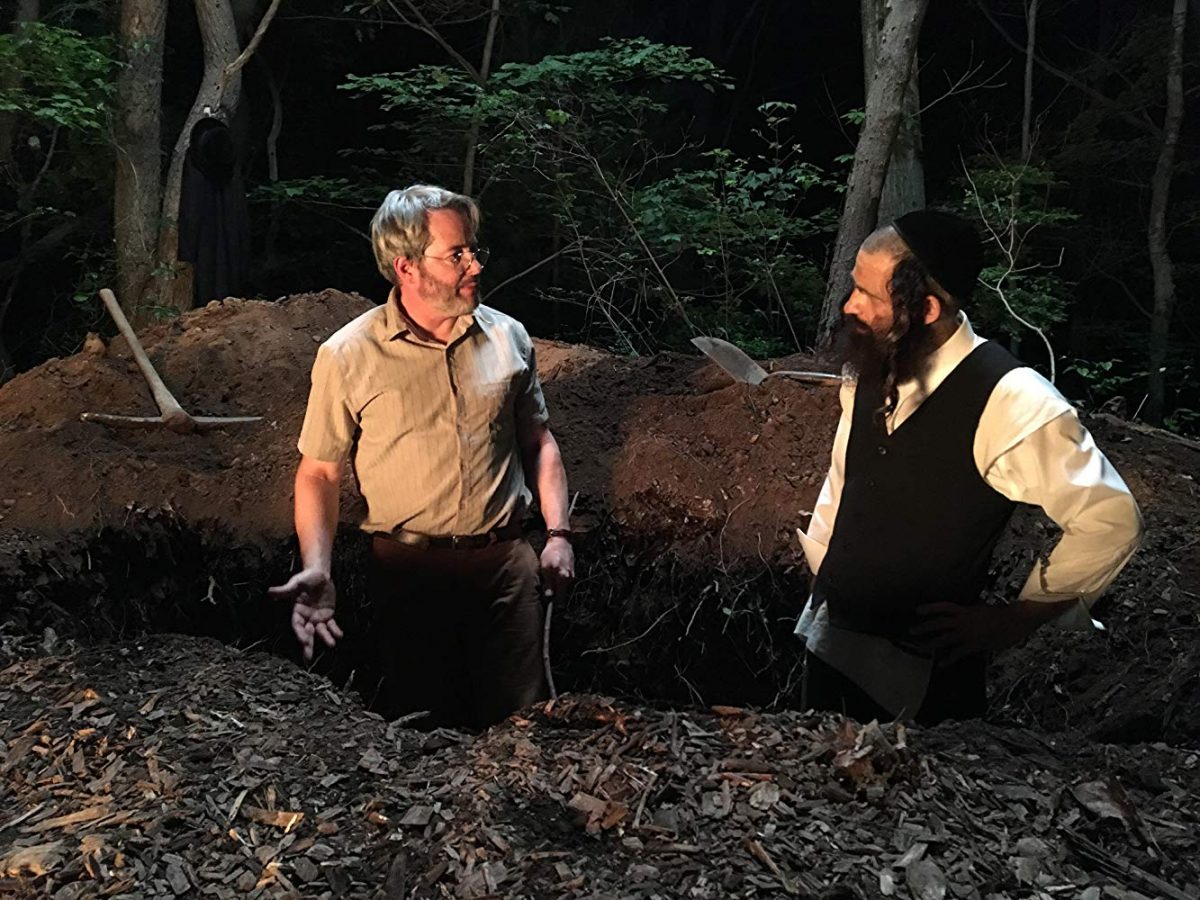 Conversely, there are touching moments, such as when this cantor who is too depressed to sing anymore finally sits on his son's bed, head bowed, and finds his voice again, singing a hauntingly beautiful song.
Culture Clash
There's the orthodox versus secular clash, succinctly represented at the film's outset, first by a quote from the Torah, and then a quote from a Jethro Tull lyric, saying, "God is an overwhelming responsibility."
But then there appears to be another culture clash: I was slightly taken aback at seeing a photo of director Shawn Snyder. He's black. This is some politically shaky ground for a black man to be commenting on in America, since this portrait of Shmuel will most likely offend the heck out of the Hasidic community.
However, looking at his last name, Snyder, I'm guessing it used to at one point be "Schneider," and that Mr. Snyder—like Lenny Kravitz and Lisa Bonet—is a Jewlatto (half Jewish, half black).
So he's allowed to poke fun at Judaism (and I'm allowed to indulge in this jokey conjecture about him, because I'm a Blulatto ["blue-blood mulatto"—white ancestors came over on the Mayflower, black ancestors came over on a slave ship]). However, to the Hasidim, that would still make Snyder a secular schwartze goy, and his efforts will not be appreciated. Not that the Hasidic community goes to the movies, ever.
What's particularly striking to me about this film is that this pair of secular and orthodox wretched clowns—this Jewish Laurel and Hardy team of the hapless Shmuel and the spineless Albert—both need to man up. Like, go take one of those Men's weekends that happen up around those parts.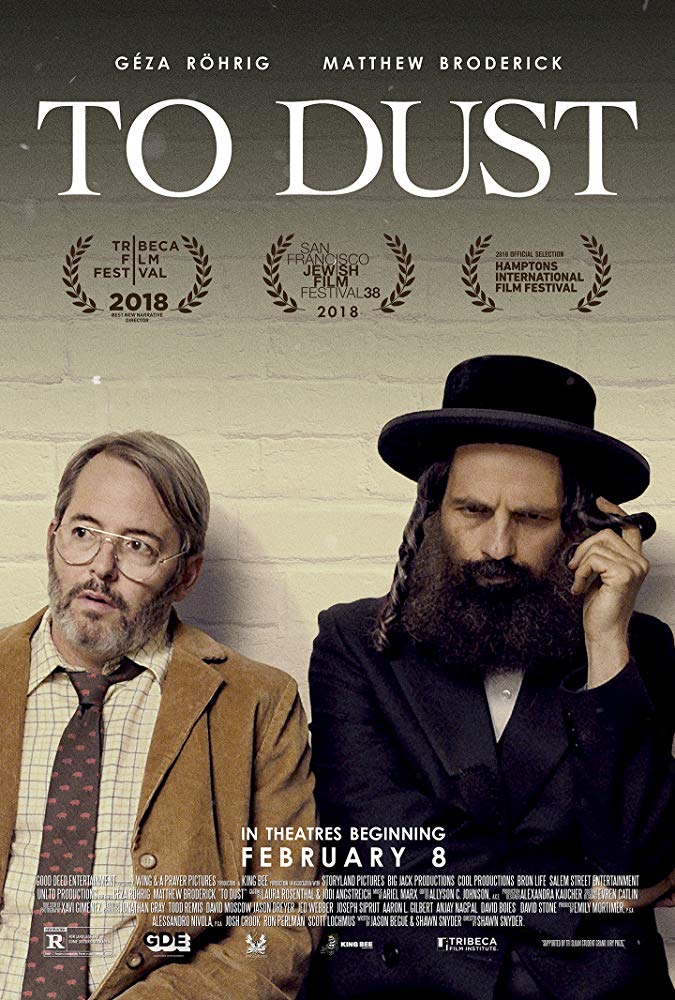 Ultimately, Though
That particular area is chock-full of misunderstood groups. The Ramapo Mountain range is the upper part of the U.S. eastern mountain range and is populated by hill people, up around Sloatsburg. Farther up the Hudson Valley exist all manner of spiritual movements and healing centers.
Had Shmuel driven north and consulted with Buddhist and Taoist practitioners, say, he might have learned that while Rivka's molecules may have disintegrated in this dimension, her atoms, neutrons, electrons, quarks, and neutrinos live on in other dimensions, and the entire process is not in the least bit painful. Now that would be an interesting film indeed. Imagine the debates! Probably not as funny, though. Maybe even funnier.

Film Review: 'To Dust'
Director: Shawn Snyder
Starring: Matthew Broderick, Geza Rohrig
Rated: R
Running time: 1 hour 45 minutes
Release Date: Feb. 8
Rated 3 stars out of 5