In strategic terms, it is not so advantageous to have the front line on your national soil. At least for French soldiers during World War I, it provided opportunities to return home on furloughs. However, it is decidedly a mixed blessing when they also bring home their post-traumatic stress and find gossip waiting for them. There is plenty of tension on the home front in Xavier Beauvois's "The Guardians," which opens May 4 in New York.
Hortense Sandrail is not called a matriarch for no reason. Despite her advanced age, she has kept the Paridier Farm productive while the men in her family have served at the front. She has done so mostly with just the help of her daughter Solange.
Somewhat reluctantly, she hires Francine Riant as a temp worker for the harvest. Happily, Riant quickly proves she is both a hard worker and a good personality fit within the family. In fact, Mother Sandrail offers her a permanent position, but that was before she realizes that Riant and her son Georges developed an intimate attraction during his leave.
The family always assumed Georges Sandrail would marry his childhood friend Marguerite, as did she. However, Georges is so smitten with Riant, he carries on a deeply revealing correspondence with her after his return to duty.
Unfortunately, some rather foolish misunderstandings will be exploited to short circuit their romance. Partly, it is all due to bad timing. There are already rumors swirling about Solange's fidelity, or lack thereof, as well as a percolating resentment of the Paridier Farm's continued success, during what for many is a time of privation.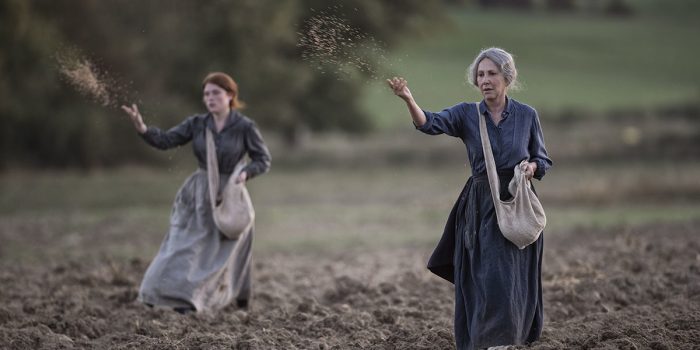 "The Guardians" is set during World War I, but the pastoral setting and circumstances could almost pass for the American Civil War. Certainly, many folks residing in middle America should relate to the family drama and the challenges of agricultural economics.
Even before the war, life on Paridier Farm was surely one of toil and hardship. Yet, they endure because Hortense insists.
However, Beauvois's achingly deliberate pace will be a barrier to entry for many less adventurous viewers. His approach is often more that of a painter than a filmmaker, composing vistas for his hardscrabble characters to populate. Still, he is acutely attuned to the characters' emotional travails. Every time the mayor pays a death-notice call, appropriately dressed in black, the simple dignity of the reactions of those informed packs an emotional wallop.
Nathalie Baye is a wonder of grit and rectitude as the severe Hortense. Laura Smet, her real-life daughter, also projects strength and beauty as Solange, in a rustic kind of way. However, Iris Bry is shockingly expressive and strangely prepossessing, considering she was literally a discovery off the street (or rather in the bookstore), with no formal dramatic training to speak of. She is indeed a find.
"The Guardians" could also very well spur a (re-)discovery of Ernest Pérochon, the author of the source novel, who was a French provincial school teacher drafted into service at the front, very much likes Georges's older brother Constant. However, Pérochon died prematurely during the second German Occupation of World War II, due to stress caused by his refusal to collaborate. His reputation is unimpeachable, but alas, he has not been available to promote his canon.
There is a good deal of grit in "The Guardians," but it is also elegant in a hauntingly old-fashioned way. Cinematographer Caroline Champetier evokes the soft light and warm colors of impressionist landscapes, while the sparse but graceful score composed by the legendary Michel Legrand lends just the right supportive notes, at just the right time. Very highly recommended.
The Guardians'
Director: Xavier Beauvois
Starring:   Nathalie Baye, Laura Smet, Iris Bry
Running Time: 2 hours, 18 minutes
Released: May 4
Rated 3.5 stars out of 5
Joe Bendel writes about independent film and lives in New York. To read his most recent articles, visit JBSpins.blogspot.com