PG | | Animation, Adventure, Comedy | 25 November 2020 (USA)
The original "The Croods" (2013), about a family of Neanderthal cave dwellers, created such an exotic world and fetching, original atmosphere that when its (voice) cast rode their menagerie of prehistoric pets down the beach and into the sunset, you wanted to go with them so the movie would not end. Those are the best kinds of kids' movies. Actually, the best any kind of movies. One had hoped "The Croods: A New Age" would be more of the same.
By "same," I was subconsciously hoping for new magic. The new "Croods" is more of exactly the same as the old "Croods" in the usual, "sequel-itis" way. Oh, it's passable. It'll hold your attention. You'll laugh. But the elusive magic of the original has dissipated. And that's a shame. Understandable, though; it's hard to make two magical movies in a row.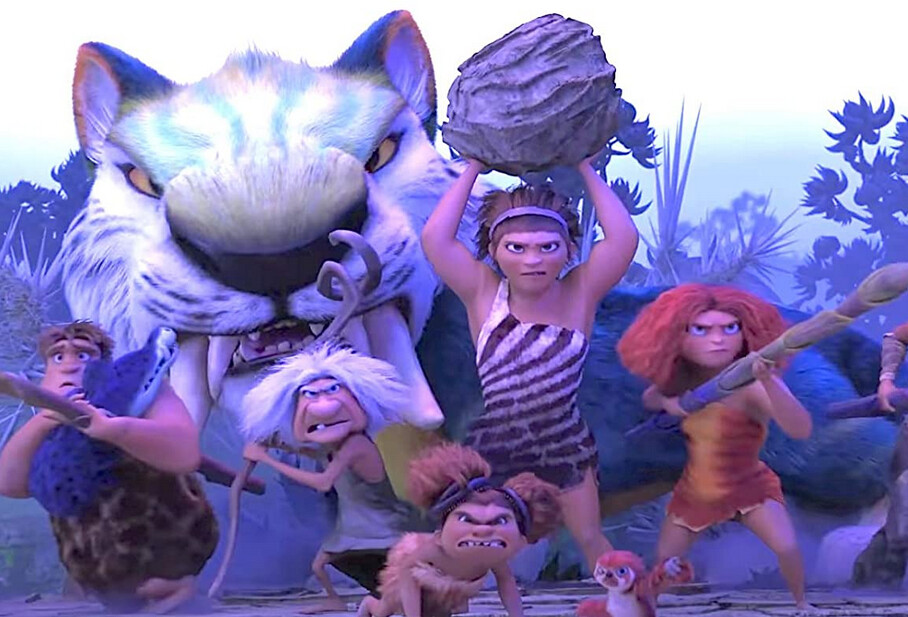 Neanderthal Meets Cro-Magnon, Again
The original film bid adieu to the Croods as they "followed the light" in their search for "tomorrow." Which was basically about foraging and survival in the time of a chaotic planet Earth tectonic-plate shift, but the concept had more of a "Fellowship of the Ring" type of transcendent feel to it.
So we meet them again as they eschew their erstwhile cave dependency for a more nomadic existence. And same as before, the story is largely about the rambunctious daughter Eep (Emma Stone), her Cro-Magnon boyfriend Guy (Ryan Reynolds), and Eep's constantly fretting, annoying, overprotective dad Grug (Nicolas Cage, again bringing great essence of Cage-ness to this character).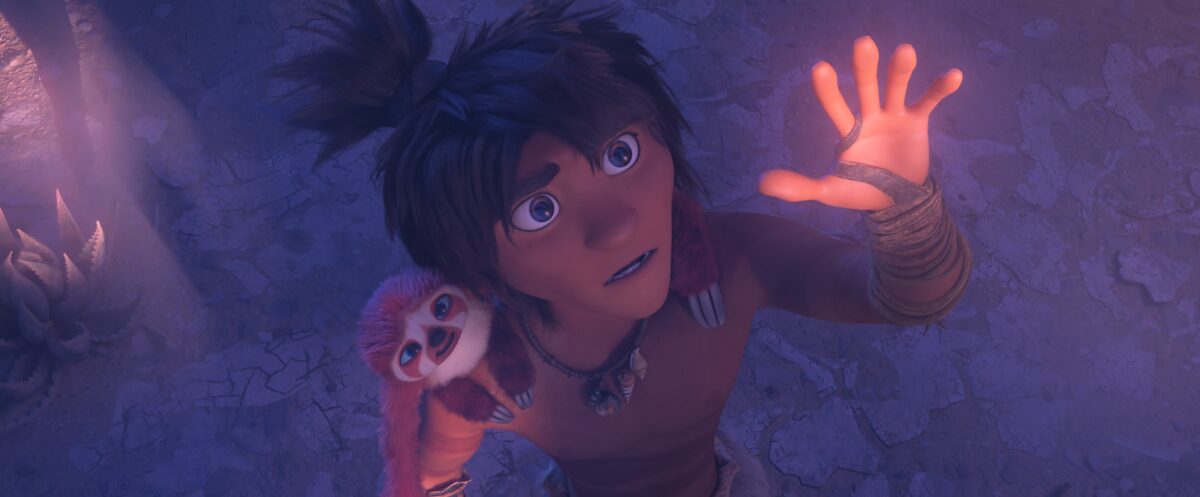 Guy's now treated as a family member, taking part in the nighttime sleep piles and daytime kill circles. But one night, in the middle of a sleep pile (which are like human hay-bale forts you can slither into and crawl around in) Grug, pretending to be asleep, overhears a marriage proposal of sorts, which includes the concepts of privacy and separating from the pack. Horrifying for Grug!
Grug ramps up his protective vigilance. Meanwhile, the Croods find a prehistoric gated community. They don't know what that is yet, but they know it's got pumpkins the size of houses, and multicolored foods grow strangely in rows. Welp! If anything is the great tomorrow, this is it!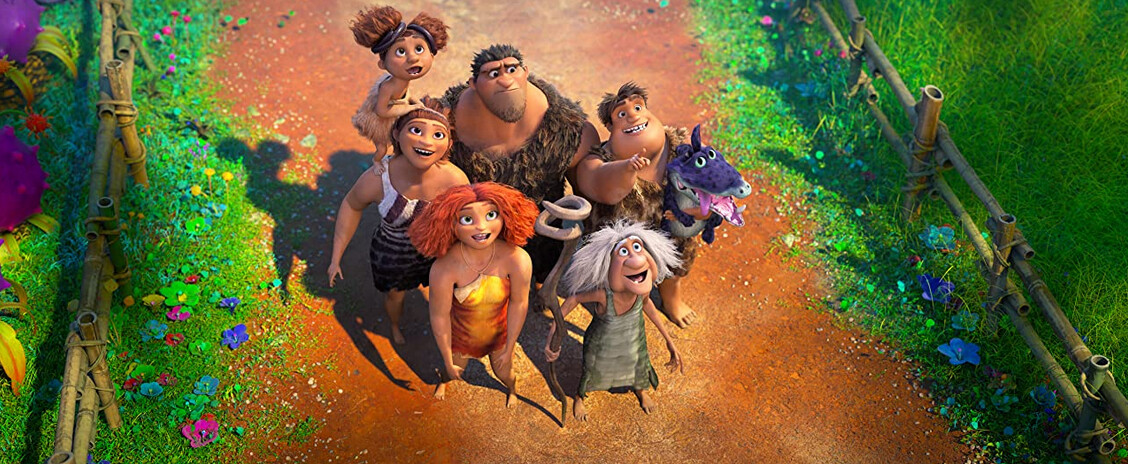 Bettermans
Turns out, this is the estate of the Bettermans, a family that puts the New Age-y-ness in "The Croods: The New Age." They're a mom-dad-daughter family of proto flip-flop-wearing, man-bun-sporting, Deepak Chopra-spouting (that is, if Deepak Chopra had existed in the Pleistocene age), yoga-pants-wearing, and exotic-bean-latte-sipping type of nouveaux-riches Cro-Magnonites.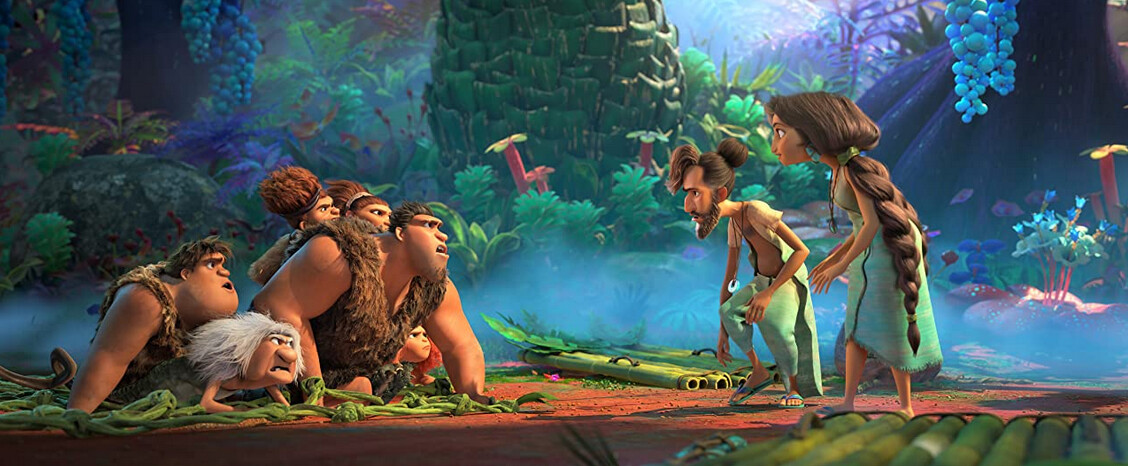 Did I mention resource-plundering? Oh yes. They've stolen water from another community à la "Chinatown" to irrigate their crops. They live in a tricked-out tree with toilets, windows, elevators, showers, and a sauna.
And surprise, surprise—they're from the same tribe that Guy came from, before his parents died, and he wandered off and got lost, and so they have the same tendency to "flintstone." That's a verb. Flintstoning, by my definition, is when you take toolmaking to the next level like Fred Flintstone did, and operate a brontosaurus-backhoe at work, then drive your stone Cadillac home using your feet as a motor.
Naturally, Grug's family thinks this is all super-awesome, while Grug himself is suspicious and hates change. Like the last movie.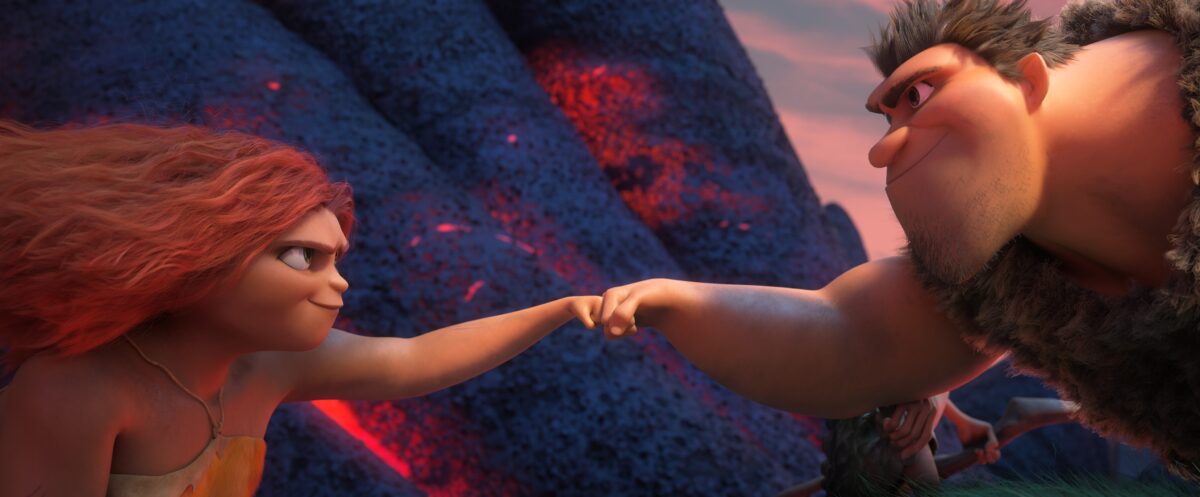 More Bettermans
The Bettermans are annoying. Dad Phil (a smarmy Peter Dinklage) and mom Hope (a passive-aggressively scheming and disdainful Leslie Mann) plot to steal Guy for their daughter Dawn (Kelly Marie Tran).
There's no catty competition between Eep and Dawn regarding Guy, which seems delightful, but which is in line with the current thinking that now women no longer need men. Which falls into the category of things that are as true as they are meaningless. But I'll avoid the temptation of that tangent.
Eep and Dawn are just overjoyed to finally find each other and be rebellious teen girl friends together. Soon the daughters are sneaking out in dad's Camaro, er, on dad's giant green saber-toothed tiger—to climb the walls, jump over stuff, have a few wrecks, and get Dawn her first scar. (Eep's got a lotta cool scars; Dawn wants one.)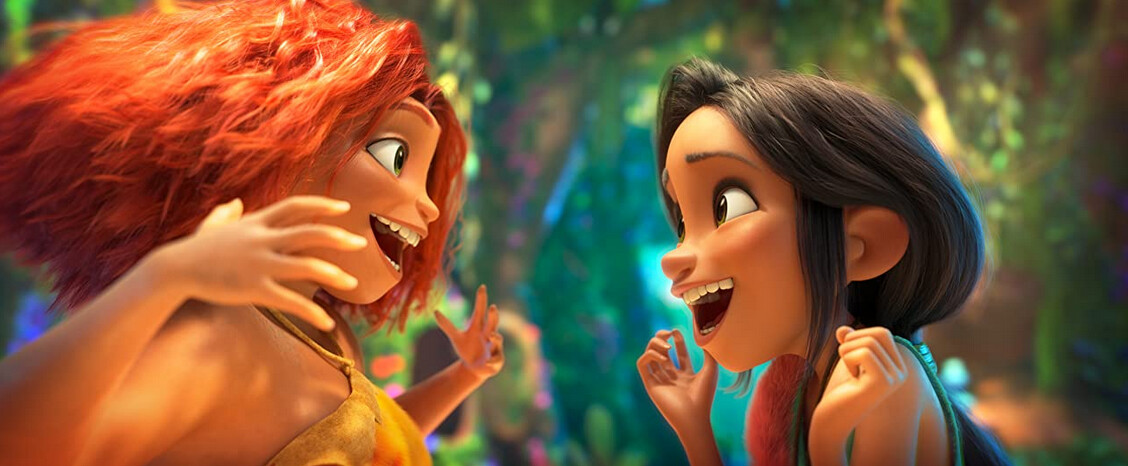 As mentioned, the Bettermans are colonizers with a cushy existence, but there's a price to pay. Phil Betterman essentially did a form of selling his soul to the devil, and eventually the Croods and the Bettermans all join forces to vanquish the evil, resulting in one of those rollercoaster-ride, everything-and-the-kitchen-sink grand finales that most such movies nowadays seem to have to have. As if kids need this much hectic excitement.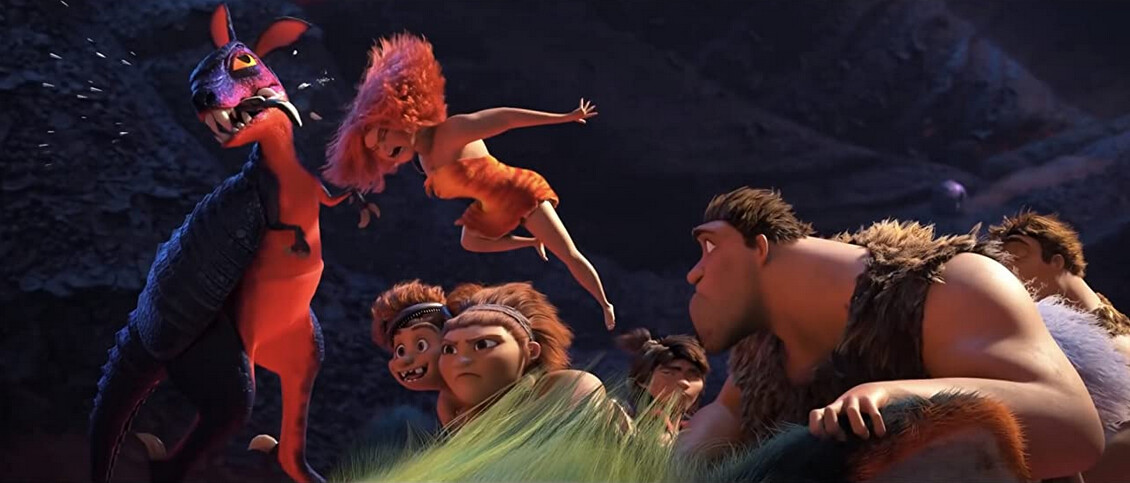 And There You Have It
Everybody's the same: Ugga is nurturing, Grug is protective, Eep is adventurous and smitten, Guy is smitten; feral baby sister Sandy snarls and behaves like a guard dog; and Deadhead-type brother Thunk finds his true calling, which is being addicted to watching TV. TV? It's a Betterman window; Thunk looks out the window. A lot. When Grug wants him stop watching window, Thunk doesn't want to because "the birds are on."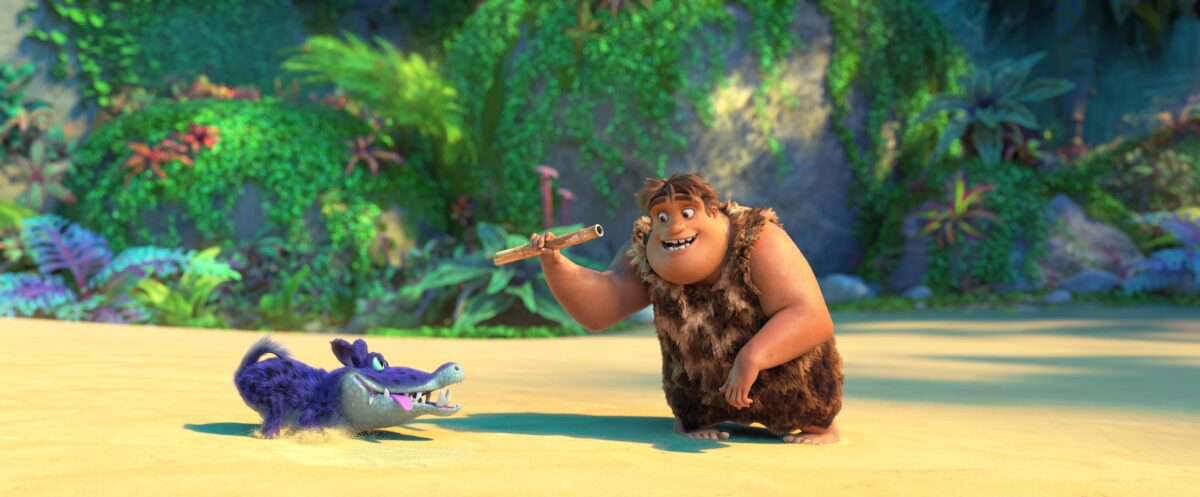 Gran Crood (Cloris Leachman) kicks off a female-empowerment thread, because eventually the pathetic men need help. Which is very much in keeping with the New Age-y vibe.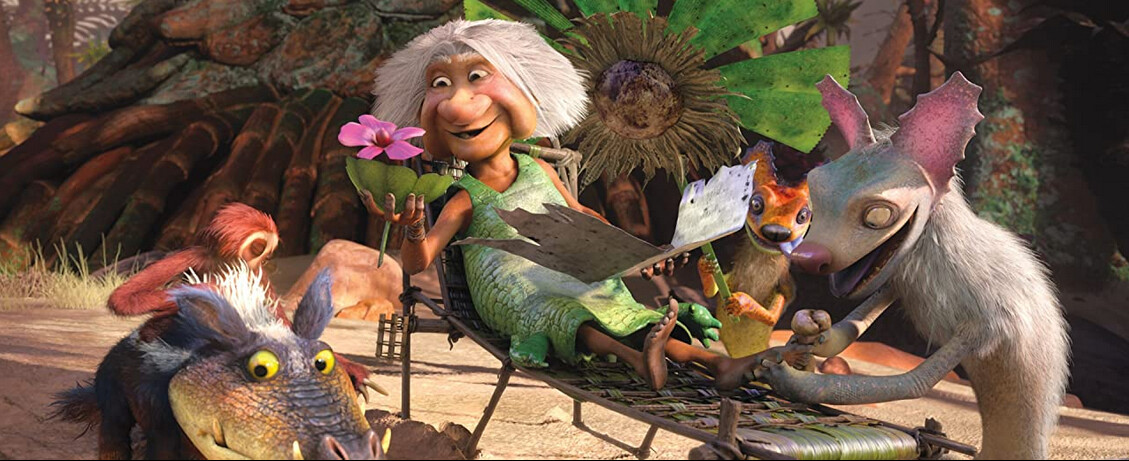 There are new fauna. You've got your wolf-spiders (wolves with eight eyes and legs), rooster sea lions, punch monkeys, etc. But it's all still more of the same.
The wonder inherent in the original had to do with finding the courage to leave the cave and adapt. By simply rehashing everything, the magic got lost. It's still a fun theme-park ride. Chances are, your kids will watch the first "Croods" repeatedly. The second installment, maybe once or twice.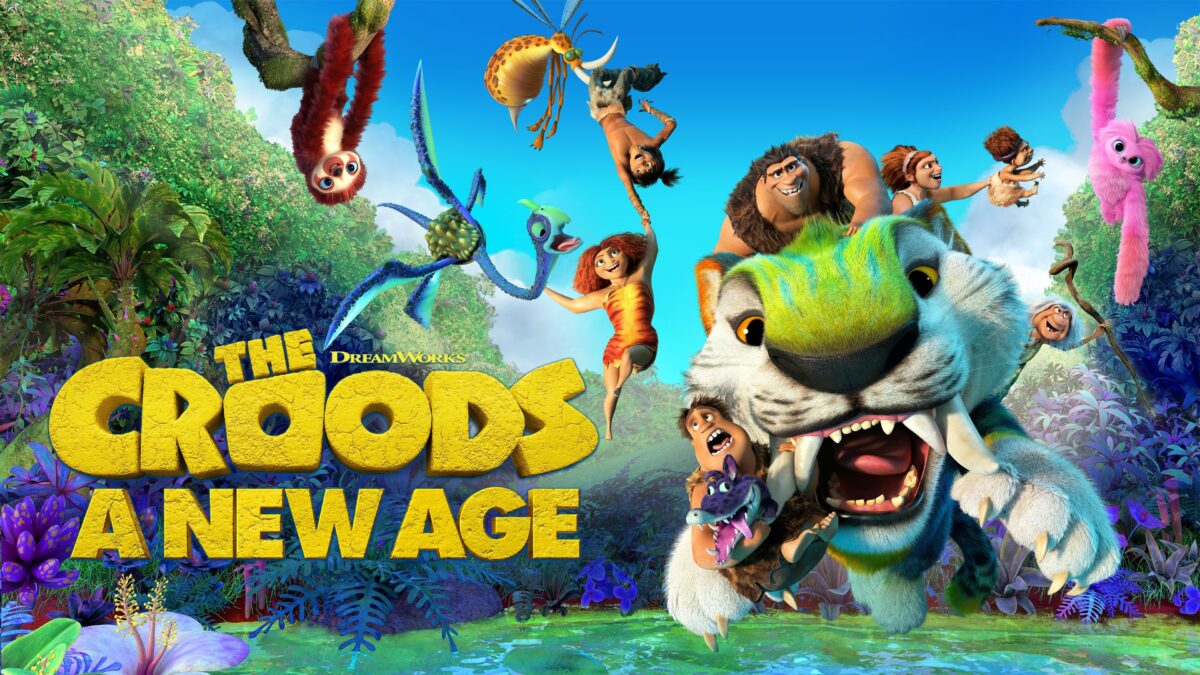 'The Croods: A New Age'
Director: Joel Crawford
Starring: Nicolas Cage, Emma Stone, Ryan Reynolds, Catherine Keener, Cloris Leachman, Clark Duke, Leslie Mann, Peter Dinklage
Rating: PG
Running Time: 1 hour, 35 minutes
Release Date: Nov. 25, 2020
Rating: 3.5 out of 5 stars