November 5, 2021 | R | 1h 51min
Here's "Spencer" in a nutshell: It's a tour de force portrayal of a few days in the sad later life of Diana Frances Spencer, later known as Princess Diana of Wales (born July 1, 1961, in Sandringham, Norfolk, England—died August 31, 1997, in Paris, France) prior to her tragic car-accident death. Virtuoso acting compliments of Kristen Stewart.
Stewart, having risen to fame via the substantively lightweight but culturally impactful "Twilight" vampire movie series, has been dogged to this day as having minimal acting chops.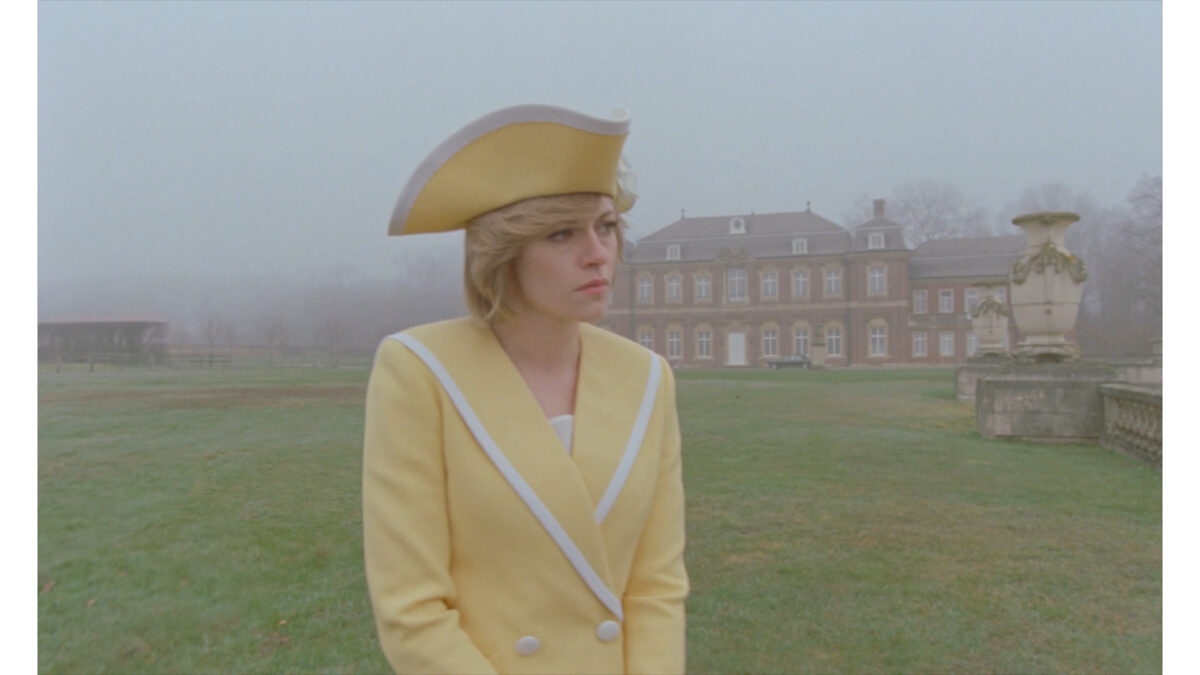 If you belong to this camp of nonbelievers, you might, if for no other reason, want to consider viewing "Spencer" to see why it is that Stewart continues to be a world-dominating movie star. One does not simply walk into Mordor or Hollywood. One cannot not have talent and skill and walk the rarified ramparts of the world's premiere filmmaking castle, which, like it or not, is still Hollywood, for as long as she has.
Another reason to see the movie is to see how the other half lives—the other half being, of course, the British Royals. And a third reason would be to get an understanding of how one can be surrounded by untold riches; mansions and castles; a personal, mobile 5-star restaurant; a personal, mobile, constantly cutting-edge, upscale wardrobe; a huge family; a family history like no other; two healthy children; fame, no—beyond fame—prominence on the world stage; peerless security, that is, phalanxes of bodyguards (not to mention the entire British army); physical beauty; and the adoration of the entire world—in other words, the absolute pinnacle of what humans think should definitely, definitely, definitely provide happiness—and still be unbelievably miserable.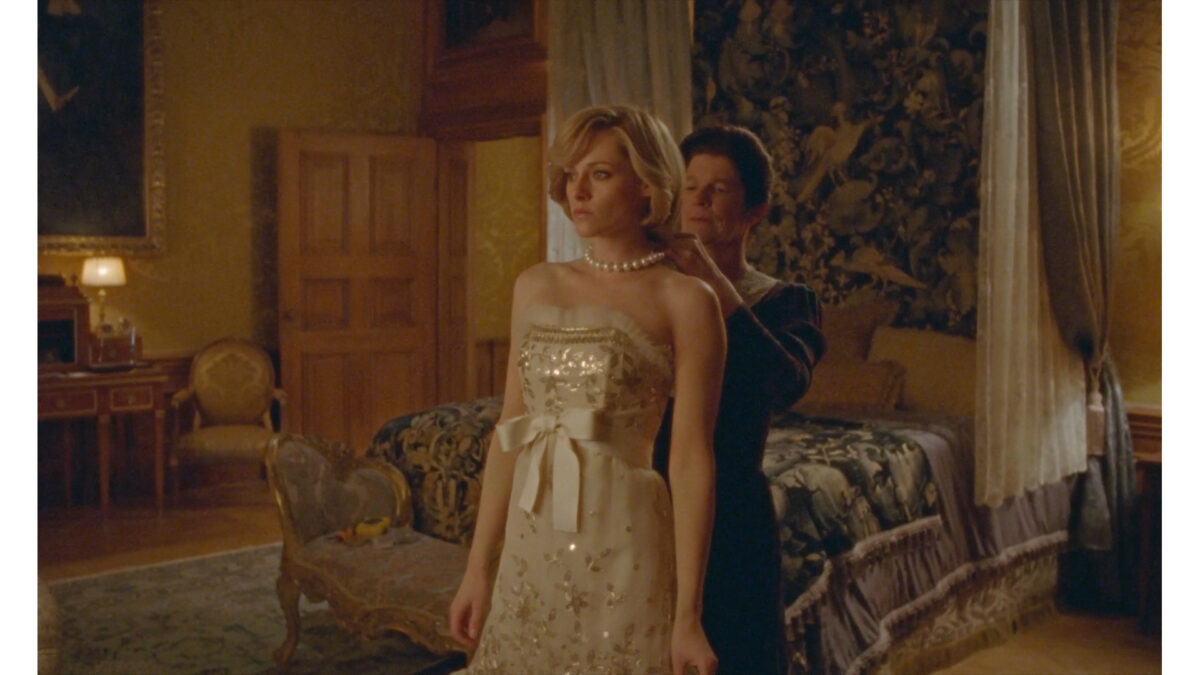 'Spencer': A Long Way From 'Elizabeth'
There's not much plot. "Spencer" is not a classic, full-life-spectrum biopic, choosing instead to get inside its subject's head and emotions by focusing on one specific moment in time—namely, a trio of days that are supposed to be a joyful, royal family Christmas gathering at Sandringham Castle, which is the traditional, private home of Queen Elizabeth II. At this time in 1987, Diana was contemplating divorcing Prince Charles (Jack Farthing) for his rumored marital infidelities with Camilla, Duchess of Cornwall (Emma Darwall-Smith).
"Spencer" is also a view inside the gilded cage of the British royal institution that favors above all, a painstaking hewing to tradition, regardless of whether certain aspects have not only become outdated but also out-and-out ridiculous with the passing of time.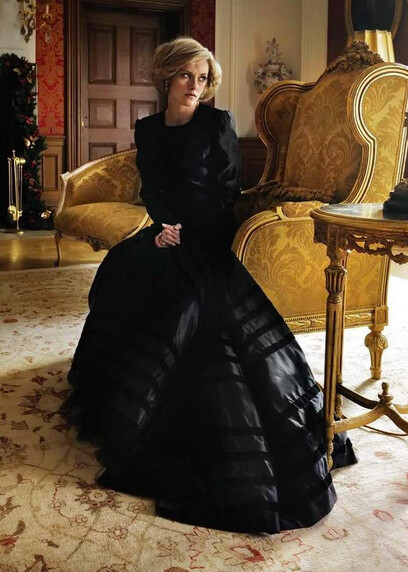 For example, there's a Windsor tradition started by some or other King Charles, long deceased, where Christmas holiday guests must be physically weighed before entering the family chambers, on an archaic set of scales. And reweighed again on the way out. Why? If a poundage gain due to feasting is noted, it is, er, scientific proof that the guest enjoyed him- or herself.
Such an inane procedure, kept as it is, in pristine, museum condition, could in and of itself point to problems within the current ruling class, but that's a different article. But now you have the requisite perspective on the free-spirited Diana's mindset in this utterly stultifying, claustrophobic setting. She's a small bird in a small gilded cage, hung inside the giant gilded cage of the lavish grounds, cavernous rooms, and numerous stiff-upper-lipped relatives populating the Sandringham estate.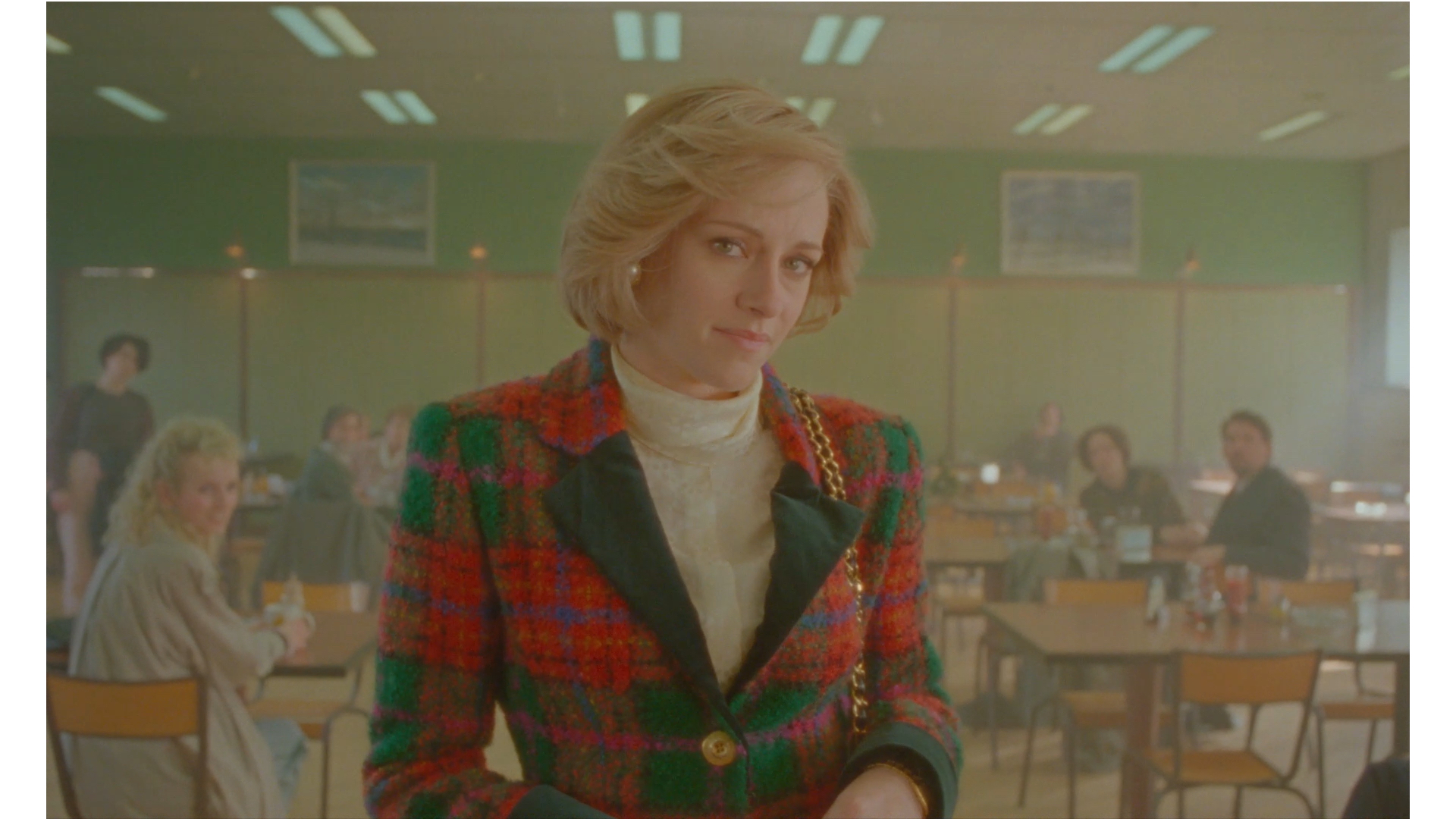 She's Always Late
Hating deeply, as mentioned, the confines and strict royal regimen, Diana passive-aggressively gets herself hopelessly lost driving in her Porsche 911 convertible in the British countryside, instead of showing up for the royal dinner on time. She happens to come across a field with an ancient scarecrow that she herself put up as a child near her childhood home in Norfolk, which is situated close to Sandringham. It's still wearing her father's faded red coat. She must have that coat, and she hobbles off across the tilled field, in high heels, to fetch it.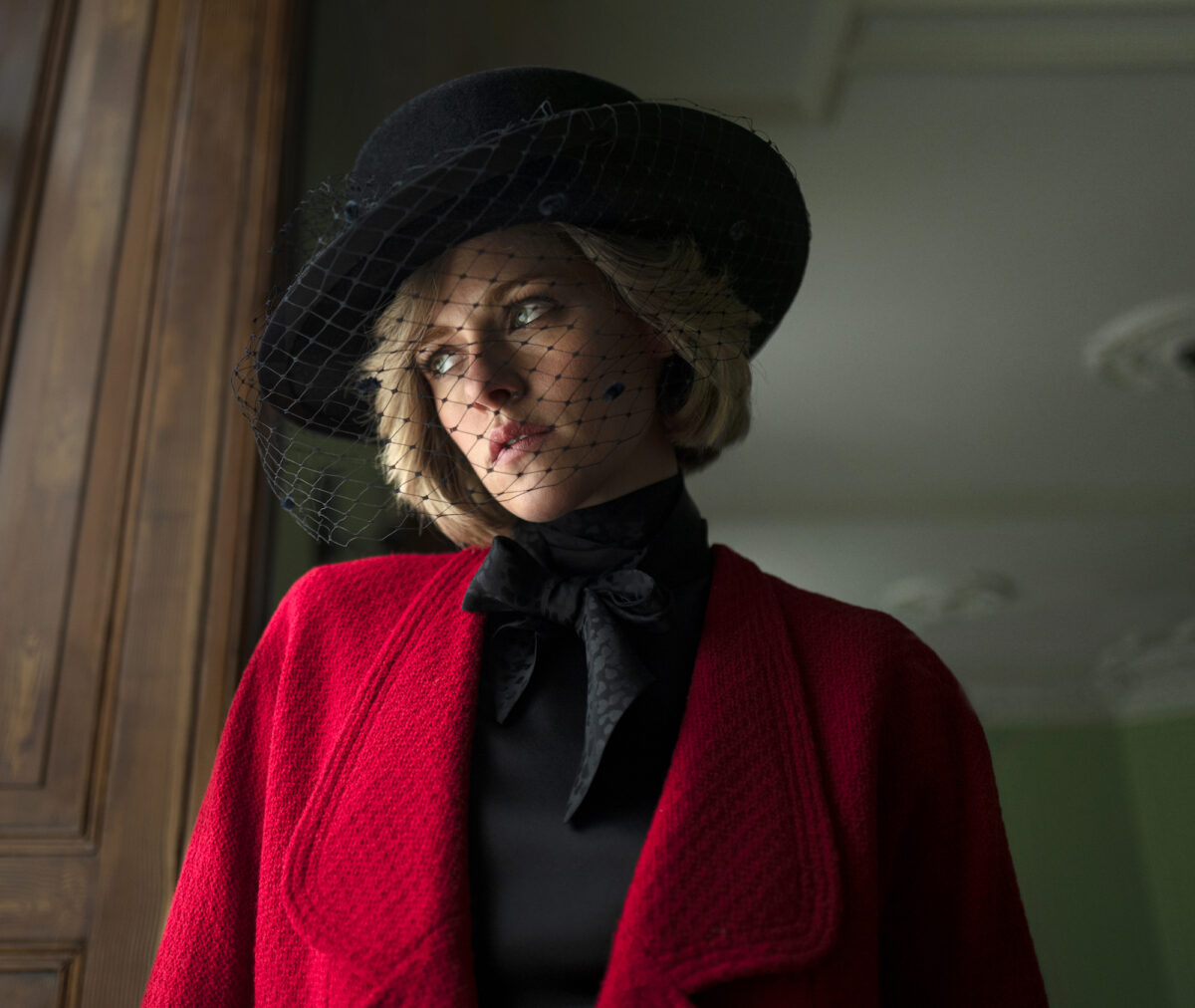 This is the first of many instances of keeping the royal family and the queen waiting. "Spencer" is essentially a litany of instances of Diana acting out and rebelling against being constantly told what to wear, when to show up for every event, being driven up a wall, and trying to hide her bulimic binging and purging.
She rips a string of priceless pearls off her neck because Charles gave his mistress, Camilla, the exact same present, and she's even made to partake in Sunday church service with Camilla sitting a few pews away.

Diana can only really let her hair down around her sons, princes William (Jack Nielen) and Harry (Freddie Spry), and her royal dresser and confidante Maggie (Sally Hawkins, the lead actress in the Oscar-winning "The Shape of Water"), with whom she shares her emotional reality and deepest concerns. Royal chef Darren (Sean Harris), who rules the kitchen like a symphony orchestra conductor, also occasionally lends a sympathetic ear. And the former British military man assigned to follow her about and gently chide her, Maj. Alistair Gregory (Timothy Spall), tries diplomatically to impart his hard-won knowledge of how to sacrifice for queen and country.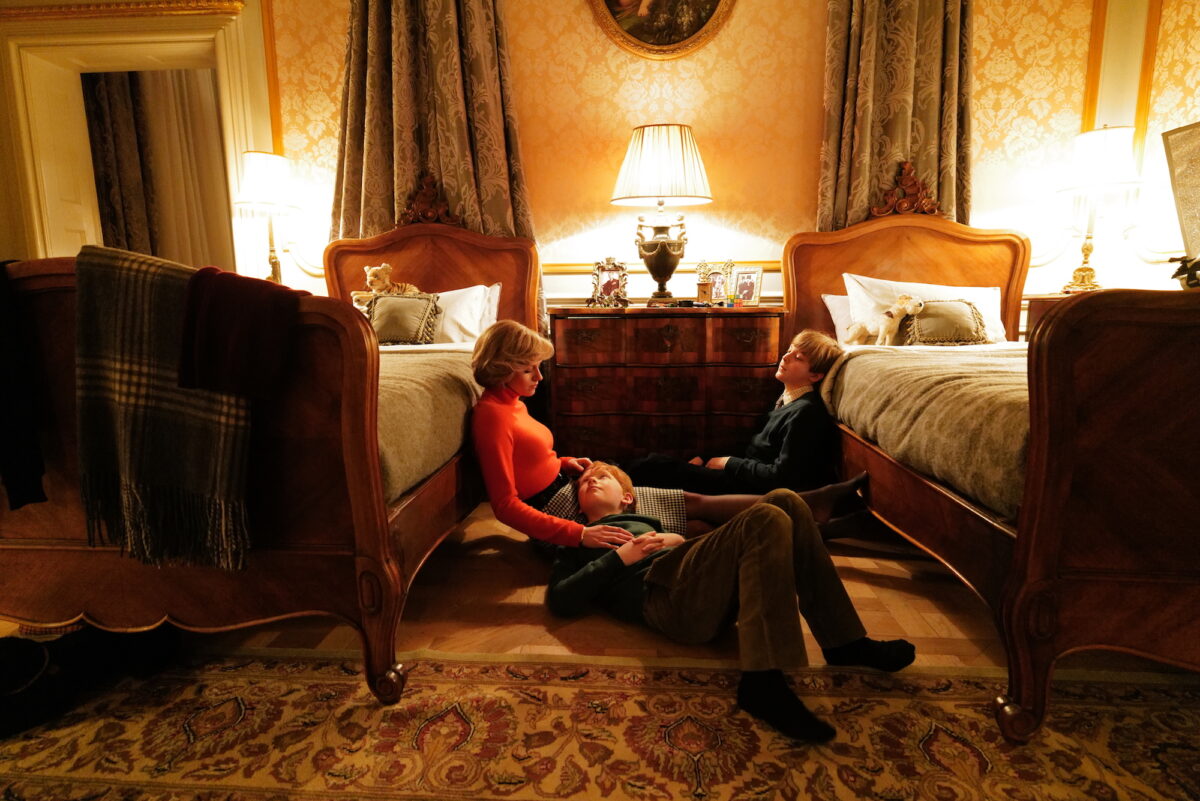 And That's Basically It
Stewart is brilliant in the role, all soulful-eyed, tense-jawed, and wielding the posh Queen's English flawlessly. It's an edgy performance—edgy as in someone on the edge of a nervous breakdown—high-strung and brittle, and it puts us in Diana's head throughout. Princess Di even starts imagining the long dead, beheaded-by-King-Henry-the-Eighth Ann Boleyn, following Di around in period costume, attempting to warn her about what happens to wives in the House of Windsor who don't toe the line.
Stewart's performance is greater than the film itself, and its centerpiece, but there's fascination to be found in Diana's eye view of the yawning royal rooms, the oil paintings of the ancestors, the cornucopia of painstakingly created delectable foods proffered all day long to the family (and largely wasted), and the massive acreage kept specifically for the breeding of pheasants for the royal pheasant shooting. Many of the birds are shotgun-blasted and left to die. In fact, the movie's opening shot is a dead-pheasant-in-the-middle-of-the-road's eye view of the royal motorcade arriving at the castle. For me it was a stark case of, I've seen the Royals' job, and I don't want it.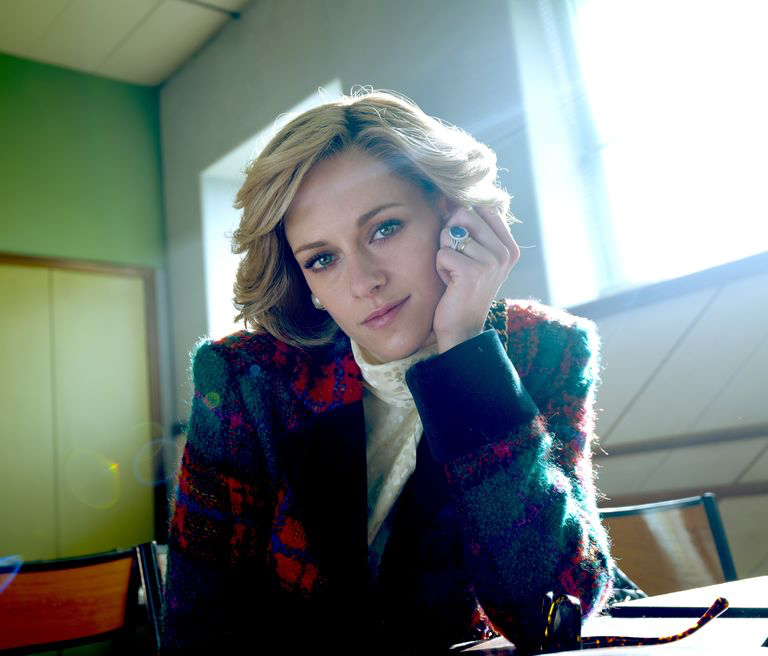 Having written, prior to this review, about "Elizabeth" (British Queen Elizabeth I's reign), I find it interesting to see the progression from world-changing, cutting-edge British history and a queen who made a difference, to a time when the monarchy is more-or-less mothballed, mummified, and museum-like. Britain's current Queen Elizabeth II is Elizabeth I's first cousin, approximately 14 times removed. It's a perfect example of how "the more things change, the more they stay the same," in terms of the pomp and circumstance and family dysfunction.
Director Pablo Larraín, perhaps in homage to Kristen Stewart's vampire movie beginnings, treats Diana's story as somewhat of a horror story. The score often sounds like it could have been done for a vampire movie. Such sounds are contrasted with Diana's (Stewart's) beauty and the unimaginable luxury and privilege surrounding the Windsors, none of whom appear to enjoy any of it in the slightest.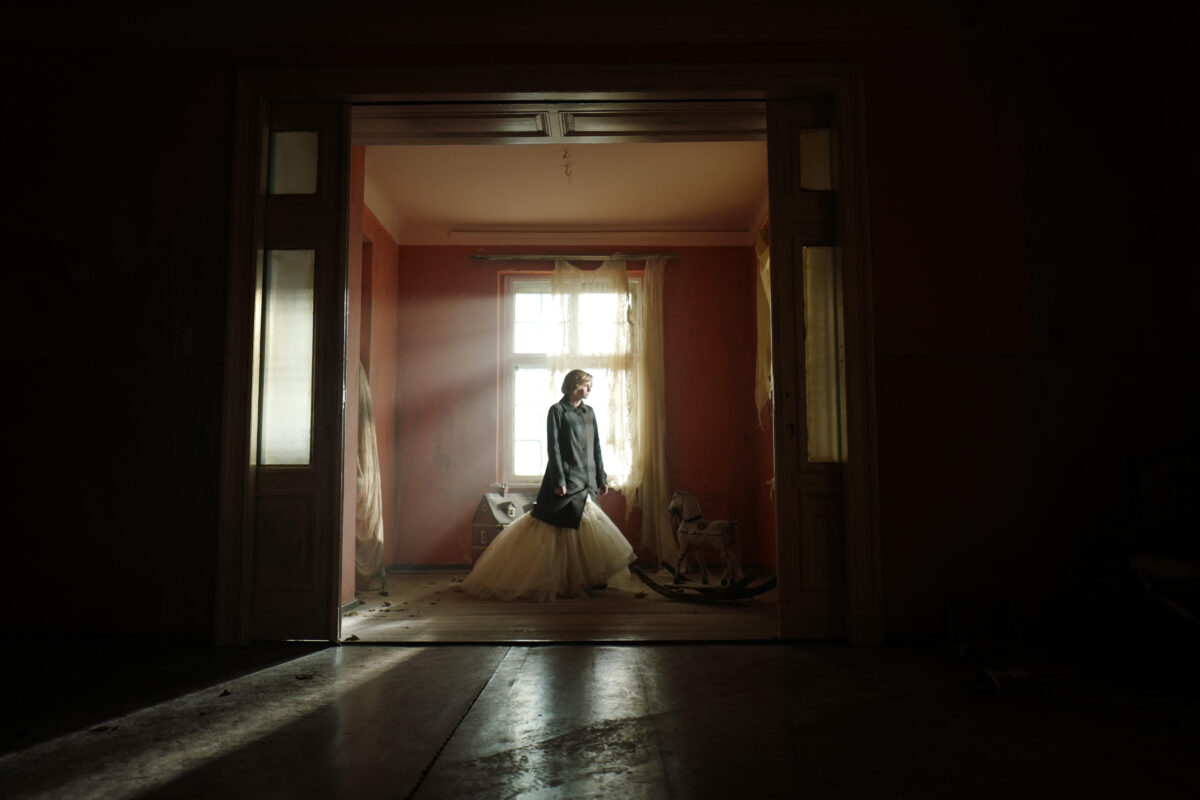 "Spencer" certainly provides a context for better understanding the recent tribulations of Prince Andrew (Niklas Kohrt), who is briefly glimpsed in the film. That said, it also provides much food for thought, knowing, as we do, what happened to Diana shortly after leaving Charles.
It seems fitting to end with Elton John's lyric from his song "Candle in the Wind," which was originally about Marilyn Monroe, but which he transposed for Diana:
Goodbye England's rose
May you ever grow in our hearts
You were the grace that placed itself
Where lives were torn apart
Goodbye England's rose
From a country lost without your soul
Who'll miss the wings of your compassion
More than you'll ever know
"Spencer" opens in theaters on Nov. 5, 2021.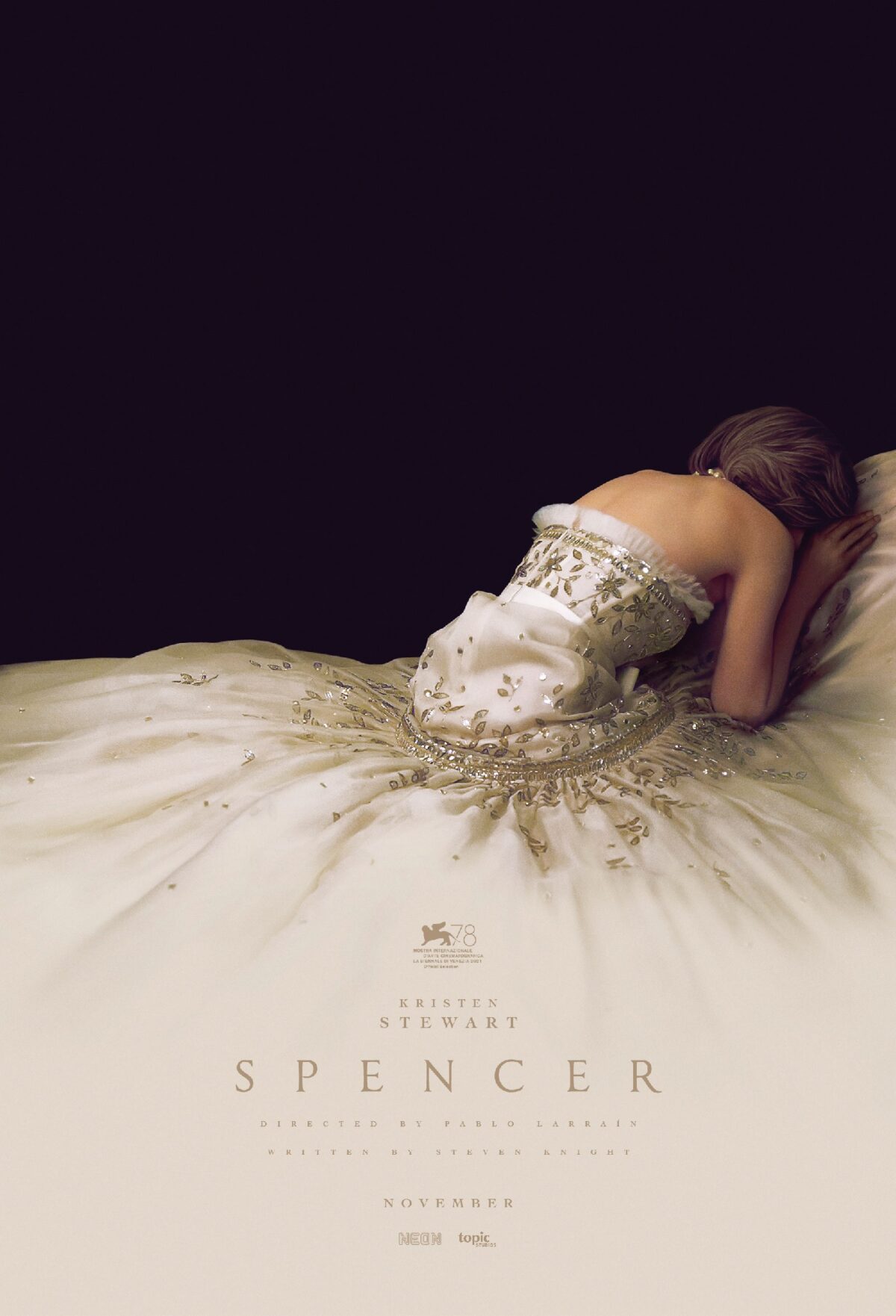 'Spencer'
Director: Pablo Larraín
Starring: Kristen Stewart, Sean Harris, Timothy Spall, Jack Farthing, Jack Nielen, Freddie Spry, Stella Gonet, Sally Hawkins
Running Time: 1 hour, 51 minutes
MPAA Rating: R
Release Date: Nov. 5, 2021
Rating: 3.5 out of 5 stars