PG-13 | 1h 38min | Drama, Mystery | 27 October 2021 (USA)
For her feature filmmaking debut, English actress Rebecca Hall ("Vicky Cristina Barcelona," "The Gift," "Christine," "The Night House") chose to adapt "Passing," the second and final novel by Nella Larsen, published in 1929. A mostly-overlooked tragedy, it is vast in symbolism with the same concise, poetic brevity of Hemingway and Shakespearean in its range, social commentary, and narrative breadth.
Deceptively small in scope and modest in execution, Hall takes a less-is-more approach and as a result has made a movie that far exceeds the sum of its parts. There is no fancy camera work, no elaborate set designs, no explosions, no chase scenes, barely any profanity, and only implied, off-screen sensuality. The ensemble acting is off the charts, yet there are no prolonged soliloquies, no broad histrionic grandstanding, nor any emotionally draining monologues.
While finding relief from the oppressive summer heat atop an open-air hotel dining room, Irene (Tess Thompson) makes extended eye  contact with Clare (Ruth Negga). Perhaps because of being apart for so many years or due to Clare's dyed blonde hair, Irene doesn't recognize her. However, Clare immediately knows it is Irene or "Reenie," as she was known as a child.
After an awkward, but polite and brief walk down memory lane, the pair moves to a hotel room occupied by Clare and her husband John (Alexander Skarsgard), a man who reveals his deep racism with his nickname for Clare—a crude slur which elicits a knowing response from his wife and uncomfortable, wild laughter from Irene. John assumes—simply because of her light complexion—that Irene is also white.
Handsome, passably "cordial," but something of a dim bulb, John has no clue that he is indeed married to a black woman who has also born him a daughter (who is never seen). John is casual with his brazen remarks, revealing a man whose prejudice was inborn and of its time (which makes it no less offensive). John doesn't just dislike Negros; he "hates them, just as much if not more than [repeat slur nickname]."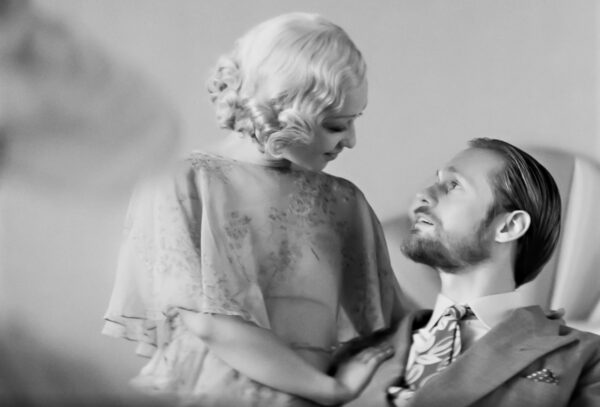 Believing she has escaped a surreal lion's den, Irene returns home to her comfortable life in an upscale, three-story Harlem brownstone where she lives with her doctor husband Brian (André Holland) and their two (reasonably) grounded preteen boys.
During the hotel encounter, Irene revealed just enough personal information to Clare for her to start sending letters, which are ignored. Undeterred, Clare arrives at Irene's home unannounced and in short order, makes strong allies with the boys, Irene's black housekeeper Zu (Ashley Ware Jenkins), who Irene regularly treats like "the help," and slowly but eventually, the initially resentful and suspicious Brian.
The Second Act Is Perfect
It is during the flawless second act (generally the weakest in most films) where Hall packs the biggest wallop. Containing well over half of the total dialogue, this third of the movie has enough subtext, innuendo, and foreshadowing to fill a 10-part mini-series.
This is also the point where Hall brings in writer Hugh Wentworth (Bill Camp), a white, somewhat snooty New York upper-crust type who explains the meaning of "passing" as it applies to race in general and to Irene and Clare in particular. Hugh doesn't care much for Clare, but understands her motives in wanting to return to her black roots, describing how hard it is to become something one is not. However much we might try, we can't escape who we are and no amount of fronting or subterfuge will ever change that.
Save for the omission of one incidental first-act character and barely changing the name of another, Hall follows Larsen's source material nearly verbatim.
Cinematographer Grau: The Secret Weapon
As impressive as her skills are as a writer and director, Hall's biggest triumph was in hiring two collaborators who seamlessly complete the film. Composer Devonte Hynes' spare score is wholly fitting with the time frame of the Harlem Renaissance. Never intrusive or overbearing, Hynes (also a rapper) provides sublime, haunting accents with solo piano and trumpet (and two exuberant big band/ragtime compositions).
The not-so-secret weapon of the film is Edu Grau, the Spanish cinematographer who previously worked alongside Hall on "The Gift." The choice by him and Hall to employ a 1:33:1 aspect ratio (full frame, a more "square" than the traditional rectangular widescreen option) lends the visuals an even more retro feel.
Grau's crowning achievement, however, is with the stunning and ethereal, monochromatic black and white photography. Alternately sharp and gauzy, the images take on a "dreaming while awake" aesthetic.
Not far into the third act, a fleeting, off-camera mention of real-life singers Josephine Baker and Ethel Waters is made, but as with every bit of Hall's screenplay there is nothing said or shown without a reason. It would be negligent not to mention that Baker, Waters, Hall, Larsen, Thompson, and Negga are all women of mixed ancestry. Some may view this "coincidence" was purposefully calculating on Hall's part, while others might see it as pooling talent with similar backgrounds to achieve the best possible result.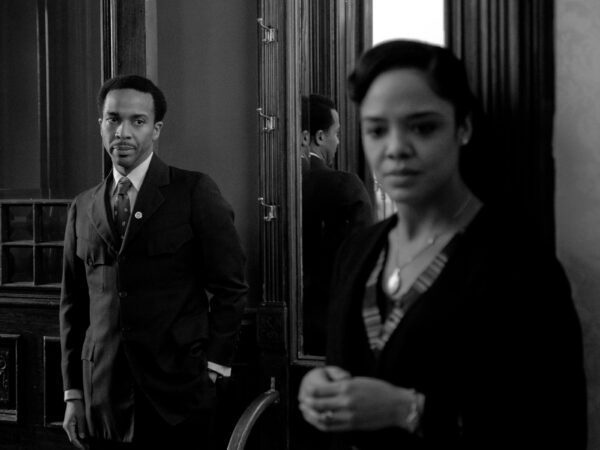 This film isn't a statement about race, class, wealth, or any other kind of envy. Clare and Irene are women of the same color who are both well-off, and successful at achieving what they wanted from life. They chose different paths, and one regrets her choice while the other doesn't. That isn't the entire crux of the story, but that's the majority of it. Those trying to make it about anything else might be missing the point.
It is a movie that absolutely begs for repeat viewings, as the hundreds of whispered asides, fleeting glances, and body language images are impossible to fully absorb in a single viewing. It is a remarkably assured work and devoid of pretense, guided by the hand of a seasoned master. Hall's first film ranks alongside other landmark rookie efforts from Orson Welles ("Citizen Kane"), Frank Darabount ("The Shawshank Redemption"), Billy Bob Thornton ("Sling Blade"), and Sam Mendes ("American Beauty").
The movie opens in select cities on Oct. 27 and will be available via Netflix on Nov. 10.     
'Passing'
Director: Rebecca Hall
Stars: Tessa Thompson, Ruth Negga, André Holland, Bill Camp, Alexander Skarsgard
Running Time: 1 hour, 38 minutes
MPAA Rating: PG-13
Release Date: Oct. 27, 2021
Rating: 5 out of 5