R | 2h 13min | Drama, Comedy | 26 November 2021 (USA)
After a relatively unremarkable debut ("Hard Eight"), writer and director Paul Thomas Anderson delivered the mighty one-two punch of "Boogie Nights" and "Magnolia." In the wake of these two acknowledged masterpieces, (rightful) comparisons of Anderson to Welles, Bergman, Scorsese, Altman, and Kubrick led to him being labeled as a "wunderkind," "auteur," and "the finest filmmaker of his generation."
While bearing little to no resemblance in style to Woody Allen, Anderson also became a similar "prestige" talent to the studios. Distributors were aware of his limited commercial appeal yet knew his films would garner huge critical accolades and industry award attention. They were right on both counts.
Of his eight previous feature efforts (from seven different studios), only half have cleared a profit with the highest grossing of these ("There Will Be Blood") raking in just $76 million globally. On the flip side, six of his movies have received a total of 25 Academy Award nominations and three wins.
With "Licorice Pizza," Anderson has not delivered the finest film of his esteemed career (that would be "There Will Be Blood"), but it is by far his most accessible and audience friendly.
Recalling "American Graffiti" by way of "Dazed and Confused" with just a whiff of "Summer of '42," it is a coming-of-age flick which deftly underscores the pleasures and pains associated with infatuated young love. It is far more complex than that capsule description might indicate: Without ever compromising his trademark edge, Anderson displays an effortless light touch and a previously untapped wry sense of humor only hinted at in "Inherent Vice."
Pinching just a bit from his own "Punch-Drunk Love" starring Adam Sandler, Anderson sets the movie in 1973 featuring a guy doing everything he can to get the girl of his dreams to reciprocate his feelings. He is high school student Gary (Cooper Hoffman) and she is Alana (Alana Haim), a photographer's assistant 10 years his senior.
Without giving too much away, Anderson diffuses the potential scandalous screen coupling of a teen and an adult by avoiding anything even remotely salacious. What's going on between Gary and Alana isn't sensual or sexual but more of an older, deeper version of "puppy love."
Initially dismissing Gary's goo-goo-eye professions, Alana slowly starts to appreciate his sincerity, charm, intelligence, drive, and an uncanny ability to adapt and think on his feet.
When it appears his stint as a child actor might be drawing to a close, Gary successfully opens a store selling waterbeds. When an arcane California law prohibiting pinball machines is overturned, he starts up an arcade. Some might view this as blatant opportunism, but capitalizing on new consumer trends and a reversed legal prohibition are savvy business decisions, a point certainly not lost on Alana.
Powerful Debuts
The movie marks the acting debuts of both Hoffman and Haim yet isn't as a big of a casting or commercial gamble as it might initially appear. Hoffman is the child of the late Philip Seymour Hoffman (who appeared in five previous Anderson movies) and while looking more like his mother Mimi O'Donnell, Cooper is every bit his father's son as an actor.
With promise and talent to burn, Hoffman inherited his dad's everyman presence and virtually limitless range. Hope against hope Hoffman didn't also inherit his father's addictive personality.
Haim and her two older sisters Este and Danielle are the members of their namesake band, a fixture on the L.A. music scene since 2007 and were the opening act for Taylor Swift's "1989" world tour in 2015. As it turns out, Anderson has directed nine Haim videos to date, the oldest going back to 2017.
Anderson has known his two lead performers for quite some time and was obviously comfortable in allowing them to carry the bulk of film on their neophyte shoulders and his instincts were spot on. The chemistry between Hoffman and Haim is palpable and crackles with electricity—something made all the more relatable to the masses because of their combined lack of traditional big screen glamour or stuffy pretense.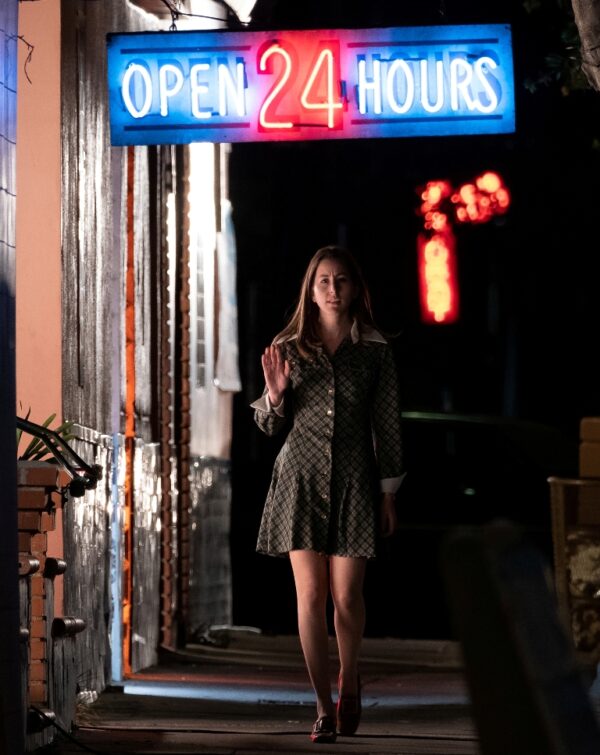 Anderson ups the believability factor even further by including Este and Danielle as Alana's on-screen sisters as well as their parents Donna and Mordechai, who are also musicians. With only a half dozen or so lines of dialogue, Mordechai pilfers every scene in which he appears.
Coming in a close second in the theft department is Bradley Cooper playing real-life hairdresser-turned-movie-producer Jon Peters who at the time was the boyfriend of Barbra Streisand. In the space of less than 10 minutes, Cooper (in a good way) hijacks the movie turning it in a slightly different direction. A Best Supporting Actor Oscar nomination for him is almost a lock.
Tom Waits, as a fictional director; Sean Penn, as an actor based on William Holden; and Christine Ebersole, as a thinly-veiled Lucille Ball are also given extended cameos and fare practically as well as Cooper.
It's hard to tell at this point if "Licorice Pizza" will be the movie to finally push cult favorite Anderson over the top with general audiences. All of his previous efforts have featured A-list actors in lead roles and this one does not. Opening in select theaters on Nov. 26, it won't go wide until Christmas Day but on the upside, it could generate positive word of mouth and its competition will be mostly downbeat, navel-gazing dramas.
Movie goers regularly gripe that there are too many generic action and adventure franchises, overly-serious art-house dramas, countless remakes and retreads and not enough uplifting, feel-good original works. If you share that mindset, "Licorice Pizza" might be exactly the movie you've been waiting for.
'Licorice Pizza'
Director: Paul Thomas Anderson
Stars: Alana Haim, Cooper Hoffman, Bradley Cooper, Tom Waits, Sean Penn, Christine Ebersole
Running Time: 2 hours, 13 minutes
MPAA Rating: R
Release Date: Nov. 26, 2021
Rating: 5 out of 5