PG-13 | 2h 4min | Drama, Musical, Romance | 17 December 2021 (USA)
After the promising releases of "Pride & Prejudice" and "Atonement," director Joe Wright's output could kindly be described as uneven. The now seven further features range in quality from very good ("Hanna," "Darkest Hour") to meh ("Anna Karenina") to, well, no thank you ("The Soloist," "Pan," "The Woman in the Window").
Falling somewhere in the middle, "Cyrano" gets as much wrong as it does right and will leave the viewer with a frustrating feeling of what might have been. Prior to this release, there have been 25 other film adaptations, some of them very loose, of the Edmond Rostand play "Cyrano de Bergerac," which is somewhat based on the life of the non-fictional titular French writer (1619–1655).
This version of "Cyrano" has an interesting backstory as it is also based on a 2018 stage musical by Erica Schmidt that starred her husband Peter Dinklage (as Cyrano) and Haley Bennett (as Roxanne) who just happens to be Wright's off-screen wife.
Absent Is Cyrano's Usual Extra-Long Nose
In the majority of the past versions, actors playing Cyrano augmented their appearance with a Pinocchio-length prosthetic nose, which served as the source of ridicule from other characters, and that eventually makes him thick-skinned and quick-witted. Cyrano's nose also causes him to be slightly insecure, especially when it comes to wooing his platonic friend Roxanne. (In the play, she is his cousin.) He thinks she's way out of his league and won't even take a chance on professing his unrequited love.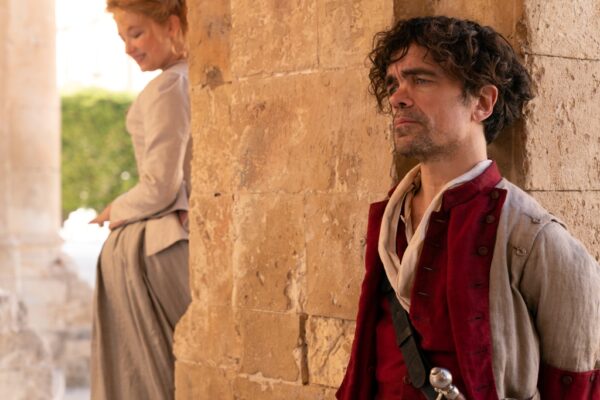 In this film, Dinklage doesn't wear a fake nose; his character's main feature of ridicule is his own dwarfism. In these hyper-sensitive times we live in, it doesn't take a genius to consider the comparing of a big nose and an unusually short man to be … well, maybe politically insensitive. With some of the parts Dinklage has played in the past (particularly "The Station Agent"), his dwarfism is baked into the character, so if he as the actor has no issue with this, no one else should, but you can bet someone else in the wake of the 2022 wider release will.
From purely an acting perspective, Dinklage, Ben Mendelsohn (as the evil De Guiche) and Kelvin Harrison Jr. (as the handsome but largely clueless Christian) all deliver strong performances with the weak link being Bennett. Certainly easy on the eyes, Bennett is in way over her thespian head and is woefully miscast. The fact that she played the character multiple times on stage means nothing; film is another medium and the transition from one to the other isn't always a given. Two prime examples of this are Mary Martin in "The Sound of Music" and Julie Andrews in "My Fair Lady." Each was replaced by other actresses in the film versions of these stage musicals.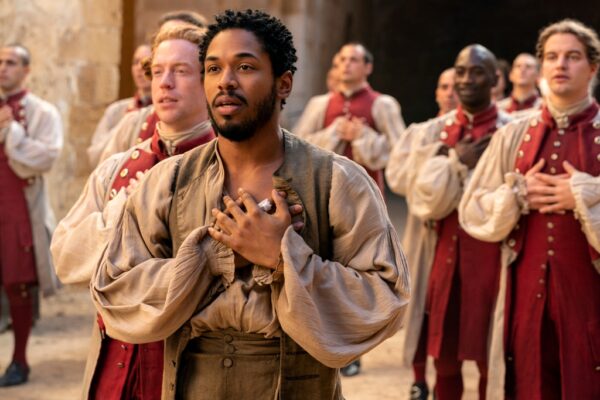 As with everyone else who sings in the movie, Bennett is as equally capable as the rest; meaning they can all sufficiently carry a tune. Together, they could totally crush it on karaoke night at any watering hole. In complete fairness to the principal cast (and others in the ensemble), they weren't exactly given the finest of material with which to work.
Mediocre Original Songs
Reworking some of their material from the play, composer brothers Aaron and Bryce Dessner (of the Ohio band The National)—best known for their collaborations with Taylor Swift—deliver some of the most generic, unmemorable, and least catchy songs ever performed in a feature film. To be fair to the Dessners, they were likely instructed to come up with lyrics which would not so much support, but rather to propel the narrative, and the majority of it is just plain tuneless and clunky. One song in particular—sung by four soldiers in their death throws during wartime—is laughably inept and painful to experience.
When shooting in Italy became problematic (due to COVID-19), Wright and his production team relocated to Sicily which worked out quite well. The set and costume designs are impeccable and look all the more glorious thanks to the brilliant cinematography by Seamus McGarvey ("We Need To Talk About Kevin," "Nocturnal Animals"). Whether bathed in sun or moonlight, every image is spectacular.
Dinklage Is Superb as Cyrano
It should come as a surprise to no one that Dinklage completely owns the movie. An actor with range and presence to burn, Dinklage is fiery and intense when it is called for or practically motionless and subdued when need be. His honey-drenched baritone is the ideal instrument for the many extended vocal passages, especially the staple scene when Cyrano feeds lines to Christian from below Roxanne's balcony at night.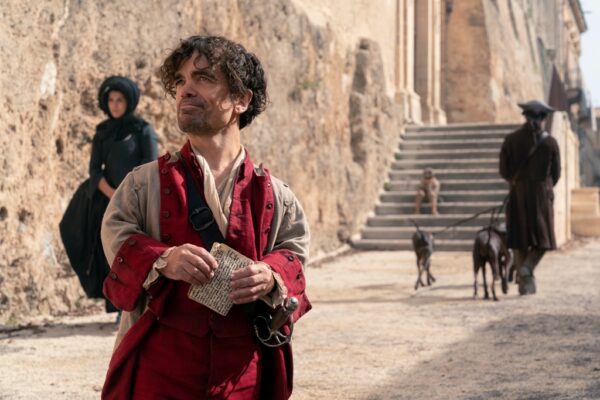 It is unfortunate that solely because of his physical stature Dinklage will likely never be what we've come to know as a traditional leading man. As good as he is here, the one principal trait associated with the character Dinklage plays is his height—something which only propagates and reinforces certain perceived performance limitations.
In past reviews of this sort, this is usually the point where I make clear my general disdain for musicals by stating that if you are a fan of them, you will probably like this movie more than I do. I can't do that with "Cyrano." I love music, original scores, and songs which provide background texture. My issue is with characters suddenly breaking into song (and frequent dance) for no reason whatsoever other than to kill the momentum.
There are exceptions of course ("Singing in the Rain," "The Sound of Music," "West Side Story" [1961]) but there are few things that can instantly halt the suspension of disbelief more than below average songs in an otherwise good film. The songs in "Cyrano" snatch defeat from the jaws of probable victory.
'Cyrano'
Director: Joe Wright
Stars: Peter Dinklage, Haley Bennett, Ben Mendelsohn, Kelvin Harrison Jr.
Running Time: 2 hours, 4 minutes
MPAA Rating: PG-13
Release Date: Dec. 17, 2021
Rating: 2.5 out of 5