Film and TV Dancer, Choreographer Says Shen Yun 'Choreography was superb'
'Technically the dancers are brilliant'
April 29, 2014 7:41 am Last Updated: April 29, 2014 7:43 am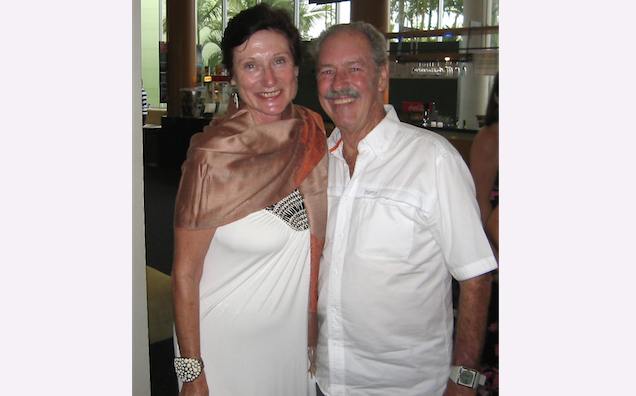 GOLD COAST, Australia—The final performance of Shen Yun Performing Arts at the Arts Theatre, Gold Coast, on April 27, saw a packed house, often erupting into spontaneous applause, and encouraging soprano Jiang Min to give an encore performance.
Paul and Dorothy De Rolf, both former professional dancers, choreographers, and dance teachers, were enchanted by Shen Yun.
Shen Yun has classical Chinese dance at its heart, but also incorporates folk and ethnic dance. The company is based in New York, and was founded in 2006 to revive 5,000 years of traditional Chinese culture.
Mr. De Rolf was very impressed by the dancers' ability. "I'm enjoying the choreography, and I really admire those dancers on stage. If I were still working I'd like to use them," he said. "They look like they're enjoying themselves."
Formerly a professional dancer on television, Mr. De Rolf worked with the likes of Donald O'Connor, Fred Astaire, and Steven Spielberg, before moving on to choreography, and then directing.
Classical Chinese dance has its own set of training methods, and strict training in both physical expression and specific postures, according to the Shen Yun website. "It also involves learning combinations of leaps, turns, flips, spins, and other aerial and tumbling techniques. It is a vast and independent system of dance."
Mrs. De Rolf expressed her appreciation for the finer points in the performance. She danced professionally for film, television, theatre, and cabaret, before becoming a teacher and choreographer.
"Technically the dancers are brilliant, the feet are gorgeous. The attitudes are lovely. Gymnastics are great too, and they all do it."
"The choreography was superb," she added. "The precision work was very good. Obviously very well-rehearsed. Just beautiful legs, and beautiful feet, and beautiful girls."
"One of the principals was obviously the ballet master. They're so young, and they can act. It's just charming, so charming."
Mrs. De Rolf mentioned artist Rachael Yuning Bastick, who grew up in Toowoomba, Queensland, saying, "And the little one that was the soprano at the beginning, and then she was the principal dancer, how clever is she? I mean to be able to sing like that, because she was beautiful. And to dance like that …"
The Shen Yun website explains the importance of the dancers' inner state. "Through expression of bearing and form, beautiful dance movements bring out the inner meaning of intrinsic thoughts and feelings, reflecting the peculiarities of human nature, the standard for human conduct, moral concepts, mental state, one's value system, and so on."
Mrs. De Rolf commented, "They are very much in the mood, and into the movement of it. They're very much like that. I don't know too much about Chinese philosophy, but all of them are very much in the zone. I absolutely adore the technique," she said.
She enjoyed many other aspects of the performance, including the "superb" digital backdrops.
"Love the music! Love the lighting! Adore the costumes, the costuming is wonderful. The play! The magic screen! It's an evolution! The costuming and lighting is fabulous, absolutely fabulous."
Mrs. De Rolf also commented on the spiritual elements in the performance. "I just wish we could see more of it. I wish there were more performances," she said. "I think any insight into the past is very beneficial. Whether people today have the wisdom today to see that … I don't know."
"It's sad to think that we get to see this, but they don't in China."
Reporting by Daniel Teng and Leigh Smith
New York-based Shen Yun Performing Arts has four touring companies that perform simultaneously around the world. For more information, visit Shen Yun Performing Arts.
The Epoch Times considers Shen Yun Performing Arts the significant cultural event of our time. We have proudly covered audience reactions since Shen Yun's inception in 2006