TAOYUAN, Taiwan—With posters, program booklets, and DVDs, about a dozen Shen Yun Symphony Orchestra fans gathered around Milen Nachev, the orchestra's conductor, to get his autograph. They were among about 70 people who bid farewell to the orchestra at Taoyuan International Airport on Oct. 4.
"I saw the performance at Zhongli Arts Hall on Sept. 20. I liked the performance so much, for it brought me much-needed peace," said Kate Chen, a product quality engineer. "So today, I came with much gratitude, and I want to express my hope that they will be back next year."
Based in New York, Shen Yun Symphony Orchestra comprises musicians from world-renowned Shen Yun Performing Arts, which has expanded to five touring groups since its debut in 2006. This year marks the second year that the orchestra has traveled to Taiwan, where it put on 15 performances in two weeks—all nearly sold-out.
For many concertgoers in Taiwan, it was their second experience with the orchestra.
Debbie Chang, 23, an elementary school teacher in Taoyuan, raved about Mr. Nachev's humorous interactions with the audience. A huge fan of Shen Yun's orchestra, Ms. Chang said it had become part of her daily life.
"Shen Yun has its own YouTube channel, so I visit the channel every now and then to see if the company posts anything new," Ms. Chang said.
With the orchestra's next stop in Toronto on Oct. 11, Ms. Chang had this to say: "You must go see it!"
A Warm Reception in Taiwan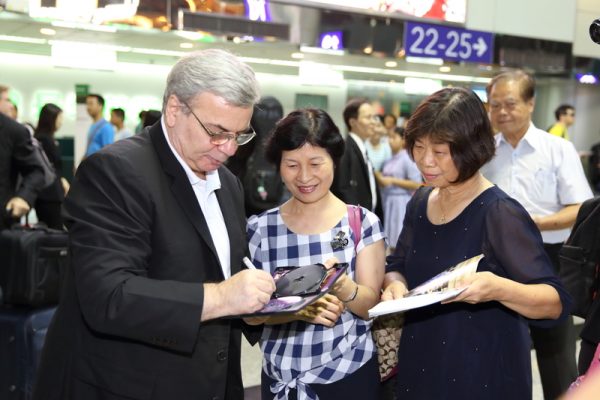 For Mr. Nachev and members of the orchestra, the Taiwan tour has always been special—for the way audience members react to the music, the standing ovations, and at least two or three encores, Mr. Nachev said.
One reason the orchestra's music has deeply resonated with people in Taiwan is that they find common ground with the orchestra's mission—the revival of traditional Chinese culture. While such culture has been lost in modern-day China, it has flourished on the island.
Alistair Crawford, trombone player for the orchestra, couldn't agree more: People are "always enthusiastic here." "They really seem to understand the culture on quite a deep level, and they really appreciate what we are doing."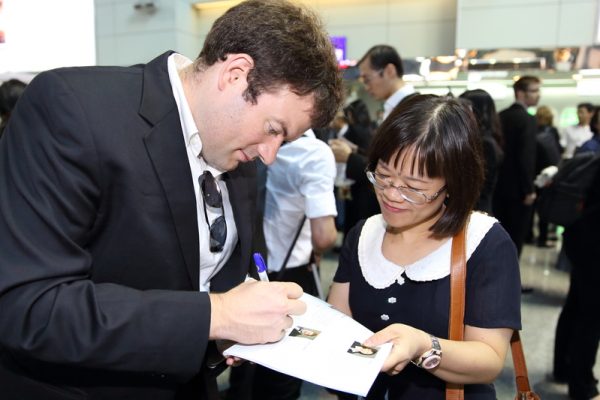 Eric Robins, a Shen Yun trumpet player, appreciated the hospitality he experienced in Taiwan. "The weather is very warm, but the people are even warmer. In America, we call it 'southern hospitality'—when you are always welcomed with open arms. I feel Taiwan really has that attribute [as well]," Mr. Robins said.
Shen Yun's Unique Music
The orchestra's music is unique in beautifully bringing together Western and Chinese instruments. For many musicians in the orchestra, this was a new experience.
"Everyday I work with Chinese composers, and we share our experience," said Mr. Nachev, a graduate of the St. Petersburg Conservatory in Russia who had already established his career as a conductor before joining Shen Yun. "This way, I can learn much faster about Chinese music, about Chinese traditions, and about Chinese instruments."
In the all-original compositions, Chinese instruments, such as the pipa and erhu, carry the melodies to give the music pieces their unique flavor, while Western instruments provide a rich foundation, according to Shen Yun's website.
Mr. Robins, who holds a master's degree from the New England Conservatory, explained how, as a trumpet player, he is able to bring out the unique Chinese flavor.
"I just always look for the melody. I never try to play anything technically, but only musically," he said. "I am really trying to bring out the lines that the melody is trying to show, no matter what sort of technique is represented in that composition."
But beyond the instruments—the unique combination of East and West—the orchestra stands out as one-of-a-kind compared with other orchestras in the world, Mr. Nachev says.
"We are not only going to amuse people, but we are also going to inspire their spirit," he said. "The message we are sending is the message of humanity, the message about the culture, about the emotions, about the spirit, and about belief."

Having concluded the Asian leg of the 2017 Concert Tour, the orchestra will perform at Roy Thomson Hall in Toronto on Oct. 11, returning to the venue after last year's successful engagement there. The Canadian trip will be followed by performances in Boston, New York, and Washington, D.C.
Reporting by NTD Television and Frank Fang
New York-based Shen Yun Symphony Orchestra comprises musicians from the five Shen Yun Performing Arts touring companies.
The Epoch Times considers Shen Yun Performing Arts the significant cultural event of our time and has covered audience reactions since the company's inception in 2006.