Summer road trips are the stuff memories are made of. Of course, packing your entire family into one vehicle for hours on end can go one of two ways. To ensure a smooth and fun journey wherever you're headed this summer, here are some road trip must-haves to bring along for the ride.
Drinks and Snacks
Road trip 101: stave off hunger. 
Pack a cooler with plenty of water or flavored seltzer to keep everyone cool and hydrated. LL Bean's Softpack Cooler is a great choice. Durable and easy to carry and clean, the family-size option holds 36 to 48 12-ounce cans. Don't forget to pack ice packs to keep your drinks cold for the ride.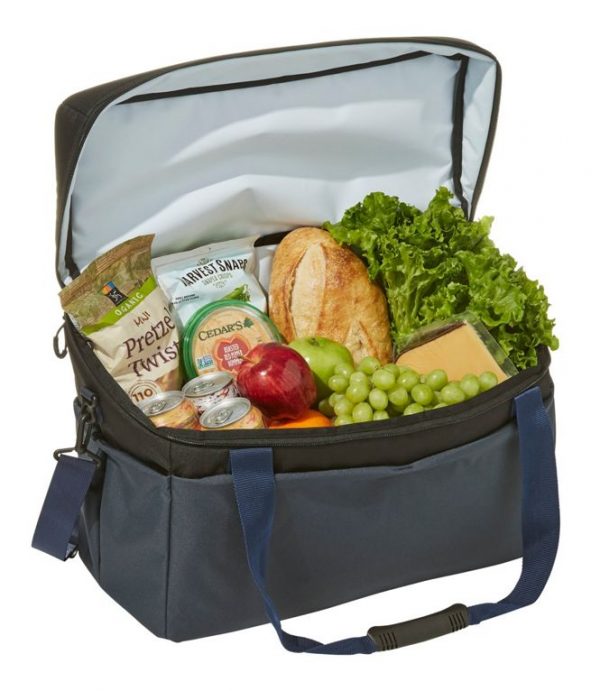 When it comes to snacks, healthy foods that are easy to grab are the way to go. Lots of sweets and high-carb snacks will inevitably lead to a spike and then crash in energy. Grapes, nuts, apple slices, string cheese, popcorn, nutrition bars (watch the sugar content), jerky, and even hard-boiled eggs are great choices. Use resealable bags and pre-pack an abundance for everyone to access as you head out on your big adventure.
A selection of disposable napkins, plates, and bowls will make all of that snacking on the go easier and less messy.
Garbage Receptacles
Rather than a floating grocery bag that may or may not catch wrappers, lollipop sticks, and discarded food items, set up a sturdy garbage can (or two) in your car. Products such as the Carbage Can Car Trash Can that are made for your car and can accept standard sized bags will be one of those purchases you'll wish you'd have made sooner.
Make sure everyone is clear that garbage goes in the garbage can, and delight when you arrive back home after your trip and your car's not a total disaster. 
Arts & Crafts Supplies
From hangman and tic-tac-toe to nature journaling to creating the next masterpiece, kids need simple art supplies in the back seat. Look for washable markers and crayons and have plenty of paper at their disposal. Coloring and puzzle books are great, too. To keep it under control, consider a clipboard case like the Dexas Slimcase Storage Clipboard, a lap desk, or travel tray.
Games
Travel games are a great way to add enjoyment to any road trip. The classic Travel Bingo is a must-have. Other games that work great in the car are travel versions of old standbys like the Connect Four game or magnetic travel games such as a set of checkers, hangman, and tic-tac-toe.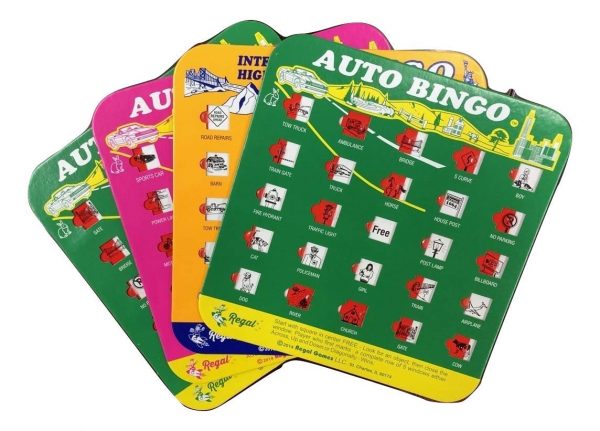 Pillows, Blankets, and Stuffies
If you've got little ones (and quite possibly if you've got big ones), keeping things snuggly on your road trip is key. Don't forget favorite blankets, pillows, sleep masks, and beloved stuffed animals for when it's time to catch some Zs on the road.
Map and Itinerary
Are we there yet? Perhaps you can ask your kids that question.
Print them out a map of the route you plan to take and an itinerary of the adventure ahead, and allow them to track your progress. It's educational and fun and will stave off that age-old question from the back seat.
Books
Don't forget books! Surprise the kids with some new reads. Look for books about your destination at your local library. Fill a crate with books for the car—your own personal library on wheels.
In addition to hard copies of books, pack some audiobooks (or have them at the ready on your phone). Road trips are the perfect opportunity to enjoy a story together as a family. A great resource is Librivox.org, which offers public domain audiobooks for free.
Cleaning and Hygiene Supplies
No doubt about it, family road trips can get messy. Pack paper towels, disinfectant wipes, glass cleaner, stain remover cloths, and perhaps a portable vacuum. Don't forget tissues and hand wipes for personal use.
Outdoor Toys
When you're taking a break from the road and find some empty space for the kids to run around, it's great to have a basic ball to toss or kick around, a jump rope, or a Frisbee to encourage movement and fun. 
First Aid Kit
Anything can happen on the road and you want to be prepared. Be sure to pack a first aid kit just in case you need to attend to a family member while on the go.