The family went on vacation in Australia and took some time to take a swim and cool off.
But when they looked at a picture they took that day, they saw something that made their blood run cold.
The picture shows Kim Davison and her two children, along with her friend Jessica Lu and her child.
But just behind the group is an extra head that Davison says is a ghost.
Davison, Lu, and the children went swimming at Murphy's Hole in Lockyer River in southeast Queensland. Turns out a 13-year-old girl, Doreen O'Sullivan, drowned there about 100 years ago.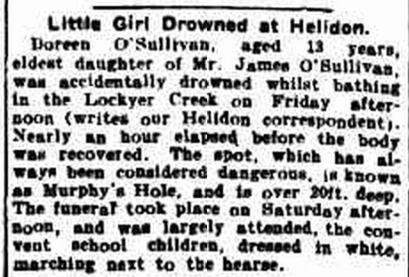 "At the time of taking this photo there was nothing between us," Davison told the Daily Mail.
"I'm holding the little girl and that white head next to me with horns is not human, I can promise you that.
"Its fingers are on my shoulder and on my daughter's arm. They are long skeletal type fingers."
Davison says that there were other strange occurrences that day, such as her daughter being grabbed by the leg twice. Davison added that two paranormal experts examined the picture and believe it's the ghost of Doreen.
Recommended Video:
Man Saves Bunny From Flames in California