A breed of horse has been nicknamed the "ninth wonder of the world" for good reason. Famous as "golden horses" due to their eye-catching metallic sheen, the Akhal-Teke horses look almost too otherworldly to be real.
Gleaming like gold in seeming defiance of genetic convention, the Akhal-Teke is thought to be one of the oldest existing horse breeds. The breed is especially well adapted to severe climates and has a reputation for speed, strength, and superior intelligence.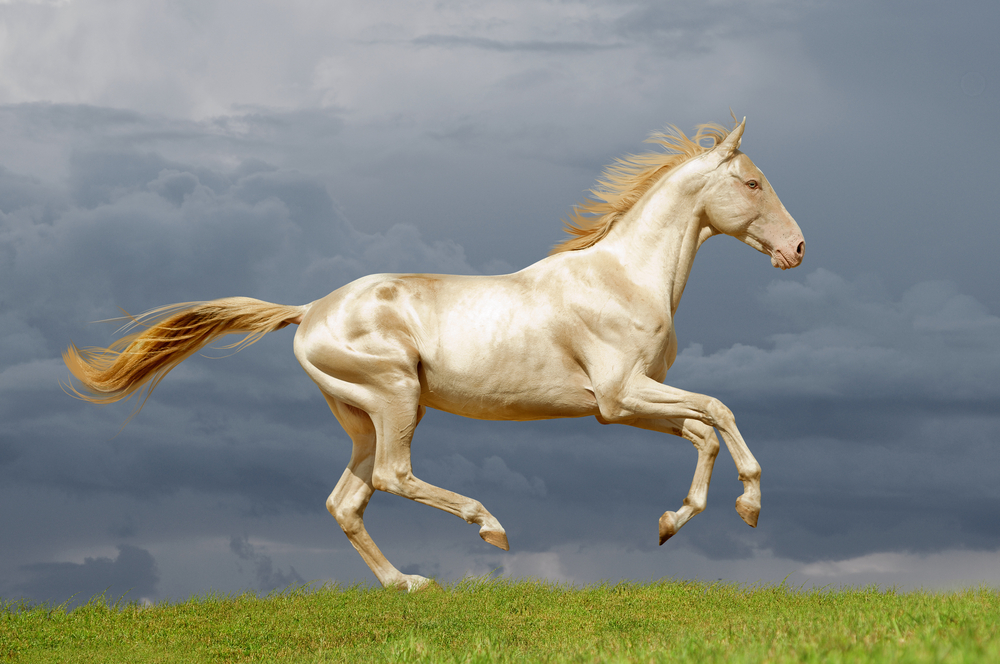 It is believed that Turkic tribes selectively bred the original Akhal-Teke horses in order to refine their physical and aesthetic characteristics. A genetic mutation known as a "dilution gene" is responsible for the breed's eye-catching metallic sheen.
This dilution gene has served as a saving grace to Akhal-Tekes residing in the desert, as the light-reflecting quality of the breed's metallic coat protects the horse from the damaging, penetrating rays of the sun.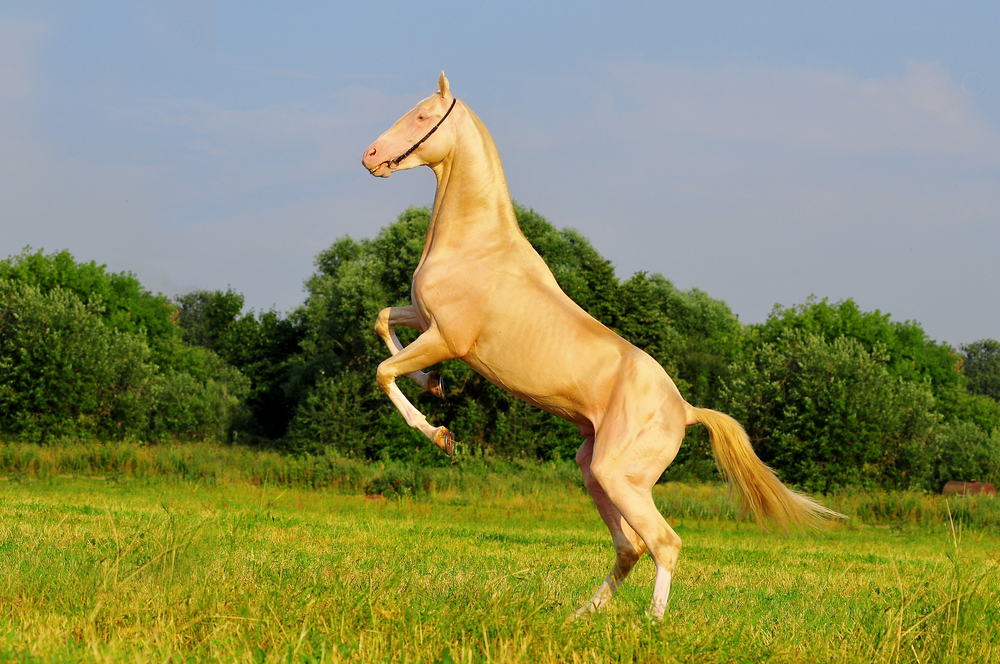 A descendant of this intentional breeding, a stallion named Kambarbay appeared at the British-Bred Land Rover Burghley International Horse Trials in the United Kingdom in 2016 and caused a stir among trial attendees.
Belonging to Solaris Sport Horses, Kambarbay is a 14-year-old golden, or "perlino," Akhal-Teke stallion. As such, he is one of the breeders' prize studs; he is guaranteed to pass on his extraordinary perlino coloring to offspring 100 percent of the time.
"Homozygous agouti and cream," Solaris Sport Horses says in Kambarbay's online profile, "he will always produce palomino and buckskin foals from solid mares."
After footage of Kambarbay's arena display at the Land Rover Burghley International Horse Trials was shared on YouTube, many people commented on the stallion's extraordinary appearance. "Stunning animal," wrote one social media user, "like someone turned beaten gold into a living horse."
"The most beautiful horse in the world," another said, while one person described the stallion as "a living work of art."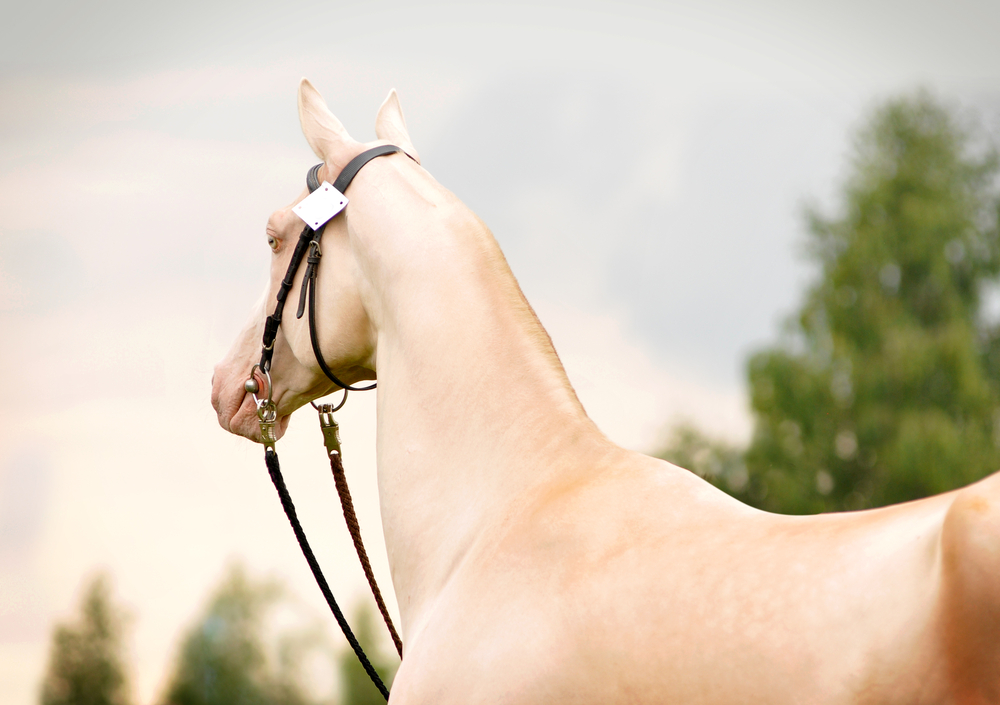 Solaris Sport Horses notes that Kambarbay has "very good mechanics," being a light-footed and flexible stallion. They described the 14-year-old horse's temperament as confident, gentle, obedient, and highly intelligent, albeit sometimes submissive and prone to seeking reassurance.
Kambarbay has progeny in countries as diffuse as Australia, Belgium, France, Norway, the Netherlands, the United States, the United Kingdom, and Germany. The breed has been described as inquisitive, with a propensity for developing close relationships with people.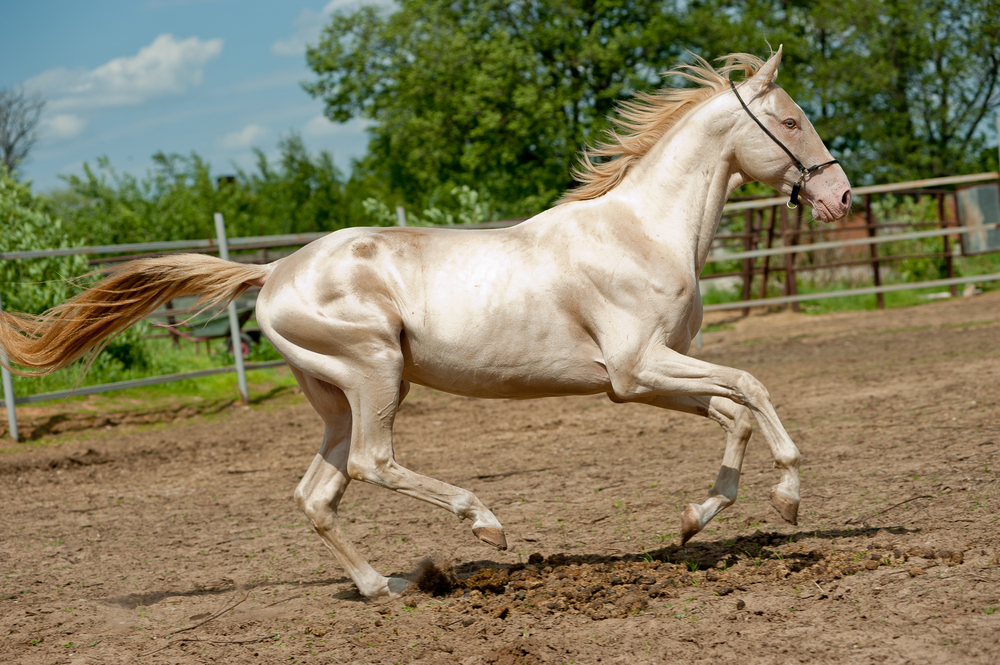 The government of Turkmenistan has been known to use Akhal-Tekes as diplomatic gifts, although the breed is known to struggle with a change of ownership owing to their fierce loyalty. To this day, Akhal-Tekes are depicted on the official coat of arms and on banknotes minted and issued within Turkmenistan. Throughout the breed's history, Akhal-Tekes have been loved and revered for their incredible metallic coats, and people continue to be spellbound by the horses' otherworldly golden sheen to this day.