Ethnic Food Unlocked in Jackson Heights
Ambassador program promotes cultural experiences that let the chef decide
September 25, 2013 1:00 pm Last Updated: September 25, 2013 10:53 am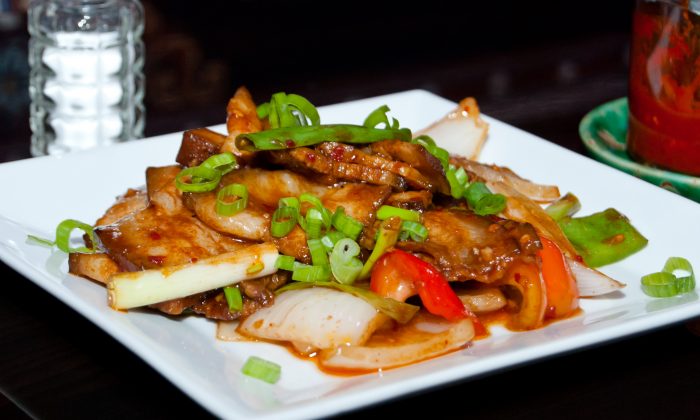 NEW YORK—Led through a nondescript cellphone store in Jackson Heights, I discovered a secret few New Yorkers know about. 
Stepping out the back of the store, I was suddenly in a little Tibetan eatery. A few tables were set out, some decorations, a picture of the Dalai Lama, and a simple menu, in beautiful Tibetan script. There was an English transliteration, no less mystifying.
You could never have guessed this gem existed from the outside. This type of discovery is part of the magic of the new Ambassador program in Jackson Heights. 
Jeff Orlick, who runs food tours of the neighborhood, created the program, which promotes the neighborhood's hotbed of diverse foods from South America, South Asia, and increasingly, the Himalayan region.
In most cases, for $10, at any eatery that has the Ambassador sticker, you get a meal chosen by the chef. When you walk into a restaurant, all you have to do is ask for the Ambassador plate, or if language is a barrier, point to the Ambassador sticker.
"When the chef is who you communicate with to order, he can get a sense for who you are, why you are here today, and if you have been there before," Orlick said. "The Ambassador should grow with the customer, in the same fashion as ordering omakase at a sushi restaurant."
"The first time might be an introduction to the restaurant, but each successful turn could grow and get more to your tastes; and your tastes to grow with each experience. A lot of this is based on trust, adventure, and communication. This is well beyond just having a good meal, it's much more rewarding than that."
All the restaurants are local, and Orlick was able to make use of the relationships he had developed through his tours to create the Ambassador program. "Most of the chefs are really into it. … I don't think they would have trusted me otherwise, with this idea that is so different."
There are little gems and unexpected fusions. At Gangjong, which serves Nepali food, the chef prepared a noodle dish incorporating elements he learned from a cook from Cameroon, while working for the U.N. in Moscow. 
The program is still in its infancy, and what might be on special on the Ambassador plate might change day to day, depending on the chef's inclination.
I tried it out twice, once with Orlick himself at Dera, a Pakistani restaurant. We dined right before fast was broken for Ramadan, and there were dates set on the tables.
Shortly after, the restaurant was flooded with people looking to break their fasts. We were given a wonderful biryani, chicken curry, and some alu gobi and mixed vegetables. The order was huge and could have fed two people easily (maybe four, my size).
The second time was at Little Tibet, a restaurant not far from the transportation hub of 74th Street and Roosevelt Avenue, but out of the way enough that I would not have found it on my own either. I brought my family there, and we had to negotiate a precarious stretch of block, where high above, in the structure of the elevated tracks, hordes of pigeons squawked noisily. A pigeon's "gift" landed on my toddler's leg—it could have been worse, I suppose.
Little Tibet shares a space right above a taxi tutor company. I normally love to pore over menus but this time I just asked for two Ambassador plates ($10 each), and a noodle dish.
Our lovely server came out with a dish of pork belly with red and green peppers; a soup made of potatoes and beef in a bone marrow broth; and steamed bread made of rice flour. The soup had a nice, rustic, hearty depth to it. The pork belly could have been rendered more to a crisp in my opinion, and saltier, but all the dishes tasted clean and hearty. Tibetan cuisine isn't one I know well at all, and this was a nice introduction to it.
Part of the fun is getting to interact with the hosts, as a window into another culture. But the degree of this also depends on each restaurant.
Orlick hopes organizations in other neighborhoods will be interested in starting Ambassador programs. In the meantime, he just hopes this takes off in Jackson Heights. "I think that I just have to get people to do it once, and they will get hooked and tell their friends. I just have to light enough sparks," he said.
If you're looking for a food adventure, go to Jackson Heights and look for the Ambassador sticker—it will help you navigate the unfamiliar cuisines and mind-boggling choices.