El Pote Español: Down-to-Earth Spanish in Murray Hill
September 2, 2013 9:00 am Last Updated: September 23, 2013 10:45 am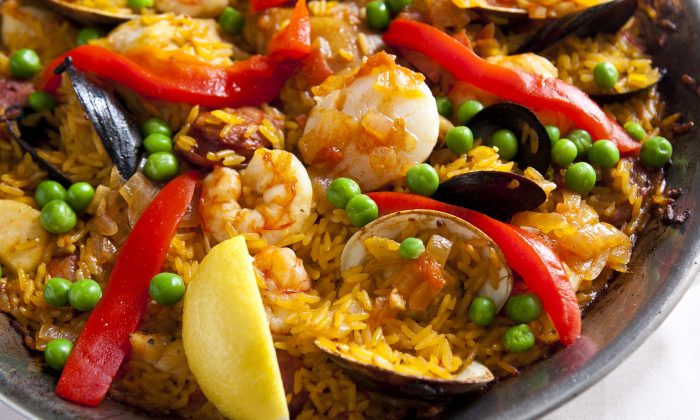 Clearly, El Pote Español has been doing something right for the past 37 years. This is down-to-earth, friendly Spanish fare, in a cozy, Old World atmosphere. Co-owner Enrique Torres is behind the bar, right at the entrance, greeting diners who are coming and going, and chatting away, often in Spanish, with the guests at the bar.
Torres said the decor hasn't changed in all the years that the restaurant has been open, but unlike some places, their choice of an aesthetic—white walls against brick and dark wood—in the arched dining room is a timeless choice. There's history here but it doesn't feel tired or worn.
Plenty of history exists on the walls, which are adorned with signed photos and portraits of patrons—from guitar great Paco de Lucía, who came in the '70s on the occasion of the passing of Flamenco legend Sabicas, to tennis player Rafael Nadal, who won the U.S. Open earlier this month. 
The friendliness of the host, the sense of history that imbues El Pote, and the Spanish melodies seem to lift you out of the gray Manhattan jungle and leave you in a rustic corner of Spain. 
Both Torres and Jose Lariño, the chef and co-owner, come from the province of A Coruña in the northwest of Spain, but met here in New York. Lariño said his nose guides his cooking and his approach is: "When you have to do something, you have to do it with love—and time." 
He admits he doesn't do well with taking time; by nature of the restaurant business, he's taken to doing things quickly and that's not about to change.
El Pote Español (pote means pot or kettle in Spanish) serves traditional Spanish dishes.
On a recent visit, we had a few tapas—all of which were flavorful and excellent—and we split a paella.
The Champiñon Rellenos (stuffed mushrooms, $9.75) had a delicious crabmeat filling and the topping had a nice crunch to it. The Pulpo Estilo Feria (octopus in olive oil and paprika, $16.50) is a classic dish, and it was an incredibly tender—possibly the most tender octopus I've yet to have in the city—finished with a drizzle of smooth olive oil.
The Pimientos del Piquillo Rellenos (stuffed piquillo peppers, $9.75) were my dining companion's favorite. Served in a sweet tomato onion sauce, the piquillo peppers' sweetness and a slight hint of bitterness contrasted well with the cod filling. 
The Gambas al Ajillo (shrimp in garlic, $9.75) was different from what I'd expected. Rather than served with olive oil, it came in a very garlicky sauce—closer to a broth. Lariño said that early on in the life of the restaurant, he found Americans didn't like to see oil on their plates, so they served the shrimp in a sauce instead. It's not traditional but nevertheless very good.
For any of the tapas, at the risk of filling up, you'll need the bread to sop up the sauces. They're worth it.
We ended with a traditional Paella Valencia ($20), with chicken, seafood, and sausage. The chicken happened to be on the dry side, but the flavor of the rice was excellent. It's all in the base, explained Lariño, who simmers a broth for about two to four hours.
Go for the tapas, stay for the cozy atmosphere.
El Pote Español
718 Second Ave. (between 38th and 39th streets)
212-889-6680
elpote.com
Hours
Lunch: Monday through Friday: 12 p.m.–3 p.m.
Dinner: Monday–Saturday: 5 p.m.–11 p.m.