Education Administrator finds Shen Yun 'Uplifting, Spectacular, Enjoyable'
January 10, 2010 7:59 pm Last Updated: October 1, 2015 8:59 pm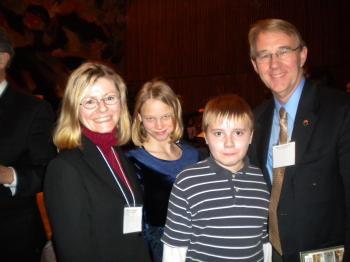 OTTAWA, Canada—Shen Yun's return to Ottawa on Sunday afternoon left a lasting impression on Mr. Ricketts, a senior administrator at a local educational institution, who attended the premier classical Chinese dance and music production with his family.
In three words, Mr. Ricketts described the performance at the National Arts Centre as "uplifting, spectacular, and enjoyable."
"It was a tremendous experience, a wonderful production. The talent of the performers is quite incredible."
Shen Yun blends classical Chinese dance, an orchestra composed of western and Chinese instruments, a digital backdrop, as well as colourful costumes in performances that bring to life enchanting stories of ancient and contemporary China.
Mr. Ricketts, originally from the south coast of England, is also a professor of geography and a scholar in environmental science.
"I was quite amazed at the technology. The Splitting the Mountain performance was quite brilliant," he said.
In that dance, the scenery displayed on the state-of-the-art digital backdrop was specially designed to interact with the performers on stage to illustrate a well-known Chinese fairy tale.
"I don't know how recently they've been doing that, but it's quite spectacular."
Mrs. Ricketts added that "It felt like you were in China at times, lovely scenery."
The performances brought traditional Chinese culture to the fore. "People can appreciate the tremendous history and depth of culture that China has," said Mr. Ricketts.
The Chinese culture, with a history of 5,000 years, is a highly spiritual culture that is said to be divinely inspired. Shen Yun conveys this through song and re-enactments of ancient legends and modern events that reflect themes of virtue, courage, and faith.
"It's obviously driven by a very spiritual view of the world, driven by people who believe very strongly in their faith," said Mr. Ricketts. "It's a very important message they're trying to give to the world."
Mr. Ricketts' daughter particularly liked the dance titled Fairies of the Clouds, which kicked off the second half of the show after the intermission.
In this dance, when the curtains are raised, the audience sees a breathtaking scene with the stage and backdrop covered in clouds, depicting a tranquil and beautiful celestial world.
"The show tries to present to people that there's always wonderful things in life, nature, and how we enjoy the world."

The New York-based performance company will play one more show in Ottawa Monday night before heading to Montreal.
With reporting by NTDTV
For more information visit ShenYunPerformingArts.org.