Scott Newgent is finally sensing a shift in the war against medical gender-transitioning of children in America.
About 4 1/2 years ago, Newgent became one of the nation's first transsexuals to voice strong opposition to gender-changing surgeries and drugs for minors.
Newgent, a 50-year-old mother of three, nearly died after a 2017 gender-reassignment surgery.
"I was sold a lie, that medically 'transitioning' would help me finally fit in and solve all my problems," Newgent, formerly known as Kellie King, told The Epoch Times.
"They promise you Candyland, but instead you get Vietnam. Every day, I was fighting just to survive because of the damage done to my body."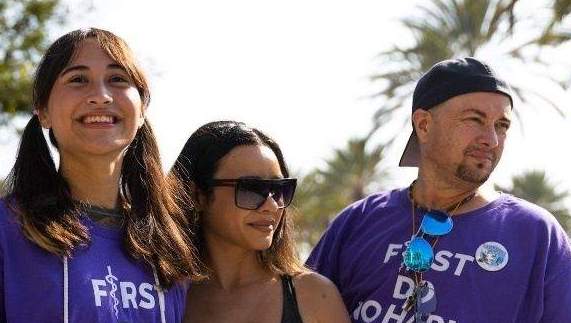 Since discovering that minors were being courted for such procedures, Newgent has worked tirelessly to prevent kids and their parents from being waltzed down the same tragic path.
The movement seems to have picked up steam lately, Newgent said, thanks partly to a whistleblower's allegations of shocking practices at a Missouri pediatric gender clinic.
Newgent is slated to testify about a proposed transgender procedure ban in the state on Feb. 14, following two recent victories of transgender-treatment bans in other states.
Newgent has worked with a core group of parents and organizations such as Genspect, 4th Wave Now, Moms for Liberty, Gays Against Groomers, and Transgender Trend.
"And dozens more have sacrificed for over four years fighting this mess," Newgent said.
Coalition Was Built
Newgent is probably best known for declaring "I will never be a man" despite having a masculine appearance, in the Daily Wire's 2022 documentary "What Is a Woman?" Newgent also drew widespread notice for writing a 2021 guest editorial in Newsweek, a personal account of the horrors of gender-transitioning procedures.
But before then, Newgent was helping lawmakers and giving speeches to anyone who would listen to a "stop transitioning kids" message.
Newgent's advocacy has drawn ridicule from some in the LGBT community. "Now, people who laughed at me are backing me," said Newgent, founder of TreVoices (Trans Rational Educational Voices).
A coalition of gays, lesbians, "trans" people, parents, Christians, and atheists have joined Newgent in advocating for these procedures to be banned because they can cause lifelong harm.
"It doesn't matter what backgrounds these people come from. We're all coming together to save these kids," Newgent said.
The legislative advocates' efforts are bearing fruit even though they face well-funded, aggressive opponents—and a partisan divide.
Most states proposing the bans are Republican-dominated; states trying to ensure access to the procedures tend to be Democrat-controlled. But a proposed ban on the procedures has been floated in progressive Hawaii; Gays Against Groomers sent a representative there to testify.
"It's hilarious to us that we're constantly slandered as 'anti-trans' by woke outlets and radicals that don't know how to handle us," the group said in a recent tweet, "when time and time again we come to the defense of trans people that align with our mission and want to end the medicalization of children too."

Last week, Newgent was gratified to see lawmakers approve a youth transgender-treatment ban in South Dakota, the first state Newgent tried to assist with legislation. The original bill was defeated in 2019; Republican Gov. Kristi Noem signed it into law on Feb. 13, 2023.
Chloe Cole, now 18, testified in favor of the South Dakota bill. She told her story to The Epoch Times last year, describing how a surgeon removed her breasts when she was 15.
Although she insisted she wanted to be a boy for several years, Cole now has become a prominent spokesperson as a "de-transitioner," one who regrets being misled into having the surgery.
Weeks before the South Dakota law's passage, Utah approved a ban, too. Many other states have similar proposals in the pipeline. Newgent is working to shore up legislation in more than a dozen states.
Notably, Newgent will be testifying in Missouri, where state and federal authorities are investigating allegations from the nation's first whistleblower alleging a gender clinic has been harming children with unethical and immoral practices.
On Feb. 14, clinic officials are expected to say whether they will comply with the state attorney general's request to stop the procedures as the probe continues.
"The dominoes are starting to fall; it could be game, set, match," Newgent said while preparing to speak in support of bills in Missouri and Kansas.
Still, Newgent said the fight is fierce, with many more battles on the horizon.
Beneficial or Harmful?
Opponents of restrictions say these "gender-affirming" procedures alleviate "gender dysphoria," which can make youths miserable, even suicidal. But research supporting that view is recent and short-term; some attack the findings as flawed.
People, including Newgent, insist that these procedures cause permanent harm and health problems that haven't been well-studied. They point to the only long-term published research on adult transsexuals, a 30-year Swedish study showing that people who undergo sex-reassignment surgery had higher mortality rates from all causes and committed suicide at a rate 19 times greater than the general population.
As the nation has debated those viewpoints and the number of gender-dysphoric youths has exploded, a pattern has emerged.
Whenever a ban or other restriction is proposed, lawmakers and their supporters, such as Newgent, prepare for the onslaught.
Almost invariably, busloads of protesters, wearing T-shirts proclaiming their stance and carrying professionally printed placards, flood statehouses.
Often, lawyers from the American Civil Liberties Union (ACLU) will hold a news conference. Impassioned testimony follows from both sides while social media light up with commentary.
The scene was similar in Arkansas in 2021, when that state approved the nation's first such ban. It was repeated in Nebraska when Newgent testified in early February 2022. And it likely will reoccur when Newgent and others appear before the Missouri Senate this week.
'Tide Is Starting to Turn'
Newgent's voice is a strong and important one, said Arkansas state Rep. Robin Lundstrum, sponsor of the bill that became the nation's first law to ban transgender procedures for minors. Newgent wasn't involved with that legislation but has publicly supported it.
That law remains on hold while a judge decides whether it's constitutional.
The ACLU fought the law on behalf of several transgender-identifying youths and their parents, who attested to their belief that the treatments improve quality of life for suffering young people.
So far, court rulings haven't been favorable to the Arkansas Save Adolescents From Experimentation (SAFE) Act.
But now Lundstrum thinks "the tide is starting to turn" against transgender treatments of minors, mainly because of advocacy from people like Newgent.

She acknowledged Newgent's courage while confronting hostility. An activist pushed Newgent at a California protest last year; last week, a protester spat on Newgent's face despite heavy security at the Nebraska Statehouse.
Lundstrum told The Epoch Times: "It's very hard for grassroots individuals that are compassionate and caring to stand up, but it does catch on. It just takes longer."
She predicts "more people are going to stand up" as they witness more children being harmed. She said it saddens her to think that's what must occur to get more people motivated.
Many people on the other side of the debate, favoring transitions of minors, "have great intentions, but they're just not seeing the harm that's being done," Lundstrum said.
Lawmakers Tackle Issues
Although Lundstrum's SAFE Act remains in jeopardy of being overturned, it has been a model for bills in other states, including Missouri.
As of Feb. 13, the ACLU was tracking nearly 300 pieces of legislation involving transgender issues; 93 proposals centered on health care in at least 21 states.
"In the last few years, states have advanced a record number of bills that attack LGBT rights, especially transgender youth. The ACLU is tracking these attacks and working with our national network of affiliates to support LGBT people everywhere," its website says.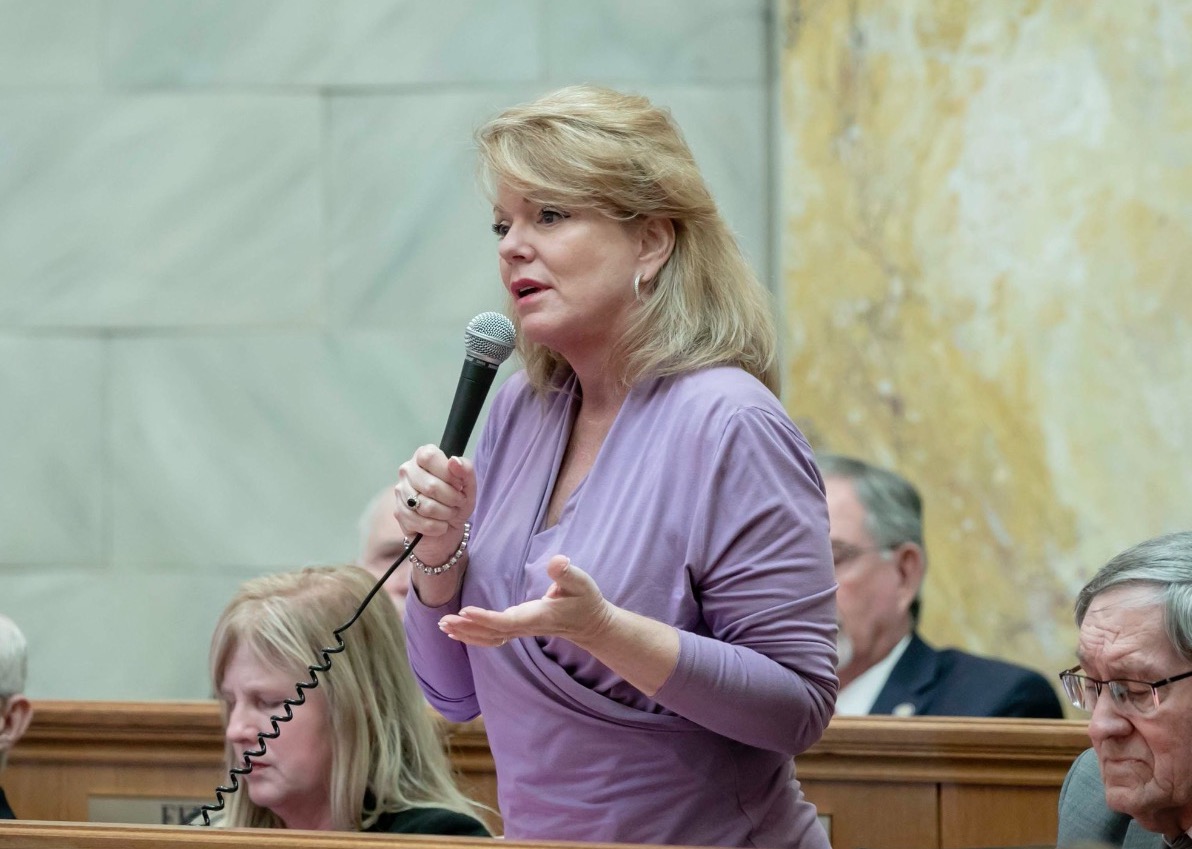 In addition to Missouri and Kansas, Newgent backs pending legislation in Idaho, Iowa, Kentucky, Montana, North Dakota, Tennessee, Texas, and Virginia.
The ACLU says it's wrong that "these bills target access to medically-necessary health care, like Medicaid, for transgender people" while exempting identical treatments offered to non-transgender youths. The proposed bans carve out exceptions for minors with genetic disorders affecting genitalia.
Many of the proposed bans on transgender procedures for minors call for disciplinary action against practitioners who would violate those laws.
Some of the bills would allow medical malpractice suits for years after patients reach the legal age of adulthood. Others would make it a crime for anyone to perform the procedures on minors.
Whistleblowers in Europe, Missouri
In the mid-1990s, after Dutch researchers released a study showing that puberty blockers helped young transgender people, Europe forged ahead with the procedures while the United States lagged behind. Now, the United States and Europe have reversed roles.
In Europe, concerns about harmful effects have surfaced in recent years, causing several countries to put on the brakes as more "de-transitioners" go public with their stories of regret and as others raise concerns.
Recently, a whistleblower's allegations led to the downfall of the United Kingdom's sole pediatric gender clinic.
Last year, British authorities ordered the Tavistock Centre's gender identity clinic to close by spring 2023 after an investigation showed that the procedures performed there were causing more harm than good.
The Daily Mail recently reported that former clinicians are now expressing regret that they handed out life-altering medications after a single assessment with "incredibly complex" children.
That description tracks with the account given by Jamie Reed, a former Missouri clinic intake manager. She ignited a firestorm with a first-person account published in The Free Press, an independent publication. Millions of people viewed her story on Twitter alone.
Reed worked as an intake case manager for four years at The Washington University Transgender Center at St. Louis Children's Hospital.
She alleges that mental-health assessments were inadequate and that treatments continued even after children showed clear signs of suffering ill effects. Prescriptions were sometimes given against parents' wishes, she said.
Reed is calling for a national moratorium on the procedures.
The university said it was alarmed by Reed's allegations and was conducting an internal review.
Many people, including Newgent, think Reed is paving the way for others to blow the whistle on such clinics across the United States.
"Remember it took one whistleblower in the UK, Dr. David Bell, to spur an investigation into Tavistock, resulting in its closure," Daily Wire writer Christina Buttons wrote on Twitter.
"Jamie Reed is the U.S.'s trailblazer—more whistleblowers will come forward because of her bravery. The gender industry's house of cards will fall."
Children Are Apolitical
On Jan. 26, Reed filed a formal complaint about the St. Louis Transgender Center with Missouri Attorney General Andrew Bailey. He and Sen. Josh Hawley (R-Mo.) have launched investigations.
Reed appears particularly situated to share her revelations because of her personal characteristics. Reed is married to a woman who identifies as a man. She describes herself as "queer."
That makes it difficult for anyone to dismiss Reed as a bigot or a transphobe—labels often lobbed at conservatives who are against gender-transition procedures for minors.
But online critics questioned the timing of Reed's revelations on Feb. 9, less than a week before the Missouri Senate hearing where Newgent and others will testify.

Some parents commented on social media that their children received detailed assessments at the St. Louis clinic; they were stunned to hear Reed's allegations that prescriptions were handed out willy-nilly to children with severe mental issues.
Reed, 42, is a parent of two biological children from a previous marriage and three foster children.
Yet, despite describing herself as "politically to the left of Bernie Sanders," Reed seems to have drawn little or no support from fellow progressives for her whistleblowing.
An attorney representing and advising Reed, Vernadette Broyles of The Child & Parent Rights Campaign, said on Feb. 9, "We have simply got to get past the partisanship, because our kids are not Democrats or Republicans."
Broyles said the politics of the people tasked with protecting children "frankly should not matter to us." The facts are what should matter, she said. Reed agreed.
'Not About Human Rights'
On Feb. 8, Nebraska heard from dozens of people on both sides of the issue during a hearing on the Let Them Grow Act, a proposed ban on medical gender procedures for anyone under age 19.
Parents and people who identified as transgender described seeing benefits from the treatments. They said some youths "know" from a young age that they want to live as the opposite gender, and it's cruel to allow them to suffer without access to puberty blockers that can stop them from going through unwanted bodily changes.
Supporters of the legislation say any perceived benefits would likely be fleeting, replaced with lifelong regret, after transition-related health problems cropped up or mental issues went unresolved. They say youths need counseling and time to work through gender confusion, not surgeries and hormone treatment.
Several people who testified against the legislation called it a "right" to seek this treatment.
A young girl, who appeared to be a preteen, declared that lawmakers "need to trust kids to know what's best for themselves" and that gender-related medical treatment should be allowed when children feel "comfortable" to proceed.
But Newgent, the first witness to speak in favor of the legislation, stated: "I'm a mother and a woman who has given birth and carried life. I'm here today to put an end to the idea that medically transitioning children is about human rights. It is not. It's about money."

Newgent said market researchers predict that "gender-affirming" care will generate more than $5 billion by the decade's end.
Medical bills for Newgent's hormone treatments, breast removal, and genital alterations exceeded $1 million. Newgent is convinced this will lead to an early grave because of recurrent infections and other medical issues.
"You cannot transition your pain away. You only add to it," Newgent said. This is a concept that young people cannot comprehend because their brains typically aren't completely developed until around age 25; Newgent proved vulnerable to transgender marketing ploys well into adulthood, beginning the transition hormones at age 42 before progressing to surgeries.
Newgent urged legislators to approve the legislation: "You will be considered a bigot. But tomorrow, you will be a hero. This is wrong on every level. Don't do this to kids."