As drugs pour across the southern border, only about 18 percent of vehicles entering from Mexico are searched by Customs and Border Protection (CBP) officers, their K-9s, and X-ray equipment, according to Guadalupe Ramirez, CBP director of field operations for Arizona.
The vast majority of the drugs that are seized at the southern border are being driven through the ports of entry, hidden in commercial trucks and personal vehicles.
In one week in August, officers at Arizona's small border town of Nogales' port of entry seized more than 1.2 million fentanyl pills.
More contraband-detecting technology is in the pipeline for some ports of entry, including Nogales, where CBP's ability to search will increase from 100 commercial trucks a day to 600 to 800 per day, Ramirez said.
"We had a seizure last month where they basically took the floor of a commercial trailer and they took out the middle section of the floor and they put in some metal containers that had the fentanyl pills," he said, referring to the Nogales commercial port of entry. "It was big—several hundred pounds of fentanyl, primarily pills but also powder."
The amount of fentanyl seized by U.S. border authorities along the southern border since June increased by 220 percent in an already record-breaking year. CBP and Border Patrol agents seized 687 pounds of the deadly substance in June and 2,287 pounds in August, according to CBP statistics.
Two milligrams of fentanyl can be fatal.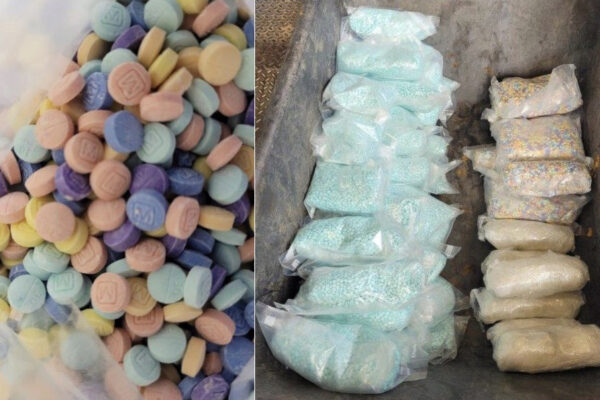 CBP officers seize almost 10 times the volume of fentanyl per year than Border Patrol, which operates between the ports of entry.
The amount of fentanyl seized this fiscal year is four times more than it was in fiscal year 2019.
Ramirez said it's hard to estimate how much contraband CBP officers don't catch.
The cartels are "willing to take some loss," with drug shipments being seized at the border, according to Ramirez.
"They're going to send multiple shipments through, and if we knock down most of them and one gets by, that's still profitable for them," he said. "We're doing a fantastic job, and you see it in the increase. But I'm still concerned, because you just don't know. You don't know what you don't know.
"One of the things that I look at is what is the price—and as the price goes up, that means that we're probably catching more; if the price goes down, that means we're probably not catching as much."
Currently, a fentanyl-laced pill is as cheap as $2 in Arizona and as expensive as $120 on the Indian reservations in Wyoming, according to Derek Maltz, former director of the Drug Enforcement Administration's (DEA's) special operations division.
"With all the awesome work being done by CBP and law enforcement around the country seizing massive amounts of deadly drugs, it's scary to think what's getting into America," Maltz told The Epoch Times via email, mentioning the record number of fentanyl seizures.
"This is a clear indication we have a tsunami of deadly fake pills hitting the streets in all communities around the country."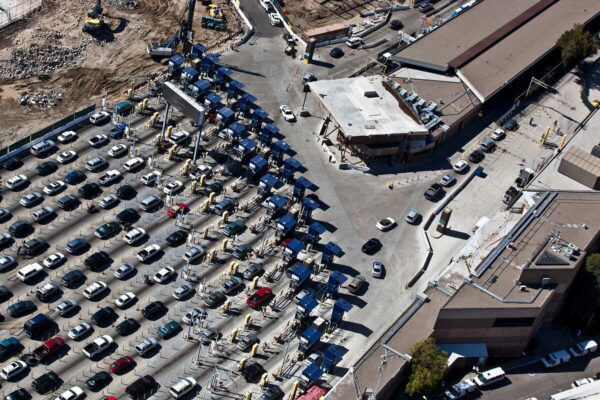 Fentanyl Pipeline
Arizona and California are the main gateways for the drugs that CBP seizes at the ports of entry.
The Sinaloa cartel sits south of those states.
"It seems to be the commonality that it's coming from Sinaloa and Sonora. They can bring in the precursors through their seaports in Mexico from Asia," Ramirez told The Epoch Times.
The Jalisco New Generation Cartel (CJNG) sends its fentanyl into Texas.
In August 2019, the Mexican navy intercepted a 25-ton shipload of fentanyl originating from China and bound for Culiacán, Sinaloa—the home base of the Sinaloa cartel in Mexico.
The precursor chemicals to make illicit fentanyl primarily ship from China, but India is also joining the market, and Mexico is starting to make its own. Fentanyl has fast become the primary cause of many of the 107,000 U.S. overdose deaths per year.
The chemicals are converted to the deadly synthetic opioid fentanyl in cartel-run labs.
"The drug traffickers in Mexico discovered that it's easier for them to make these synthetics than to have to grow a plant—marijuana or cocaine or opium. They can set up these clandestine labs throughout Sinaloa and Sonora,"  Ramirez said. "Then, it's pretty much a direct route into California and Arizona."
Over the past weekend, CBP officers at the Nogales port seized five loads of drugs, including 400,000 fentanyl pills and 152 pounds of methamphetamines, according to Nogales Port Director Michael W. Humphries.
"Concealment methods included the back wall of a truck cab, side walls of a vehicle, throughout a pickup," Humphries wrote on Twitter.
Approximately 30,000 of the fentanyl pills were rainbow colored, he said.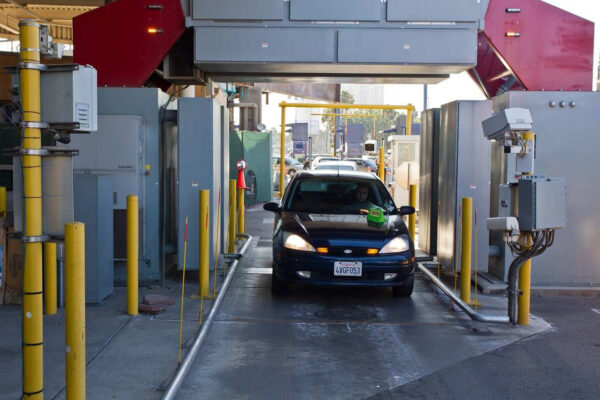 The DEA recently issued a warning about "rainbow-colored" fentanyl after it started popping up in August.
"This trend appears to be a new method used by drug cartels to sell highly addictive and potentially deadly fentanyl made to look like candy to children and young people," the DEA said in an Aug. 30 statement.
"Fentanyl remains the deadliest drug threat facing this country. Drug poisonings are the leading killer of Americans between the ages of 18 and 45."
Many children are dying after taking a pill that they think is a prescription painkiller, such as OxyContin or Percocet. Others think they're taking the prescription drug Adderall.
"When these kids are buying Xanax, they think, 'Well, it's no big deal. Mom and Dad get it prescribed, what's the big deal?'" said April Babcock, who started the Facebook group "Lost Voices of Fentanyl."
Babcock, whose son was killed by fentanyl in 2019, said a fentanyl-related death is a poisoning, not an overdose.
"The term overdose means there's a safe dose to take, and you took too much. There's no safe dose of illicit fentanyl," she told The Epoch Times in a recent interview.
"When you go out and you buy a Xanax or you buy an Adderall or anything, but you're dying from fentanyl, that's a deception. These kids are being deceived. And they're being poisoned to death.
"You might have a fake Percocet that's got enough fentanyl in it to kill 40 people. Then, you might get another fake Percocet that has no fentanyl in it at all."
Boosting Search Capacity
Ramirez is itching to get the new scanning technology up and running.
Currently, the system is laborious.
"For instance, with a mobile X-ray here at the port of Nogales, we have to line the trucks up, we have to get the drivers down, put them in a secure area, and then we scan maybe six trucks at a time. And we have to take the time for that one officer in that truck to interpret all the images before releasing the truck or referring the truck [to secondary screening]," Ramirez said.
He hopes the new multi-energy X-ray system will be installed and a fully staffed operations center will be in place to quickly read the images by the end of the year.
"So we can just drive the trucks through," Ramirez said.
The K-9s are still the superior tool for detecting drugs, he said, but they need a lot of rest, especially in the heat.
"Those canines are irreplaceable. They can pick up the scent even when someone will take a package [of drugs] and shrink wrap it and then drop it into the fuel tank—our dogs will pick that up," he said.