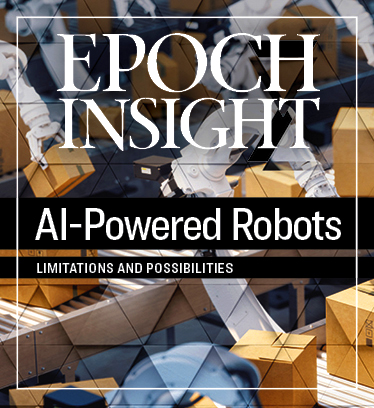 March 17, 2023
AI-Powered Robots: Limitations and possibilities
In This Issue
AI-powered robots are still limited, but their capabilities open up exciting, scary futures.
Your Digital Subscription Includes

Full Digital Access
Complimentary Digital Subscription to TheEpochTimes.com

Epoch Fun
Keep your brain challenged and entertained with puzzles, trivia, crosswords, and more.

Unlimited App Access
Access all of The Epoch Times' award-winning journalism on your tablet and mobile app.

Epoch Rewards
Earn points on actions you take every day. Then redeem them for gift cards, credit, or merchandise and swag. You can also use it for renewing your subscription.

Epoch TV Documentaries
Watch TV series, documentaries, news shows, and movies live or on demand on your favorite device anywhere, anytime.

Digital Newsletters
Get the latest news in your inbox right when it happens. Easy opt-out.
What Subscribers Say About Epoch Insight
I enjoy the variety of opinions and writers. Especially the one page per writer pieces. It's just an all round, well written magazine. The way TIME Magazine USED to be, years ago before they became so biased.
I like the fact that it is weekly and convenient to read before I go to bed. It give a good cross section of the important global events.
Generally, very comprehensive and objective coverage of important news and activities around the world... and not hampered by what the MSM is covering or refusing to cover.
More in-depth, balanced coverage of topics that are current and important are found in Insight. Kind of a condensation of essential information from more scattered articles in the alerts and Epoch Times articles.
It reminds me that there are still a LOT of wonderful, good and dedicated people in this country. It reminds me of the America I grew up in and why I'm so proud to be an American.
I did not know what to expect when I subscribed. What I appreciate most is how Insight reports news rather than reflecting a particular political or social perspective. I now receive information and data the mainstream media omits because it doesn't fit in with a prescribed narrative. Keep up the good work!
FAQ
What are fundamental differences between The Epoch Times and other media?
Why do I need to subscribe to The Epoch Times?

Subscribe for world news, U.S. news, unique commentary and analysis, arts, traditions, culture, family, food, travel, crosswords, puzzles, and more!

The Epoch Times is driven by its mission, not by money.

One of the biggest threats we face is the struggle between freedom and communism. Many Americans haven't realized or paid much attention to this struggle, but it's a battle The Epoch Times has been covering from the front lines for the past 19 years. We are happy that more and more people have begun to pay close attention to this threat.

The biggest socialist/communist regime on this planet is the Chinese Communist regime, which is one of the biggest threats to the free world. We at The Epoch Times know well its true nature.

Our efforts alone are not enough. We need you to be a part of this journey.

By coming together, we can win this battle for our country's freedom. Subscribing to The Epoch Times will equip you and your communities with the facts that can help you make up your own mind and contribute positively to society.
How much do I pay after the two month trial?

Your digital subscription will automatically renew at a rate of $9.99/month billed every month.
What is the cancellation policy?

Subscriptions can be canceled at any time. Cancellation requests have to be received prior to the date of the next billing cycle. If the cancellation request is not received prior to the beginning of the next billing cycle, the subscriber will be charged for the next term, and the cancellation will be effective at the end of that billing cycle. All payments are non-refundable.

All cancellation requests must be done through the Customer Service Hotline at 1-833-699-1888. A cancellation confirmation email will be sent to the subscriber.