In September 2018, Andrea Bemis embarked on a life-changing journey—one that brought her closer than ever to home.
Bemis, an organic farmer, food blogger (DishingUpTheDirt.com), and cookbook author living in north central Oregon, had an epiphany earlier that year, while grabbing a can of coconut milk from her pantry: Despite a decade of farming and a long-held dedication to local, sustainable eating, she still had no idea where many of the ingredients in her kitchen came from.
Inspired to deepen her relationship with her local food system and community, she gave herself (and her thousands of blog readers and Instagram followers) a challenge: For 30 days, cook and eat using only ingredients from within a 200-mile radius of home. The experiences and lessons from her "local thirty" journey, as she called it, stuck with her long after.
Bemis shares them in her new cookbook, "Local Dirt"—along with four seasons of simple, adaptable recipes for home cooks inspired to follow along.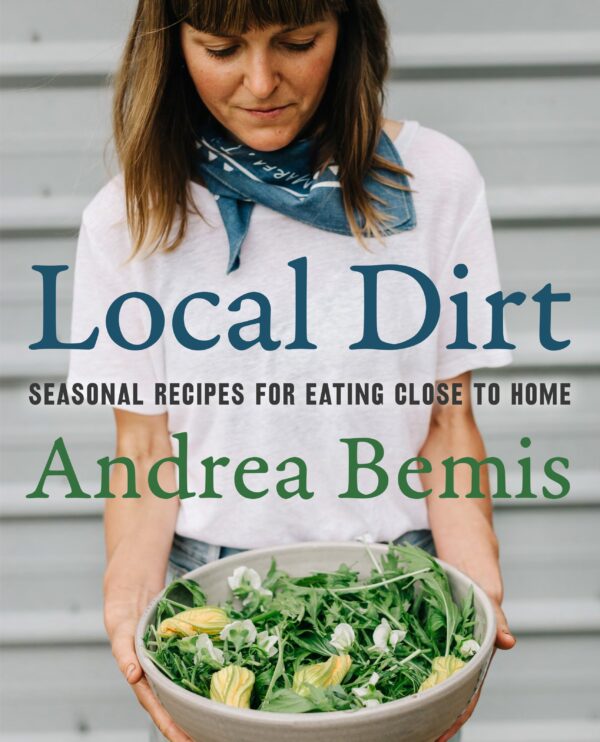 Some experiences were completely new, leading to new discoveries and friendships: milking a cow and tasting the revelation that is fresh, raw milk; butchering a pig for the first time with the help of a local pig farmer; spending a day on the open ocean reeling in 30-pound albacore with a trio of tuna fishermen.
Others took her back to her roots. Since many international ingredients were not locally available, she took a break from exploring global cuisines to newly appreciate classic American food, rooted in the self-sufficient ethos of American farmers, homesteaders, and homemakers. Following the contents of her pared-down pantry—and the call of nostalgia—she found herself revisiting the kinds of simple, down-home recipes her grandmother cooked.
"The spirit of this book," Bemis writes, "is connectedness." In a time when we're all craving a little more of that, she offers an inspiring path through food.
"I hope it encourages you to get out there, get to know what grows in your region, and get to know your people," she writes. "Take what you will and what you can, and most of all, celebrate your home."
In this excerpt from the book, Bemis shares her tips and tricks for eating locally, wherever you are, plus a recipe for a cozy, adaptable pot roast, a perfect winter meal from the market.
Andrea Bemis's Advice for Eating Locally
Go In on Stuff With Friends
If a CSA share is too much for you, share it with another family member or friends. Divide and conquer. If you can't make it to the market, cover a friend's gas money and give them a list to do it for you. Get them back the next week. Go in on a meat share or a whole animal. Work with each other.
Ask All the Questions
One of the biggest challenges I faced was sourcing cooking staples like oil, salt and pepper, spices, citrus, and grains. But with the help of the internet, social media, and asking all the questions, I was able to find what I needed, for the most part. And when I couldn't? I allowed myself a few exceptions.
Chest Freezers Are Rad
For so many reasons. They allow you to buy and store a quarter, half, or full animal from a local farmer at a lower price than if you bought all of that in individual cuts. We stockpiled our own pork as well as local beef, albacore tuna, and chicken in our chest freezer.
Every morning while I'm drinking my first cup of coffee, I go out to the freezer and pick one item to put in the fridge to thaw. Each package takes a couple of days, but when you put something new in the fridge every day, there is a constant rotation of thawed meat ready to go for your dinner. Chicken thighs tonight, tuna loin tomorrow, burgers on Friday.
Also, freezing fresh food is the easiest way to preserve it. In addition to pretty much any kind of meat, most fruits and veggies keep very well in the freezer, and it's merely a matter of packaging them in freezer bags or paper and tossing them in there. (A lot easier than sanitizing jars and firing up your pressure canner for an afternoon, but I'm all for that too if you have the time.)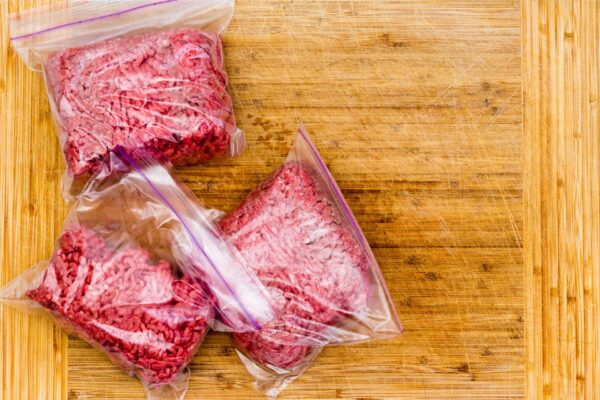 You can get a small chest freezer at your local appliance store for less than $200. If you're living in a small space, double up and use the chest freezer as a countertop too. Big ones are more expensive, but the value they add by allowing you to preserve a large amount of food is well worth it.
Cooking Locally Is About Getting Back to Basics
I sometimes overcomplicate recipes or add too many ingredients. Don't get me wrong, getting creative in the kitchen is one of my favorite pastimes, but eating locally has brought me back to simplicity. Roasted chicken and veggies, a simple late-summer soup, farm-fresh meatloaf, fruit for dessert, carrots for snacking, fresh herbs for seasoning rather than exotic spices. Cooking with a limited number of fresh ingredients can produce surprisingly delicious results.
Stockpile the Staples
During downtime from the farm, I'm busy gathering local nuts, oils, vinegars, legumes, and grains. That way, when we get back from our CSA drop in Portland at 7 p.m. on a Tuesday in September, it'll be easy to look in the fridge and say, OK, the pork chops are thawed and we have some potatoes and lettuce—dinner is pan fried pork chops, roasted potatoes with hazelnuts, and a simple oil-and-vinegar-dressed salad.
Plan Ahead
I'm not a huge fan of meal prep, but spending just a few hours one afternoon a week is worth it to get organized. I hit up the farmers market and make sure to stock up on veggies, protein, and ingredients that are easy to jazz up our meals with. Bring an iced-down cooler to the market with you so you can keep your goods fresh while you go for an afternoon drive out to a local farm, orchard, dairy, fish market, U-pick berry patch, wild mushroom honey hole, etc., for weekend recreation.
I make it fun—I hit the road on weekends with some of my market goodies and stop along the way at different farm stands and wineries for tastings. I then try to find a beautiful spot to post up for a picnic with my newfound ingredients.
On Sunday, I take stock of my market haul and what I've got at home and spend some time planning my meals for the week. Sunday is a good day to cook a big piece of meat or veggie stew for dinner and then have leftovers for a different meal later in the week (chicken salad, pulled pork sandwiches, veggie tacos, pot roast omelet). This is also when I take the time to rehydrate and cook local dried legumes and store them in the fridge for a quick weeknight dinner.
Substitutes Exist
Like many of us, thanks to Samin Nosrat, I've learned that most successful meals are composed of a balance of salt, fat, acid, and heat. I'm a recipe person, so I keep finding awesome recipes, but these days I look at the ingredients more as food groups, which allows me to swap in local foods.
So, if a recipe calls for coconut oil, I use real butter or a local nut oil. If it calls for halibut, but I have rainbow trout, I try it with rainbow trout. If it calls for cumin and turmeric, I try using a bunch of leafy herbs instead for a pop of flavor. It won't be the same flavor, but it will fulfill the same purpose in the overall dish.
I experiment with chopped or dried local hot peppers rather than cracked black pepper for the heat in some of my dishes. I live in wine and orchard country, so I found folks producing local fruit vinegar that I can use instead of lemon juice or rice vinegar.
I use a spiralizer to make noodles out of any sturdy vegetable (sweet potatoes, zucchini, regular potatoes, eggplant) for pasta dish recipes. I sub local honey for sugar in my baking recipes and morning coffee.
Do It Together
I think this is the most important tip. I'm not eating locally alone. I often share meals (simple ones at that) and enjoy the company of good friends and neighbors. I think of eating locally as an opportunity for us all to strengthen our connection to our food, but it's just as much about deepening our bonds with each other.
Excerpted from the book "Local Dirt" by Andrea Bemis. Copyright 2020 by Andrea Bemis. Published on October 13, 2020 by Harper Wave, an imprint of HarperCollins Publishers. Reprinted by permission.