During the Andalusian summer, the main meal is served at lunchtime, reserving lighter fare for dinner. Everyone comes indoors to take a respite from the scorching sun, and yes, the obligatory siesta comes right after.
I grew up on a farm about an hour outside of Seville, Spain, and entertaining at home was essential; there were no restaurants around us, only roadside taverns, or "ventas," offering local fare such as snails in tomato sauce. (Not my favorite!)
We entertained often. My parents were gracious hosts and welcomed neighbors, relatives, and friends with open arms and generous smiles. I am one of seven children, and making room for a few guests at our table was part of the summer fun.
At the farm, lunches always started with an array of tapas to whet the appetite: cured olives, slices of salami and chorizo, freshly made bread and chunks of cheese, and rosemary-infused almonds, all served with a chilled glass of fino or beer.
The main meal involved homegrown vegetables and meats in many possible variations. But when the guest list grew especially large, my mother would serve paella.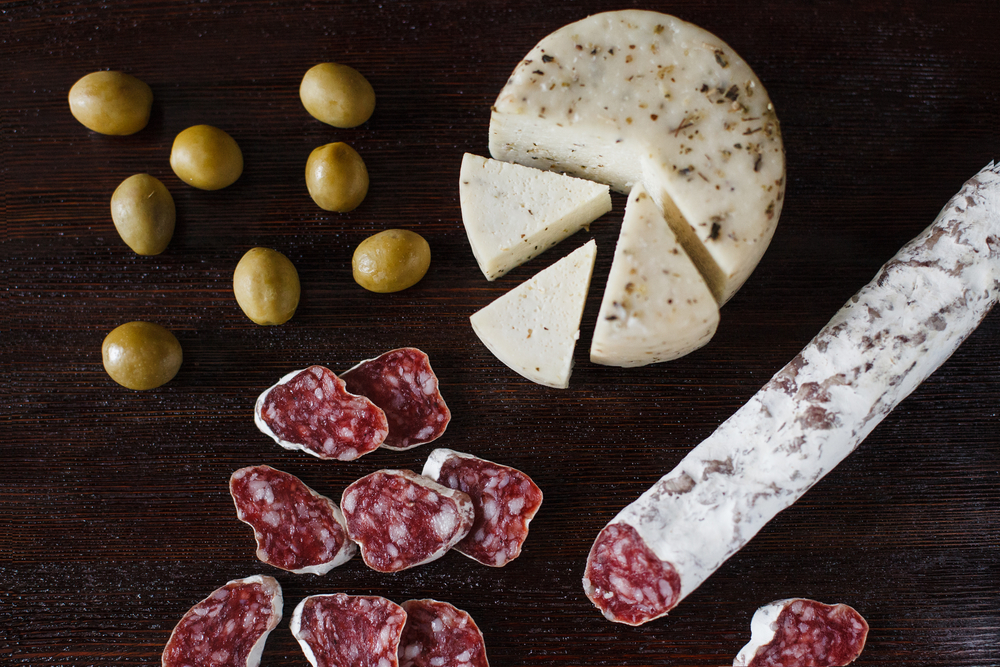 Perfect Party Food
Paella is like a party: colorful, flavorful, and so fun to make. It is the perfect dish to feed a crowd, as it can be easily scaled up by adding more rice to the pan.
I often serve paella at my home in Charleston—not to replicate the exact ingredients or flavors of my childhood, but to continue my parents' tradition of hospitality, of gracious entertaining, and to welcome friends like they did, with open arms and generous smiles.
Made with ingredients from the pantry and garden, paella changes as the seasons do. There are countless versions across seasons and regions, depending on what is locally available: Some are made with rabbit and snails, others are stained black with squid ink, and others are just an excuse for steamed lobster. As Mark Bittman cleverly called it, paella is "rice with things," and very few rules apply to the ingredients.
My own recipe has evolved throughout the years. I am not saying that this is the most authentic or ultimate paella; it is just my version.
It is said that paella is paella because it is made in a paella pan. I use one from All-Clad: a 13-inch round, shallow pan with two small handles and a lid that is perhaps one of the most useful pans in my kitchen. The domed lid—which authentic paella pans do not have—is helpful for finishing off clams and other seafood arranged on top. If you want to purchase an authentic paella pan, my go-to source for all things Spanish is LaTienda.com.
I absolutely make paella with bomba or Calasparra rice, two short-grain varieties essential to the dish. Bomba rice is from Valencia, the region in Spain that is the cradle of paella, and Calasparra rice is from Murcia. Both varieties are extremely absorbent, perfect for soaking up all those flavorful juices without becoming sticky.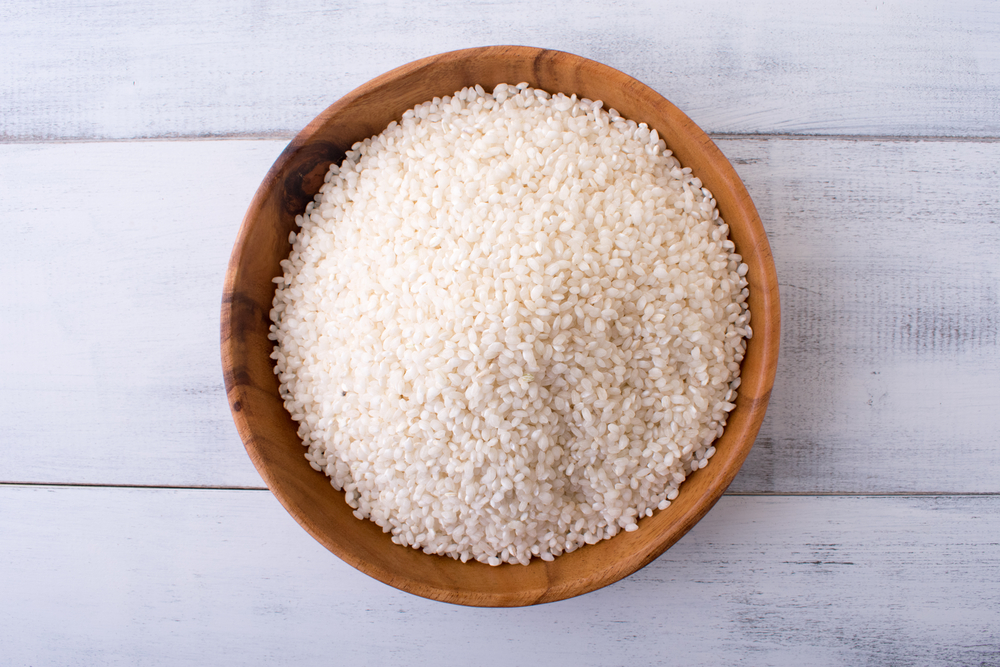 I start by making a sofrito, with onions, garlic, and different colored peppers cooked in olive oil. This is the aromatic base of many Mediterranean dishes, and one that I turn to over and over again.
Homemade stock lends depth of flavor, and saffron—another essential ingredient—gives the paella its yellow hue. Depending on where I am, I might add chorizo, chicken, clams, mussels, scallops, or lobster. Lately, I have been using local low-country ingredients: shrimp, clams, and hot Cajun sausage.
And I always, always serve it with mounds of alioli, a lemon-garlic mayonnaise that adds even more flavor.
Rounding Out the Menu
For today's summer lunch, besides the tapas and paella with aioli, I am serving a fresh heirloom tomato salad simply dressed with good olive oil and sea salt. Bread is also essential, for mopping up juices and those last bits of rice.
Fresh, seasonal fruit is always my favorite way to end a meal. Growing up, dessert always involved seasonal fruit, and happiness happened when peaches were in. Soft and sweet, lightly baked to bring out their juices, they are wonderful vessels for mounds of whipped cream—a touch of decadence and richness to end this meal on a sublime note. If heavy cream is not your thing, substitute it for Greek yogurt or coconut cream.
Finally, to drink, pitchers of chilled rosé adorn the table—this is perhaps my favorite drink for a long summer lunch, but really, anything goes. Just have lots of ice and a generous pour, and you'll have a memorable summer lunch!
Notes on Timing
Tapas: I serve the tapas at room temperature, which is as easy as opening jars and pouring the contents into plates or bowls. At a leisurely Sunday lunch, when the goal is to spend time together rather than rush around, I allow about 45 minutes for tapas.
Paella: Before guests arrive, I chop all the ingredients and prepare the stock and sofrito. Once everyone settles in with their glasses of wine or aperitif, and the tapas have been served, I pour in the rice, wine, and stock to simmer for 20 minutes, adding the clams and shrimp during the last 5 minutes. After another 10 minutes of resting, the paella is ready to serve.
Dessert: I bake the peaches, toast the almonds, and whip the cream in advance. Keep the whipped cream in the fridge and the peaches covered at room temperature, then put everything together just before serving.
Setting the Table
I set the table in the dining room with rattan placemats and accessories, a nod to the rural origins of the dishes I am serving. I opted not to use a tablecloth, to keep the mood light and casual.
White plates and linen napkins; silver cutlery and crystal (we are entertaining, after all!); and vases of white flowers keep the look simple but sophisticated. The paella is so colorful that I want it to be the center of attention.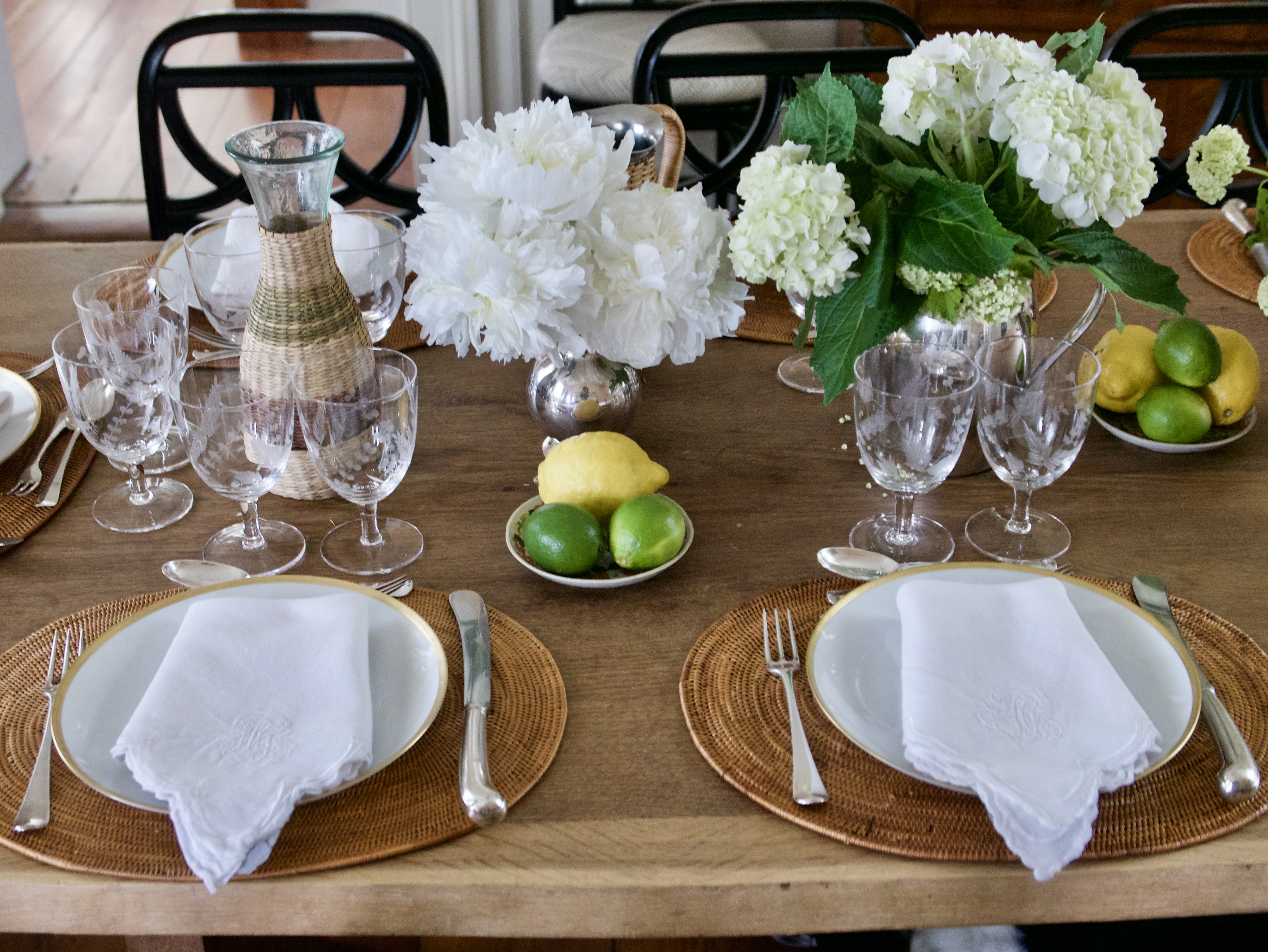 RECIPE: Paella With Chorizo, Shrimp, and Clams
RECIPE: Baked Peaches and Cream
Victoria de la Maza is an award-winning cookbook author, columnist, and international TV host. Passionate about great food, she combines American traditions with her European heritage to create classic-with-a-twist recipes and ideas for stylish entertaining at home.