A terminally ill man had his dying wish granted when paramedics overheard him talking about his beloved wife of 60 years. The pair had been separated by sickness for almost two months as his wife was undergoing treatment in a nearby care home.
Paramedics made an on-the-spot decision to take a detour while returning from the hospital, allowing the elderly Aussie to hold his wife's hand one last time.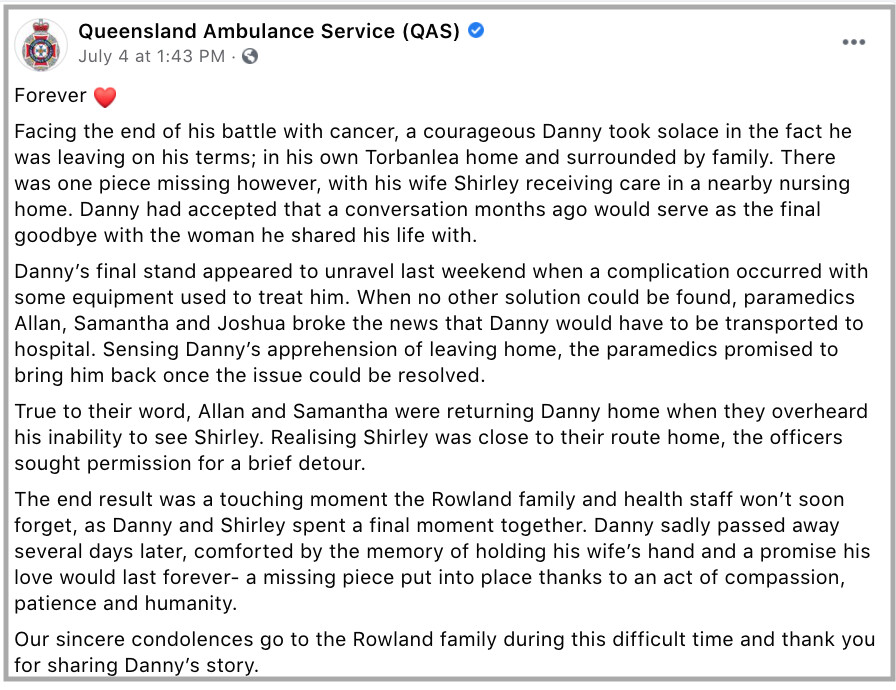 Cancer patient Danny Rowland was being driven by three paramedics—Allan, Samantha, and Joshua—to his Torbanlea home in the Fraser Coast region of Queensland after he'd been hospitalized because his medical equipment at home had some complications. Suspecting that the end was near, Danny spoke of his wife, Shirley, to their son Ricky in the back of the ambulance, 7 News reported.
"Facing the end of his battle with cancer, a courageous Danny took solace in the fact he was leaving on his terms; in his own Torbanlea home and surrounded by family," the Queensland Ambulance Service (QAS) shared on Facebook. "There was one piece missing, however … Shirley."
The QAS said the stoic patient had already accepted that "a conversation months ago" may have been his last chance to speak to his partner of six decades. But for Allan, Samantha, and Joshua, this simply wouldn't do.
Shirley's care home was only a short detour from their route to Torbanlea; thus the paramedics sought permission to make a quick stop. Wheeling Shirley's bed to the entrance of the care home to rest beside her husband's, staffers allowed Danny and Shirley a few precious moments together.
They took photos of the couple, hand in hand. Danny then passed away at home days later with his dying wish fulfilled.
"I really think Dad was hanging in to say that last goodbye to Mum," Ricky told 7 News, adding that his father's last words to his soulmate were, "Oh well Shirl, I'll see you later on. And if I don't, just know that I'll love you forever."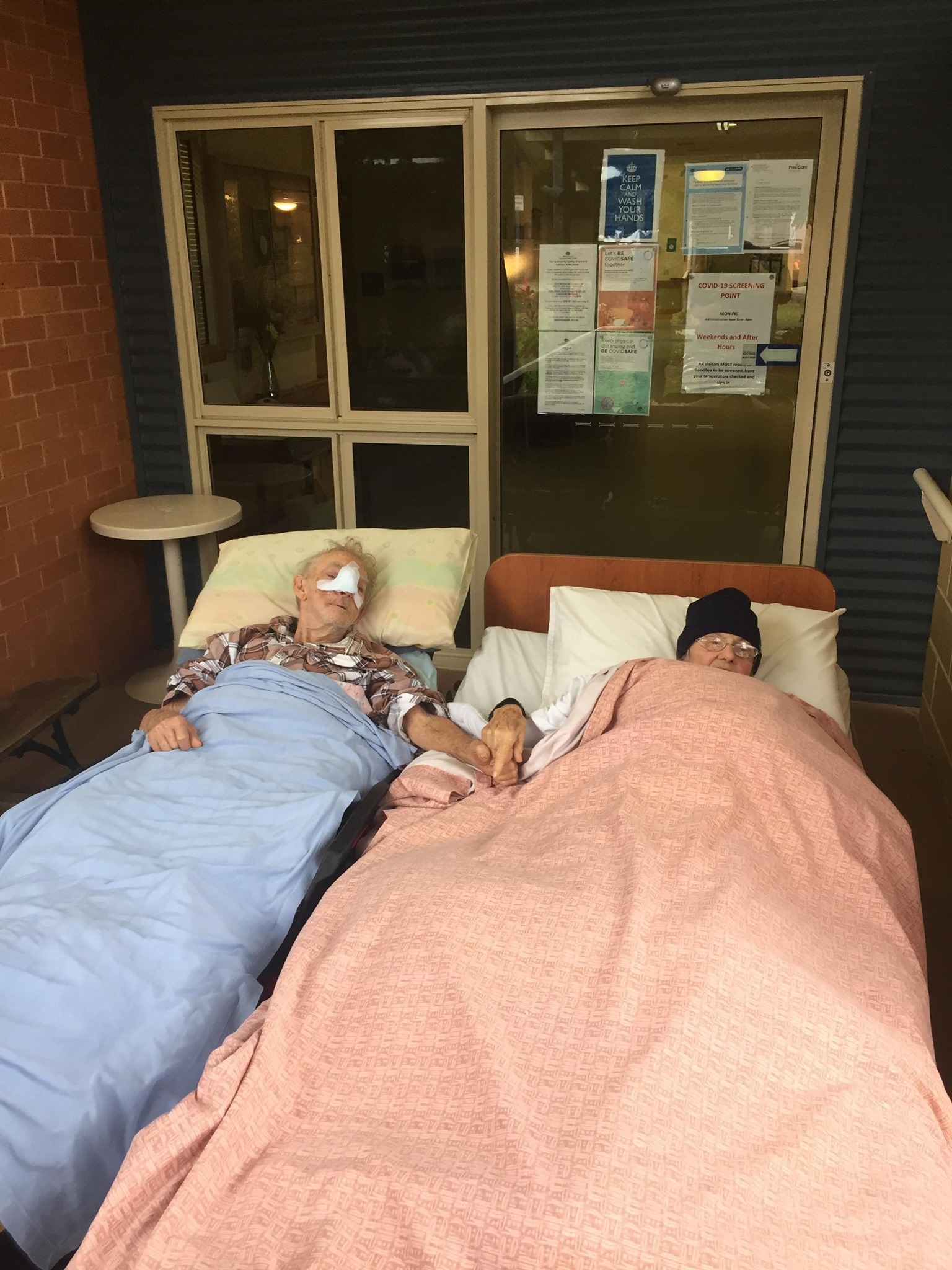 The moving story was shared on Facebook and has since garnered 15,000 reactions, amassing heartfelt comments along the way. Many netizens celebrated the enduring love between Danny and Shirley whilst many others praised the paramedics for having the heart to reunite them one last time.
One commenter hailed the paramedics as "superheroes," adding, "Thank you for being so human to this elderly gentleman and his wife."
"What a beautiful act of kindness and compassion!" added another. "You went well beyond your duties."
On July 5, Ricky and his sister, Karen Bellert, paid a visit to the paramedics at the Maryborough ambulance station to say thanks. "The whole family is just so grateful," said Ricky. "It meant the world to them to have that one last moment together."
QAS wrote, "A missing piece put into place thanks to an act of compassion, patience and humanity."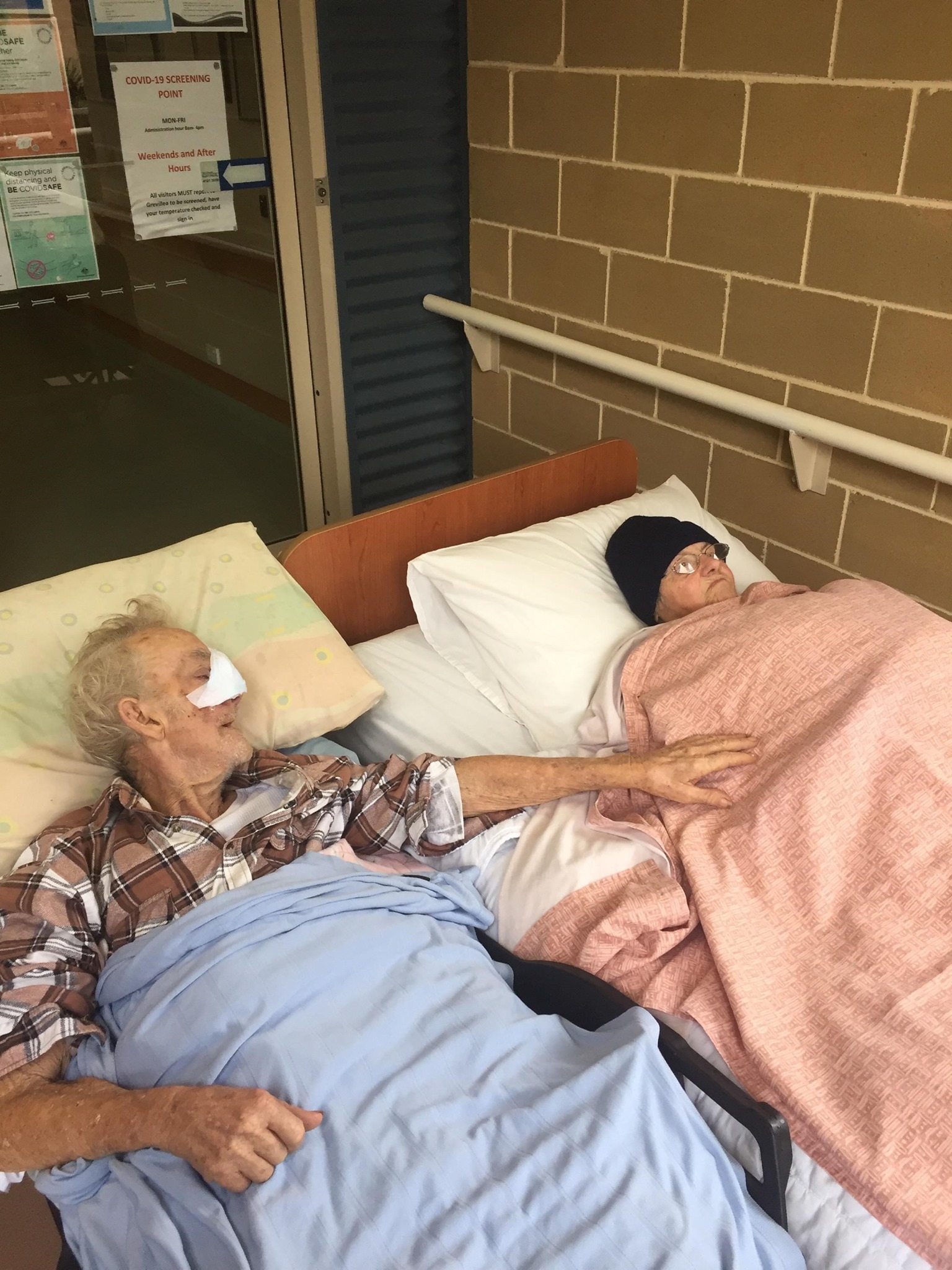 Share your stories with us at emg.inspired@epochtimes.com, and continue to get your daily dose of inspiration by signing up for the Epoch Inspired Newsletter at TheEpochTimes.com/newsletter