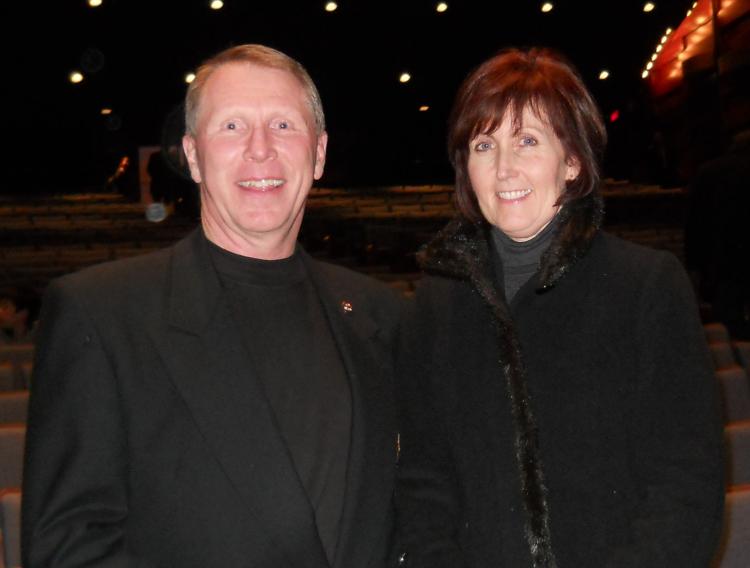 TORONTO—Deputy Chief of Police Bruce Herridge was taken with Shen Yun's display of classical Chinese dance at the Sony Centre for the Performing Arts on Friday night.
After watching the New York-based dance company's second Toronto performance with his wife, Mary Anne Herridge, the officer said Shen Yun Performing Arts offered a cultural journey appropriate for the cosmopolitan city.
"Very entertaining, an amazing blend of music, dance, and the backdrop," he said. That backdrop is Shen Yun's innovative animated background to each of the dances. He said he appreciated that coordinated movement between dance and backdrop.
"They utilized the imagery with the dance on stage, the interaction between the two was very novel and the colours were wonderful, the costumes were wonderful, and the performers were great," said Mr. Herridge
"I thought it was great, the dancers were in unison and I loved every minute. I would love to bring my daughters," added Mrs. Herridge.
She said the entire show made an impression on her.
"I've never experienced this kind of performance before," she said, adding that the costumes were a highlight.
"The dancers were totally in sync and in better shape than anything I had seen before," she said.
Mr. Herridge agreed.
"The precision of the dancers as well as the physical fitness. You think of fitness related to sports more readily than that of a performance like this, but it was very athletic, like gymnastics, but like they were saying gymnastics actually has its root in Chinese dance."
Mr. and Mrs. Herridge said the music of that evening was also impressive.
"They were excellent," said the officer of Shen Yun's orchestral musicians. "Well conducted and well played."
"The erhu was also very amazing, I had never seen it before so I was quite surprised by it," added Mrs. Herridge.
Many of Shen Yun's dances also capture stories from China's rich literary tradition and history, an aspect Mr. Herridge enjoyed.
"There was some great storytelling about the history and culture. That is what is so entertaining, the diversity and the fact that it comes to the GTA—there are amazing diverse regions in the York Region. To be able to enjoy the history of this culture through entertainment is a great experience," he said.
"When you say this is 5,000 years of history and that it's still being performed today for the enjoyment of the audience along with the story, that's the richness of the history and culture," he said.
"This is a constant reminder and an education for people who haven't experienced this before like ourselves. It's just great."
Shen Yun will perform at the Sony Centre until Sunday, Jan. 16. For more information, visit ShenYunPerformingArts.org .