The start of a new year marks the perfect time to give your home and office a clutter makeover, purging it of the excess papers, files, knick knacks and other "stuff" that not only takes up space in your physical environment, but also in your mind.
Clutter is an often-unrecognized source of stress that prompts feelings of anxiety, frustration, distraction and even guilt. A messy home or workspace can make it feel like it's impossible to relax, and it greatly interferes with creativity and productivity.
In fact, as CNN reported, it's estimated that some workers waste six weeks a year searching for lost documents, while the average American spends nearly one hour a day looking for items they know they own but can't find!
Messy, Cluttered Homes Linked to More Stress in Women
This probably goes without saying, but in a study of 32 middle-class homes conducted by a team of archaeologists, anthropologists and other scientists, mothers who described their homes as "messy" or "cluttered" also had higher levels of stress hormones by evening. The study, which forms the basis of the book Life at Home in the Twenty-First Century, also revealed some other quite shocking insights into the average American home:
75 percent of homes' garages were so cluttered with boxes, storage bins and other items (300 to 650 items in all) that there was no room left to store a car. This is absolutely shocking to me.
A strong correlation was found between the number of items attached to a family's refrigerator and the number of objects per square foot in the rest of the house
So You're Ready to De-Clutter, What Now?
First, realize that de-cluttering is an ongoing process, not one that happens overnight. That being said, you can make some serious progress in even an hour if you know where to start. This includes:
Get your "supplies" ready. You'll need file folders, labels and markers, a paper shredder, a recycling bin, a trash bin and a bin to put items you plan to donate or sell.
Pick a location to start. De-cluttering should happen in stages, so start with your office or your kitchen, and then within that "region" focus on your desktop or a particular cabinet, moving forward only when that space has been organized.
Tackle papers head on. Paper organization is often cited as the highest priority among those looking to get organized, but many simply end up stacking and re-stacking the same papers. Instead, sort them into "like" piles and have file folders ready to store them in by category.
Every item must have a "home." This should be your de-cluttering mantra, because if you don't have a place to put an item, it will end up back in the clutter pile. Before you create a permanent home for any object, paper or file, make sure it's something that is truly useful, important, valuable or otherwise worthy of keeping.
Remember, clutter breeds clutter. If you put a box of items you don't know what to do with in a closet, soon it will be joined by another box, and another. Break this cycle by tackling the box head on, not leaving it to be de-cluttered "later." This also means you should de-clutter on a daily basis and always put items back where they belong.
Put storage solutions where you need them. Do you need a mail sorter for your kitchen counter? A bin to catch your keys, dog leash and cell phone when you walk in the door? A toy box for your family room? Analyze the way you live and choose your storage solutions accordingly.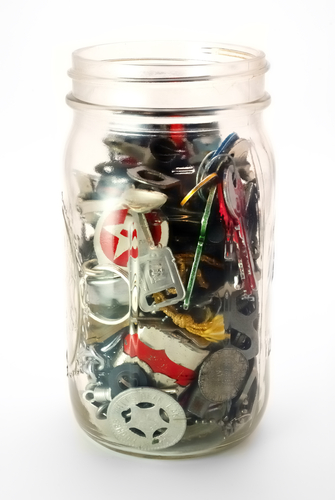 Are You Still Dreaming of Your Clutter-Free Home or Office?
It is within your reach, but you might need to let go of some emotional barriers first. Are you having trouble letting go of "sentimental" items? Do you fear that as soon as you get rid of a piece of clothing, an old toy or a financial record, you'll suddenly need it or want it? Do you hold on to items you really shouldn't – like old make-up or magazines you'll never look at again? These are signs that your emotions may be getting in the way of your de-cluttering success. Try using the Emotional Freedom Technique (EFT) to tap away any anxiety, fear or other negative emotions that come up when you think about clearing clutter, then try these four simple ground rules:
Handle an item only once. Once you pick it up, either put it away, give it away, or throw it away. Do not simply put it back down again in the same cluttered pile.
If you buy something new, get rid of something old. If you buy a new set of glassware, donate the old set you no longer need. Likewise for new items of clothing, shoes, or bedding, and even computers and electronics.
You only need one … one wine opener, one set of barbecue tools. If you have multiple items of the same object that you don't need, be ruthless in getting it down to one.
Buy less to begin with. The more new items you buy, the more you'll have to clutter your home. The Life at Home in the Twenty-First Century study found that a family's number of possessions increased by 30 percent each year with each new child, and that was only during the preschool years! Be very choosy about what you buy and bring into your home, choosing only products that will add true value to your life.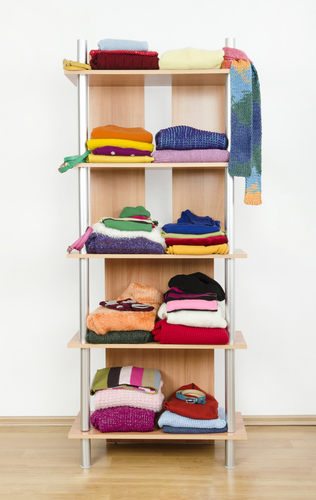 Remember to De-Clutter Your Mind, Too
Your mind can sometimes be the most cluttered place of all, and while clearing the physical clutter from your environment will certainly translate to greater emotional calm, your mind might need some direct attention too. Imagine, for a second, the relief and the pure joy you would feel if you knew that everything in your life was in its place, and all was well. Yet, many of us hold in our minds an obscene amount of information, such as:
Regrets from our past, feelings of guilt, worries and other negative emotions 
Daily tasks that need to be done
Long-term projects yet to be completed
Reminders for your spouse, kids and other family members
Goals and dreams
Deadlines for work, bills, taxes and more
One of my top recommendations for clearing these types of mind clutter is to read David Allen's Getting Things Done. I have applied David's principles for the last ten years or so and it has been of enormous benefit in keeping my life organized. As the first sentence of the book reads:
"It's possible for a person to have an overwhelming number of things to do and still function productively with a clear head and a positive sense of relaxed control."
I have progressed to the point where I am a black belt in his system and attribute much of my high productivity to applying his principles. But here's the key: this system is not only about being productive. It's about being productive in a way that keeps your mind calm. Other simple solutions include:
Write down the thoughts in your head (use a to-do list, a journal, a checklist, whatever works for you)
Skip the multi-tasking and focus on just one task at a time
The KEY to success of his program is to be compulsive about doing your weekly review and going over all your projects and accumulated items in your inbox and calendar. This is absolutely critical.
An important new collection tool is your smart phone and a free app called Evernote, which can collect all your random thoughts for you. The app syncs to your desktop so you will have access to your notes on all your electronic media, including phones, tablets and computers. I love this app.
Cut down on your daily "musts," focusing only on the few most important, essential items
Take a walk: the physical activity and time outdoors will help clear your mind
Slow down: if you tend to rush through your day, make it a point to focus on each activity that comes up at your own, non-hurried pace