A couple from Casa Grande, Arizona, has been detained by police after the shocking discovery of almost 100 dogs on their property. The dogs were recovered from the home by animal control in various states of neglect. Some were deceased.
The couple, Lila Kaye Crawford and Michael Anthony Mills, face multiple charges for animal cruelty.
Casa Grande Police Department arrived at the residence on Sept. 19 after a "citizen requested civil-standby" call came in, according to ABC 15. Suspicions were heightened when officers discovered six dead dogs wrapped in towels and shirts bundled on the hood of a car outside the house.
The police later shared a press release on Facebook detailing the shocking results of their investigation.
Crawford, 49, and Mills, 59, claimed to have 20 dogs inside their 700-square-foot home. Upon entering, officers found 90 dogs, and two additional dead canines—one in a dumpster, and the "skeletal remains" of the other just outside the home.
Only 28 of the surviving animals were in good health. Many were dehydrated, missing fur, and suffering from skin issues, puncture wounds, and various injuries from scuffles with other dogs. All of the animals were "heavily covered in feces."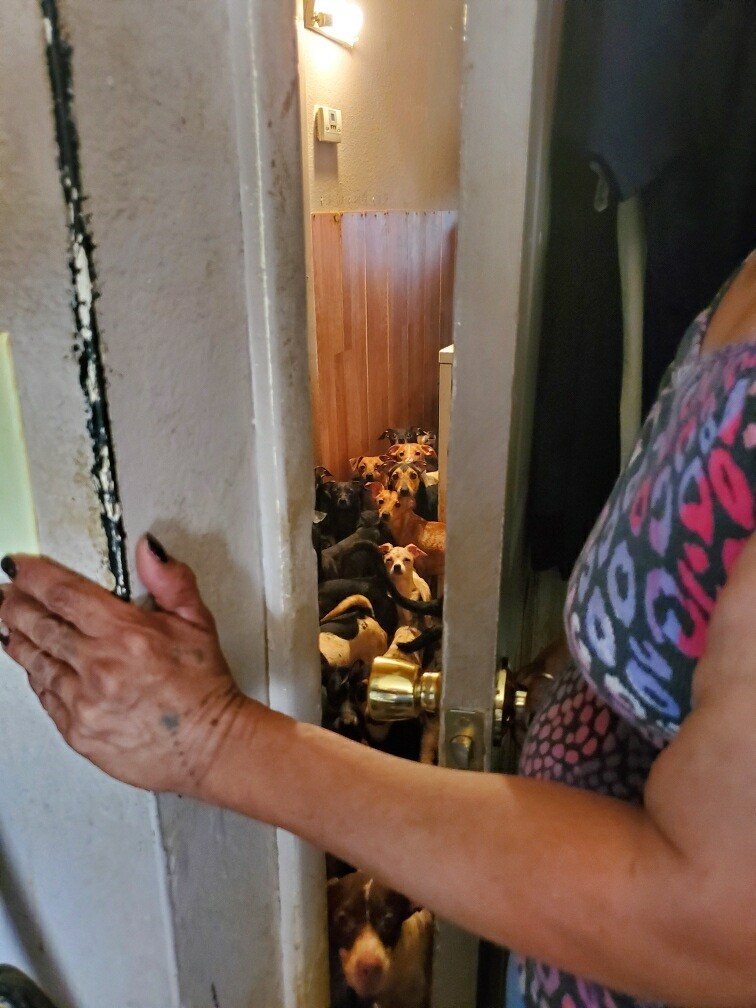 Crawford and Mills voluntarily relinquished the dogs at the scene. Animal Control then arrived to crate and transport the neglected animals off to the City of Casa Grande Animal Care and Adoption Center.
Casa Grande Police stated that all of the rescued dogs were documented, photographed, and evaluated by a veterinarian before being fed, watered, and bathed.
An investigation was started on Sept. 22. The suspects are facing dozens of animal cruelty charges, including neglect/abandonment, failure to provide medical treatment, infliction of physical injury, reckless cruel mistreatment, neglect resulting in serious physical injury, and intentional cruel mistreatment.
Crawford and Mills were also allegedly in violation of licensing laws, housing standards, pet limit laws, and mandatory vaccination requirements.
Casa Grande Police Department's press release was posted on social media, and many netizens expressed concern for the neglected animals. The post was shared over 1,500 times and has garnered hundreds of comments.
"Thank all that are involved in the rescue and vet care, bathing, and helping these dogs out of a horrendous situation," one person wrote. "You are their advocates."
"We need a National Registry for Animal Abusers," another said, "so they can be tracked to never own another pet … It would give everyone in the rescue business and humane society a way to check adopters out."
Another added, "The people who had these dogs have some kind of mental issues and need to get help besides being charged. If they do not get psychological help, they will just repeat. Sad story all around."
We would love to hear your stories! You can share them with us at emg.inspired@epochtimes.nyc