A Texas children's hospital has successfully performed its first-ever separation surgery for 16-week-old conjoined twins in a complex 11-hour procedure, months in the making.
Twin sisters AmieLynn Rose and JamieLynn Rae Finley were born prematurely at Texas Health Harris Methodist Hospital Fort Worth on Oct. 3, 2022, by cesarean section, weighing 4 pounds, 7.8 ounces each. The girls are identical omphalopagus twins, meaning they were conjoined at the abdomen; AmieLynn and JamieLynn were joined between the lower breastbone and belly button and shared a liver, abdominal tissue, and fascia.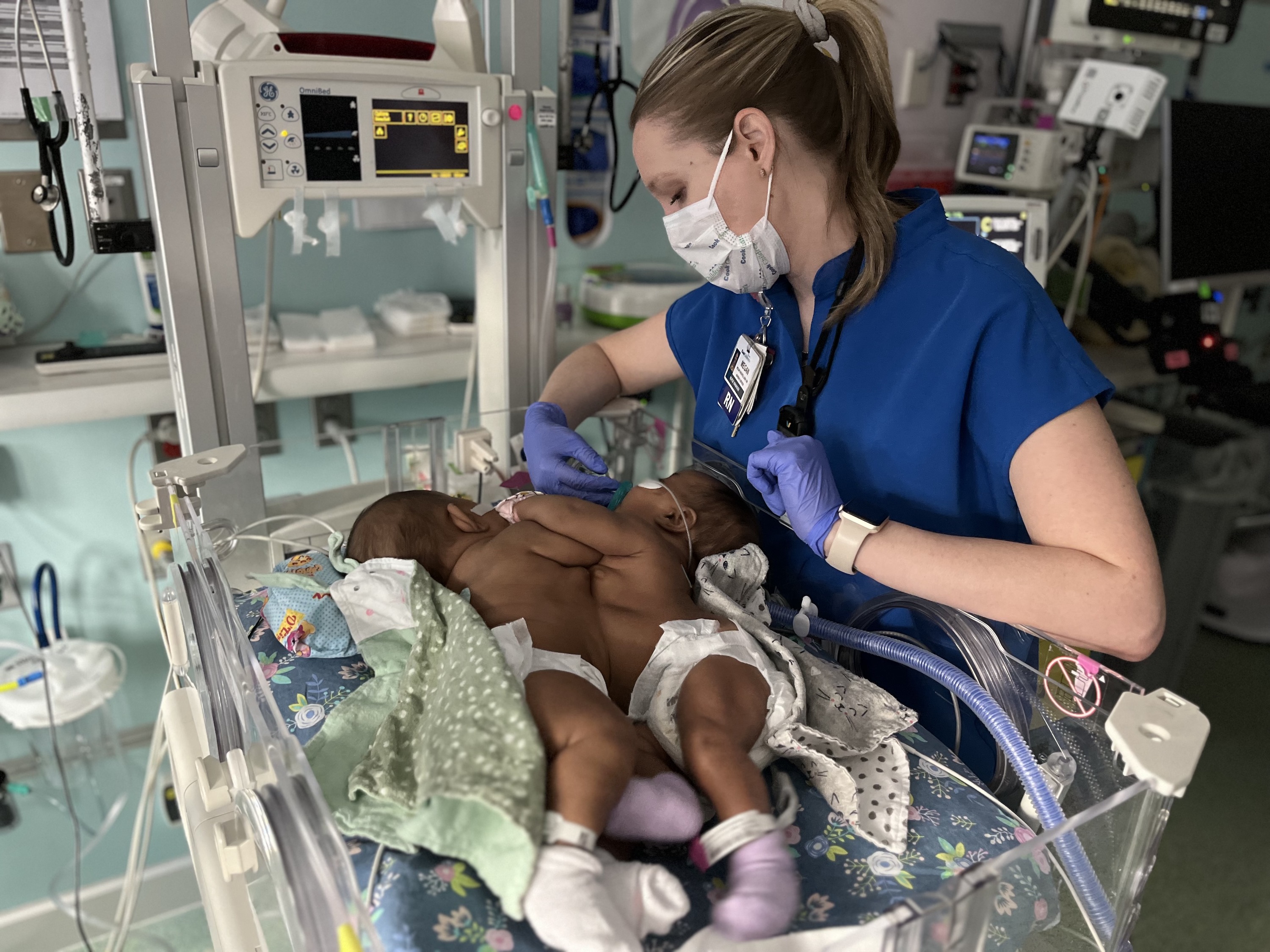 Doctors at Texas Health and its partner hospital, Cook Children's Medical Center Fort Worth, spent almost nine months preparing for the groundbreaking surgery that would change the twins' lives. Plans for a separation surgery began after the very first ultrasound that picked up on their being conjoined; since each baby had her own heart, both were viable candidates for separation.
The twins' parents, Amanda and James of Saginaw, Texas, admitted they were "excited, scared, and nervous" in a short film shared by Cook Children's showing the twins' journey. "I wouldn't have thought in a million years I'd be going through something like this," said Amanda, who has five children with James.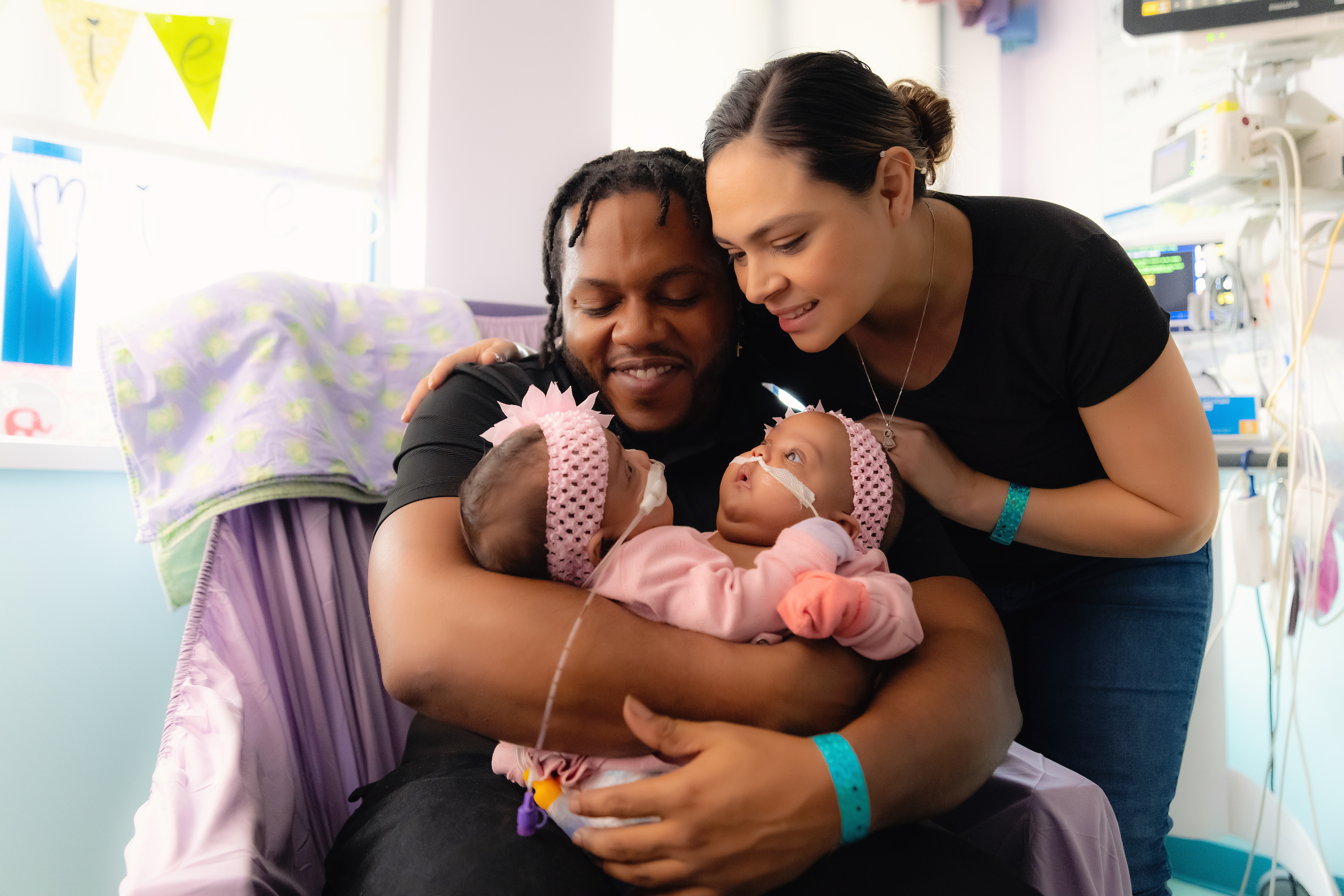 A surgical team led by Cook Children's director of pediatric surgery, Dr. Jose Iglesias, studied scans, built scale anatomy models, and mapped out potential surgical routes. Next, the team rehearsed the plan with the best-predicted outcome in multiple complex surgical simulations.
Cook Children's neonatologist Dr. Mary Frances Lynch, in a hospital press release, said that late January was the "right time" in the twins' development for surgery. Dr. Iglesias said, "The separation surgery will give AmieLynn and JamieLynn better opportunities to improve their health and development, and to grow as the unique, individual little girls that they have been since birth, regardless of their physical connection as conjoined twins."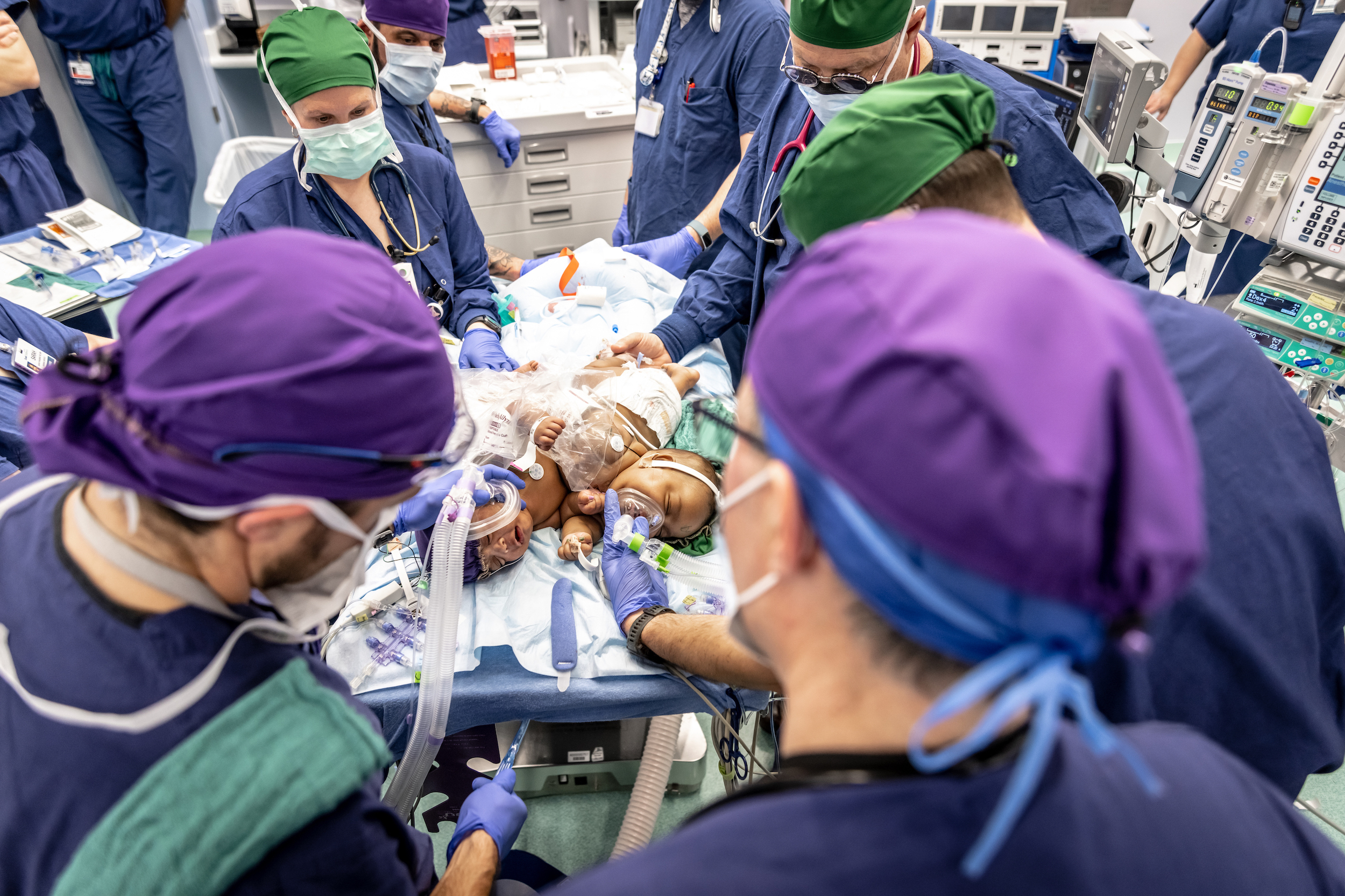 On Jan. 23, 27 medical staff—comprising three anesthesiologists, four pediatric surgeons, two plastic surgeons, and 18 other clinical professionals—performed the 11-hour separation procedure including the dividing of their shared liver, making history for Cook Children's in the process.
The medics separated into two teams: purple for JamieLynn, green for AmieLynn. Scrub hats and all surgical gear were color-coordinated to correspond to each baby, and each twin even had her fingernails painted either purple or green.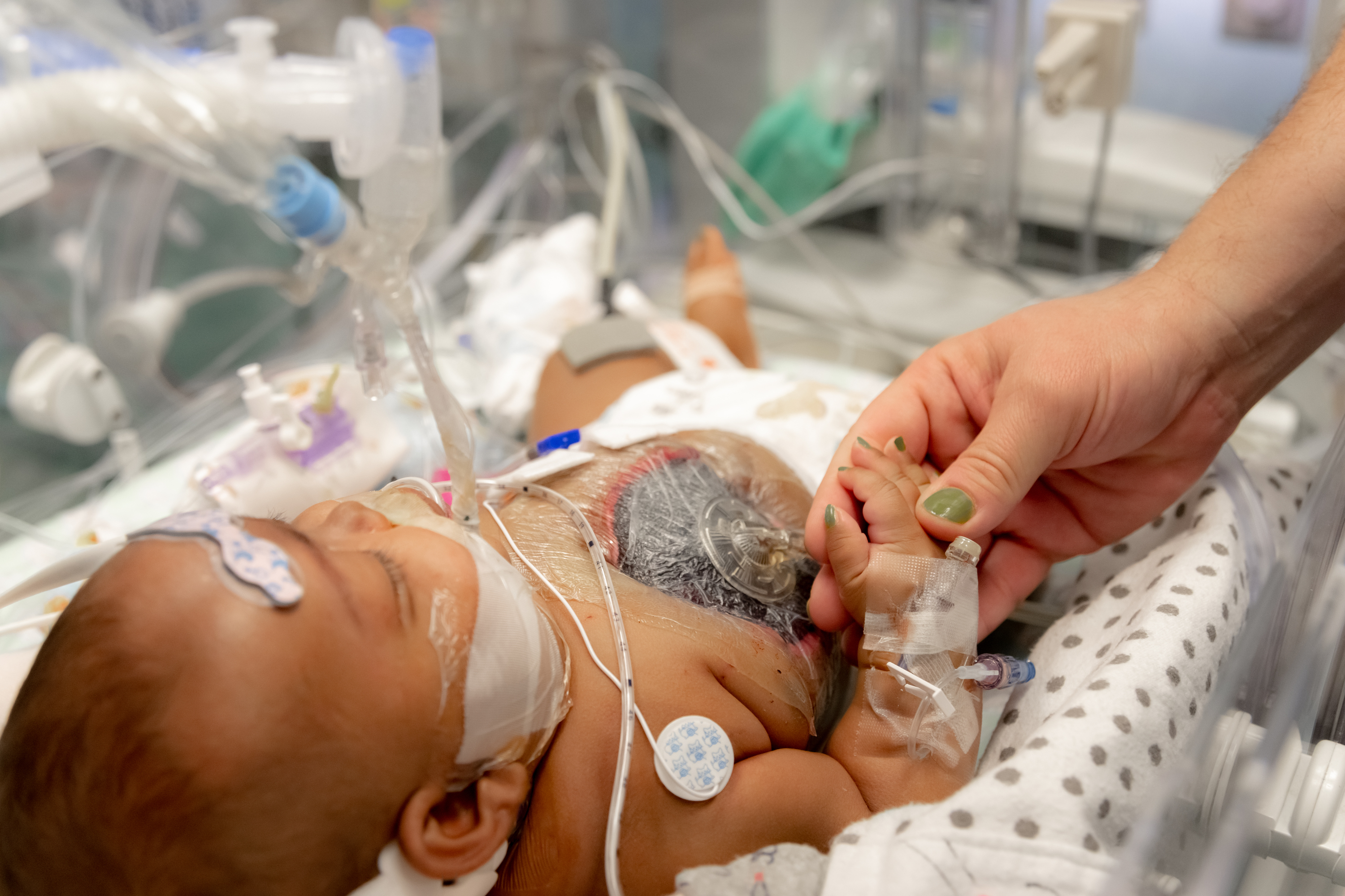 The twins' parents prayed for support throughout the surgery and were relieved and overjoyed when their baby girls left the operating room individually and both stable. They visited them in their separate cribs for the first time that same evening; both babies were reportedly recovering well. The good news came from a cherished medical team who had become "like family" to James and Amanda.
Conjoined twins are estimated to occur once in 200,000 live births. According to Dr. Iglesias, each year around the world only five to eight conjoined twins survive the first few days after birth, making AmieLynn and JamieLynn especially rare.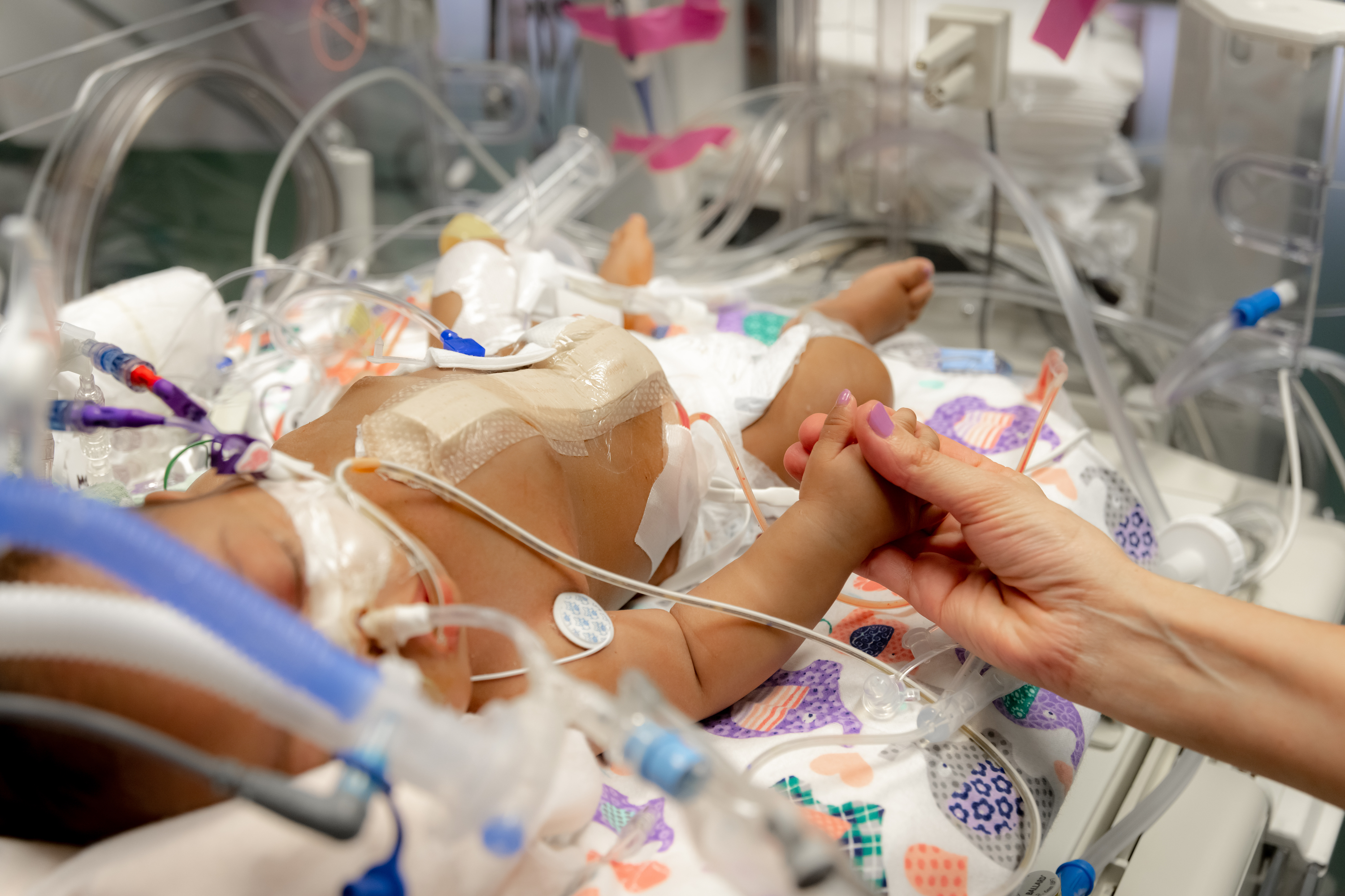 Cook Children's president and CEO, Rick W. Merrill, called their separation a "magical moment" in the hospital's history and praised the expertise of its medical staff. "I'm so grateful this family trusted us to do everything we could to help change their girls' future," he said.
Twins AmieLynn and JamieLynn are staying at the Cook Children's NICU as they recover from their life-changing surgery. JamieLynn is wide-eyed and alert while AmieLynn is her calmer counterpart, Cook Children's Checkup Newsroom reported. The babies are feeding, napping, bathing, and undergoing therapies to help with their mobility and strength.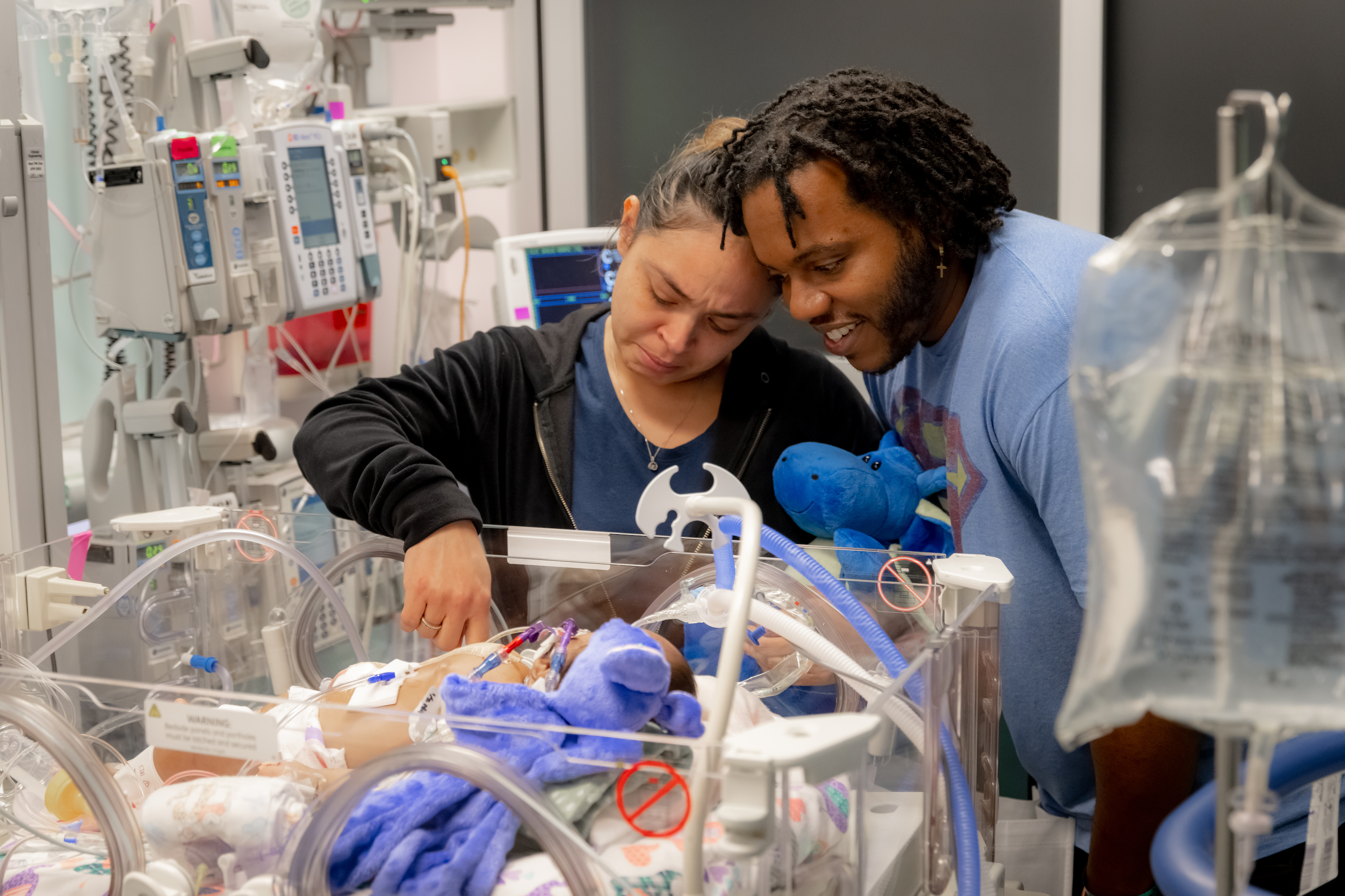 The twins are also receiving regular visits from family members who are beside themselves, and they've already grown to love their grandma's singing.
Dr. Iglesia said, "I'm very hopeful that they're going to have a good recovery and lead healthy lives in the future. They're going to have a bit of a ramp-up from the recovery, but I think they're going to be able to get there eventually, and very close to normal if not completely normal."
Share your stories with us at emg.inspired@epochtimes.com, and continue to get your daily dose of inspiration by signing up for the Inspired newsletter at TheEpochTimes.com/newsletter