I had my first baby in the middle of fall, the same week the tree outside our front window burned bright orange and pumpkins appeared on every doorstep in my neighborhood.
I brought my brand-new daughter home and spent those first weeks of motherhood bouncing and feeding a newborn while the leaves dropped outside my window until the ground was submerged in golden embers. Those were weeks of transition, for the weather and for me, and what got me through that incredibly new, sometimes confusing time was soup.
Within hours of my daughter's birth, my younger sister showed up at the hospital to meet her. My husband and I ate her turkey bean soup hungrily, right out of the Tupperware container on the sterile hospital couches. While she held her new niece, I scraped the edges of the container with my plastic spoon, feeling like she had brought me much more than a meal.
In the weeks that followed, soup became my lifeline.
But the interesting thing was that I didn't want just any soup. I wanted chicken noodle soup the way my mom made it. I wanted my mother-in-law's chicken, mushroom, and rice soup, made with homemade broth and served with one of her chocolate chip cookies I'd loved since college. I craved my older sister's sausage and kale soup, loaded with beans and other vegetables.
The first days and weeks of motherhood are akin to stumbling into a new world, where sleep is no longer predictable, your body and time no longer your own. Those soups provided warmth and nourishment, but also comfort in familiarity.
Comfort and Nostalgia
Soup appears to be universal comfort food. We crave a warm bowl when we are cold, or long to be cozy. We bring soup to the sick, to the grieving, to new parents and new neighbors. What other food is so versatile, so broadly welcomed, and approachable?
I asked around my group of friends and family to find out what it is about soup that feels so uniquely comforting and appealing. Almost immediately, I was flooded with recipes, family stories, and memories.
My husband craves the chicken corn soup his Mimi made growing up, eaten with grilled cheese sandwiches around her kitchen table on Tuesdays after a homeschool history lesson with his grandfather. My mother loves to make chicken noodle soup the way her own granny made it, thick with egg noodles and shredded chicken, eaten after school in her kitchen with her floral teacups and the smell of the sea.
Nancy Johnson of Mukwonago, Wisconsin, says the soup of her childhood grew out of her grandmother's savvy ability to save leftovers.
"My grandma, who grew up during the Great Depression, was skilled at wasting no food while she raised my mom and her five siblings. She saved leftovers, anything from garden peas to the gravy, and layered them in an empty tub in the freezer. Once the tub was full, she gave it new life as a stew served with homemade biscuits. It might sound unappetizing, but it was delicious."
Elena Van Voorhis of Buffalo, New York, made it a goal as a mom to create comforting memories with food. "I make a homemade chicken noodle soup that I hope my kids always want. When my husband worked in palliative care, one of his patients wanted chicken noodle soup. She tried several restaurants and said it just wasn't hitting the spot. I made some for her and she passed the next day. I hoped that the soup was what she was looking for."
There are more stories. My friend Dana Kenney of Harrisburg, Pennsylvania, calls soup "a hug in a mug." Lorilee Cracker, an author from Winnipeg, Manitoba, refers to it as "comfort by the spoonful."
One woman from Virginia shared that her husband made her a chicken tortilla soup, topped with lime, sour cream, and avocado to celebrate their engagement, and she "loved it so much that he vowed to make it whenever she wanted." The soup has become a defining, significant aspect of their relationship.
Soup is far from only an American comfort. My own childhood was full of thick English stews and soups. Beef stew, loaded with vegetables and tomatoes, made our whole house smell of abundance and well being. Italian family friends make zuppa toscana: a spicy sausage and bean-based soup poured over bread.
While my sister's turkey bean soup brought me a familiarity I craved, I realized that many cultures have special postpartum soups traditionally served to new mothers. In Vietnam, green papaya is often served in soup for nursing moms, while Chinese postpartum recipes include a soup made with pork knuckles, ginger, and vinegar. In Mexico, the first 40 days after birth are called a "cuarentena," and women are encouraged to rest and eat as much nutritious, restorative soup as possible.
Soup, it appears, is the language of home and nurturing. The love of it transcends region and culture: Each of us has our own variation that tastes like home. As humans, we long to be comforted, and to extend that comfort to others. Soup is best when it is made for others.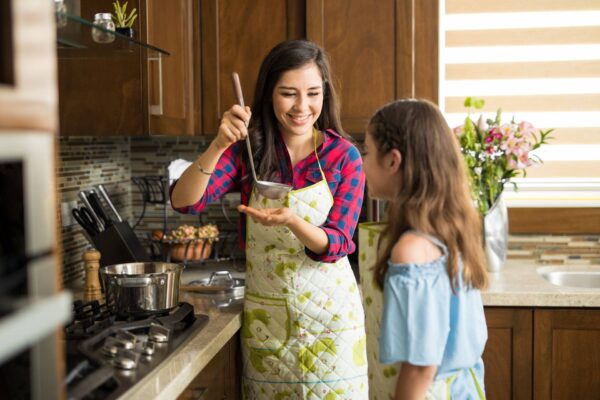 After I had my second baby, my mother came to visit me. She scrubbed my floors until they gleamed, folded laundry, rocked my baby, and entertained my oldest. Every mealtime, she asked me what I fancied as she flipped through cookbooks.
Every time, the answer was easy.
"Chicken noodle soup, Mom."
Great-Granny's Chicken Noodle Soup
Serves 6
2 tablespoons butter
1 onion, diced
2 celery stalks, diced
2 whole carrots, diced
1 teaspoon salt
1/2 teaspoon dried thyme
1/2 teaspoon dried rosemary
1 3- to 4-pound chicken, cooked and shredded
8 cups chicken broth, preferably homemade
16 ounces egg noodles
3 tablespoons flour
Melt the butter in a large stockpot over medium heat. Add the onions, celery, and carrot, and cook, stirring, until the onions are translucent, about 8 minutes.
Stir in the thyme, rosemary, and salt. Cook for one minute.
Add the broth, chicken, and noodles. Cook for 8 to 10 minutes. Add flour to thicken the soup a bit.
Taste and adjust seasonings as needed.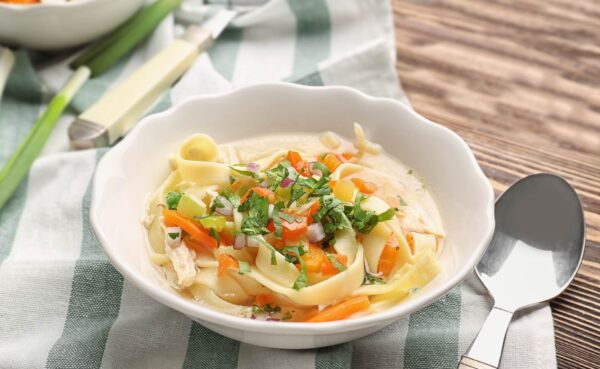 Turkey and Bean Soup
Serves 6
This is the soup my younger sister brought to the hospital after I had my first baby. It is comforting and wholesome.
1 tablespoon olive oil
1 pound ground turkey
1 medium yellow onion, diced
2 garlic cloves, minced
2 teaspoons dried oregano
2 cans diced tomatoes
2 cans Great Northern beans
8 ounces baby spinach
5 cups chicken broth
1/2 cup (1 1/2 ounces) grated Parmesan cheese
Heat the olive oil in a large pot over medium heat. Add the ground turkey and onion and cook, stirring occasionally, for about 7 minutes, or until the turkey is cooked through. Add the garlic and cook for 30 seconds or until fragrant.
Add the oregano, tomatoes, and beans. Add spinach and stir for about 2 minutes, or until wilted. Add broth and cook until heated through, about 10 minutes. Serve with Parmesan cheese.
Italian Sausage and Escarole Soup
A friend of mine in Western New York uses this recipe, originally from the Pampered Chef, as her go-to soup. She hasn't met anyone who doesn't like it.
Serves 6 to 8
1 1/4 pounds spicy Italian sausage, cut in half lengthwise, then crosswise into 1/2-inch pieces
2 medium red onions, diced
1 large red bell pepper, diced
4 garlic cloves, minced
6 cups chicken stock
1 can petite diced tomatoes
1 cup uncooked ditalini pasta
2 sprigs fresh rosemary
1 small head escarole
2 tablespoons balsamic vinegar
1 teaspoon salt
2/3 cup (2 ounces) grated Parmesan cheese
In a large pot, cook sausage over medium heat, for about 7 minutes, or until browned. Remove from pot and let cool in a separate bowl.
Add onions and pepper to the pot and cook for 3 to 4 minutes, stirring occasionally. Add garlic and cook for 30 seconds or until fragrant.
Add cooked sausage, tomatoes, stock, pasta, and rosemary. Bring to a boil, then simmer for 8 to 10 minutes or until pasta is tender. Remove from heat and remove rosemary sprigs.
Cut escarole head in half lengthwise. Cut off and discard root end. Slice escarole crosswise. Stir escarole, vinegar, and salt into soup.
Serve with Parmesan cheese.
Rachael Dymski is an author, florist, and mom to two little girls. She is currently writing a novel about the German occupation of the Channel Islands and blogs on her website, RachaelDymski.com