City Sandwich Shatters the Sandwich Stereotype
Old World charm meets New York energy in these "ItaLisboNyorker" sandwiches
September 13, 2013 2:37 pm Last Updated: September 14, 2013 12:54 pm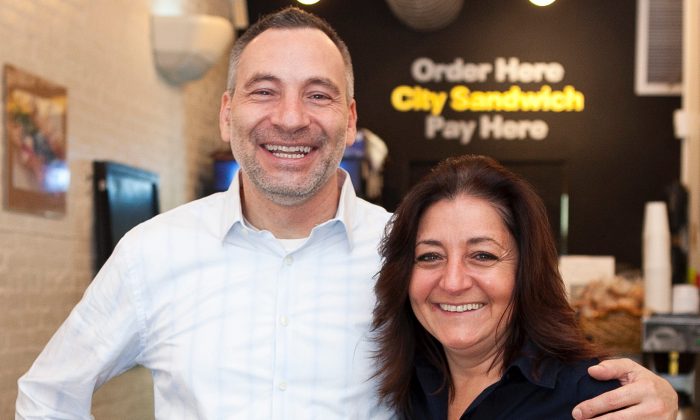 What Michael Guerrieri remembers most vividly about his mornings growing up were the scents wafting from the kitchen. His mother would be up cooking at the crack of dawn, simmering sauces, the aromas of which had him jumping out of bed, curious to find out what she was making.
And then sometimes there were the smells that made him want to stay in bed. "You had those days you knew it was tripe. Tripe was just something you cannot not know what it was," he said.
Guerrieri, the chef and owner behind City Sandwich in Hell's Kitchen, was born in Ottaviano, near Naples, Italy, and raised in New York, in a very Italian household. He talks a mile a minute, his passion palpable.
"There were five of us, so there's always 'Mama I'm hungry' so mom would cut a bit of whatever she was slicing or baking or roasting and put it between the bread just to tease our palates before dad got home. You did not want to sit at the table and not eat. It was not respectful."
Those bits of bread and fillings, and the Italian tradition of "la scarpetta"—dipping your bread in the sauce to clean a dish—were part of Guerrieri's inspiration to open City Sandwich.
The little sandwich shop offers sandwiches beyond the ordinary.
The Portuguese bread is perfectly toasted with a crunchy exterior and soft interior. But it's the fillings that turn the humble sandwich into something Instagrammable. Forget the sliced deli turkey and cheddar cheese. We're talking meals between bread, inspired by the Old World and made with quality ingredients of the Mediterranean: delicately fried zucchini blossoms in season, smoked pancetta, pickled sardines, broccoli rabe, and fresh mozzarella.
"I put my culture between the bread," Guerrieri said.
Portugal looms large among his influences, in particular the Alentejo region in the south. "It's where nobody goes—everybody goes to the Algarve. Alentejo, it's all about the table. It's like growing up in Naples. It's all about the table, meaning it's family, everything revolves around when everybody's going to sit at the table."
In his early 20s, Guerrieri moved back to Europe. While in Rome, he took a weekend trip to Sintra, Portugal, on a friend's invitation. "It turned into three weeks; three weeks turned out to be three months; and before I knew it, I opened a restaurant, got an apartment, and there's my life."
That was 17 years ago.
Now, he splits his time between Lisbon and New York, spending most of his time in the latter. But without the Portuguese influence, he said, there would be no City Sandwich.
"I latched on to the Portuguese community due to their simplicity and beauty of their flavors and the beauty of the way they cook. … For their simple sausages that are just exploding with so many flavors, for their simple grilling techniques of fish and meat, seasoning with rock salt, attracting me with what roasting means again, what grilling means again.
"They've been able to maintain in the culinary world the roots of what all our recipes came from, which if you look back at your culture, everybody's culture, this is how we used to do it years back. It was about lighting a fire and making the best of what you could do with it," Guerrieri said.
Guerrieri uses dry salted codfish, soaked to soften and adjust saltiness; Portuguese morcela, a black pudding that aficionados travel distances for; Portuguese pancetta, which looks like American bacon but has the consistency of Italian pancetta; paio, a dry-cured sausage made from pork loin; and alheira, a chicken and pork sausage made with a touch of vinegar. Guerrieri said alheira goes back to the Inquisition period; it was originally created as a chicken-only sausage by Jews so they could eat it in public and not be identified as Jewish.
Guerrieri is a master at balancing flavors, seasonings, and proportions.
"It's almost like making a salad dressing. If you put too much anchovy, it's history. It's matter of moderation," he said.
Bringing Back Natural Flavor
It's unusual to have a chef behind your sandwich. Or a sandwich you feel so good about eating. And they are veritable meals in themselves. Just half of a breakfast sandwich carried me through till the midafternoon.
Nowhere at City Sandwich are there traces of mayo or ketchup. Guerrieri eschews those condiments with a passion, along with fatty sauces that he said mask the true flavor of food and ratchets up the unhealthy quotient.
Instead he uses herbs, olive oil, and yogurt-based sauces—including honey basil, shallot dill, and honey Dijon versions.
He said most people have forgotten the true taste of ingredients.
Having grown up eating the way he did, Guerrieri's mission is to pass on what it means to eat well, to eat real food.
For example, he said, "Bread is supposed to get hard the next day. It's not supposed to be soft. When people come in here looking for 10 varieties of bread that can sit in a plastic bag for three months without turning green and try to convince me that it's healthy because it's whole wheat—that's a little frustrating sometimes."
"I can't control the fat content of a Portuguese sausage, it's delicious, but at the same time I can serve it to you with a drizzle of olive oil as opposed to five or six tablespoons of some fatty sauce. I also believe if you're working with quality ingredients already, those ingredients are already incredibly naturally delicious."
At his side is his eldest sister and co-conspirator Anna Maria Guerrieri, a perfect complement to his creativity. She handles all the finances and operations.
"My sister and I are good at discussing what we're both great at. If you're great at this, then you do it. If I'm great at this, then I'll do it. My sister plays a very large role, she allows me to be the chef that I need to be," he said.
The same real-food philosophy reigns at her house, which is empty of cans or frozen food. She said back when her children were young, her friends would walk into her house, and turn to her children and ask, "What kind of house is this? You have no junk food."
Yet that's where all the children on the block were, being fed healthy snacks or plates of spaghetti and meatballs. Her children, now 28 and 25, cook for themselves and enjoy it.
In the Family
The Guerrieris don't fail to credit their family upbringing for who they are today.
Michael Guerrieri said, "We grew up very Italian but we grew up with a wooden spoon—not go to your room without supper—Italians don't send you to your room without supper. You have to eat. But they beat you over the head when you've done something wrong. It was tough love."
At 16, he and all his siblings had the responsibility of full-time jobs and going to school. They knew that if they did anything wrong, they would feel it. But at the same time, they also earned the trust of their parents.
He reflected, "As much as real healthy food needs to come back, real family bonds need to come back. If we can get those two things back into our social circles, in our communities again, half the battle's done."
His sister said their upbringing made them stronger and more independent. It was love, "even though it's not the love, 'Oh you really did a really good job today.' We didn't grow up like that. It was, 'Well, yes, that's what you have to do.'"
None of their relatives in Italy are surprised at their success in New York. Everyone comes from hardworking stock—in Italy, their mother's side owned farms, and their father owned five cafes. Their brother runs five bakeries on Long Island.
It's just in the family.
City Sandwich
649 Ninth Ave.
646-684-3943
citysandwichnyc.com
Hours
Monday to Friday: 9 a.m.–10 p.m.
Saturday and Sunday: 10 a.m.–10 p.m.
Delivery Area:
Hudson River to 6th Ave., 32nd St. to 60th St.