China will not probe the past actions of former Vice President Joe Biden or Biden's son Hunter Biden, an official said on Oct. 8.
"China has long pursued the principle of non-interference in the internal affairs of other countries," Chinese foreign ministry spokesman, Geng Shuang said, reported the South China Morning Post.
"We have no intention of intervening in the domestic affairs of the United States. Our position is consistent and clear."
President Donald Trump said on Oct. 3 that China, along with Ukraine, should probe what Joe Biden and his son did in the past.
"I would think if they were honest about it, they would start a major investigation into the Bidens. It's a very simple answer. They should investigate the Bidens," Trump said when asked whether Ukraine should probe the Bidens.
"And by the way, China should start an investigation into the Bidens. Because what happened with China is just about as bad as what happened with Ukraine."
"I'm sure that President Xi does not like being under that kind of scrutiny where billions of dollars is taken out of his country by a guy that just got kicked out of the Navy. He got kicked out of the Navy, all of a sudden he's getting billions of dollars. You know what they call that? They call that a payoff," Trump added.
While still vice president, Joe Biden had Hunter Biden accompany him on an official trip to China in 2013. Months earlier, Hunter Biden joined the board of a Chinese investment fund, BHR Partners, which he was still involved with as of June.
During the trip, Hunter Biden helped set up a meeting between a Chinese tycoon who was also his business partner and his father.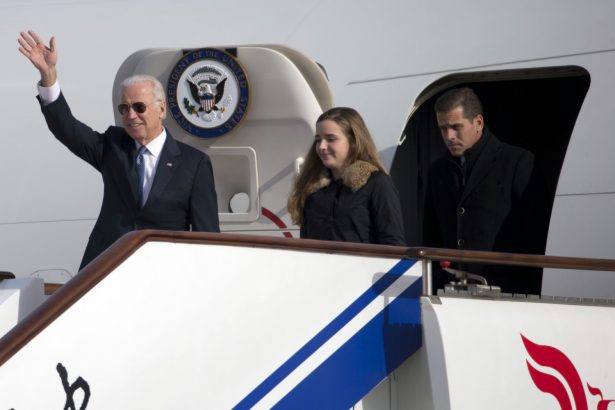 Biden was an unpaid board member at the time and took an equity stake after his father left the White House.
Lawmakers identified Hunter Biden as the source of a potential conflict of interest as part of a congressional inquiry into the purchase of a U.S. maker of anti-vibration technologies, according to the letter sent in August.
Hunter Biden's role in Ukraine, as a paid board member of the energy company Burisma, has also been highlighted by some, including Trump. Joe Biden admitted last year that he threatened to withhold $1 billion in aid to Ukraine in 2016 unless the country ousted a prosecutor who was probing Burisma. A Ukrainian prosecutor said on Oct. 4 that his office is reviewing that case.
Biden has denied speaking to his son about Burisma, conflicting with a statement from Hunter Biden, and said on Oct. 2: "What I did in Ukraine was carry out the official policy of the United States government. To root out corruption in Ukraine in conjunction with our European allies, the International Monetary Fund and its leader, our closest Democratic allies, and the courageous reformers in Ukraine."
The United States and China, meanwhile, have both been primarily focused on the trade war, which Trump has continually ramped up as he seeks fair trade with China.
The next round of talks is slated to start on Oct. 15.
"The nature of China-U.S. economic and trade relation is mutually beneficial," Geng told the Morning Post. "It is normal that disputes exist. But we have to stick to the basis of mutual respect, equal and mutual benefit in the process of resolving the dispute."