This recipe comes from "A Grandfather's Lessons: In the Kitchen With Shorey" by Jacques Pépin.
Chicken Suprêmes in Persillade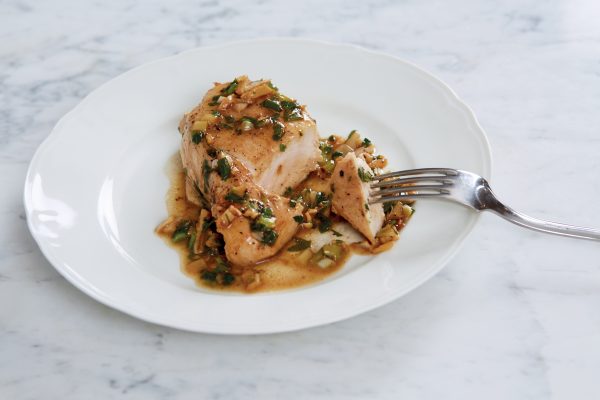 Introduction
From turkey to chicken to duck, everyone at our house likes the legs best. But when Shorey asked me why the legs are usually moister and tastier than the breast, I explained to her that the breast is usually overcooked. To demonstrate, I cooked a chicken breast my way for her, and she loved it. The sautéing process takes only about 5 minutes, and then the dish is finished with garlic and parsley, called in French "persillade," and some minced scallions. The parsley, garlic, and scallions can be prepared ahead and the chicken sautéed at the last moment, though after the chicken is sautéed, it is good to let the meat rest for a couple of minutes before finishing the dish. Make sure you serve it on warm plates.
Number Serves
2
Ingredients
1 tablespoon peanut oil

2 skinless, boneless chicken breasts (5 to 6 ounces each), preferably organic

1/2 teaspoon salt

1/2 teaspoon freshly ground black pepper

3 scallions, minced (1/3 cup)

2 tablespoons coarsely chopped garlic

2 tablespoons unsalted butter

2 tablespoons chopped fresh parsley

1 tablespoon water
Directions
Heat the peanut oil in a saucepan. Sprinkle the chicken breasts with the salt and pepper, add to the hot pan, and sauté for about 3 minutes over high heat. Turn the breasts over, reduce the heat to medium, cover, and cook the chicken for about 3 minutes; it should be nicely browned on both sides and cooked through but still moist. Place the chicken breasts on warm plates.
Add the scallions, garlic, and butter to the saucepan and cook for about 1 minute. Add the parsley and water and mix well to melt any solidified juices in the pan, then pour the sauce over the chicken. Serve immediately.
Reprinted from "A Grandfather's Lessons: In the Kitchen With Shorey" by Jacques Pépin. Published by Rux Martin/Houghton Mifflin Harcourt.