In the spring, delicate cherry blossoms herald the season with beautiful but short-lived blooms. The flowers have been revered in Japan since ancient times, celebrated as symbols of hope, renewal, and the beautiful ephemerality of life. Come peak bloom, millions of people across the nation—and the world—take to the trees to participate in "hanami," the traditional custom of "flower-viewing."
For those unable to make it to Japan this season, here's where to go to catch those elusive blooms a little closer to home.
Tidal Basin, Washington, DC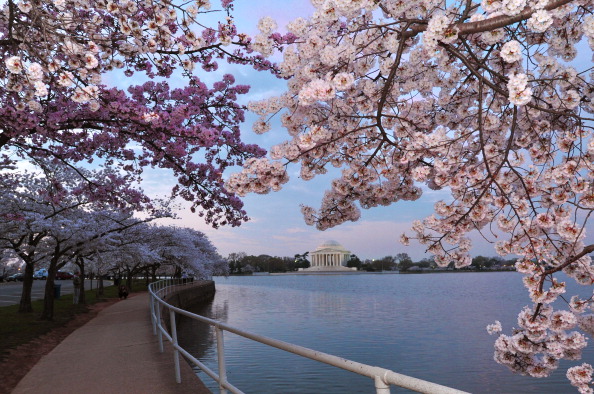 Each year, 1.5 million visitors flock to the National Mall for the National Cherry Blossom Festival, the nation's biggest. The four-week-long celebration is timed to align with the peak bloom of the Yoshino cherry trees that line the Tidal Basin, which originated as a gift of friendship from Japan of 3,000 trees in 1912. Today, the collection has expanded to about 3,750 trees in 16 varieties.
This year's festival will run from March 20 to April 15. Peak bloom, when 70 percent of the blossoms are open, is predicted to fall between March 27 and March 31. NationalCherryBlossomFestival.org
Brooklyn Botanic Garden, New York City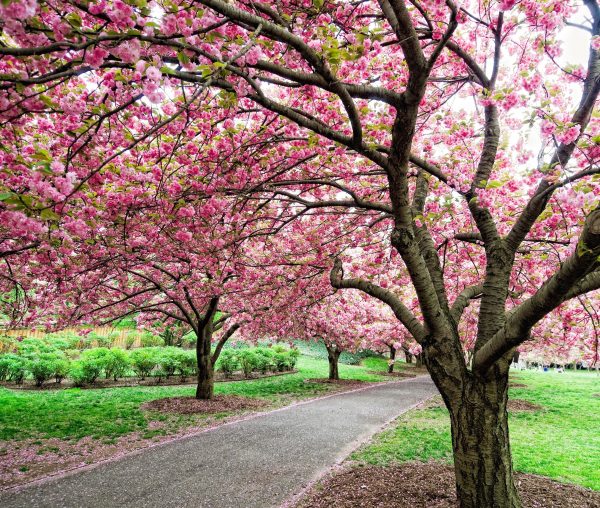 The Brooklyn Botanic Garden boasts a collection of nearly 200 flowering cherry trees. Different species and cultivars—26 in total—bloom in succession throughout the season, lasting from late March or early April through mid-May. The late-blooming Kanzan trees, which line Cherry Walk and the Cherry Esplanade, explode in dazzling pink for the season finale.
The blossoms provide a picturesque backdrop for the Sakura Matsuri, the garden's annual cherry blossom festival. The two-day event features over 60 events and performances honoring traditional and modern Japanese culture. This year, the festival runs April 28 to April 29. BBG.org
University of Washington–Seattle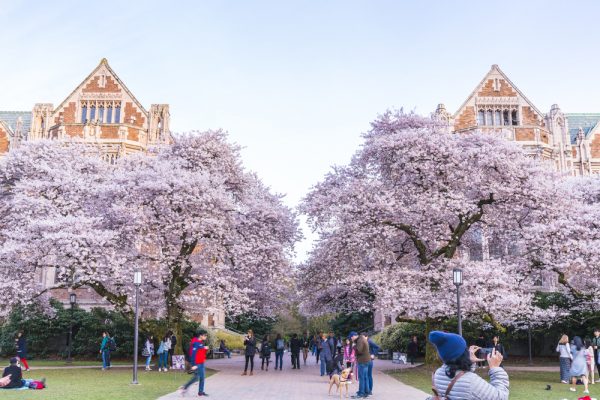 The University of Washington campus is home to Seattle's best-known collection of Yoshino cherry trees. The Quad is the best place to view the iconic trees, which are over 80 years old. Situated among vibrant green lawns crisscrossed with brick pathways and surrounded by gothic architecture, their pale pink blossoms are stunning.
Their bloom, predicted to peak on March 16 this year, according to UW's website, is eagerly anticipated by students and visitors alike—they even have their own Twitter account (@UWCherryBlossom), with over 4,000 followers.
Held in one of the three Japantowns in the United States, San Francisco's Northern California Cherry Blossom Festival is the largest festival on the West Coast and the second largest in the country. The two-weekend-long celebration, held on April 14–15 and April 21–22 this year, features a variety of food vendors, cultural performances, live bands, and a parade. SFCherryBlossom.org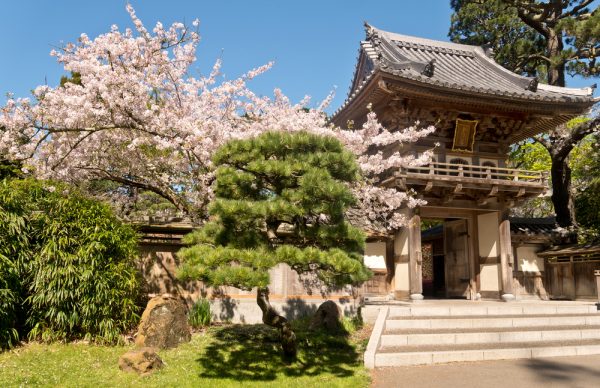 For a different view of the cherry blossoms, head to the Japanese Tea Garden in Golden Gate Park. They bloom in March and April among pagodas, koi ponds, and other native Japanese plants. JapaneseTeaGardenSF.com