Maria Loi, chef and owner of Loi Estiatorio, and long-time ambassador of the Greek Mediterranean diet, shares her essential traditional Greek recipes for health, happiness, and longevity.
Barley Rusks With Tomatoes (Dakos me Pougi)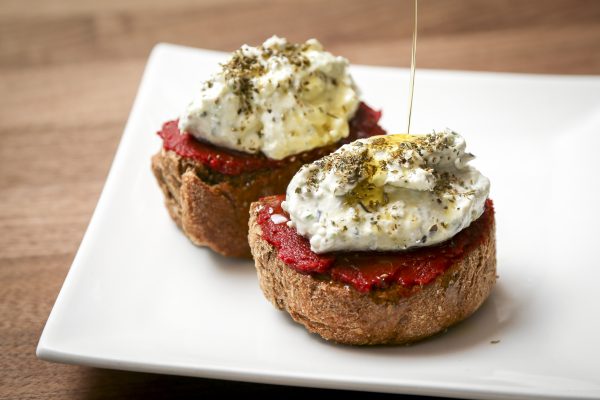 Serves 6 to 8
8 small barley rusks
3 tablespoons of olive oil, plus more for drizzling
3 tablespoons red wine vinegar
1/4 to 1/2 cup of organic tomato paste
1 8-ounce jar of Loi Feta-Yogurt Pougi
Dried oregano
In a medium bowl, stir together 3 tablespoons of olive oil, 3 tablespoons of vinegar, and 2 cups water. Arrange the barley rusks on a large plate, and sprinkle the oil-vinegar-water mixture over the barley rusks to soften them slightly.
Spread a teaspoon (or tablespoon, depending on size of rusk and preference) of tomato paste on top of each barley rusk, and top each with a generous dollop of Loi Feta-Yogurt Pougi.
Sprinkle with a little oregano and pepper, and drizzle with a little olive oil.
Stuffed Grape Leaves (Dolmadakia)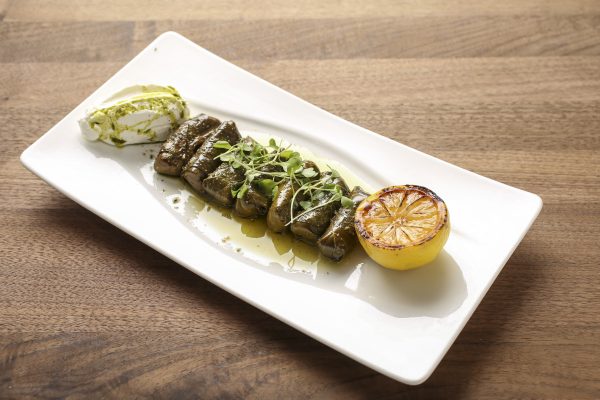 Serves 20
For the dolmadakia:
One or two 1-pound jars grape leaves, rinsed and drained (depending on how big you want your dolmadakia, you may need two jars)
2 cups Arborio or carnaroli rice
1 bunch scallions, minced
1 leek (white part only), cleaned thoroughly and finely chopped
1 large white onion, minced
1 small bunch fresh mint, stemmed and finely chopped
1 bunch fresh dill, finely chopped
5 tablespoons Greek olive oil
1/2 teaspoon grated lemon zest
2 tablespoons fresh lemon juice
Salt and freshly ground black pepper
For cooking:
1 medium white onion, chopped
1 or 2 lemons, sliced into rounds
Grape leaves (you'll have some leftover after rolling the dolmadakia)
1 to 2 cups Greek olive oil, depending on size of the dolmadakia
1/2 to 1 cup fresh lemon juice, depending on size of the dolmadakia
1/2 to 1 cup vegetable broth or water, depending on size of the dolmadakia
Place the grape leaves in a medium pot and add water to cover. Bring to a boil, reduce the heat to a simmer, and cook until the stem ends of the grape leaves can easily be pierced with a thumbnail, about 10 minutes.
Drain the grape leaves and allow them to cool slightly, or run them under cold water so they will cool faster. Remove the end stem pieces from each leaf. Keep the grape leaves covered so they will retain their moisture.
To prepare the filling: In a bowl, combine the rice with lukewarm water to cover and soak for 10 minutes. Drain.
In a large bowl, combine the drained rice, scallions, leek, onion, mint, dill, olive oil, lemon zest, lemon juice, and salt and pepper to taste. Set the rice mixture aside for about 10 minutes so the flavors can blend.
To roll the dolmadakia, arrange the grape leaves, vein side up, on a work surface. Depending on how large you want them to be, place 1 teaspoon or 1 tablespoon of the rice filling at the stem end of each grape leaf. Fold in the two sides of the leaf and roll up to enclose the rice filling. Ideally, the filling will stay in the rolled grape leaves. Repeat until you have used up all the filling and grape leaves.
Preheat the oven to 325 degrees F.
In a large baking pan (at least 9×13 inches, or larger), make a bed of the chopped onion and the lemon slices. Over this, arrange some grape leaves in an overlapping pattern so that they cover the onion and lemon. Arrange the dolmadakia on top of the grape leaves, placing them as close together as possible and stacking them in two layers, if possible.
Pour the olive oil, lemon juice, and vegetable broth over the dolmadakia. Arrange another layer of overlapping grape leaves over the dolmadakia. Cover with parchment paper and tightly seal with 3 pieces of foil.
Bake the dolmadakia until the grape leaves are soft and cooked through, about 2 hours. Allow them to cool slightly. Dolmadakia may be served hot or cold.
Tips
When preparing the vegetables and herbs for the filling, you may either chop or mince everything by hand or combine everything in a food processor and pulse until all ingredients are chopped.
Cannellini Bean Soup (Fasolada)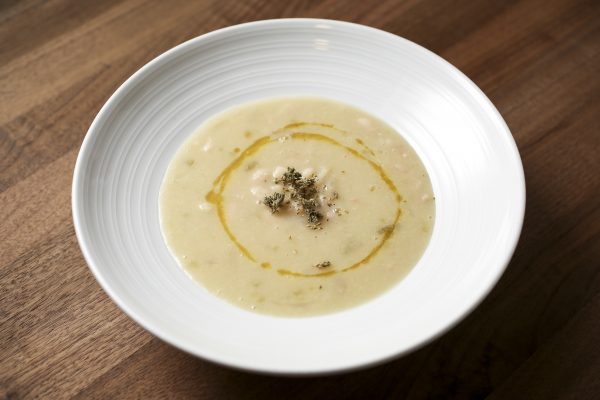 Serves 4
1 pound dried cannellini beans
8 cups lukewarm water
2 medium red onions, finely chopped
1/4 cup olive oil
1 red chile pepper, finely chopped
2 celery stalks, chopped
2 tablespoons finely chopped fresh flat-leaf parsley leaves (no stems), plus more for garnish
Salt and freshly ground black pepper
The night before you plan to serve the soup, place the beans in a large pot with enough water to cover by 2 or 3 inches. (Soaking overnight will shorten the cooking time the next day.)
On the following day, drain the beans. Add them to a large pot and cover with water. Cook the beans, uncovered, for 30 minutes, skimming the surface occasionally to remove any foam. Drain the beans and discard the cooking water.
Return the beans to the pot, add the lukewarm water, and bring to a boil. Add the onions and olive oil to the pot of beans, stirring to combine. Cook the soup over medium heat, stirring occasionally, for 30 minutes.
Stir in the chile, celery, parsley, and salt and pepper to taste. Continue to boil over medium heat until the beans and vegetables are tender, another 20 minutes.
Serve the soup garnished with parsley.
Chickpea Stew (Sifnos Revithada)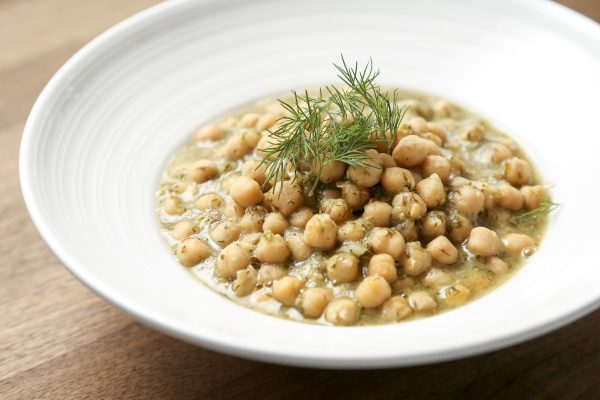 This rustic chickpea stew hails from the island of Sifnos, where they cook it in a clay pot the night before the Sunday family supper. Eat this with a Greek salad and some whole-grain pita bread, and you'll feel like you're in Sifnos!
Serves 4 to 6
1 pound dried chickpeas

1 teaspoon baking soda

2 medium red onions, finely chopped

1/2 cup olive oil

1/2 bunch fresh flat-leaf parsley, stemmed and finely chopped

1/2 bunch fresh dill, stemmed and finely chopped

Salt and freshly ground black pepper

Fresh lemon juice, for serving
The night before you plan to serve the stew, put the chickpeas in a large pot with water to cover by 1 inch.
Stir in the baking soda, cover, and soak overnight.
The next day, drain and rinse the chickpeas. Transfer them to a Dutch oven or other large pot. Add the onions, olive oil, parsley, dill, salt and pepper to taste, and water to cover.
Preheat the oven to 300 degrees F.
Cover and bake for about 6 hours, removing the cover in the last 30 minutes to allow the excess liquid to evaporate. Remove the chickpea stew from the oven, let it stand for a few minutes, and stir in fresh lemon juice to taste.
Tips 
If you want this dish to be ready faster, you may bake it at 375 degrees F for about 10 hours instead. However, this yields a slightly less robust flavor profile.
Lentil Soup (Fakes)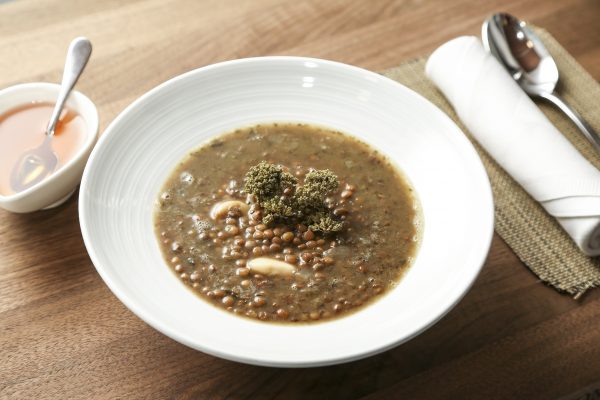 Many cultures have their own version of lentil soup. What I love the most about mine is the simplicity of the soup, and the way the flavor and texture of the lentil doesn't get marred or lost in a sea of ingredients.
Serves 6 to 8
Salt and freshly ground black pepper

1 pound lentils (any kind, though brown/black are best for this soup)

1 medium red onion, finely chopped

1 garlic clove, minced

2 carrots, sliced into rounds

2 tomatoes, grated (on the large holes of a box grater)

1 teaspoon tomato paste

1 bay leaf

1 sprig fresh rosemary

1/3 cup olive oil
In a large pot, bring 8 cups lightly salted water to a boil. Stir in the lentils and simmer them until slightly hydrated, 10 to 15 minutes. Drain the lentils into a large colander and discard the cooking liquid.
In a large saucepan over medium heat, sauté the onion until golden and softened, 5 minutes. Stir in the lentils, garlic, carrots, grated tomato, tomato paste, bay leaf, rosemary, and salt and pepper to taste. Stir in 8 cups water, bring to a boil, and simmer until the lentils are soft, 35 to 45 minutes.
Slowly add the olive oil, stirring continuously, and simmer the soup for 10 to 15 more minutes, or until it thickens. Taste and add salt and pepper as desired. Remove the bay leaf and the rosemary sprig before serving.
Loi Greek Yogurt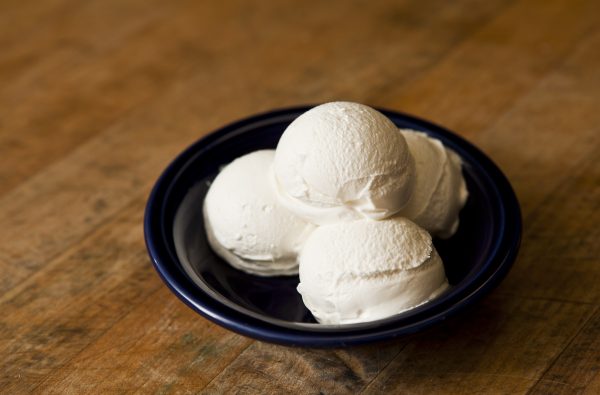 4 1/4 cups organic whole milk
1 cup full-fat plain yogurt
Heat milk to 195 degrees Fahrenheit. You will need a thermometer, but if you do not have one, turn off the heat just before the milk boils (just as it begins to simmer).
Remove the pot from the heat and wait until the temperature drops to 110 degrees Fahrenheit. If you don't have a thermometer, you can try my grandmother's old trick to get the right temperature: Keep your pinky in the milk and count quickly to 20; if your pinky is burning at 20, let the milk cool off a bit longer.
Dilute 1 cup of yogurt in the lukewarm milk and stir.
Cover the pot with a blanket to maintain the temperature and keep warm for at least 6 hours. Note that you should not move or shake the pot during this process.
Move the yogurt from the warmth to the refrigerator.
Leave the yogurt for 24 hours in the refrigerator without moving, and your yogurt will be ready to enjoy. It will be good for 10 days, refrigerated.
You can eat the yogurt like this, but if you want to make my grandmother's authentic recipe, you need to take one more step: Strain the yogurt in cheesecloth and hang to drain for several hours, until the draining stops. This is the real "Loi yogurt" that my grandmother used to make—all the whey is removed. This process adds another week of life to your yogurt.
Tips
Make sure you boil and cool the milk at the right temperature.
Don't be anxious to move the yogurt until it's ready.
Use high quality milk with no added water, and do not use skim milk.
All recipes courtesy of Maria Loi