Changes to US Chemical Laws in the Works
May 7, 2014 5:45 pm Last Updated: May 7, 2014 5:48 pm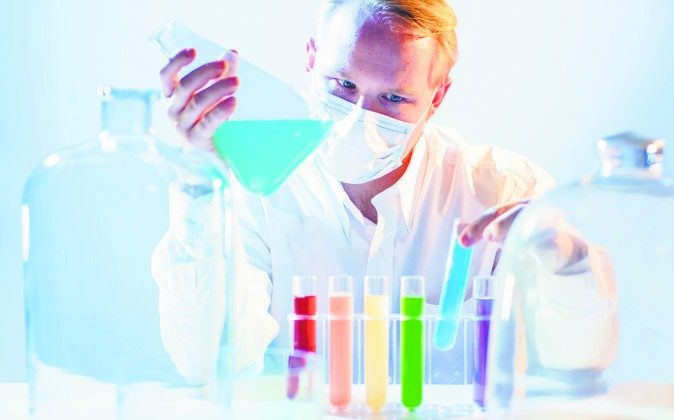 In the United States, industrial chemicals—including chemicals in household products—are managed through the Toxic Substances Control Act (TSCA). Although science has improved it's understanding of chemical exposure since TSCA was enacted in 1976, the law remains unchanged.
Health and environmental advocates say the federal chemical oversight system is broken, and even the industry agrees an update is long overdue. But stakeholders can't agree about how TSCA should be changed. The latest reform draft, the Chemicals in Commerce Act (CICA), is currently the center of discussion.
On April 28, the U.S. House Subcommittee on Energy and Commerce discussed CICA with House Republicans and the chemical industry saying they are pleased with the results, while Democrats and many public health and environmental experts are saying that CICA actually weakens public protection.
Feds Trump State
Public concerns about the rise in cancer and other diseases, coupled with weak federal oversight, have prompted some state governments to adopt their own chemical control measures.
For example, Maine banned flame retardants in mattresses a few years back, and last year California passed a law banning them in upholstered furniture.
In its current form, CICA would allow federal regulations to pre-empt these kinds of state laws.
Sen. Michael Moore (D-Mass.) believes overturning nearly 40 years of policy efforts for a "one-size fits all approach" is a big mistake.
"It is very disconcerting for me as a state policymaker to think that the good work done in my state and in other states to regulate toxic substances since 1976 will be nullified if this draft bill becomes law," Moore said.
Mark Greenwood, a former Environmental Protection Agency (EPA) office director and an environmental lawyer who has worked on TSCA for over 25 years, defended CICA's pre-emption provisions. He said that regulatory inconsistency undermines international trade discussions.
"In the United States we get nervous about anything about preemption because it goes to key principles of the history of our country. But in the world of chemical management across the world today, we are facing a series of different kinds of controls from other parts of the world," Greenwood said.
Before state laws can be pre-empted, however, federal regulators must make some determinations they were never able to achieve under TSCA, and that will take time and money.
The EPA has identified about 1,000 existing chemicals that require review. Jim Jones, Assistant Administrator for EPA's Office of Chemical Safety, estimated that initially regulators can tackle about 20 chemicals per year at $1 million per chemical, with costs expected to fall later on.
"Over time $20 million will go a lot farther than that as the chemicals get easier to do," Jones said.
EPA Concerns
According to testimony from Jones, TSCA puts "burdensome legal and procedural requirements" on the agency's ability to test new chemicals and protects thousands of existing chemicals from scrutiny.
"When TSCA was enacted, it grandfathered in, without any evaluation, about 60,000 chemicals in commerce at the time. In addition, the statute did not provide adequate authority for the EPA to reevaluate existing chemicals as new concerns arose or science was updated," Jones said.
Jones noted improvements in the latest draft bill, but identified its safety standard as its biggest problem. Instead of the risk-based approach favored by Jones and other stakeholders, the latest draft leans toward a cost-benefit balancing model to determine whether certain chemicals should be restricted.
Jones said that cost should be a factor to consider, but not the ultimate determinate for chemical regulations.
"I have to literally calculate the human health benefits which are nearly impossible to do most of the time, and I have to show that the number is bigger than the cost," Jones said.
Rep. Joe Barton (R-Texas) is leery of giving the EPA too much discretion. He called for a bill that can "work in the real world."
"If you go out into the real world, I think the industry that TSCA regulates has really, really tried to do the right thing," Barton said.
Cal Dooley from the American Chemistry Council illustrated the need for risk-cost balancing with the compact florescent light (CFL) bulb. Dooley said that while widespread CFL use can reduce carbon emissions and consumer energy costs, the mercury the bulbs contain would prevent them from being sold in states with a mercury ban.
"Unfortunately, many state regulatory programs are based solely on whether a chemical can cause harm in any circumstance." Dooley said.
TSCA Economics
The chemical business has a significant influence on the U.S. economy. Products made by the $7.7 billion industry are found in 96 percent of all manufactured goods, and over 25 percent of the U.S. GDP is derived from chemical dependent industries.
Compared to industry innovation, oversight has been weak. TSCA has over 84,000 chemicals in its inventory, but in almost 40 years, the EPA has only been able to require testing on just over 200. Only five of these chemicals have been banned or regulated.
Confidential Chemicals
Accountability has been another big issue with TSCA. Under the current law, if regulators identify a toxic chemical, companies may prevent the EPA from releasing that information to the public.
In 2010, the EPA asked companies to voluntarily declassify documents they previously claimed as confidential if they were inconsistent with the law or no longer necessary. Over 1,000 documents have been released as a result.
According to Rep. Diana DeGette (D-Colo.), CICA would essentially overturn these 2010 reform efforts.
"The new draft would allow companies to keep secret the identity of chemicals implicated in a health and safety study," said DeGette.
There is fundamental disagreement among lawmakers about the extent of the threats industrial chemicals actually pose. Rep. Henry Waxman (D-Calif.) said they "have been linked to serious health concerns including rising autism rates," while Rep. David McKinley (R-W.Va) cried foul.
"I just wonder if this is just one more scare tactic to try to cause consternation and confusion in our economy right now, because we have not heard that," McKinley said.
While everyone is urging TSCA reform, it's not clear when legislators can craft a bill that will actually pass in Congress. Chairman John Shimkus (R-Ill.) said there is no guarantee on a consensus bill this year.
"This thing has not been revised since I was in high school. We can do better," Shimkus said.
Abbreviations Key:
Toxic Substances Control Act (TSCA)—gives the EPA the authority to require reporting, record-keeping, and testing and enact restrictions on chemical substances.
Chemicals in Commerce Act (CICA)—the latest reform proposal to TSCA
What Opposing Congress Members Are Saying About CICA:
John Shimkus (R-Ill.), Subcommittee Chairman and CICA draft author, said in a statement that CICA is a bipartisan effort and a "win-win for safety and the economy."
"This is a bipartisan, bicameral effort to improve the protection of public health and the environment, encourage innovation and economic growth, and help create countless American jobs."
Rep. Paul Tonko (D-N.Y.) said the latest CICA revision still "falls far short" of giving the U.S. Environmental Protection Agency (EPA) the authority and resources necessary to evaluate risks associated with chemicals in the marketplace.
"A revision of TSCA must restore public confidence in the safety of chemical products," Tonko said in his opening statement. "Public confidence is indeed good for business, essential for business."
Additional reporting by Christine Chamberlin