A mom of eight has shared how she stays up on top of her happy family's manic schedule. From being the CEO of her fashion company to raising her kids and being a basketball coach, she tells how she navigates her day with their family motto of service, hard work, obedience, and kindness.
Wyoming-born Amanda Barker, 44, lives in Provo, Utah, with her husband Tyler, 48, and their eight kids: Charlee, 20; Cash, 18; Call, 16; Codee, 14; Cruz, 12; Cooper, 11; Clancee, 9; and Covington, 7.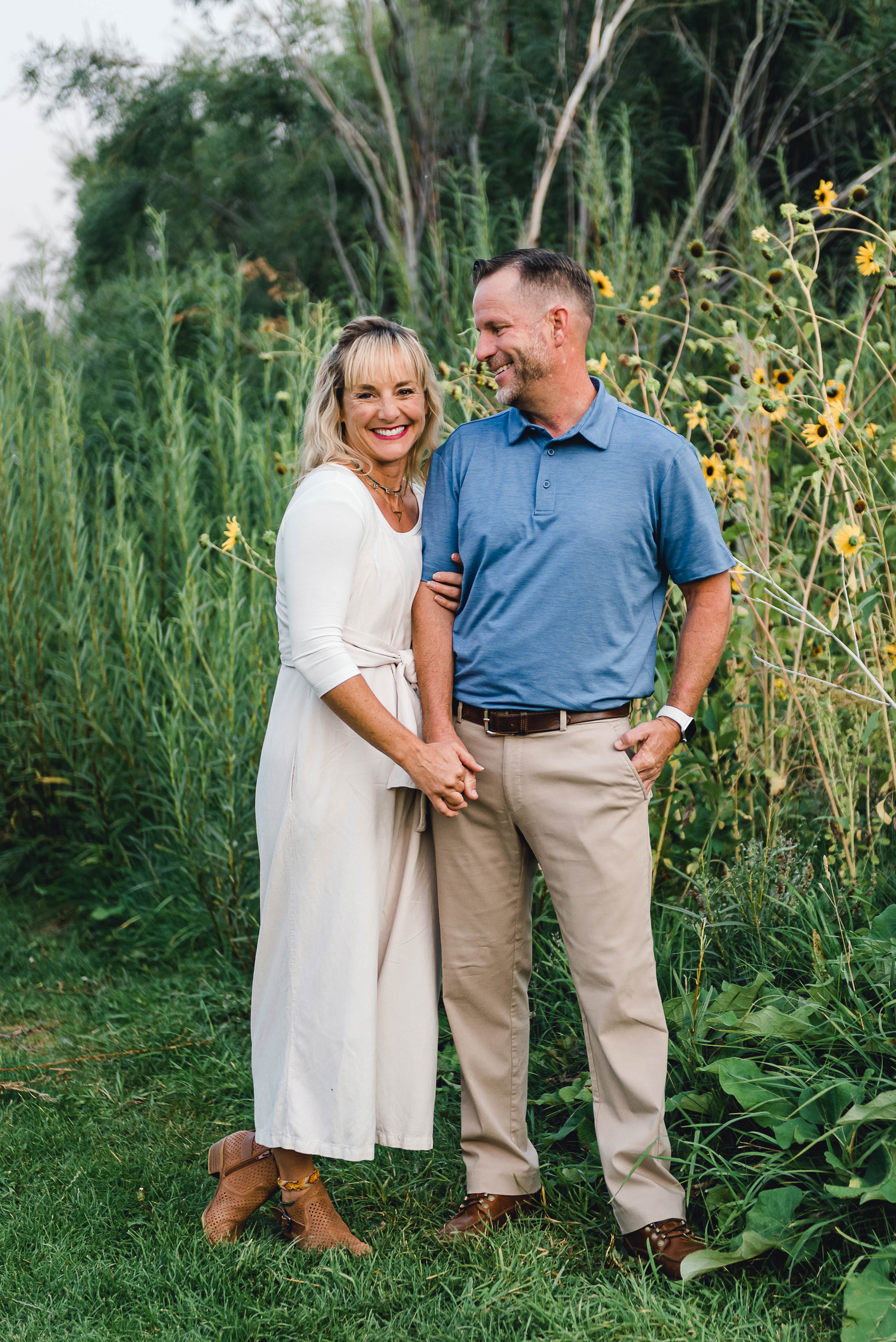 "My day typically starts before the children are awake," Amanda told The Epoch Times. "I like to wake up early and get a good workout in, meditate, and hop in the shower before the kids roll out of bed. … The morning is busy getting myself ready, and then helping the kids get their chores done and ready for school."
School starts at 7:30 a.m. for Amanda's eldest, and at 8:00 a.m. for her little ones. Tyler, who works in animal pharmaceuticals, oversees breakfast and carpooling when he's in town, allowing Amanda to "do hair" and tidy the house.
The mom then takes time to study scripture and write in her journal before leaving for work at 9:00 a.m. In the afternoon, Amanda, who is also the head girls' basketball coach at Provo High School, goes for 3-hour basketball practice.
"The schedule is insane. … Evenings are full of my kids' many, many activities, which include basketball, gymnastics, church activities, homework, friends, and family time," she said. "We like to gather together in the evening and study the scriptures, and pray as a family before we send them off to bed and prepare for another day."
The Barker family's chaotic household is mediated by a shared motto: service, hard work, obedience, and kindness.
"I ask the Lord to bless us each morning in our family prayers that we can be each of these things throughout our day," Amanda said. "Work, kindness, and God can get you through almost anything life throws at you."
Amanda has always wanted a big family but never expected to be a mom of eight. However, she says that each one of her kids has been the "greatest blessing."
Giving all their kids the first initial "C" was a tradition cemented by Amanda and Tyler.
On being asked if it was difficult to find names starting with the letter C, Amanda said no. She said she always knew what she wanted to name the baby even though she never knew if it would fit the right gender—it somehow always did work out.
Yet sharing a first initial doesn't mean all her kids are treated the same, Amanda said. While one parenting technique may work for one child, that doesn't mean it will work for another.
"Making sure that I see each of my children as individuals, with individual strengths and weaknesses, is so important," Amanda said. "Learning what motivates them to make good choices and what their individual love language is can sometimes be a challenge, but I love a good challenge."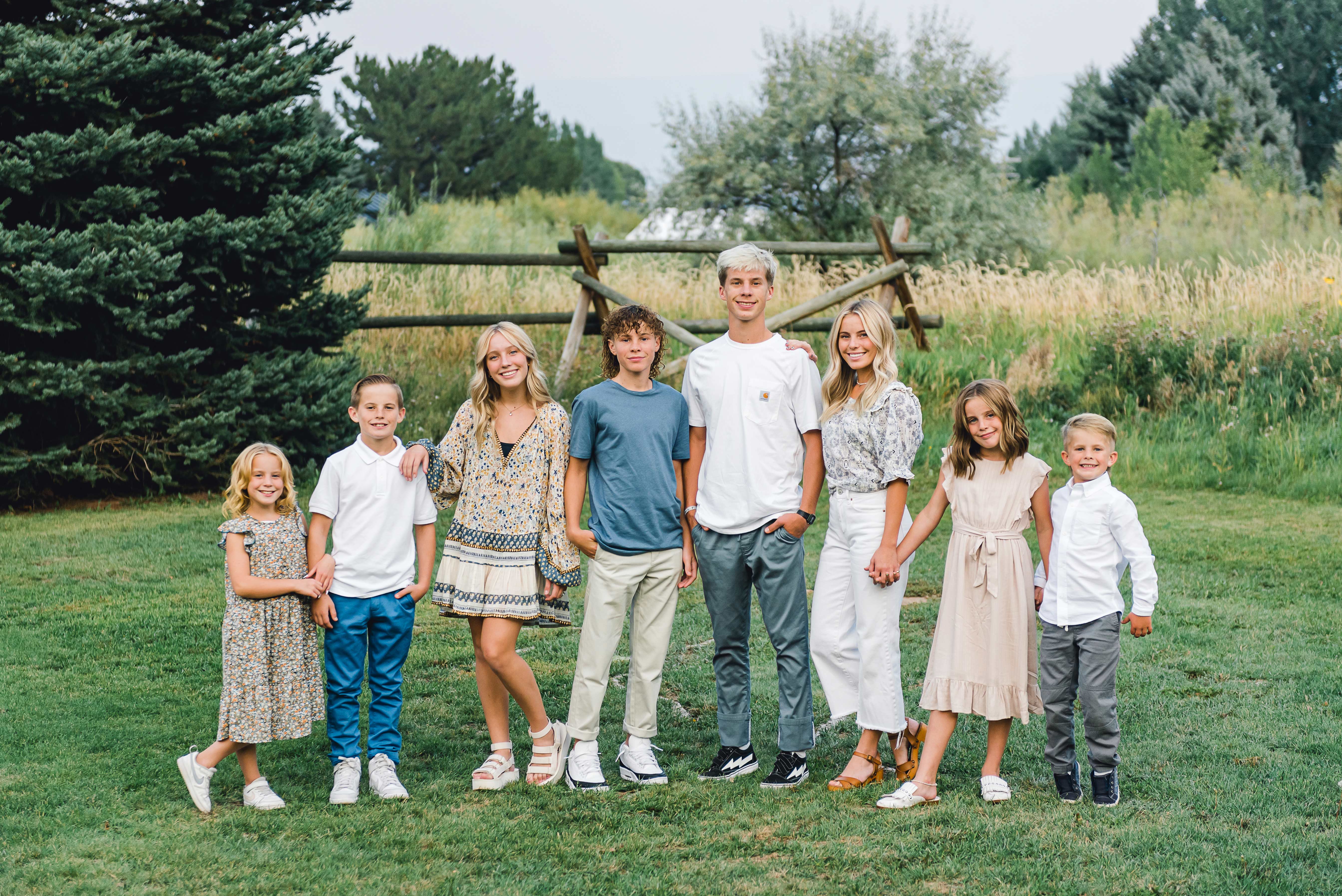 Apart from praying to God on helping her parent each one of her children, Amanda also makes it a point to spark conversations by asking them questions.
Something that works for the Barker household is a car game: "Would You Rather?" The mom encourages both silly and serious answers from her brood, and then they always talk about why they chose what they chose, to get to know one another better.
Apart from the self-care, scripture, coaching, and raising eight kids, Amanda still finds time to run her own company—Halftee Layering Fashions.
The inspiration for Halftee, a modest clothing brand for women, was born while Amanda was nursing her fifth child, Cruz.
"I wanted to wear a particular shirt, but got discouraged when I remembered it required a layering shirt underneath. Extra bulk and heat anytime, as a woman, is annoying, but when you are pregnant or nursing it is even more so," Amanda said.
"I distinctly remember my husband walking in and I said, 'Tyler, I am going to start a modest layering T-shirt company, shirts that add a sleeve and a neckline but that are cut off right below the bust line.' He just looked at me, completely confused!"
At that time, Amanda went to her closet and customized all her existing layering shirts with the help of her mom, by cropping them below the bust line and sewing in a band to keep them in place. She then shipped them off as prototypes for patterns and production.
Twelve years later, Amanda sells Halftee shirts on home shopping channels in multiple countries.
"All women have everyday 'getting dressed' or 'shopping' problems," Amanda said. "Halftee can solve almost all of them, efficiently and comfortably."
Amanda, who has always loved being a businesswoman, said she has ridden the roller coaster ride of starting a start-up company and believes it's an extremely hard task, but that she's been lucky to be blessed with the most incredible people to work with, a supportive husband, and a house full of delightful children.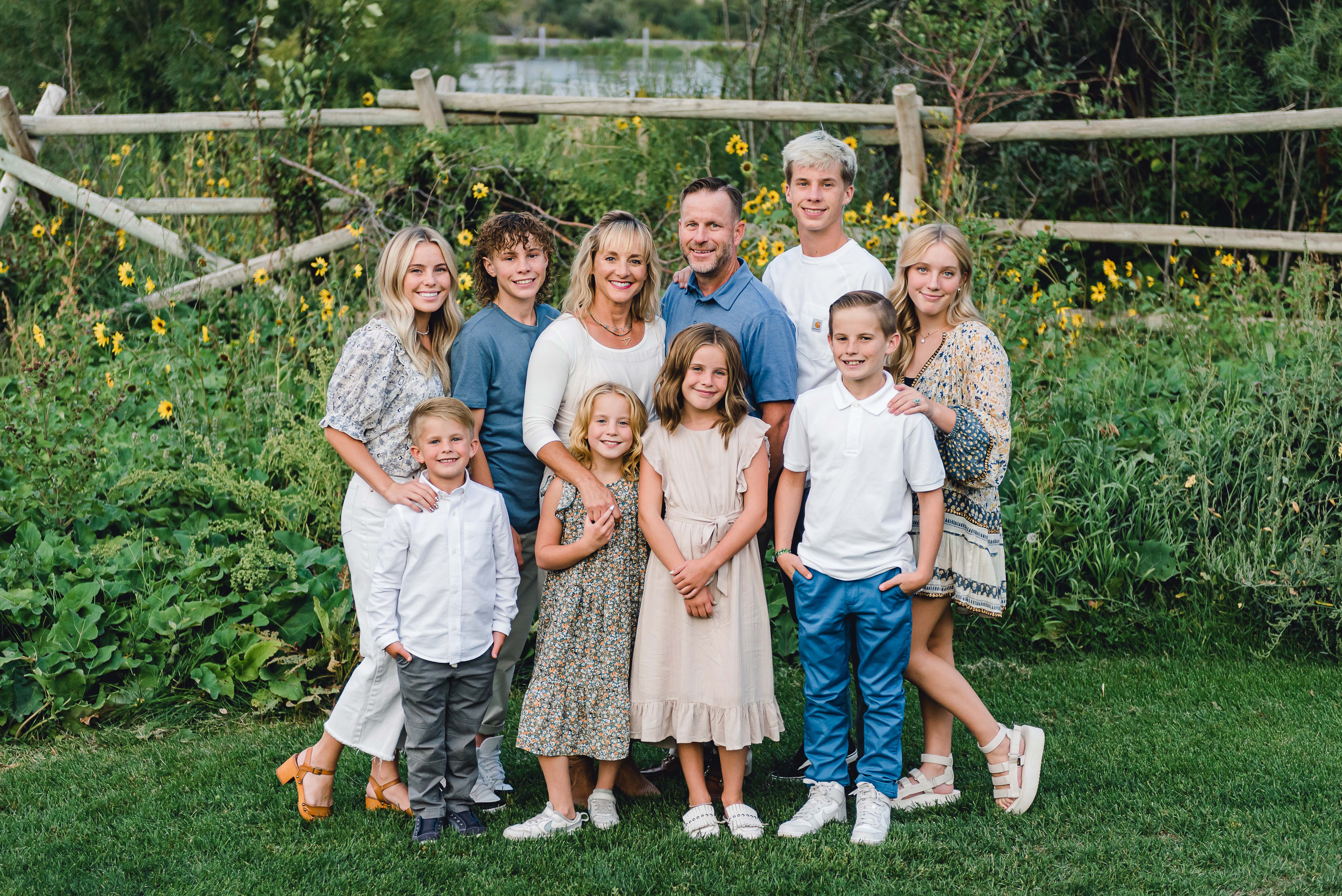 Amanda met Tyler while playing basketball for Brigham Young University. Married for 23 years this June, they consider their "beautiful, very large family" their greatest achievement and the "magical chaos" of their close-knit kids a privilege.
As their children grow, Amanda and Tyler have consciously earmarked time without friends or other distractions to keep the family unit strong. Together, the family loves to swim, boat, travel, ride four-wheelers, watch movies, and spend time at their ranch in Idaho, where yard work teaches the children vital skills in working together.
Once a year, the Barkers also spend a week-long trip together, and they have a "No friends on Sunday" rule throughout the year.
"Every Sunday, we always sit down and have family dinner together. We talk about the week and their activities," Amanda said. "After, we all stick around and do the dishes together. Although they all complain, every time, this time also leads to wonderful moments filled with laughter and family bonding."
The couple's two eldest children, Charlee and Cash, are currently serving missions for The Church of Jesus Christ of Latter-Day Saints.
Being a parent to eight kids, Amanda advises those who have a big family to love boundlessly and keep faith at the forefront.
"Be present, and try to take time for each [child] on a daily basis," she said. "Give out lots of hugs, and support each other and each of them.
"Keep God close to you always; He knows each of them far better than even we do."
Share your stories with us at emg.inspired@epochtimes.com, and continue to get your daily dose of inspiration by signing up for the Bright newsletter at TheEpochTimes.com/newsletter