JERSEY CITY, N.J.—When husband and wife Simone Bertini and Teresa Villi moved from Prato, Tuscany to the U.S., they brought a little slice of their hometown with them.
That little slice is cantucci di Prato: petite, sliced cookies, traditionally studded with whole almonds and perfumed with their nutty fragrance, that hail from Prato. The tiny town is renowned for the treats. Unlike biscotti, which are twice-baked and crunchy throughout, cantucci are baked only once, so their golden-crisp exteriors give way to soft and tender centers.
You can find cantucci throughout the U.S., but most are imported from Italy, Villi said. At the couple's Prato Bakery, in Jersey City, N.J., they're handmade and baked fresh, in small batches, every morning.
"It's our culture, we want to continue our traditions," Bertini said.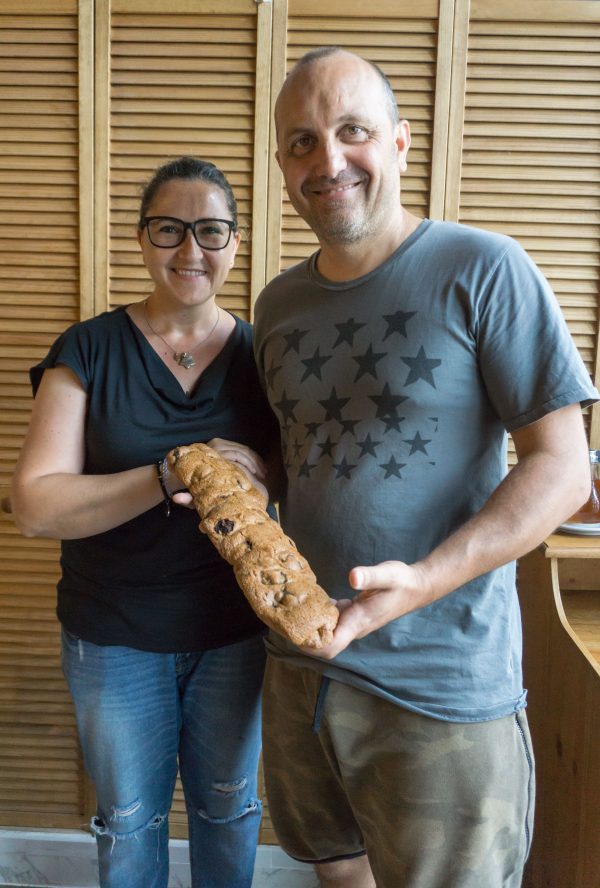 The bakery offers traditional almond cantucci, piled precariously to three times the height of their basket on the display counter, as well as indulgent specialty varieties, stuffed with whole dried figs, apricots, plums, or—their most popular—giant, rich, dark chocolate chunks.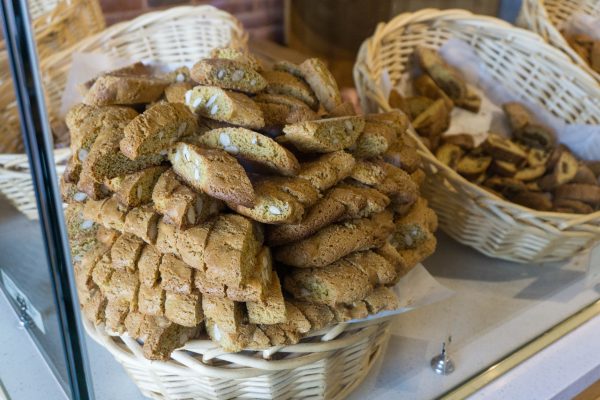 The cantucci join a selection of other traditional Tuscan foods. There's brutti buoni, literally "ugly but good" cookies made with almond paste; crunchy schiacciata, focaccia made with olive oil, the Tuscan way; unsalted Tuscan bread; and a variety of other baked goods and sandwiches, including an herby, perfectly salted porchetta.
"We thought that our food in Tuscany is very good, very simple, and we thought that America would appreciate this kind of food," Villi said. "Everything is made following the ancient recipe[s], to maintain the tradition."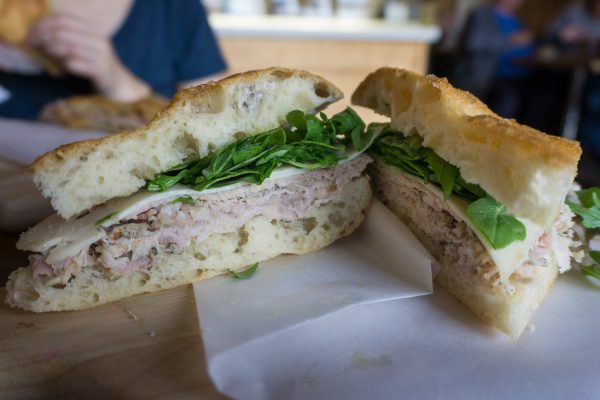 Secret Recipe
Bertini, the baker in the business, guards his cantucci recipe well.
After their daughter was born in 2006, he and Villi set their sights on America for a better future, disillusioned with economic prospects in Italy. He studied at a bakery in Florence for a year, waking up at 2 a.m. every morning and working until 7 a.m., before heading to his day job at a frame moulding company. He didn't sleep much.
The master baker agreed to teach Bertini his secret cantucci recipe, since he had plans to open a bakery in New York. Now, Bertini says, "I try to conserve my recipe, because it's my tradition, and I want to keep it mine."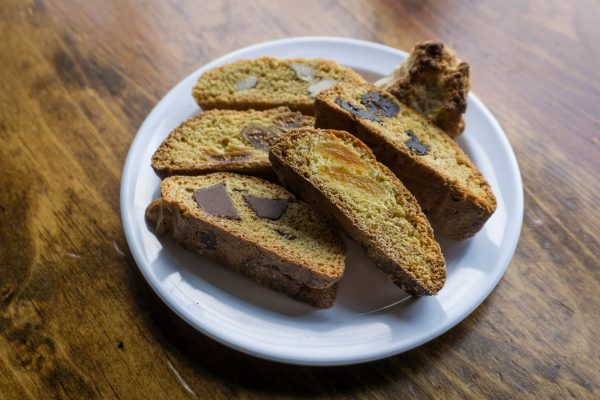 Bertini and Villi are tight-lipped about specifics, but surrender an ingredient list for their almond cantucci, which reads short and simple: eggs, sugar, flour, almonds, pine nuts, and yeast. As per the historical recipe, there is no butter, oil, or dairy.
Since there are so few ingredients, quality becomes of utmost importance. "Even the eggs, from one to the other, can change completely the flavor of the cookies," Villi said.
"It was hard at the beginning to find the right ingredients here," she said. "In Italy, of course, he knew where to get the right ingredients. Here, it's different. Even the water is different."
That being said, ingredients are sourced with the highest quality in mind. Bertini uses only organic eggs, and a specially made mix of organic, unbleached, and unbromated flour. The dark chocolate is sourced from a small artisan in Verona, Italy—the cacao percentage remains a secret—while the apricots and figs come from Turkey, the plums from Chile, and the almonds from California.
Every morning, Bertini mixes a small batch of dough and hand-rolls it into logs, and then places them onto a pan and into a big electric oven made in Verona. The logs are baked until their tops shine glossy and golden-brown, before being hand-sliced into individual cantucci.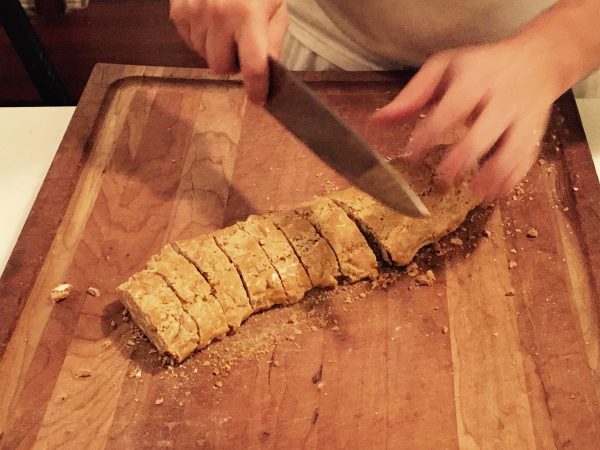 They're a perfect embodiment of Tuscan food: simple, but good. Rustic and lightly sweet, they're wonderful as a companion to a cup of coffee or tea—or, as they do in Tuscany, dunked in a glass of vin santo, a sweet dessert wine, at the end of a meal.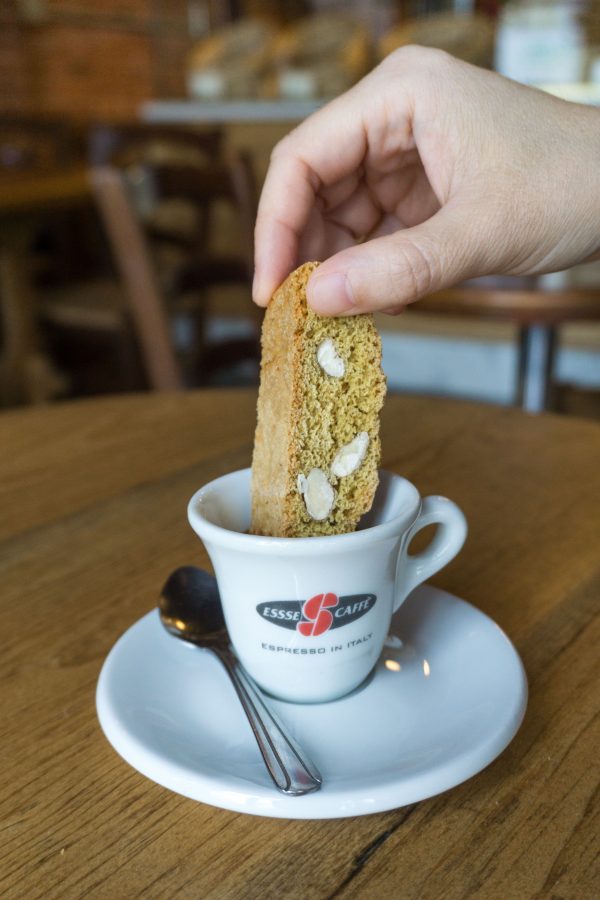 A Family Business
Prato Bakery is a beloved local haunt; police officers and families wander through, solo diners set up laptops to work, old Italian gentlemen linger and talk animatedly around a table.
Even loyal customers from New York, the location of their first, now-closed bakery, Il Cantuccio, make the trek to Jersey City to stop by.
"We are investing a lot—time, money, our lives—for this. We love that people appreciate what we do," Villi said.
"We're always here. People know us by name, they know our family, our daughter," she said. "Our dog," Bertini added.
Come for the cantucci, but stay for the hospitality, Villi and Bertini's welcoming warmth.
"We open the door of our house, that is the culture," Bertini said. "Come into my house; I invite you to eat cookies, a sandwich, a coffee."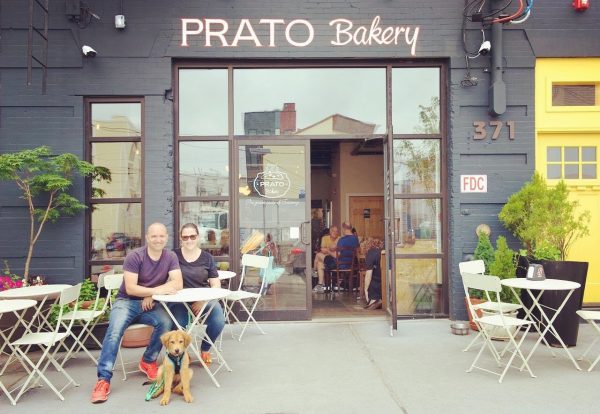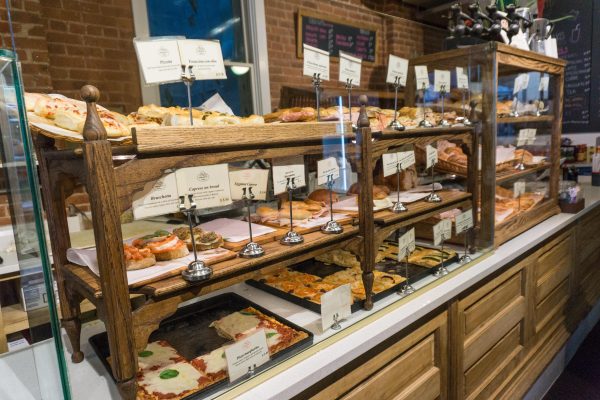 Prato Bakery
371 Fourth St.
Jersey City, N.J.
201 Washington St.
Hoboken, N.J.
Prato Bakery also ships their cantucci across the U.S. Order online at PratoBakery.com. $10 for a one-pound bag.