The 2019 edition of the Canadian International AutoShow is open and runs until Sunday, February 24. More than 1,000 cars can be found in displays covering 650,000 square feet in the north and south buildings of the Metro Toronto Convention Centre.
All of the premium brands are located on the 800 level of the south building, which means they can be toured very quickly by those who want to have an efficient visit. This matches well with the $6.00 discount being offered on an adult ticket, for a total price of $19.00, to those who enter the show every day after 6:00 PM.
Here are the main highlights of some of the top brands presenting at the show.
CADILLAC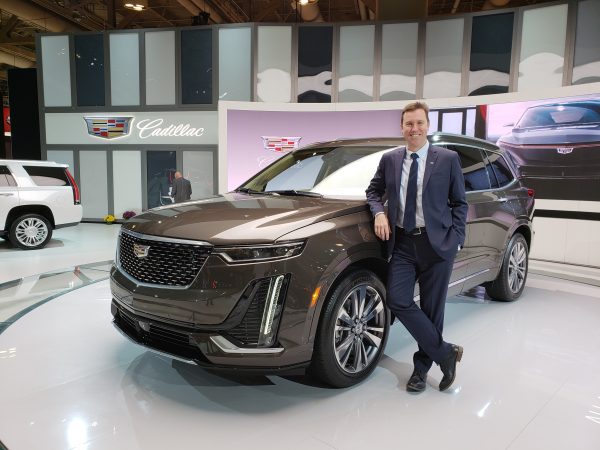 The Cadillac brand is currently undergoing aggressive updates in its product lineup. Plans are under way to release a new product every six months for the next three years.
Its new XT6 three-row SUV is the second new vehicle to be released under the new plan, following closely from the XT4 subcompact SUV that launched just a few months ago. The XT6 sits on a pedestal as the focal point of the Cadillac booth at the Toronto auto show.
"We're all very excited to get this vehicle out into the market," said Travis Hester, president and managing director for General Motors of Canada. "We've been trying to build up the portfolio of cars for Cadillac, and we now finally have got out to the market the XT4, the smallest (SUV), the XT5, which we've had in market for a while, and now this dedicated three-row XT6, which is a nicely positioned car between two-row XT5 and the Escalade.
"It's not a two-row where somebody has stuffed the third row into the back. It's genuinely set up with a longer wheelbase. The occupant space is set up with the correct headroom, the correct back angle, the correct space for your knees so that you're not all cramped up.
"It's got USB ports, it's got cup holders, it's got all of its comfort and the right amount of foam. It's a genuine three-row, which is not always the case when you take a good look at what's around."
The XT6 also features an interesting piece of new technology that it shares with other new General Motors products such as the Chevrolet Blazer. It allows drivers to set up user profiles that can be transferred to other GM vehicles using cloud computing technology, allowing instant changes to preferences such as radio presets, in-car apps, and safety feature settings.
Hester became the Canadian president of GM in April 2018. Previously, he held roles as the brand's global vice president of Chief Engineers and Program Management and as the executive chief engineer for Cadillac. Originally from Australia, he worked for four years in China as well as in the United States, Korea, and Europe. In his work as an engineer on the Cadillac CT6 sedan, he was directly involved in the development of Cadillac's Super Cruise semi-autonomous technology.
"I have a lot of roots in Cadillac," Hester said. "I love our Cadillac product, where we're going as a brand, where we're aiming for, and the technology that we're implementing."
VOLVO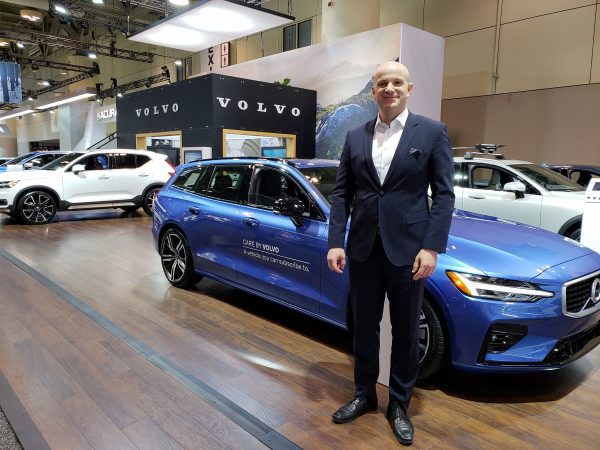 Rather than having a single focus, the Volvo booth at the Toronto auto show is designed to show the diversity of products that the brand has available on the market today.
"We split the display into two pieces," said Alexander Lvovich, managing director of Volvo Cars of Canada. "One is focused on our electrification, plug-in hybrids. The other half is our four-cylinder powertrains and the rest of the product lineup.
"We wanted to show this complete new lineup. With S60, V60, V60 Cross Country, the lineup is complete. We like to say this is not the beginning of the end, it's the end of the beginning."
The S60 sedan and V60 wagon are the final products to come to market with Volvo's new series of efficient four-cylinder powertrains and updated design language, completing the transition after it was bought by Geely Motors from Ford in 2010. Both the S60 and V60 are available in Momentum, R-Design, and Inscription variants, and the V60 Cross Country is set up for more rugged conditions with greater ground clearance, tougher body coverings, and standard all-wheel drive.
The electric side of the display shows the brand's T8 plug-in hybrid powertrains to demonstrate Volvo's desire to have 50 percent of its sales be made up of fully electric cars by 2025.
"We have XC90 and XC60," Lvovich said. "We have S60 coming with the Polestar Engineered T8 and then later with T8 on the rest of the trims and V60 as well. S90 is available in plug-in hybrid. And the first electric car, I won't tell you when, but it's not that far from now. So, I think we're on track."
Another important aspect of Volvo's display is to advertise the brand's new Care By Volvo subscription service, which allows a pre-equipped S60 or V60 in either Momentum or R-Design trim to be paid for with a flat monthly fee that includes scheduled maintenance, wear and tear protection, roadside assistance, a 24-7 concierge, and winter tires. A two-year contract is required, and the option is available to upgrade to a new vehicle after 12 months when signing a new two-year commitment.
"The biggest value, especially in the luxury segment these days, is time," Lvovich said. "People are well-to-do. They have high disposable incomes. There's one thing they cannot buy more of, and it's time.
"This service gives them extra peace of mind and saves their time because everything is taken care of. It's what we think our customers are looking for."
BUICK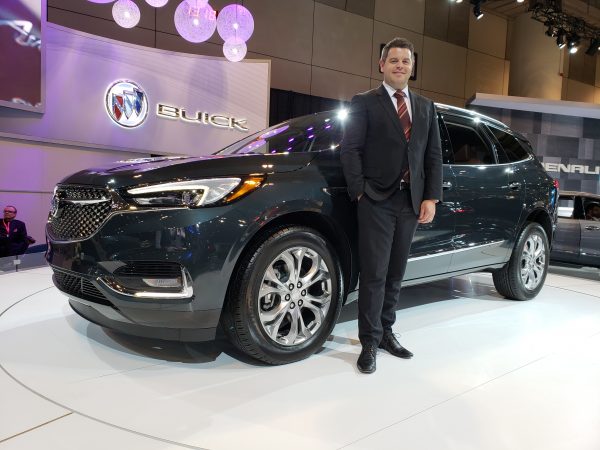 The Buick brand is currently celebrating its best year ever for SUV sales in Canada.
"That was driven by our Encore sales," said Michael MacPhee, brand director for Buick and GMC in Canada. "They were up 15 percent year over year. It's really on the basis of consumers appreciating the size, the packaging, and the value that Buick represents in the minds of Canadians.
"We've seen this especially in Vancouver, Montreal, and Quebec City. When we look at the Toronto marketplace, we've seen a great surge of interest. We're looking forward to another record year of Buick SUV sales."
Those who choose to visit the Buick display at the Toronto auto show will find many of Buick's SUVs on display.
"They're going to be greeted with an amazing array of Buick SUVs," MacPhee said, "from our Encore, which is a great, maneuverable, city-focused SUV, all the way up to the Enclave, which is truly the pinnacle of design for the Buick nameplate.
"The Avenir for us is an all-new entry. It's designed to elevate the entire Buick brand within the showroom and consumers' minds with unique finishes, unique interior materials, and really great Buick design."
MacPhee said that when Buick considers the Chinese-Canadian market, some similarities can be found with the domestic Chinese market while the unique needs of those who live in Canada stand out in other ways.
"When we look at the Chinese marketplace, vehicles like the Envision, one of our most popular vehicles there, works extremely well," he said. "That vehicle also sells great in Canada. But Canadian consumers are unique, and we want to represent and tailor to our marketplace.
"That's why vehicles like the Encore, which represent great value for our buyers and are easy to maneuver, easy to park, work so well. And then we look at vehicles like Enclave. That's accessible for a lot of Canadians in terms of price point but also has the size that a lot of Canadians need. That's great for hockey bags. That's great for your family. That's great for handling our tough winters here.
"All of our SUVs have all-wheel drive, and we find that's really well-tailored to the Canadian marketplace."
This year, Buick aims to raise its profile by partnering with influencers such as Quebec TV host and fashion icon Maripier Morin.
"She's really taken the lead in terms of that young, entrepreneurial female, really spirited and exemplifying the Buick design, the language, and what we're trying to achieve with the brand," MacPhee said.
JAGUAR LAND ROVER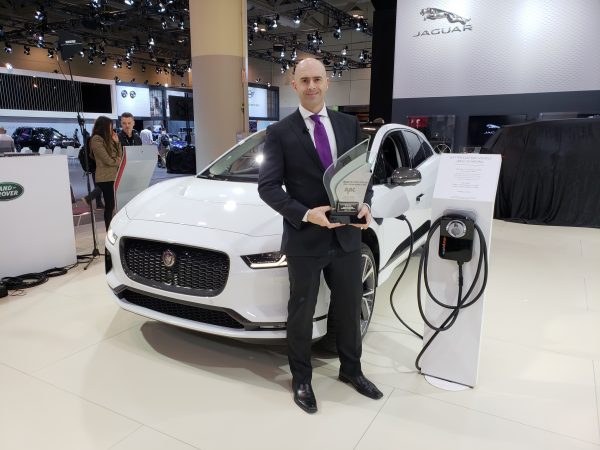 The Jaguar Land Rover brand started the Canadian International AutoShow with some of the biggest news it's ever received in this country. The all-new Jaguar I-Pace, the brand's first fully electric vehicle, was selected as the 2019 Canadian Utility Vehicle of the Year by the Automobile Journalists Association of Canada. This is the first time that an EV has ever been chosen as an overall winner by Canada's largest and most respected organization of automotive journalists, who are based from coast to coast and test all entered vehicles on real Canadian roads.
"We are overjoyed," said John Lindo, director of public relations for Jaguar Land Rover Canada. "While it's an electric car, it drives like a pure performance luxury car. It's a little bit more quiet and a bit more efficient. You don't forget it's an electric car, but you could market this car as a premium performance car. It drives phenomenally, the interior is outstanding, the design is award-winning around the world. It has a 377-kilometre range and 400 horsepower. It's in a class by itself.
"We were very happy when it won its category for Best Premium EV in Canada for 2019. But we've been anticipating this day for a while and hoping that we would win the overall award. We think it's very deserved, and we're just ecstatic."
The rest of the Jaguar Land Rover stand at the Toronto auto show has a heavy bias toward high-performance cars.
"We've got our Jaguar XE Project 8 supercar," Lindo said. "We have the all-new 2020 Range Rover Evoque, which will be coming to retailer showrooms in spring. And we're going to be unveiling the all-new Jaguar F-Pace SVR, which takes one of our most popular vehicles and a past World Car of the Year and World Design Car of the Year winner and puts 550 horsepower into it and really makes it an incredible driving machine."
Lindo says that Chinese Canadians make up a key portion of Jaguar Land Rover's customer base in Canada.
"We're a global company, and we have a very important footprint in China," Lindo said, "and in Russia, the U.K., Japan, the U.S, everywhere. We think every market is important, but we recognize that the Chinese community in Canada is very important, and they love luxury cars."
 ACURA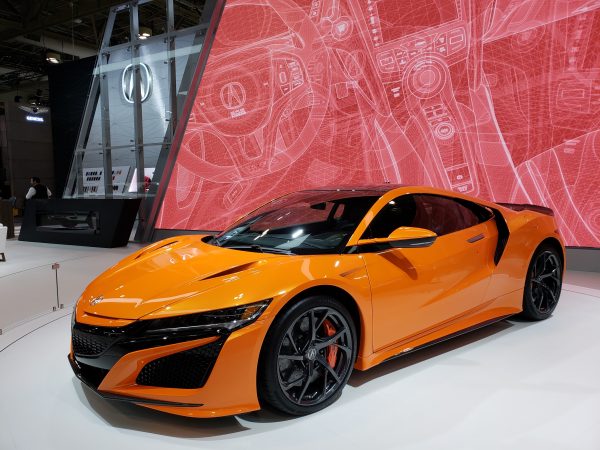 Within a completely redesigned stand at the Canadian International AutoShow that Emile Korkor, senior brand leader and manager for Acura Canada, called "very warm, luxurious, and a good aesthetic that really matches the brand," Honda's luxury arm has the full lineup of A-Spec Acura vehicles on display along with a decommissioned Acura NSX GT3 that actively competed in motorsport just last year.
"This will be the first time that's showcased in Canada," Korkor said. "It's got the new Evo GT3 bodywork. It's a full race car that did race last season and was converted with a new body."
Those with less ambitious desires can look through the entire A-Spec lineup, which is an aesthetic package that Korkor said adds a unique look to the products where it's applied.
"It'll be a good opportunity for customers to see the full suite of A-Spec models on the show floor," he said. "ILX, TLX, MDX, RDX—they'll all be there.
"It adds different bumpers, a grille treatment, headlights, it's refined in terms of the interior colour, and tail lights as well. The wheels are different, a dark shark gray wheel treatment that's sportier, rear diffusers, and a dual-tailpipe exhaust.
"All in all, it's a very aggressive, more performance-inspired exterior design."
For those who enjoy virtual reality experiences, Acura has several types available to visitors at this year's Toronto auto show.
"We have a VR racing experience where you can actually drive the NSX on the track," Korkor said. "We also have an augmented reality tool that will allow customers to build an NSX and have it displayed in front of them."
Korkor said that awareness of the Acura brand with Chinese-Canadians is growing in spite of some challenges that the brand can overcome with new arrivals.
"We're starting to get on the radar," he said. "The brand itself is not very well-known by consumers coming from abroad because it's mainly a North American brand, but it's starting to take hold within the community.
"We're seeing a good shift in Vancouver, and it's mainly based on the fact that the brand is very performance-based in terms of how we approach the luxury market. Our Precision-Crafted Performance message is very tailored towards providing that exceptional experience that's unique to the consumer from all areas of ownership: drive experience and dealership experience.
"It really hits the mark in terms of what the consumer is looking for, regardless of ethnic origin."
LINCOLN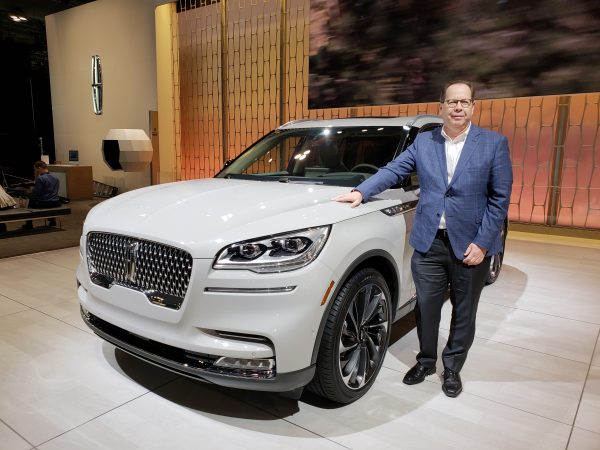 The Lincoln brand is another one that's in the middle of rejuvenating its lineup, with the Nautilus, a new name for the MKX, as well as the redesigned Navigator and the newly refreshed MKC all having been introduced to the market within the last year.
Add the 2020 Lincoln Aviator to that list, which stands front and centre at the brand's booth at the Toronto auto show. This three-row SUV shares a rear-wheel-drive platform with the latest Ford Explorer and becomes a luxury interpretation of that vehicle and its body style.
"Aviator is our newest product," said Terry Erb, director of the Lincoln Motor Company of Canada. "It embodies everything that we have in our Lincoln design.
"We have four elements that we've focused on with Lincoln design. We call them beauty, gliding, human, and sanctuary. I spend a lot of time on human and sanctuary. The human aspect is how intuitive the vehicle is and how effortless it makes your life, and sanctuary is how quiet our products are and how they allow our clients to disconnect from the world."
The Aviator name has allowed Lincoln to take the "quiet luxury" terminology they've used internally while developing recent products and adapt it slightly into the term "quiet flight."
"'Quiet flight' is an internal term that we use to help us with our design language," Erb said, "which comes back to an effortless sort of movement through the world.
"All of the bells and bongs and warnings that you get inside of a vehicle, instead of them being electronic on the Aviator, they were recorded by the Detroit Symphony Orchestra.
"The seat onto the Aviator deflates to make it easier to get in and out of the car. Our Lincoln Way app allows you to communicate with your car. Sometimes I forget where my car is downtown. It tells me where my car is, helps me to start it up in the winter time when it's freezing outside, tells me what my fuel level is, those sorts of things. That's what 'quiet flight' is trying to do for us."
Erb said that Lincoln has invested extensive research into how to reach Chinese Canadians effectively.
"We do really well and have been growing very quickly in China," he said, "and we're trying to leverage some of those learnings as we bring it to Canada.
"There are a number of things we do, from making sure that the salesforce at the dealerships is reflective of the communities, because Canada is such a cultural mosaic, to leveraging some of our marketing communication assets and learnings from China."
Stephanie Wallcraft is a professional automotive journalist based in Toronto, Ontario.