Breaux's Fried Turkey
This recipe comes from my late uncle Harris Breaux Jr. who was lauded for his outdoor cooking skills. Although indoor, small-appliance turkey fryers exist now, most people still fry turkeys the old-fashioned way, using a very large, deep pot over a propane burner. If you choose to use this recipe, please insure that your fryer is not near the house, on a porch, or under an overhang of any type. And don't overfill the pot with oil. When the turkey is submerged in oil, there should be at least five inches of space between the fill line of the oil and the top of the pot.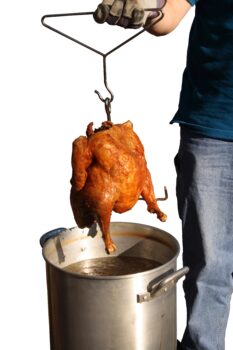 Serves 6 to 8
12- to 14-pound fresh or completely thawed turkey
1/4 cup liquid onion
1/4 cup liquid garlic
1 tablespoon cayenne pepper (or to taste)
Salt to taste 
2 tablespoons vegetable oil 
3–4 gallons of peanut oil
Wash turkey, remove giblets, and pat dry. Mix together liquid onion, liquid garlic, cayenne, salt, and vegetable oil. Draw liquid mixture into a basting syringe. Inject the turkey in several spots, getting as close to the bone as possible. Press plunger as you withdraw the syringe to distribute the seasonings. Let stand at room temperature for 30 minutes. If your fryer does not have a basket insert, truss the turkey at this time.
Pour peanut oil into a 30-quart pot over an outdoor burner. Bring oil to a temperature of 325 degrees F. Carefully lower the turkey into the oil, using a perforated fry basket or heat-proof twine and gloves. The oil temperature should drop to 285 degrees F, which is fine. As the turkey cooks, the oil will return to 325 degrees F. Cook approximately 50–60 minutes, or until internal turkey temperature reaches 165 degrees F.
Turn off the burner. Carefully remove the bird from the oil, allowing excess oil to fall back into the pot. Place turkey on a heatproof platter or pan. Using a paper towel, mop up oil from the inside cavity.  Let stand 10–15 minutes before carving. 
Recipe courtesy of the late Harris Breaux Jr.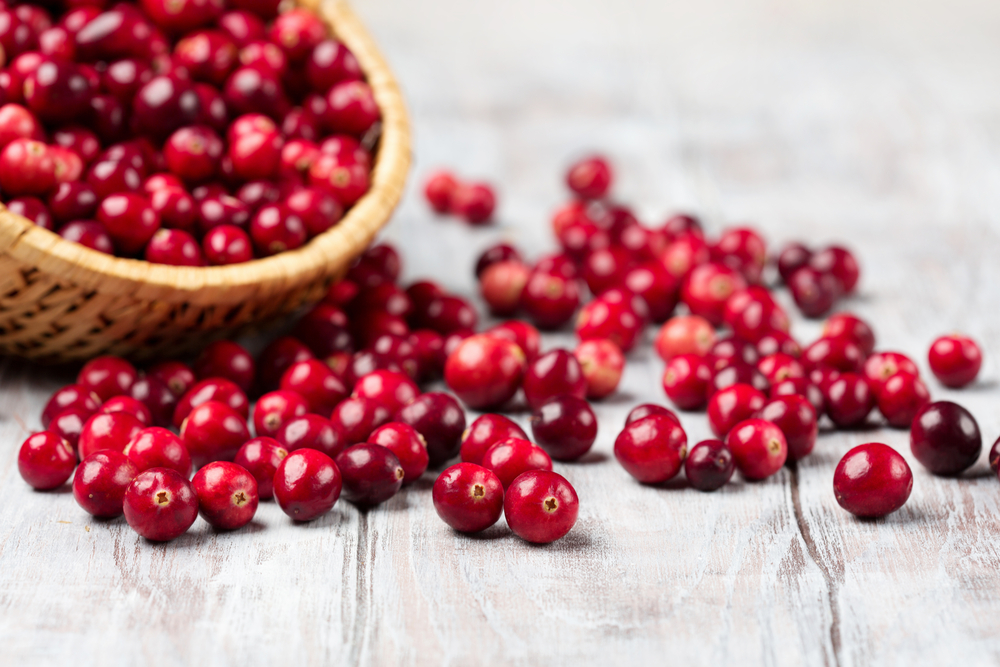 Clifford Treon's Cranberry Salad
Sue Goodling guessed at the quantities used in her father's fresh cranberry salad. So, if you prefer your salad a little sweeter, or a little heavier on certain fruits, by all means, adjust to taste. Crisp, local apples are the addition that, in her mind, make the dish extraordinary. Look for any variety of eastern apple, or your favorite locally grown apple, for your version. She also recommends using a food processor, or the food mill attachment on a stand mixer, rather than a manual grinder to make this. 
Serves 16
2 bags raw cranberries
2 oranges
2 apples, cored
2 cups crushed pineapple
1–2 cups sugar
1 cup chopped black walnuts
Rinse cranberries and remove any berries that are very soft or bruised. Place cranberries, one bag at a time, in the work bowl of a food processor. Pulse until berries are ground, but not pureed. Transfer berries to a large bowl. 
Peel the oranges, remove seeds and add orange sections to the food processor. Cut a few strips of orange zest from the peel and add that to the processor as well. Pulse to chop oranges and add to the cranberries.
Cut cored apples into chunks and place in the food processor. Pulse to grind the apples and add to the cranberries. 
Add crushed pineapple to the bowl, along with 1 cup of sugar. Stir well. Let mixture stand for 10 minutes and taste. Add more sugar as desired. 
Stir in chopped nuts, cover, and place bowl in the refrigerator until ready to serve. 
Recipe courtesy of Sue Goodling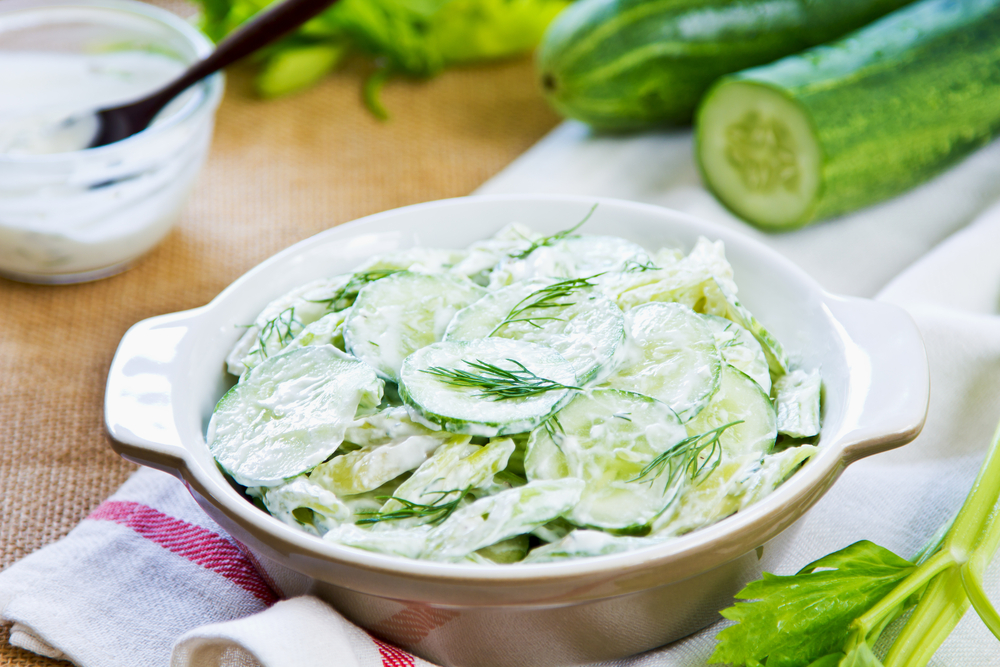 Catherine's Cucumbers in Sour Cream
Some cooks like to include a little thinly sliced onion in their cucumber salad, while others salt the cucumbers and let them stand for awhile in order to draw out some of the liquid. Either way, this dish from Catherine Fisher is great for adding a little crunch, and a little sweet-tart flavor to balance the many rich dishes served at Thanksgiving. It's also simple to make!
Makes 6 servings
2 large cucumbers, peeled and thinly sliced
1/2 cup sour cream
1 teaspoon sugar, or more to taste
1 teaspoon salt
1/2 teaspoon dried dill weed
1/8 teaspoon pepper
2 teaspoons white vinegar 
Press excess moisture from cucumbers and place in a non-reactive bowl. Whisk together sour cream, sugar, salt, dill, pepper, and vinegar. Taste sour cream mixture and adjust sugar and vinegar to taste. Combine with cucumbers, cover, and chill for at least an hour before serving. 
Recipe courtesy of Catherine Fisher
Ellie's Noodle Stuffing
The late Elinor Bleyer made this stuffing every year for her elaborate Thanksgiving feast. She occasionally put chopped giblets in the mix, although her children soundly objected to that practice. If you want the noodles to have more color, use beef broth instead of chicken broth. This stuffing does not hold together like a bread stuffing would. It's more like eating well-seasoned noodles.
Makes 8 to 10 servings
2 12-ounce bags fine egg noodles
1/2 cup butter or chicken fat
1 large onion, finely chopped
3 ribs celery, thinly sliced
1 pound white mushrooms, sliced
1/3 cup minced giblets (optional)
1 cup chicken broth or beef broth
2 eggs
Salt and pepper to taste
In a large pot, cook the noodles in boiling water until just al dente. Pour noodles in a colander to drain and briefly rinse with cold water. Set aside.
In the now-empty pot, heat butter or chicken fat over medium heat until melted. Add onion, celery, and mushrooms to the pot and sauté until vegetables soften. Add giblets, if desired, and cook 2 minutes longer.
Deglaze the pot with 1/2 cup of the chicken broth. Return drained noodles to the pot and toss to combine ingredients. Whisk together remaining 1/2 cup broth with eggs. Pour over noodles all at once and toss immediately to coat. 
Add salt and pepper to taste. At this point, you can spoon the mixture into a casserole dish and bake at 375 degrees F for 35 minutes covered, then 15 minutes uncovered. Or, you can spoon into the turkey cavity and cook with the turkey. 
Recipe courtesy of Richard Salkin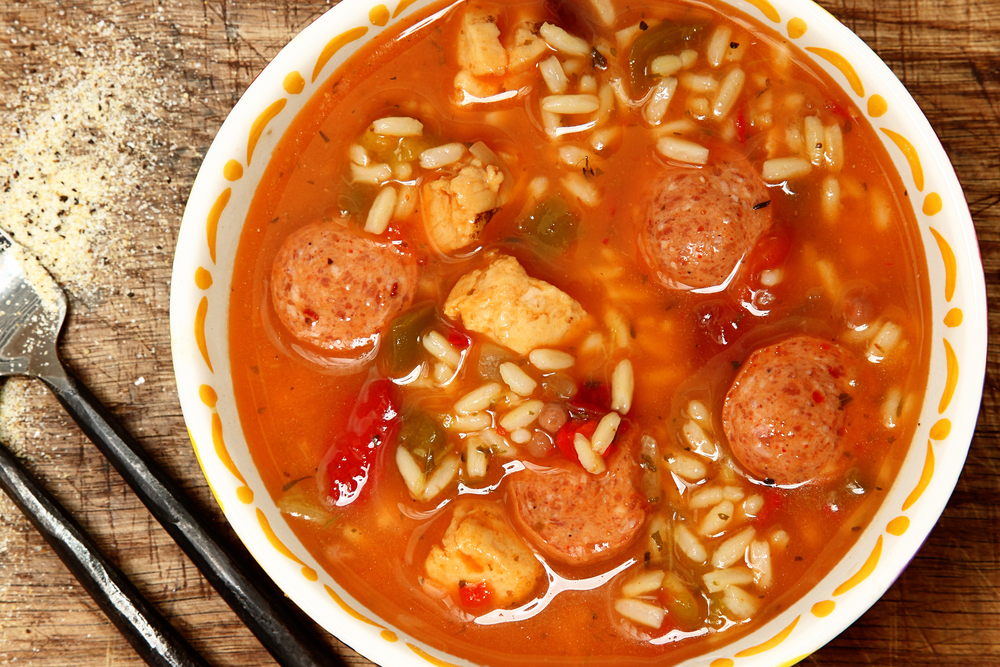 Cherie's Simple Louisiana Chicken and Sausage Gumbo
This very easy gumbo recipe from author Cherie Claire makes good use of the many shortcut products now available to make Cajun and Creole dishes. The Guidry's Creole Seasoning mix she references is found in the refrigerated produce aisle and contains the "Cajun Trinity" of onions, bell peppers, and celery. Similar products are available under the brand Incredibles, as well as various store brands. The Cajun Power is a roux-in-a-jar product. If your grocery doesn't stock this brand, look for Savoie's, Richard's, or Tony Chachere. Or you can order Cajun Power online.
Makes 8 servings
1/3 cup vegetable oil
1 pound boneless chicken, cut into small pieces
1 16-ounce package andouille sausage, sliced 
1 cup Guidry's Creole Seasoning mix
1 32-ounce jar Cajun Power Chicken Gumbo
Hot sauce, as needed
2 cups cooked Louisiana rice
Green onions, chopped, for garnish
In an oversized soup pot, heat oil over medium-high heat. Sauté the chicken pieces and sliced sausage in vegetable oil until browned. Add 1 cup (or more to your liking) of the Guidry's Creole Seasoning mix and cook for an additional 3–5 minutes, until onions are translucent and celery and bell peppers are soft. 
Drain off the oil. Add the jar of Cajun Power Chicken Gumbo. Fill the empty jar with water and add to the pot, twice. Stir well over medium-high heat until all is blended and there are no lumps of roux (the Cajun Power) in the pot. Add hot sauce if needed. When gumbo starts to bubble, reduce heat to simmer and let cook for about 45 minutes. Serve gumbo over rice and garnish with chopped green onions. This recipe can be doubled easily.
Recipe courtesy of Cherie Claire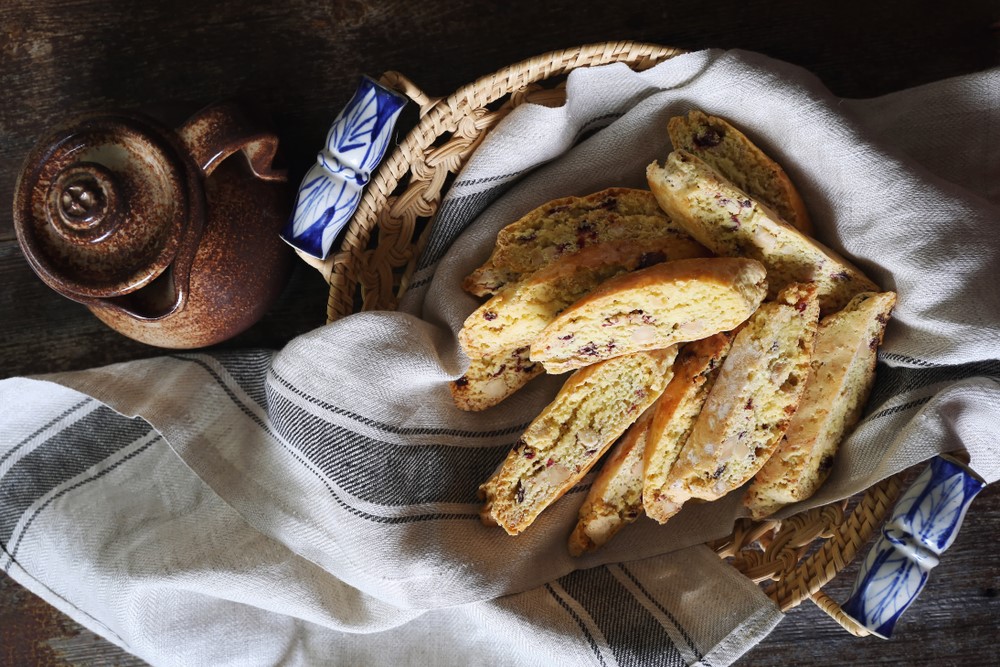 Bea's Mandel Bread
These not-too-sweet cookies are the perfect accompaniment to a cup of coffee or tea after a big dinner, or as a before-bed snack. Author Cherie Claire's late mother-in-law Beatrice Furst Pearlmutter always made batches of these for the Thanksgiving holiday, and now Cherie makes them in homage. Mandel bread, mandelbrot, or mundel bread come from the cuisine of European Jews and have a lot in common with Italian biscotti. Indeed, the cookies can be baked a second time to make crispy, twice-baked cookies. In Yiddish, mandelbrot means almond bread, although the repertoire of add-ins varies from cook to cook.
Makes about 36 cookies
3/4 cup oil
1 cup sugar
3 eggs
1 teaspoon orange extract
2 1/2 cups flour
1 heaping teaspoon baking powder
1/2 to 3/4 cups of nuts
Preheat oven to 375 degrees F.
In a large bowl, whisk together oil and sugar. Add eggs and mix thoroughly. Add remaining ingredients and whisk until no dry lumps remain. Flour hands and shape the dough into three loaves, about 12 inches long. Place loaves on a cookie sheet. Sprinkle a little extra flour on top. 
Bake for 30 minutes, until dough is nicely browned. Remove from oven and let stand a few minutes. With a sharp knife, cut the loaves crosswise into 1-inch-wide cookies. Cool and store in airtight containers.
Note: For very crunchy mandel bread, remove loaves from the oven after 25 minutes. Slice the loaves and place the cookies cut side up on baking sheets. Return to the oven for 10 minutes.
Recipe courtesy of Cherie Claire