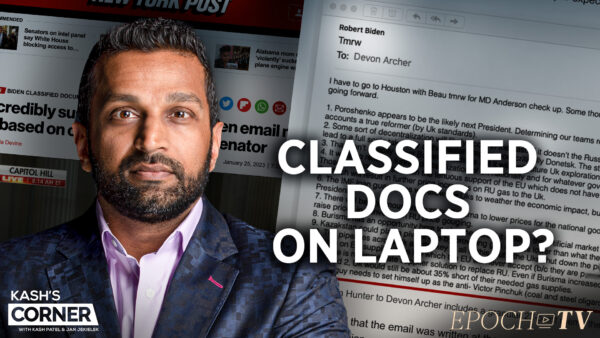 "The information—and the bulleted information specifically in that email—is information, in my opinion, that could only have come from a classified source and a classified document …Where did this email come from? Hunter Biden's laptop. This document has been known to the FBI for years," said Kash Patel. Was there classified information on Hunter Biden's laptop? Was this the true origin of the investigation into Joe Biden's classified documents? Kash's Corner looks at recent reporting by New York Post journalist Miranda Devine. And discusses the recent indictment of ex-FBI official Charles McGonigal, a key player in the Russiagate scandal. He was indicted for aiding sanctioned Russian oligarch Oleg Deripaska. Notably, Deripaska had previously hired Christopher Steele, the author of the infamous, discredited "Steele dossier." Tonight, Patel connects the dots and breaks down what he sees going on. FULL TRANSCRIPT Kash Patel: Welcome back to Kash's Corner. There's so much to cover this week. I'm just going to let Jan take it. Jan Jekielek: There's a curious figure that we're familiar with from the time of the Russiagate investigation, a certain Russian oligarch named Oleg Deripaska, who's suddenly back in the news. He has been having a financial relationship with a quite important FBI official. The other thing that is on my mind is more of these classified documents coming to the fore and Miranda Devine finding a very curious email that she remembered from her deep work on the Hunter Biden laptop that looked unlike any other. We should talk about that. For starters, let's remind everybody. Who is Oleg Deripaska? Mr. Patel: Yes, that's a good place to start. Oleg Deripaska. A Russian aluminum magnate, which means he is a multi, multi, multi-billionaire in American dollars. As it last stood when I checked, he was the third or fourth richest person in Russia. He's a very close confidant and ally to Vladimir Putin. We know how that circle works. You're a close ally of Putin. You're worth billions of dollars. You are basically doing Putin's bidding at a certain point around the world stage. During the Russiagate investigation, we came across Oleg Deripaska's name for a number of reasons, but the main one was that Oleg Deripaska was in communication with Christopher Steele. Not only was he in communication with Christopher Steele, in our reports and findings, we showed how he did, in fact, pay Christopher Steele for all of the Russia work that Christopher Steele was doing. Why was Oleg Deripaska, a Russian aluminum magnate, who was not, by the way, in the continental United States of America, paying this random former MI6 British intelligence guy? When we talk about pay, when a billionaire pays, it's quite a large sum of money. What was their interest? Who told him to do that? A lot of these questions we tried to answer. Unfortunately, because we could not get Oleg Deripaska to sit down for a deposition or even a phone call with our committee at the time, we couldn't ...
About the show
Kash Patel and Epoch Times senior editor Jan Jekielek break down the biggest issues of our day, from the origins of COVID-19 to the politicization of the intelligence community. Kash Patel is known for leading former House Intelligence Committee Chairman Devin Nunes's watershed investigation into surveillance abuses against a presidential campaign. He's also held key roles across a large swath of America's national security apparatus. He led counterterrorism at the National Security Council—where he oversaw the elimination of ISIS and Al-Qaeda leadership like al-Baghdadi and Qasem al-Rimi. And he served as the Pentagon's chief of staff to Acting Defense Secretary Christopher Miller. Now, Kash Patel brings his singular insights to bear on terrorism threats, courtroom stratagems, and corruption in the highest seats of power.
About Kash Patel And Jan Jekielek
Kash Patel is most well-known for his work on the House Intelligence Committee, leading Congressman Devin Nunes's investigation into allegations of Trump–Russia collusion. A former Justice Department terrorism prosecutor, he was personally recruited by Nunes, and he would play a critical role uncovering the FBI's abuses and beyond, a major scandal later dubbed "Spygate." But beyond that, Kash Patel has held key roles across a large swath of America's national security apparatus. He led counterterrorism at the National Security Council—where he oversaw the elimination of ISIS and Al-Qaeda leadership like al-Baghdadi and Qasem al-Rimi. He also served as the right-hand man to the Acting Director of National Intelligence Ric Grenell, chief of staff to Acting Secretary of Defense Christopher Miller, and was at one point the presidential aide responsible for the nuclear football. Jan Jekielek is a senior editor with The Epoch Times and host of the show "American Thought Leaders." Jan's career has spanned academia, media, and international human rights work. In 2009, he joined The Epoch Times full time and has served in a variety of roles, including as website chief editor. He is the producer of the award-winning Holocaust documentary film "Finding Manny."