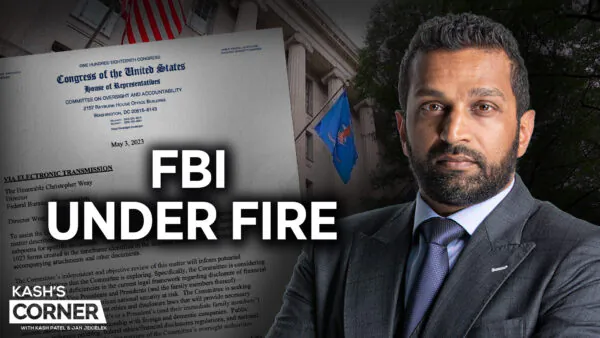 The FBI has repeatedly declined a request from House Oversight Chair James Comer (R-Ky.) to hand over an internal document detailing an alleged "criminal scheme" involving President Joe Biden's family. Rep. Comer says he's going to move forward on holding FBI Director Christopher Wray in contempt of Congress. What Congress should do, says Kash Patel, is to fence the money of the FBI. "There's a fencing process on Capitol Hill. Without getting into all the details … you can just imagine an imaginary fence goes around a big pile of money, and Congress has the lock and key. And if the FBI wants their big pile of money in this fence, they have to comply with a request from Congress, i.e. give us the document unredacted." We also discuss former FBI Director James Comey's response to the Durham report and recent news that the DOJ has charged two alleged Chinese agents for a bribery scheme targeting Falun Gong practitioners in the United States. The suspected Chinese agents bribed what they thought was an IRS official—actually an FBI undercover agent—with thousands of dollars, and promised $50,000 more, in an attempt to strip the tax-exempt status of an entity run by Falun Gong practitioners, according to court filings. FULL TRANSCRIPT Kash Patel: Hey everybody, and welcome back to Kash's Corner. Before we get started, Jan, I know we have a special announcement for our audience. Next Friday night, June 9th, we are going to be airing a live, unedited episode of Kash's Corner. That's June 9th, 4:30 PM Eastern Standard Time. We'll also be doing a live chat and have a live audience with us on that occasion. That's next Friday at 4:30 PM EST. If you can't catch us on the live show, we will be replaying it at our normal broadcasted time of 8:00 PM EST. Jan Jekielek: Kash, we have a lot to talk about today. As usual, a lot of it has to do with the FBI and the DOJ. We're going to talk about the FBI refusing to respond to Rep. Comer's subpoena, that's number one. Secondly, we have former FBI director Comey responding to the Durham Report with something possibly outrageous. We'll get you to comment on this. The third thing is I want to highlight some important and powerful work that the FBI and DOJ has done recently. Mr. Patel: It should be a good episode. Jan, where would you like to kick it off? Mr. Jekielek: The big story is that the FBI has refused to comply with this subpoena from Congress, which I didn't realize was an option for them. Mr. Patel: I don't think you're the only person, Jan, that didn't realize that was an actual option. Let's bring our audience up to speed. I know there have been a lot of different whistleblowers that we've been covering in a lot of different areas. Let's narrow it down as to what this subpoena specifically asked for and what it's directed at. Chairman ...
About the show
Kash Patel and Epoch Times senior editor Jan Jekielek break down the biggest issues of our day, from the origins of COVID-19 to the politicization of the intelligence community. Kash Patel is known for leading former House Intelligence Committee Chairman Devin Nunes's watershed investigation into surveillance abuses against a presidential campaign. He's also held key roles across a large swath of America's national security apparatus. He led counterterrorism at the National Security Council—where he oversaw the elimination of ISIS and Al-Qaeda leadership like al-Baghdadi and Qasem al-Rimi. And he served as the Pentagon's chief of staff to Acting Defense Secretary Christopher Miller. Now, Kash Patel brings his singular insights to bear on terrorism threats, courtroom stratagems, and corruption in the highest seats of power.
About Kash Patel And Jan Jekielek
Kash Patel is most well-known for his work on the House Intelligence Committee, leading Congressman Devin Nunes's investigation into allegations of Trump–Russia collusion. A former Justice Department terrorism prosecutor, he was personally recruited by Nunes, and he would play a critical role uncovering the FBI's abuses and beyond, a major scandal later dubbed "Spygate." But beyond that, Kash Patel has held key roles across a large swath of America's national security apparatus. He led counterterrorism at the National Security Council—where he oversaw the elimination of ISIS and Al-Qaeda leadership like al-Baghdadi and Qasem al-Rimi. He also served as the right-hand man to the Acting Director of National Intelligence Ric Grenell, chief of staff to Acting Secretary of Defense Christopher Miller, and was at one point the presidential aide responsible for the nuclear football. Jan Jekielek is a senior editor with The Epoch Times and host of the show "American Thought Leaders." Jan's career has spanned academia, media, and international human rights work. In 2009, he joined The Epoch Times full time and has served in a variety of roles, including as website chief editor. He is the producer of the award-winning Holocaust documentary film "Finding Manny."