Warning: This article includes content some readers may find disturbing
Looking aged and beyond her years, Mae Mai, a 30-year-old elephant, still bears the scars of her crippling former life as a logging elephant. Rescued by a nonprofit in Thailand, she is both emblematic of an ongoing crisis and a beacon of hope for others as she recovers in safe surrounds.
"Before [COVID-19] she was full-bodied and healthier," the nonprofit Gentle Giants Stay Home Project explained. "But when [COVID-19] hit, she was sent to the logging industry.
"She's now broken. Literally broken," they continued. "Her leg shattered, her soul crushed. Mae Mai has just been standing there waiting for death to come."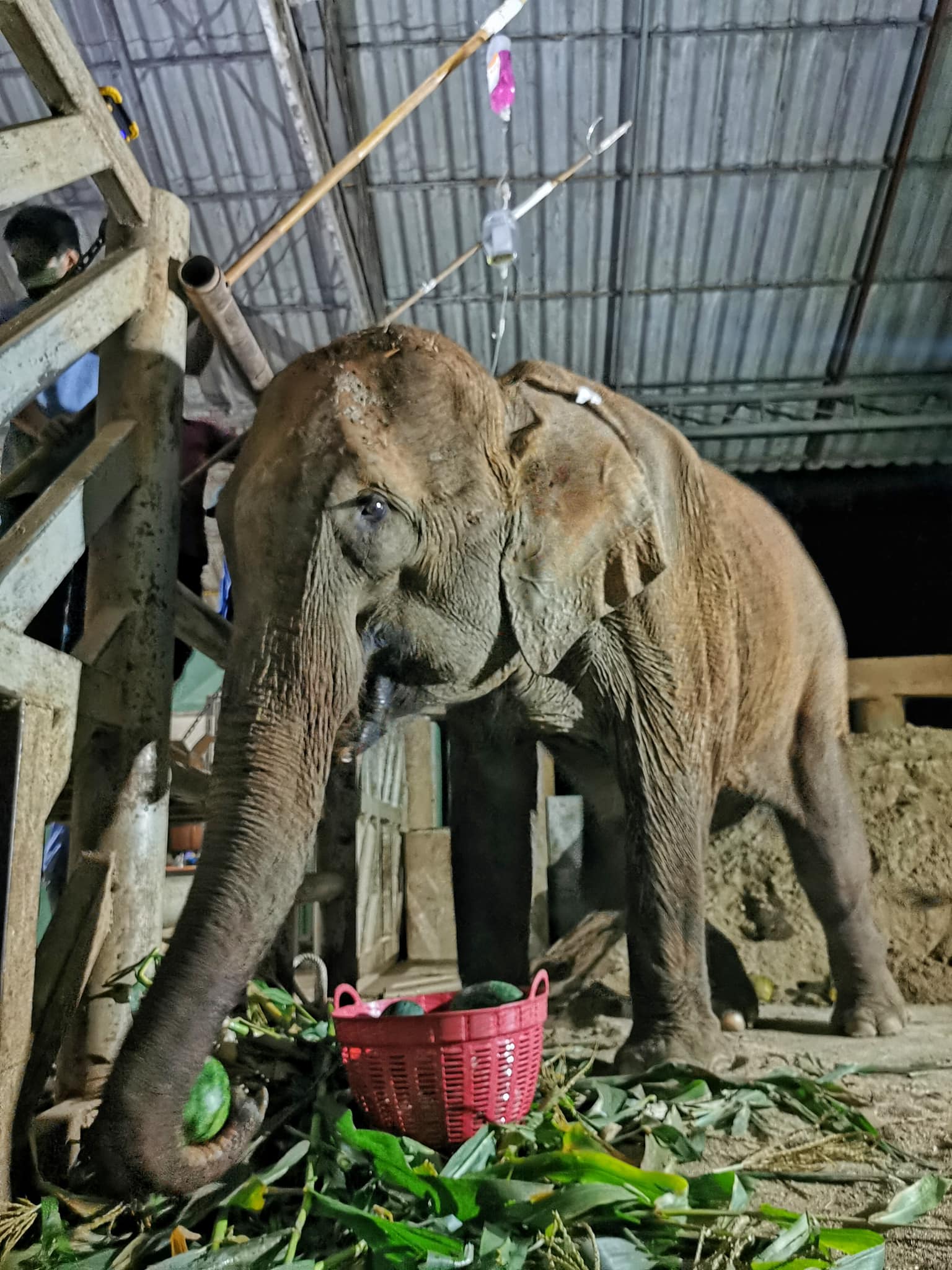 A team from Save Elephant Foundation (SEF), a nonprofit dedicated to the welfare of Asian elephants, intervened before time ran out. They arranged to seize custody of the ailing elephant and offer her safe refuge to recover at their Elephant Nature Park in Chiang Mai.
On Jan. 8, 2021, Mae Mai arrived at the Save Elephant Foundation Elephant clinic. "Doctor Tom Channarong Srisa-ard, our vet, and his team took care of her immediately," SEF founder Saengduean Lek Chailert posted on Facebook.
(Courtesy of Lek Chailert/Save Elephant Foundation)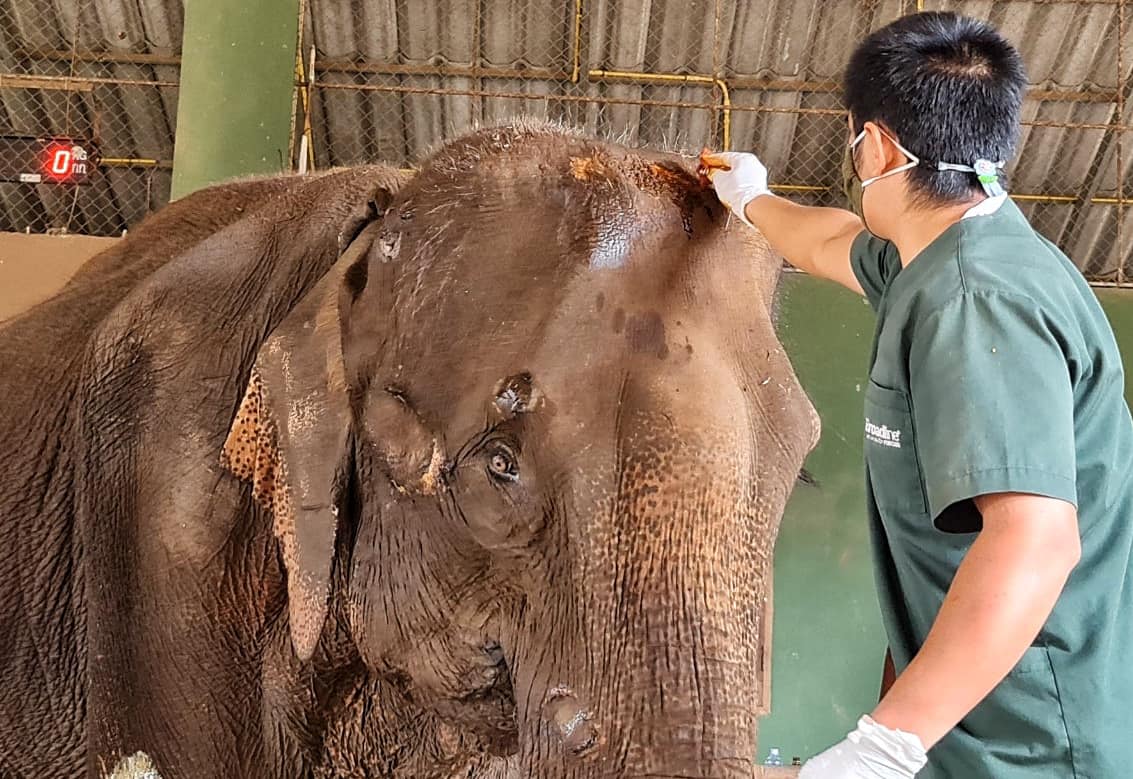 "She looked more relaxed and enjoyed the food that everyone had prepared to welcome her," said Lek. Accompanying photos show the elephant tucking into a bucket full of watermelons.
Mae Mai slept peacefully on a sand bed during her first night at the park. The following day, Lek posted an update: After an X-ray of Mae Mai's leg, Dr. Tom identified a dislocated femur, a torn joint, a tibia fracture, and soft-tissue swelling.
Treatment, said the doctor, would comprise walking restriction, pool therapy, pain and wound management, and nutritional supplements.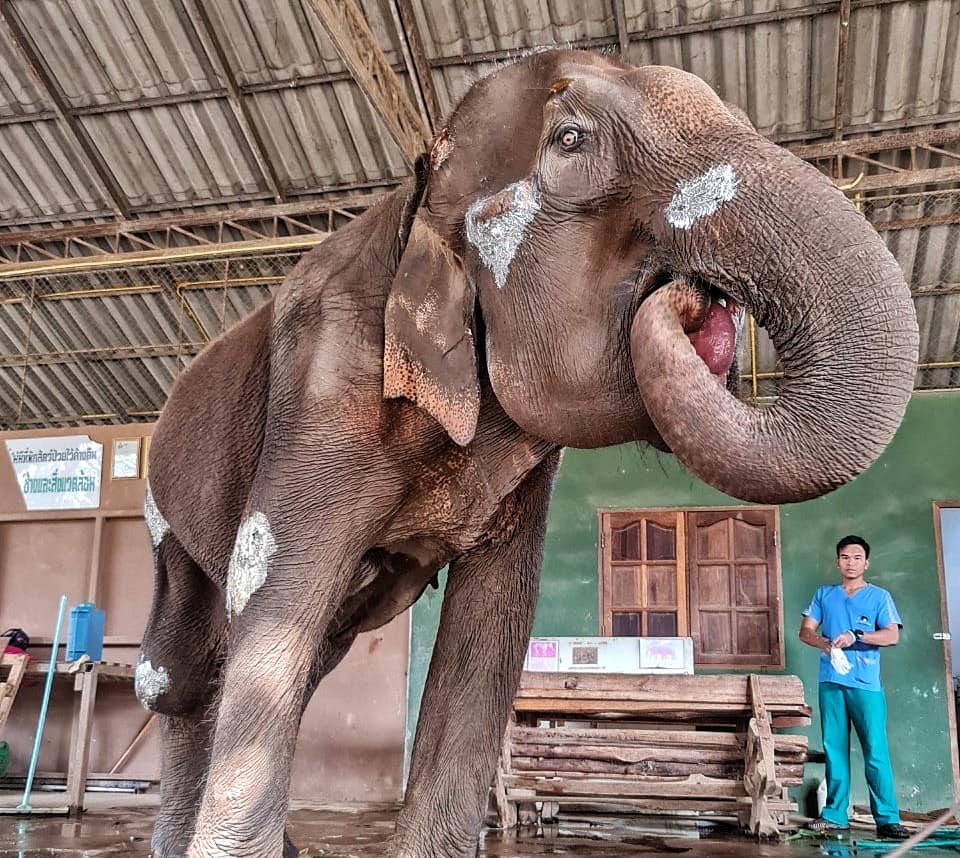 To welcome Mae Mai into her new home, Gentle Giants sent the elephant a special cake. "[S]he ate so deliberately," said Lek, "picking gently the fruit one by one, trying not to waste anything."
On Jan. 10, the gentle, cooperative elephant had her first dip in the park's hydrotherapy pool.
"She understands her own need for recovery, and desires that," Lek wrote on Facebook. "Often our elephants will take time before they trust to go down into the pool. But she entered right away … she loved it … she deeply relaxed and even slept for a while in the water."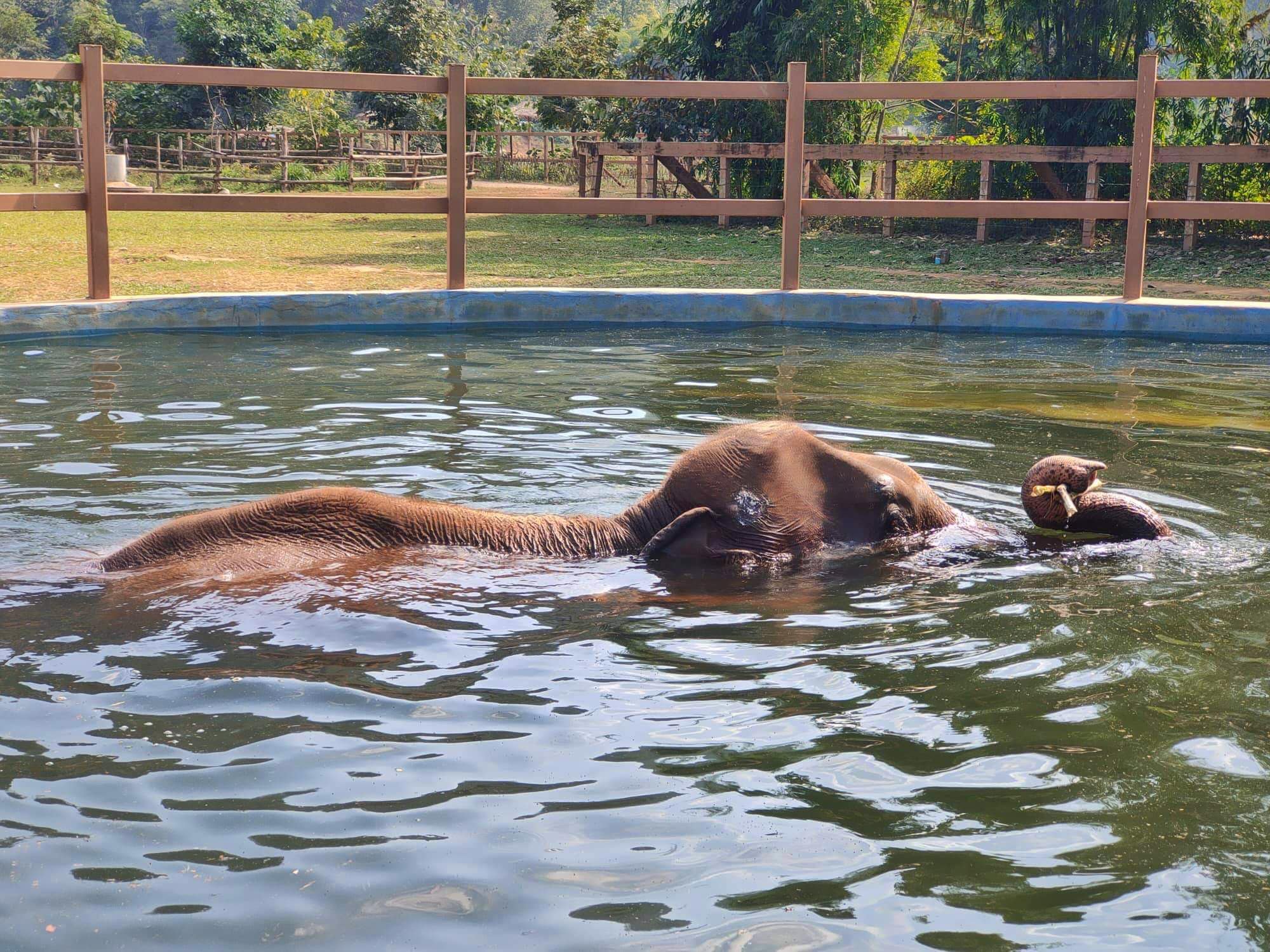 Mae Mai will be encouraged to use the pool every day. "If she fights to live," Lek assured followers, "we will do everything possible to help her."
As news of Mae Mai's rescue and recovery journey garnered attention on social media, thousands reached out with well-wishes, donations, and even handmade gifts. On Jan. 12, Lek shared photos of Mae Mai in a colorful "elephant sweater," fashioned by supporters to keep the elephant warm during a spell of cold weather.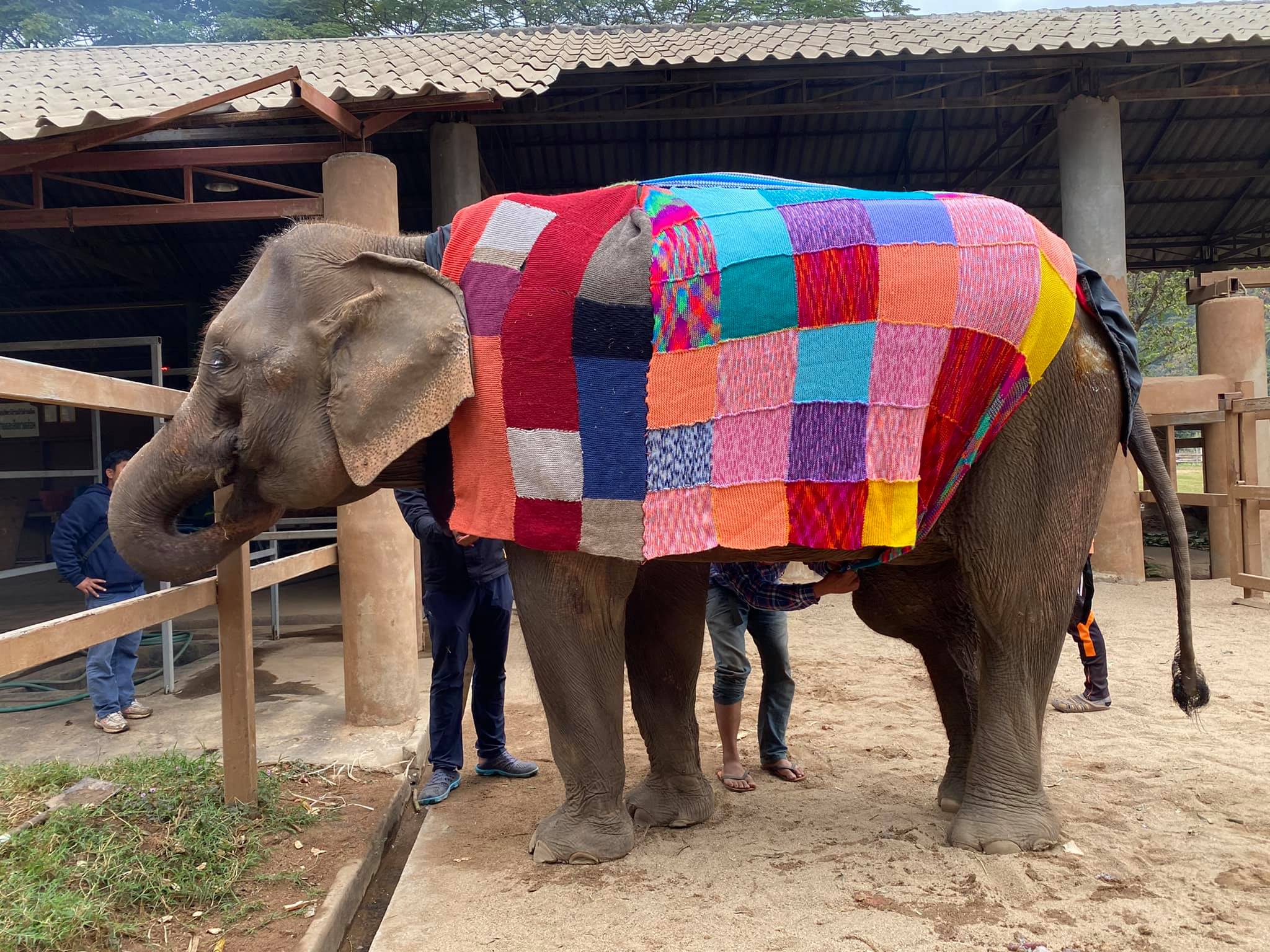 On Jan. 27, as Mae Mai walked to the ENP, she suffered from excruciating pain. Photos posted by Gentle Giants show the wounds on her head that were caused by a bullhook.
To aid Mae Mai's long road to recovery, as well as support the rescue of two additional Asian elephants, Fha Rong and Mai Tai, Gentle Giants launched a public fundraiser.
The overworked Fha Rong, 65, and emaciated Mai Tai, only in her forties, will also be given a second chance at life.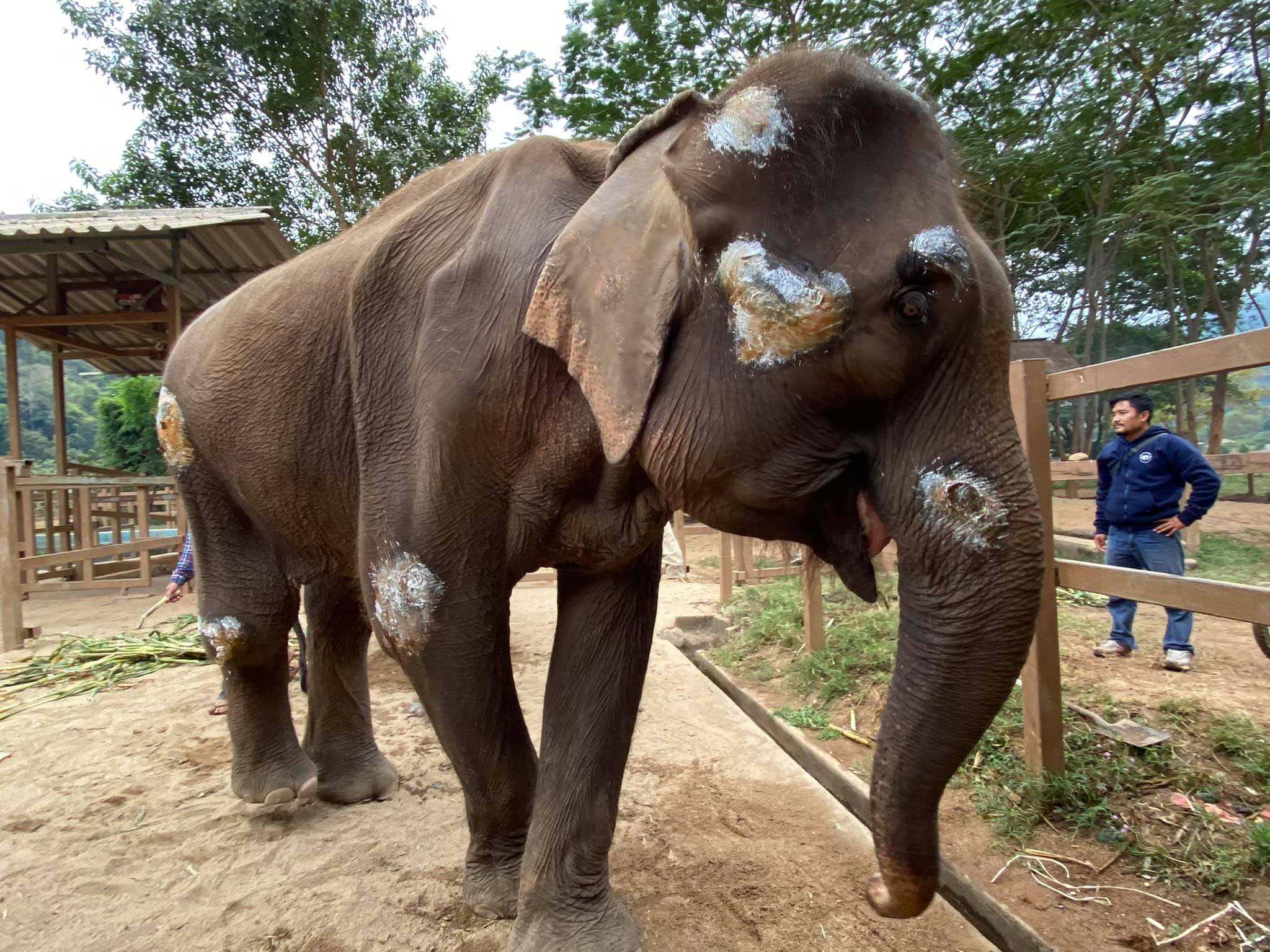 The project thanked their "GG family" for surpassing their target of $75,000, adding, "Your loving, caring, compassionate hearts have helped secure a better future for these precious gentle ones."
Funds raised beyond what was needed for the elephants' initial rescue, said Gentle Giants, would go toward "everything the girls need," including shelter, food, and ongoing medical care.
"As we know their care doesn't stop when they are rescued," they said, "but truly begins!"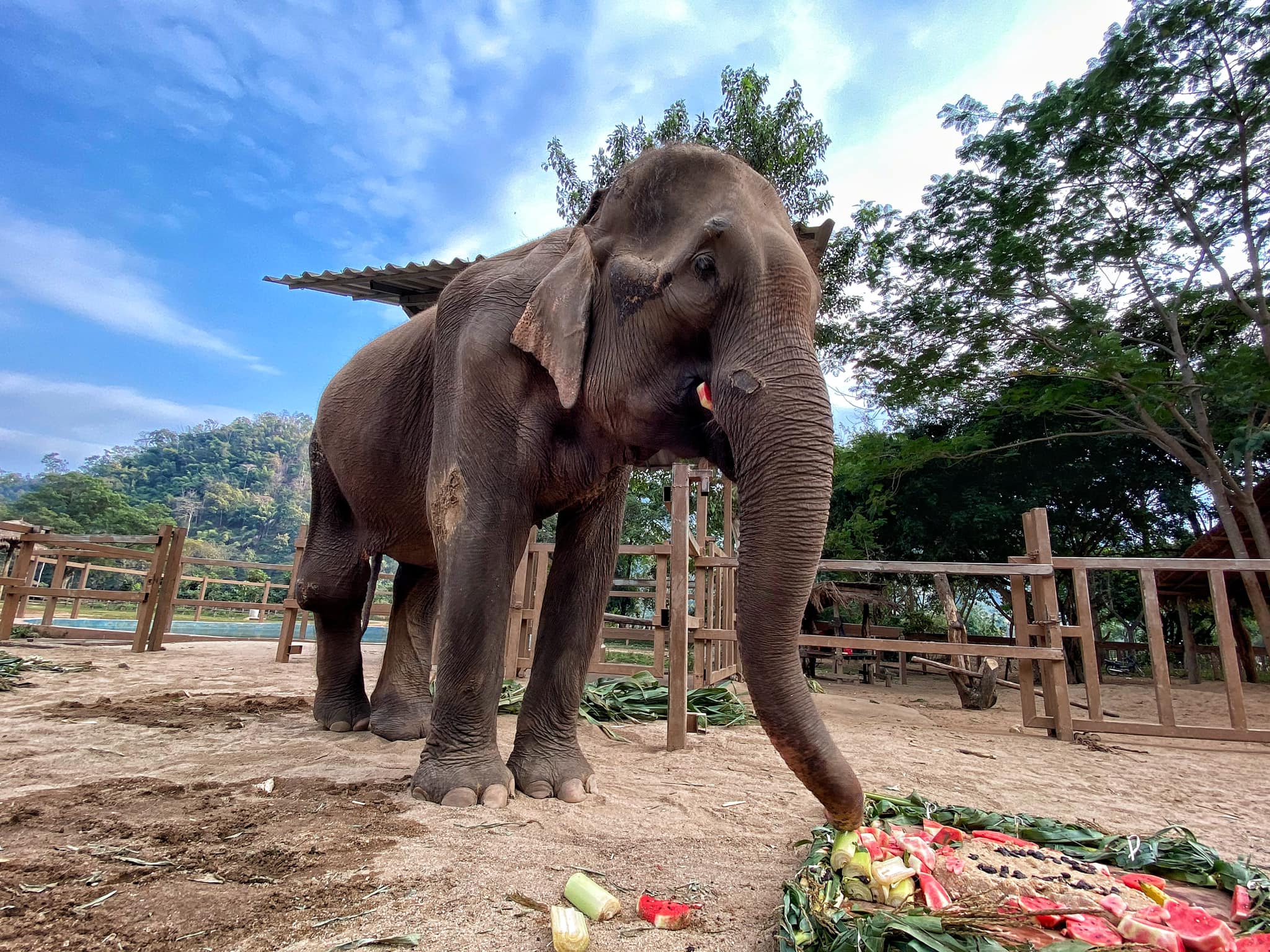 Share your stories with us at emg.inspired@epochtimes.com, and continue to get your daily dose of inspiration by signing up for the Epoch Inspired Newsletter here: https://www.theepochtimes.com/newsletter