It's Groundhog Day, and weatherman and extreme narcissist Phil Connors (Bill Murray) is sent to Punxsutawney, Pennsylvania to cover the annual appearance of Punxsutawney Phil, the groundhog who annually predicts when spring will arrive. Despite the large and happy crowd, Phil has nothing but contempt for the town, its people, and its festival. To him, these are unworthy of his great talents.
Accompanying him are cameraman Larry (Chris Elliott) and producer Rita Hansen (Andie MacDowell). Phil belittles Larry for his manners and style, demands Rita treat him as a star, and insults others he meets at the bed-and-breakfast booked for him.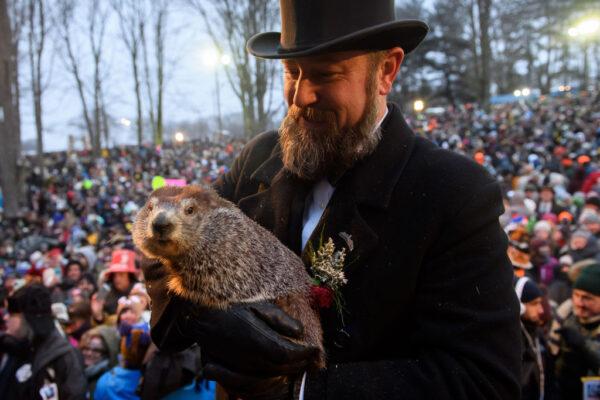 A snowstorm forces this trio to remain in Punxsutawney, and here is where the fun begins. When Phil awakens the next day, he slowly realizes he is trapped in time, apparently doomed to relive February 2nd over and over again. At first, he behaves like a child in this time warp, smoking cigarettes, eating pastries by the table load, stealing money, seducing a woman, and being "killed" several times.
After a long time, Phil realizes that living the same day over and over again could allow him to improve himself. He learns to play the piano, speak French, and carve ice sculptures. He helps out various townspeople, changing the same tire for three older women every day, rescuing a boy falling from a tree, and performing the Heimlich maneuver on a man choking to death in a restaurant.
Most important of all, Phil Connors learns about love.
Narcissism
For the last 50 years, I've heard terms like "self-actualization," "doing your own thing," "you have your truth and I have mine," "self-esteem," "looking out for number one," and other catchphrases that tout the importance of the individual.

But is all this focus on the self healthy? Google "Is narcissism increasing?" and you'll find site after site asserting that the negative impact of this stress on the self. Clinical diagnoses of narcissism and our emphasis on individuality, particularly in Western societies, are causing problems.

Phil Connors is the sterling example of a narcissist.
Transformation
After his juvenile shenanigans, Phil confides in Rita, explaining that he is stuck in time. He convinces her first by sharing the backgrounds of the people in the café where they are seated, which he has learned from his many repeated days here, but his final proof comes when he reveals what he has discovered about Rita.
Rita: What about me, Phil? Do you know me too? Phil: I know all about you. You like producing, but you hope for more than Channel 9 Pittsburgh. Rita: Well, everyone knows that. Phil: You like boats, but not the ocean. You go to a lake in the summer with your family up in the mountains. There's a long wooden dock, and a boathouse with boards missing from the roof, and a place you used to crawl underneath to be alone. You're a sucker for French poetry and rhinestones. You're very generous. You're kind to strangers and children. And when you stand in the snow, you look like an angel.
Amazed by his insights, Rita promises to spend the rest of the day with Phil to see if her presence might break the spell. At one point, in a moment that's easy to miss, she says to Phil, "Well, sometimes I wish I had a thousand lifetimes. I don't know, Phil. Maybe it's not a curse. It just depends on how you look at it." When Phil awakens the next morning, he's alone and still in his time trap, but he rises from bed a different man. He brings coffee and pastries to Rita and Larry, treats Larry as a human being, begins lessons in piano and ice sculptures, and behaves with kindness to the people of the town. Like Ebenezer Scrooge in "A Christmas Carol," Phil becomes a good man.
Love Works Wonders
Phil's transformation is linked to his feelings for Rita. As she chastely falls asleep that night beside him, he whispers of his love for her, saying, "I don't deserve someone like you. But if I ever could, I swear I would love you for the rest of my life." The next day, he ceases trying to manipulate her or to seduce her, and instead sets out to win her heart.

In our age of self-esteem, we live in a time when we want other people—and even God—to love us just as we are. Unless we're saints, this is a foolish proposition. One glance at myself, for instance, and I see a man even of my advanced years who could still benefit from lessons in self-improvement, who by his flaws has hurt others.

That evening at the Groundhog Day party, Phil and Rita are together when several townspeople approach them to thank Phil for his good deeds. Rita, who remembers nothing of Phil's repeats of February 2nd, is stunned by these compliments. Later, when the event turns to a bachelor's auction, she "buys" Phil, who then takes her to a park and sculpts her face in ice, a beautiful likeness that almost brings her to tears. They return to his room where they again fall asleep, and in the morning it is Phil's turn to be amazed, because February 2 has finally become February 3, and Rita is beside him. They will clearly spend the rest of their lives together and decide to make their home in Punxsutawney.
A Change of Heart
Phil's ability to change for the better and Rita's love for him have ended his mysterious ordeal. He has learned to put others ahead of himself, to develop his talents, and to exchange cynicism for kindness.

Most of all, Phil has learned how to love Rita. Earlier in the film, he asks her what sort of qualities she admires in a man:

Phil: What are you looking for? Who's your perfect guy? Rita: Well, first of all, he's too humble to know he's perfect. Phil: That's me. Rita: He's intelligent, supportive, funny. Phil: Intelligent, supportive, funny. Me, me, me. Rita: He's romantic and courageous. Phil: Me also. Rita: He's got a good body, but he doesn't have to look in the mirror every two minutes. Phil: I have a great body, and sometimes I go months without looking. Rita: He's kind, sensitive, and gentle. He's not afraid to cry in front of me. Phil: This is a man we're talking about, right?

By the end of "Groundhog Day," Phil Connors has become the man of Rita's dreams.

Jeff Minick has four children and a growing platoon of grandchildren. For 20 years, he taught history, literature, and Latin to seminars of homeschooling students in Asheville, N.C. He is the author of two novels—"Amanda Bell" and "Dust on Their Wings," and two works of nonfiction, "Learning as I Go" and "Movies Make the Man." Today, he lives and writes in Front Royal, Va. See JeffMinick.com to follow his blog.