For a Ukrainian couple who've been together for 20 years and raised an 18-year-old daughter, an official marriage was never of any significance.
However, when the war knocked on their door, Lesia Ivashchenko and Valerii Filimonov reconsidered their attitude toward marriage and decided to tie the knot.
Donning military uniforms instead of a wedding dress and tuxedo, Lesia and Valerii, both members of Ukraine's territorial defense unit, exchanged their rings in front of fellow fighters and military chaplain in a ceremony that took place at a checkpoint in Kyiv on March 6.
"We decided to get married because we live in challenging times and you never know what's going to happen to you tomorrow," groom Valerii said. "That's why it is better do it sooner than later."
Bride Lesia echoed similar sentiments.
"We must live in a moment," Lesia said. "Many people talk about it, but just a few people live according to this rule. To remain sane, we need to live in a moment, keeping a hope for better. Still, we must take as much as we can from life."
Valerii added: "You reconsider some things under such circumstances."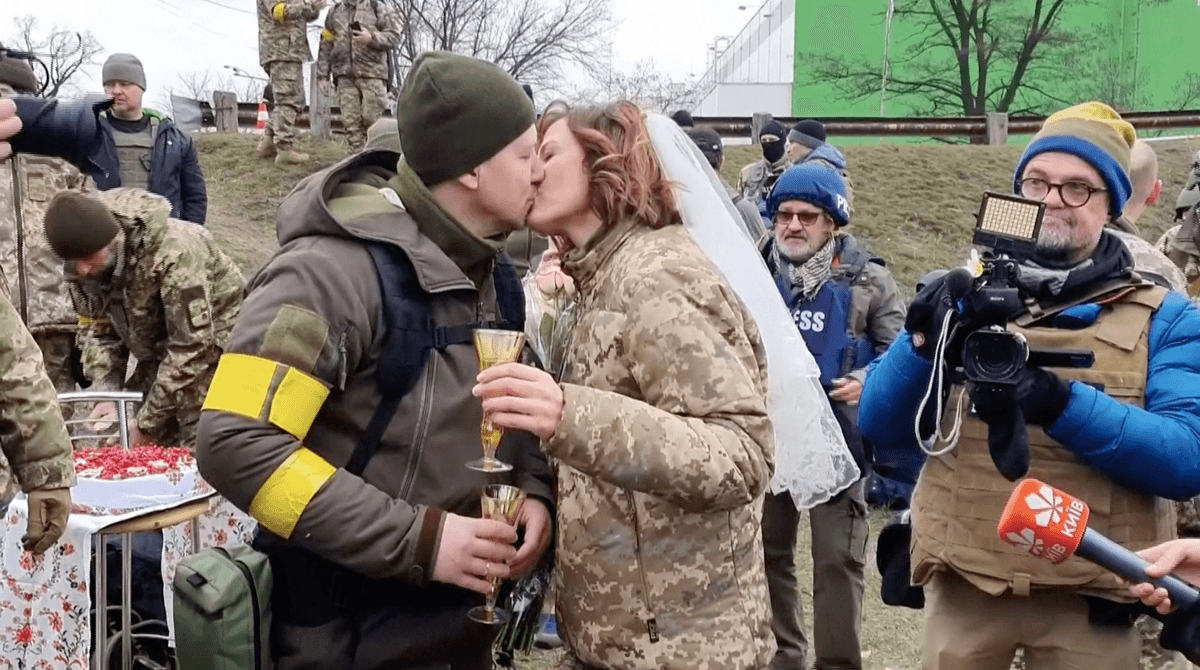 Lesia admitted that they knew nothing about the war even though people had been talking about it. They hoped that it would not happen and didn't pay much attention to it.
Video footage of the ceremony shows the couple being showered with flower petals, incense being lit, and volunteer soldiers holding flowers along with their weapons.
The mayor of Kyiv, Vitali Klitschko, was among those who were present at the ceremony. He also shared a video of the
occasion
on Twitter.
"You know what—I want to make a present to them," Klitschko said. "But the present for every Ukrainian is to finish the war. Every Ukrainian has just one goal—to stop the war, to stop (killings) of civilian people, women. It is a huge hope for everyone, not just in Ukraine."
Watch the video:
Video Credit: Reuters
Epoch Times Staff contributed to this report.